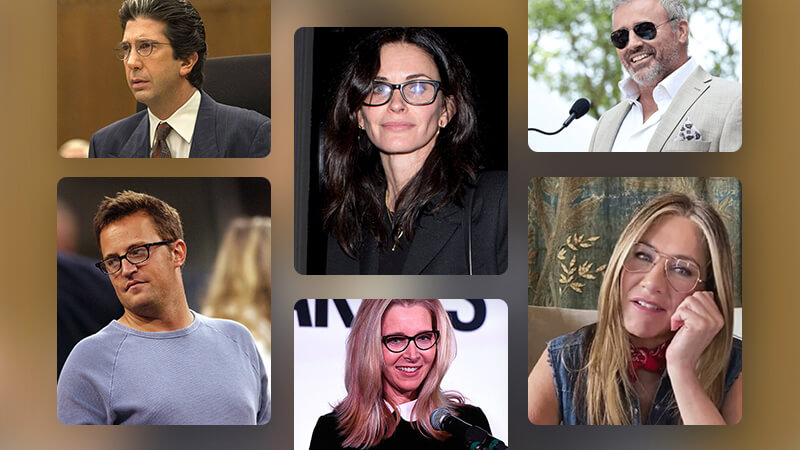 F.R.I.E.N.D.S: The one where they all wore glasses (& sunglasses)
Over the course of its 10 seasons, the popular sitcom Friends has made a huge cultural impact all over the world. From the best cast to the funniest dialogues, it is a classic piece of excellent yet effortless comedy.
It was more than just a funny show. The popularity of Friends gave birth to a number of trends during the 90s. Apart from great comic timing, all the cast members have an effortless sense of style in real life too.
The recent reunion episode on HBO was like a trip down memory lane for me. They all look so adorable even now! While they may have different preferences when it comes to fashion, they all can be seen wearing glasses and sunglasses from time to time. If you are curious to know which frame style your favourite friend has been sporting lately, just keep scrolling.
1. Courtney Cox aka Monica Geller Glasses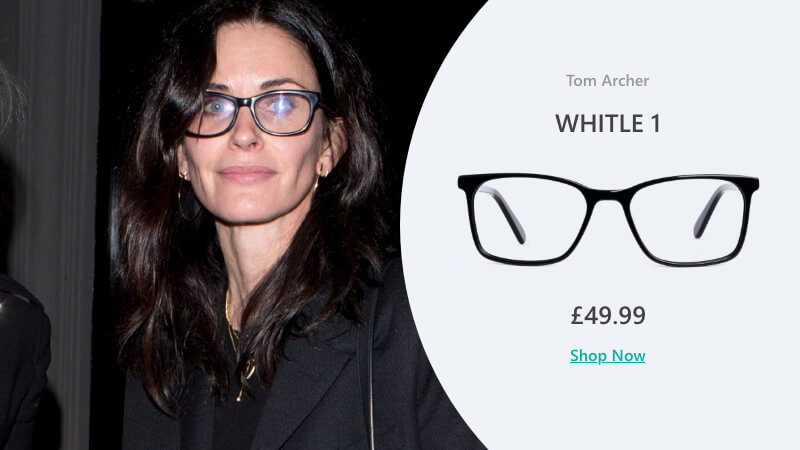 Monica was kind, friendly, competitive and a bit bossy sometimes. But we all remember her as the neat freak who was literally vacuuming her vacuum in one of the episodes. Cooking delicious thanksgiving meals, she was basically the mom of the group.
Monica can pull off any look she wants - feminine or tomboy. However, in IRL, Courtney's style is both sophisticated and edgy. Donning thick-rimmed glasses in classic black, she likes to keep it geek-chic in her everyday life too.
The stylish Whitle is the ultimate geek-chic frame to wear in 2021. Sporting a classic silhouette and urban-inspired unisex design, it is the perfect fit for your work wardrobe. Inspired by the latest trends, both men and women can get this high-end look at a fraction of a cost.
Available in 6 different colours, Whitle will make a loyal companion to your daytime casual looks or book smart personality. And like Courtney, you can get Whitle as your next prescription glasses.
2. David Schwimmer Aka Ross Geller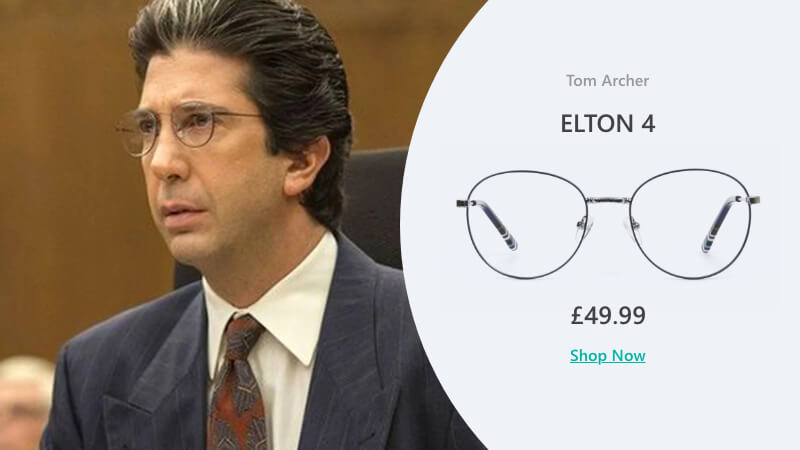 Ross Geller's fashion and beauty blunders were hilarious. Remember when he tried leather pants? Or when he got his teeth whitened? Maybe the one where he went to a tanning place? Gosh, there are so many.
But, David does not go for these bold fashion choices in real life. His style is more inclined towards sustainable fashion. It's more about comfort than chasing trends.
If you are a bespectacled minimalist, then you would definitely fall for these David Schwimmer glasses in thin metal rims. The sleek body gives it a more careless appeal while the round silhouette speaks of your academic brilliance. Available in four on-trend colour options, you would be reaching for this frame wherever you go.
3. Lisa Kudrow aka Phoebe Buffay glasses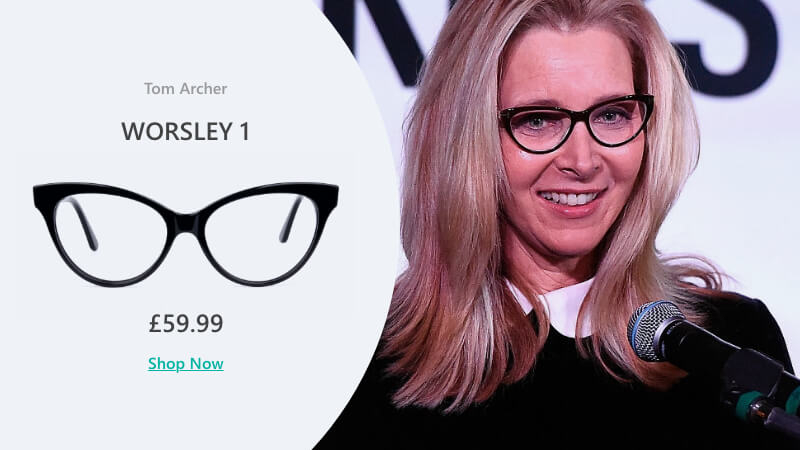 Phoebe was weird and had her own quirks. She made things a little crazier but a lot more fun. Who wouldn't love to be around someone like her?
If Rachel's hairstyles were a major focus on the show, Phoebe's bohemian dresses didn't fail to catch our attention.
But, Lisa ditches dresses and gowns for pants and suits when dressing for an event. Her androgynous style has a fan base of its own. A boss lady look is her favourite and she uses the cool cat to keep her look together.
The winged curves of Worsley will mirror your eye shape and pronounce your cheekbones. The exaggerated top rim will add drama to your look and the black colour will make sure you look professional.
Whether gentle curves or sharp corners, cat eye glasses look fabulous on every woman. But mind your facial measurements when you buy glasses online.
4. Matthew Perry aka Chandler Bing glasses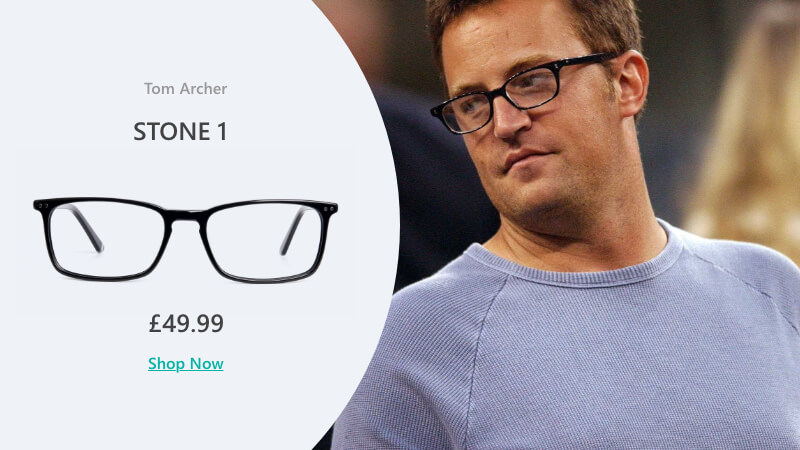 Here is my favourite character - Chan-Chan Man. I wish I had the level of sarcasm as this guy. Equipped with both quirky dad jokes and quirky dad style, Chandler's look on the show is the perfect example of low-key cool.
Pretty close to season 7, Matthew developed an eye condition and had to wear glasses on the show. And the look ladies - could he be more of a gentleman?
From crewneck sweaters and baggy sweats, Matthew has a thing for easy styling and timeless fashion. And the rectangular glasses are the proof. True to its name, Stone is durable and has stood the test of time.
This classic eyewear piece will add a punch of style to your everyday looks. And the versatile traits of Stone will let you mix it up with anything you want.
5. Rachel Green aka Jennifer Aniston glasses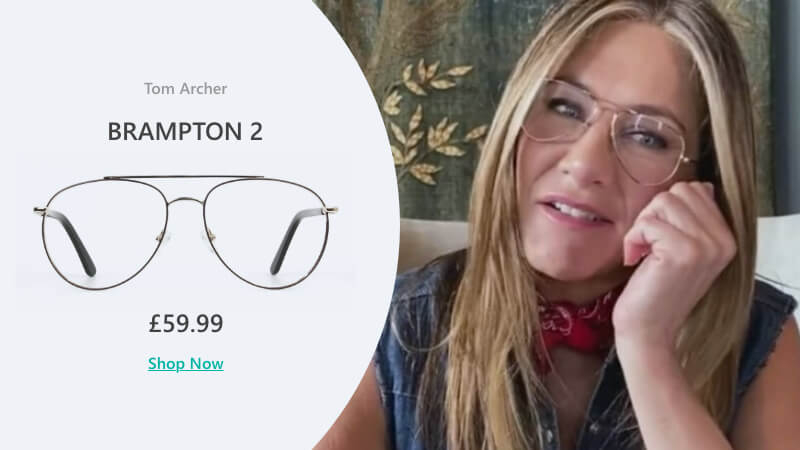 Rachel Green was a fashionista on the show and women copied her hairstyles since the 90s. Of course, Monica takes the cake for having an impeccable taste in boots and Phoebe for her eccentric style but Rachel got to try some of the hottest fashion trends on the show.
Jennifer Aniston is just like Rachel in real life. She has great taste in outfits and accessories. And I am not talking about handbags and shoes, I am talking about Jennifer Aniston's glasses. She has a pretty huge collection of eyewear including clear frame glasses and aviators that she likes to grace us with from time to time.
Take this aviator frame for that matter. The eyeglasses are lending a fresh yet fun vintage vibe to her girl-next-door looks. The shimmery frame will brighten up your face while the bold silhouette gets eyes on you.
6. Matt LeBlanc aka Joey Tribbiani Sunglasses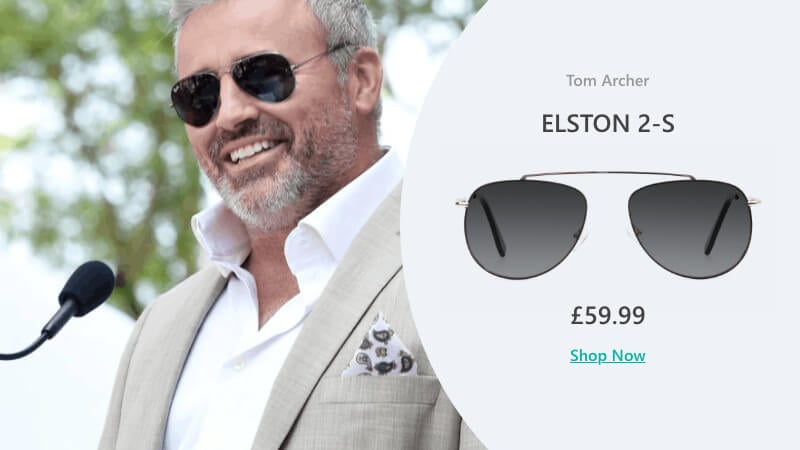 Joey was a struggling actor, womanizer, big time foody and the originator of the 90s most used catchphrase "How you doin'?"
But, you can't argue that he had a great sense of style. Come on guys, he created thanksgiving pants. And he even dared to sport a man-bag (which he only used to carry his sandwiches).
But, Matt isn't up for these fashion trends in real life. His style is conventional and classy. And when speaking of classy, how could we not mention the aviator sunglasses that he proudly wears at most daytime events.
Elston has all the elements of a classic style and comes with 100% UV protection. Shop for Elston for an instant cool and trendy look. From your rugged street looks to polished semi-formal attire, this style would go with everything.
So, which one was your favourite? I bet you liked them all. So, what are you waiting for? Get all of these styles from Specscart at affordable prices and recreate the iconic looks of iconic Friends characters.
Our Latest Stories
Specscart Blog
Want the latest update on designer eyewear, shades or glasses? Our blogs give exceptional insights into the latest eye care measures and eyewear trends, fashion and style hitting the streets of United Kingdoms. From finding an optician or optometry near you to the latest designer glasses or sunglasses for the summer and spring fashion, you'll learn something useful every day. We publish regular informative measures on eye care, the latest design in eyeglasses and sunnies, celebrity specs and fashionable choices you can make in your lifestyle to up your fashion game. Read on to find information about various glasses types, eye condition and fashion trends in a fun and simple way that you would fancy with a cuppa tea.
10% OFF
USE CODE
READER10
COPY CODE
Hello, fellow reader!
You like to read stuff, and we love that about you!
Here's an exclusive 10% coupon for our Blog readers
Stay Updated
Sign Up for the latest trends and exclusive offers!