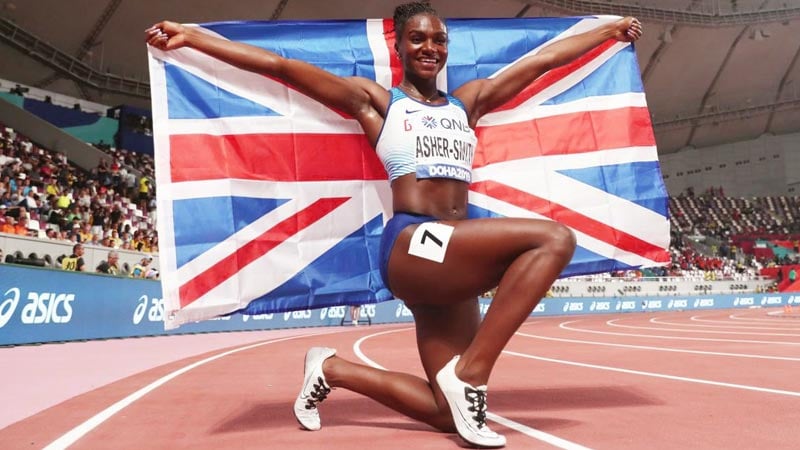 Girl power in Tokyo Olympics
After much delay, the Olympics finally started on the 23rd. We have been through some rough times recently. We still are fighting against it but we deserve something to get our eyes off some depressing numbers and shift the focus onto the scoreboard.
Till now, the Great Britain team has bagged 32 medals, 10 golds, 10 silvers and 12 bronzes. And still counting. Hopefully, there will be many more to come.
Beth Shriever
BMX is for men. If you still believe in this outdated value, then watch the women's Olympic games. You will find the same excitement and vigour just as in the Men's rounds
And Beth Shriever, a 22-year-old from Leightonstone, has been doing bike racing since she was 9 years old. With a gold medal now in her bag, she is a role model for many biking enthusiasts out there. Not just women, but men too.
Mallory Franklin
Canoeing and women? Have you ever seen a female pirate in a movie? If not, then we definitely need some. Mallory Franklin has better specs for rowing boats, making it whoosh at the fastest speed possible. And she has been doing this for years. It's her first medal in the Olympics, but she sure has made big boys cry with her incredible skills.
Georgia Taylor Brown
Women do not give up even when faced with adversities. Brown had a flat tyre in her triathlon match. She lost by 22 seconds but still bagged a silver.
She brought another bronze home with teammates Jessica Learmonth and Alex Yee in a mixed triathlon event.
Lauren Williams
The underdog Lauren Williams missed the gold by a whisker in Taekwondo. But there's still silver. And that's a lot after struggling against an injury from last year.
Charlotte Dujardin
The classy gentlemen's sport 'Dressage' is also conducted for women with horses abiding by the commands of the rider.
Dujardin brought home a bronze medal. And it's not her first. She has 5 more at home.
Alice Kinsella, Amelie Morgan, Jennifer & Jessica Gadisova
In women's gymnastics, the Great Britain team performed outstandingly and brought bronze back home. It is commendable as it is only the second one after the first in 1928.
Bianca Walkden
The triple world champion Walkden bagged yet another bronze for taekwondo. She has outshined yet again in Korean martial arts.
Chelsie Giles
Giles brought a bronze medal in her first Olympics debut. We still haven't won a gold medal in this sport yet, but it feels special as it was at the birthplace of Judo.
Bryony Page
Page brought the bronze again in the women's trampoline event. If you think that's not a sport, try doing that for hours. You will get your head hurting. That makes me wonder how much stamina she has to do this sport for a living.
Kathleen Dawson, Freya Anderson
Great Britain has been called the master of tides for ages; and in this Olympics, they are proving that well with the 4x100 metres medley relay. Kathleen and Anderson along with Adam Peaty and James Guy bagged a gold.
Emma Wilson
Another one riding the tides is Emma Wilson with a bronze in Windsurfing. 22-year-old Wilson is the daughter of Penny Wilson, the British World Champion winning windsurfer.
Karriss Artingstall
Artingstall brought a bronze medal in featherweight boxing. Apart from boxing, she is a gunner in the Royal House of Artillery.
Charlotte Worthington
I can't imagine doing a normal 360-degree backflip, let alone with a cycle. But it is a part of a regular day for Charlotte Worthington. She is the first woman ever to do a 360-degree backflip in a competition. And with her mammoth score, she was way ahead in her BMX freestyle event, obviously bagging a gold.
Before the Olympics, Worthington was a full-time chef in a Mexican restaurant. She can cook well and also do backflips. What?!
Almost half of the total medals for the Great Britain team have been bagged by women. And many more are on the way.
*Fingers crossed for the Athletics team*
You don't have to be an athlete though to start an active lifestyle. Let our sports stars be an inspiration to go out more often - even for a snack run. If you have a prescription, try sports glasses for a comfortable and enhanced performance.
Our new collection is perfect for your outdoorsy fun and competitive activities. Get these glasses while you go biking, running or just for a refreshing trip to the mountains. Even with your prescription glasses, you can live out freely and do your sports.
Don't let gender stereotypes stop you.
Our Latest Stories
Specscart Blog
Want the latest update on designer eyewear, shades or glasses? Our blogs give exceptional insights into the latest eye care measures and eyewear trends, fashion and style hitting the streets of United Kingdoms. From finding an optician or optometry near you to the latest designer glasses or sunglasses for the summer and spring fashion, you'll learn something useful every day. We publish regular informative measures on eye care, the latest design in eyeglasses and sunnies, celebrity specs and fashionable choices you can make in your lifestyle to up your fashion game. Read on to find information about various glasses types, eye condition and fashion trends in a fun and simple way that you would fancy with a cuppa tea.
10% OFF
USE CODE
READER10
COPY CODE
Hello, fellow reader!
You like to read stuff, and we love that about you!
Here's an exclusive 10% coupon for our Blog readers
Stay Updated
Sign Up for the latest trends and exclusive offers!