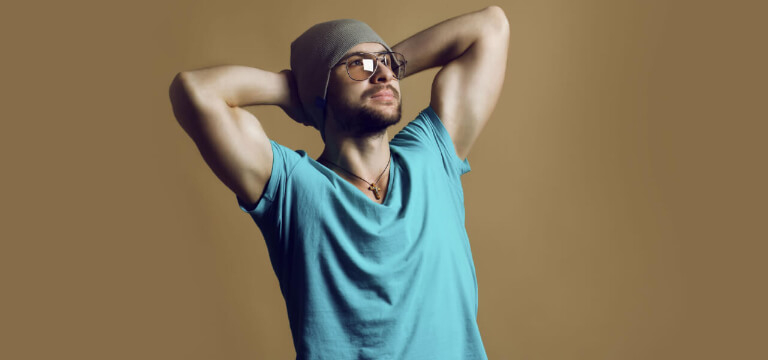 Aviator Sunglasses
Iconic Pilot-Inspired Gem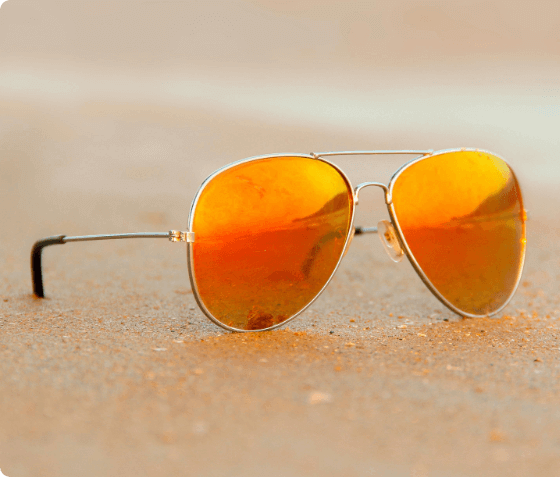 Aviator sunglasses, also known as pilot sunglasses, is one of the most popular styles of all time. The iconic face front paired with the thin metal finish is what makes them one of the favourite designs. Though pilot sunglasses have come in trend since the 70s, worn by celebrities including Michael Jackson and Tom Cruise, the earliest debut of Aviators can be traced back to 1930s. Sunglasses in aviator shape were originally designed for pilots and militaries. The name 'Aviator' started in 1936 when Bausch & Lomb developed the protection glasses for pilots. Meanwhile, aviators in large lenses and slight concave wrap around the face to shield eyes from sunlight and dirt. Which was the popular feature for military usage? The thinner and lighter finish of aviator sunglasses soon replaced traditional goggles and appeared as superior choices during war‐times. Their cool looks and practical use were commercialised by Ray‐Ban, which thereafter led the new fashion of eyewear. Apart from the iconic features of large lenses, double bridge and thin metal temples, these sunnies are promoted with modern twists, suitable for daily wearing styles for both men and women.

The Genuine Design of Aviator Sunglasses

The Genuine Design of Aviator Sunglasses

The Genuine Design of Aviator Sunglasses
Aviator sunglasses- Here to make you a wingman!
If you are a fan of Tom Cruise, bet you can't forget his cool look in Aviator sunglasses in the movie 'Top Gun'. Before its attractive and stylish finish, it's also a masterpiece that offers the best protection for eyes. Characterise large lenses, cover two to three times of eyeballs that is much more than other designs. Its convex lenses make a wrap around the face and block lights coming from any angles. Their popularity among the militaries and pilots will let you believe how efficient they are to prevent your eyes from harmful lights. Also, pilot sunglasses display signature craftwork in thin metal reduces the weight of the glasses that make it possible for the whole‐day‐long wearing. So if you are searching for proper shades for driving, cycling or any outdoor activities, aviator shape sunglasses will always be the ideal choices. As the protection and comfort, they provide make them worth you a try! If you find it a trouble to choose between fashionable look and good protection. With aviator sunglasses on, they can just easily satisfy all the jobs for you. Guess you're now impressed by aviators Just hold your horses for one moment, as you might be interested to figure out the best‐matched aviators for you!
Shop Men
Shop Women

The Rich Variations of Modern
Aviators Sunglasses

The Rich Variations of Modern
Aviators Sunglasses

The Rich Variations of Modern
Aviators Sunglasses
Load yourself with a satisfactory attitude
Along with the improvement of technology and materials, modern aviators now come with rich variations and colours and polarised lenses. Forget about that the masculine images, as the rich twists have remade aviators the exciting accessory for all genders. If you are the classics lover, aviators in dark lenses paired with thin metal temples are the never-failing choices. However, depending on the different purposes you can try lenses with different tints. Such as graduate finish, or the mirrored tint that showcases cool reflection effect. And inspirations of mix‐material designs also polish classic notes of aviators with trendy detailing. The aviator face front paired with acetate sides is just one of the smart twists that upgrade the pair with improved durability and textures. If you want to be naughty ‐ even while wearing these retro inspirations ‐ the nerd chic styled aviators with accents of wayfarer sunglasses are the designs that master the fashion trend. Whichever style of sunglasses you like, the aviator is a must‐have that will never let you look boring. As pilot sunglasses nowadays are much more than the classics!
Shop Men
Shop Women

Aviator sunglasses for Men and Women

Aviator sunglasses for Men and Women

Aviator sunglasses for Men and Women
Aviator sunglasses are meant to fly high
There are days when you want to keep it simple for your styling. Aviator sunglasses can easily smash the job for you. Just a simple top with denim are more than enough to go with your aviators. But what makes them the fashion-must is not only because they polish the simple looks. They're also suitable for formal styles, which can surely fascinate all eyes with aviator's highlights. What's more, aviator frames with tints in soft colours, such as light pink, yellow or blue are the feminine emphasis that adds avant-garde notes to women's look. Ladies, get an unbeatable charm - have your hair down, wear a jersey dress, and put your aviators on. This will give your natural styling an ultimate allure. Rather than getting multiple styles of sunnies to match your outfits, we would say get a pair of aviators to sort your daily looks. A classic pair offers soft neutrality that matches all styles. A pair of modern twisted aviators are the style polisher that makes the statements. And don't forget, pilot sunglasses offer super protection. And you can even make them your prescription sunglasses to enjoy more and keep the styles in check while taking good care of your eyes. Check out Specscart's collections of aviator sunglasses and let's go AVIATOR!
Shop Men
Shop Women