General Terms & Conditions
"Specscart" is the trading name for HRM INTERNATIONAL LIMITED, trading on the internet at www.specscart.co.uk (herein referred to as Website), on the telephone at +44(0)1613125767, with the trading office at - Specscart., Unit-79 Ellesmere Shopping Centre, Manchester -M28 3ZD, UK. This Agreement for the Terms and Conditions of use of the Company's Website/s (hereinafter referred to as 'Agreement') describes certain terms and conditions to access and use the Website/s of the Company by a visitor or a registered user and order products (hereinafter referred to as the "End User", "You" or "Your") UK Company number – 10855134
1. ACCEPTANCE OF TERMS OF USE
PLEASE READ THESE TERMS AND CONDITIONS CAREFULLY. BY ACCESSING THIS WEBSITE YOU AGREE TO BE BOUND BY THE TERMS AND CONDITIONS BELOW. THE COMPANY RESERVES THE RIGHT TO ALTER, AMEND AND MODIFY THESE TERMS AND CONDITIONS AT ITS SOLE DISCRETION. ALL SUCH AMENDMENTS AND MODIFICATIONS WILL BE DULY NOTIFIED ON THIS WEBSITE. IF YOU ARE NOT AGREEABLE TO THE TERMS AND CONDITIONS WE REQUEST YOU NOT TO ACCESS THIS WEBSITE.
You expressly agree to be bound by this Agreement, irrespective of whether you are a registered member or a visitor, by using the information, tools, features and functionality located on this Website. As such, you agree to be bound by the terms and conditions detailed herein.
The Company recommends that, irrespective of whether you are a Visitor or a Registered Member who proposes to utilize the Service provided by the Company, to carefully read all the terms and conditions as provided herein. The said terms and conditions displayed are recommended to be saved for any future reference and for your own records. Or you may even take a print out of the same. The Company expressly states that the Services provided or offered by this Website and the Agreement which you are required to be bound by is meant only for individuals/entities that are permitted to enter into and be bound by a legal contract as per the prevalent laws. In the event, if You are not legally permitted to enter into a contract or are for some reason either due to Your age or any other reason not permitted to enter into an Agreement, then, You are not permitted to utilize the Services provided by this Website or enter into this Agreement. In the alternative you could order Products under parental supervision.
Your acceptance of this Agreement and utilization of Services implies and you expressly and implicitly represent to the Company that you are of the legal contracting age or operating under parental supervision and nothing will invalidate this Agreement. The Company has the right to bind you and your parents to this Agreement.
In the event that you are representing certain individual/s, company/ies, third parties or any entities, in any capacity, then, you expressly confirm that you have the valid authority and the right to do so for and on behalf of them. By entering into this Agreement, You state that you have the right to bind such individual/s, company/ies, third parties or any entities to this Agreement.
The Services made available on or through this Website has been made available to You for the specific purpose of enabling Users to purchase original merchandise such as eyewear (collectively, "Products"). It is not intended to be providing you with any nature of certification, guarantee or warranty or any professional advice and is a mere information and guidance. By accessing, browsing and using this Website/s, You agree and acknowledge that You understand this limited and restricted use, and agree that You will not rely on the information and materials contained in this Website for any purposes except as is intended. You further agree that in all actual matters, you are ultimately responsible for determining your specific requirements.
You are strictly prohibited from unauthorized use of our systems or this Website/s, including but not limited to unauthorized entry into our systems, misuse of passwords, or misuse of any information posted to this Website.
You acknowledge that the Company may disclose and transfer any information that You provide through this Website to (i) our affiliate or information providers, (ii) to any third party but strictly with Your permission, or (iii) if we are legally bound to disclose any information due to compulsions under law. You consent to the transmission, transfer or processing of such information to, or through, any country in the world, as we deem necessary or appropriate, and by using and providing information through this Website You agree to such transfers.
You expressly agree and acknowledge that usage of the Website/s may be monitored, tracked and recorded. As such, You expressly consent to such monitoring, tracking and recording.
You are responsible for being familiar with the current version of these Terms and Conditions posted on the Website during each session. By the continued accessing of this Website or the Services, You implicitly agree to be bound by the revised terms and conditions. Any such revisions will be duly posted on this Website and the Company may, if it chooses, send you an e-mail in this regard.
2. CUSTOMER OBLIGATIONS
By making a purchase on Specscart you confirm:
You are aged 16 or above and are not registered blind or partially sighted;
You are in possession of a written prescription for your eyeglasses that has been given to you by a suitably qualified person in the last 24 months (or 12 months if you are aged 70 or over); and
You will supply accurate details of your current prescription (including any notes on the prescription) when requested.
3. INFORMATION REQUIRED FROM YOU
Upon Your acceptance of agreeing to be a member and avail services from our Website/s, we would request You certain basic information for registration. Once You provide us with the details, we would request You for additional information in order to provide You with the services. However, we will not request You for any personal information or identity disclosure. All information provided form You will be treated as private and confidential. The same is more fully detailed under clause in Privacy Policy and Security The Company hereby undertakes and confirms that the mechanism employed by the Company is more specific to users whereby no personal data or information is maintained or tracked or stored on Company's servers or any third party servers. All such data or information shall at all times remain on Your machine or server only.
4. ORDER FOR AND SUPPLY OF PRODUCTS
You will have to submit Your Order for the purchase of the Product as detailed under the Websites.
Once the order is submitted it an express intention to purchase the Product and the same may not be cancelled except as provided hereunder.
Based on the information provided by You and subject to the Company's verification of the same, the Orders will be accepted by the Company for processing.
All orders will be processed once the Company receives the payment for the Product.
You acknowledge that with respect to prescription glasses the Company reserves the right to verify the same with Your prescribing doctor as well as independent qualified optician. And the acceptance of the order by the Company is subject to the same.
All orders will be confirmed via e-mail.
The Company will use its best efforts to ensure that order placed by You is successfully processed subject to the availability of the Product/s. In the event the Product/s is sold out or unavailable, the Company will intimate You regarding the same and either refund Your money or provide you with an opportunity to purchase a different Product of the same value.
5. PRICING AND PAYMENT
The prices for Product/s are described on the Website/s and are incorporated into these terms by reference. The prices, products and services are subject to change at the Company's discretion.
All prices are exclusive of any tax that may be required to be remitted to tax authorities.
The Company will use its best efforts to ensure that the accuracy of the prices and price related information stated on the Website/s. The Company does not make any representation that the prices quoted on the Website/s will match the offers provided by stores.
In the event of any inadvertent mistake by the Company in quoting the price, the Company will notify You of the error before Your payment is processed. You will then have the choice to either accept the correct price or to cancel Your Order.
The Company accepts the following form of payments: a) Online payment via Credit Card, Debit Card, Net Banking.
You agree, understand, confirm and state that the card details provided by You to transact on the Website will be correct, accurate and is owned by You. In the event You use the card belonging to any third party, then, You confirm that you have been authorized to or expressly permitted by such third party to use the card for making payments.
The Company will not be liable for any credit card fraud. The liability for use of a card fraudulently will be on the User and the onus to 'prove otherwise' shall be exclusively on the User.
In addition to all other remedies available under law and equity and as detailed under this Agreement, the Company reserves the right to recover the cost of Product/s, collection charges, attorney's charges etc., from an User using the Website/s fraudulently. Further, the Company reserves the right to initiate legal proceedings against such persons for fraudulent use of the Website/s and any other unlawful acts or acts or omissions in breach of these terms and conditions.
6. LINKS TO THIRD PARTY SITES
As part of availing the Services, You as a member will provide us Your personal information either to retrieve or collect data or information from third party websites. Such third party websites may be maintained by such financial institutions with whom You have an account, bank with or have created certain liabilities. The Company does not and cannot assume any responsibility or accuracy for such information or data maintained by such third party either in terms of updation, accuracy, deletion, non-delivery or failure to store data, communications, etc.
The Website may provide, or third parties may provide, or the Website may contain links to other World Wide Web sites or resources. The responsibility for the operation and content of those websites shall rest solely with the organization identified as controlling the third party website and will be governed by separate terms and conditions. Links are provided for convenience and inclusion of any link does not imply endorsement in any way of the site to which it links.
Because the Company has no control over such sites and resources, You acknowledge and agree that the Company is not responsible for the availability of such external sites or resources, and does not endorse and is not responsible or liable for any content, advertising, products, or other materials on or available from such sites or resources.
You further acknowledge and agree that the Company shall not be responsible or liable, directly or indirectly, for any damage or loss caused or alleged to be caused by or in connection with use of or reliance on any such content, goods or services available on or through any such site or resource.
7. REGISTRATION AND USE
You agree and understand that You are responsible for maintaining the confidentiality of all information provided to the Company while registering Yourself, which includes Your login ID, e-mail address and the passwords for the same. You are fully responsible for all activities that occur under Your e mail address password or account and You shall ensure that You exit from Your account at the end of each session.
The Company will send all correspondences, notices and any other communication to the e-mail address furnished by You. In case of any change in the said e-mail address, it is Your duty to update or change the same. The Company shall maintain utmost secrecy and use all the security measures to ensure that the information is not misused by any third party.
8. LEGAL USES
Further, You agree and understand that Your right to access and use the Services offered on this Website is personal to You and is not transferable by You to any other person or entity.
You understand that You are authorized to access and use the services only for legal and lawful purposes.
You further undertake and state that by using the services You are in no way impersonating or misrepresenting any person or entity. All services availed are for Yourself only. In the event You are representing individual/s, company/ies, third parties or any entities, You undertake and state that You are authorized to represent such individual/s, company/ies, third parties or any entities. You shall be solely responsible for the consequences arising out of such acts and the Company shall not be held responsible or liable in anyway to any person or entity.
Any changes in Your registration information must be duly updated by You.
Your access and use of this Website may be interrupted from time to time for any of the several reasons, including, without limitation, the malfunction of equipment, periodic updating, maintenance or repair of the Website or other actions that the Website, in its sole discretion, may elect to take. We at the Company utilize our best efforts to provide the Services without any interruptions or hindrance, however, we do not warrant that the function, operation, security or accessibility of the Website will be uninterrupted or error-free, that defects will be corrected, or that this Website or the server that makes it available will be free of viruses or other harmful elements. As a user of the Website, You agree that Your access will be subject to these terms and conditions and that access is undertaken at Your own risk. We shall not be liable for damages of any kind related to Your use of or inability to access the Website.
9. STORAGE, DELETION OR TRANSPORT OF DATA
The Company states that the data provided by You shall belong solely and exclusively to You. As such, You are permitted to remove or delete the data, so provided, either in full or any portion, at any point in time as You desire. The Company requests You to notify the Company of such removal or deletion.
In the event, You desire the Company to remove or delete all or any portion of the data belonging to You, then, the same needs to be provided in writing to the Company. Upon receipt of such written request, the Company will do the needful forthwith and notify You of the same. The Company will not retain any copies of such data on its server or in any other place.
In this regard, the Company warrants that it cannot access such deleted material at any point in time. Any contact, information or access that the Company had towards such data or material or accounts will cease forthwith. However, certain portions of Your data, which the Company had maintained on its servers may remain either in backups or in transaction logs. These are maintained only for the specific purpose of backup or to provide Services to You in the event of any malfunction or damage to our server in order to ensure continuity of our service without disruption.
10. RIGHTS GRANTED BY YOU
As the provision of Services includes You providing us with information, data, passwords, usernames, personal identification numbers and other materials and contents, suggestions, ideas, feedback, etc., You are hereby expressly granting us the license and right to utilize the same for and on Your behalf in order to provide the Services.
The Company may or will use such information with the sole purpose for providing You the required Services and not for any other purpose. As such, You hereby warrant and represent that You are duly authorized to submit or represent the third party on behalf of whom You are providing these information to the Company. Further, You acknowledge and agree that these materials, suggestions, feedback and information can be utilized without any obligation or restriction on the Company in terms of payment of fee or any other limitations for marketing, promoting, advertising or other purposes.
By using the Service, You expressly authorize the Company to access Your accounts maintained by identified third parties, on Your behalf as Your agent. When You use the specified feature of another additional account of the Service, You will be directly connected to the website for the third party You have identified. The Company will submit information including usernames and passwords that You provide to log you into the site. You hereby authorize and permit the Company to use information submitted by You to the Service (such as account passwords and users names) to accomplish the foregoing and to configure the Service so that it is compatible with the third party sites for which You submit Your information.
11. YOUR POSTINGS ON WEBSITE
We, as part of our Service, encourage and permit You to post Your messages or content on any publicly available forums, blogs and other locations on the Website.
By using or posting messages or data or any other information on such forums, blogs and other public locations, You expressly agree that You and only You, are responsible for all the matters contained in such content. You further, represent and warrant to us that You have all the necessary rights to post such messages or information or content and grant us a perpetual, worldwide, royalty free, non- exclusive, transferable and sub licensable right to use, reproduce, distribute, display, modify, amend, perform, etc of such content or information to promote, modify or redistribute this Website, including preparation of any derivative works thereof, in any form and through any medium without any restrictions thereof. You expressly agree that all the rights granted under this paragraph will also be available to each and every user of this Website.
Further, if You intend to use a forum, a blog or any other feature available on this Website, then, You should make an independent and informed choice about submitting Your personal identifiable information. All personally identifiable information submitting on such forums, blogs or community features can be read, collected or used by any third party. There is a danger of such information being misused or misappropriated. We do not have control over such actions and we are not responsible or liable for the personally identifiable information that You as a user have chosen to submit on a public platform.
In case of any violation of this condition, then, the Company reserves the right to forthwith stop your participation on such public forums.
12. INTELLECTUAL PROPERTY
You acknowledge and agree that this Website and any necessary software used in connection with the Website contain proprietary and confidential information that is protected by applicable intellectual property and other laws. You further acknowledge and agree that any content or software on this Website, including its "look and feel" (e.g., text, graphics, images, logos and button icons), photographs, editorial content, notices, software (including html-based computer programs) and other material is protected by national and international laws relating to copyrights, trademarks, service marks, patents or other proprietary rights. Except as expressly authorized by the Company You agree not to modify, rent, lease, loan, sell, distribute or create derivative works based on this Website, the Services offered thereto or any software thereto, in whole or in part.
All trademarks, service marks, and logos used and displayed on this Website are registered to and/or owned by their respective owners. Nothing on this Company Website should be construed as granting, by implication, estoppel, or otherwise, any license or right to use any of the trademarks, service marks and logos displayed on the Website, without the prior written consent and permission of the Company or the respective owners.
You may download or print a copy of information provided on this Website for Your personal, internal and non-commercial use only. Any distribution, reprint or electronic reproduction of any content from this Website in whole or in part for any other purpose is expressly and explicitly prohibited without our prior written consent.
RETURNS POLICY
We want our customers to be happy with our product, and if anything is less than perfect we are happy to accept returns. You can send it back to us up until 30 days (60 days if Varifocals) post receiving the order – no questions asked.
How do I return them? (Doubt?)
It's simple! Just call us at +44(0)1613125767 or drop us an email at support@specscart.co.uk to request for return. Do share your order number. We will generate a Free returns label (For UK only). Once informed, please proceed with the following steps:
Make sure the invoice, price tag and original packaging is intact.
Seal it properly, stick the returns label over the existing address label and drop the package in a post-box or at the post-office.
RETURNS POLICY
We want our customers to be happy with our product, and if anything is less than perfect we are happy to accept returns. You can send it back to us up until 30 days (60 days if Varifocals) post receiving the order – no questions asked.
A few things to keep in mind:
If the exchange is made with a product of lower value, we will not be able to give you the difference back. So choose wisely!
If the product is bought during promotional campaigns, you will have to return the entire order value, or simply ask for an exchange! Partial returns are not accepted.
Do carefully seal them and send it back. Glasses that are scratched, bent, twisted or gone through any wear and tear will not be refunded. It is our recommendation that you obtain proof of postage from the Post Office as we are unable to take responsibility for packages lost in post. Your statutory rights in relation to returns and refunds are not affected.
RETURNS POLICY
We want our customers to be happy with our product, and if anything is less than perfect we are happy to accept returns. You can send it back to us up until 30 days (60 days if Varifocals) post receiving the order – no questions asked.
FAQs
How long do I have to return the glasses?
You have 30 days to return your glasses (60days if Varifocals), from the day you received your glasses were despatched to you. See the returns policy for further information.
How long will the return process take? How do I know you've received the glasses?
Refunds are typically processed within 10 to 15 working days. When we receive the frames, you will receive an email from us confirming that your glasses have been returned successfully.
What info do I need to provide if I want to return an item?
To return your frames, you will need the order number which has to be provided once you contact our team. This can be found in your My account, the delivery invoice, or the order confirmation email.
HOW FAST IS SPECSCART ROCKET
All our glasses are crafted in-house in the UK, which gives us an extra advantage in dispatching them as fast as possible. While we do a quick dispatch, the final delivery depends on Royal Mail 1st Class. Though Our FREE First Class Delivery aims for a 24 hour delivery, it's still not guaranteed. For those who need glasses urgently, we advise you to upgrade to Royal Mail Special delivery which is guaranteed by next day 1 pm - It costs £7.50
Given below are the dispatch Time Tables for various combinations - (We guarantee dispatch time but not delivery time) - Cut off Time 3pm*
| Order | Dispatch |
| --- | --- |
| Prescription Type : Non - Prescriptive Coating : All coatings (Clear, Blue, Tint, Transitions) | 24 hours (Excluding Weekends and Bank Holidays) |
| Prescription Type : Single Vision (Stock) Coating : Clear, X-Blue & Transitions | 24 hours (Excluding Weekends and Bank Holidays) |
| Prescription Type : Single Vision (Stock) Coating : Dark or Graduated Tints | 48 hours (Excluding Weekends and Bank Holidays) |
| Prescription Type : Single Vision (Stock) Coating : Polarised Tints | 5-7days (Excluding Weekends and Bank Holidays) |
| Prescription Type : Single Vision (Very Strong Prescriptions) Coating : All coatings (Clear, Blue, Tint, Transitions) | 5-7days (Excluding Weekends and Bank Holidays) |
| Prescription Type : Varifocals Coating : All coatings (Clear, Blue, Tint, Transitions) | 7 - 10 days (Excluding Weekends and Bank Holidays) |
| Prescription Sunglasses (Mirror Tints) | 5-7days (Excluding Weekends and Bank Holidays) |
In case of any queries about the order, please call us at +44(0)1613125767 or mail us atsupport@specscart.co.uk
We try our best for making glasses at a lightening speed.
-Team Specscart.
SHIPPING & POSTAGE
SHIPPING COSTS
FREE SHIPPING FOR STANDARD DELIVERY UK & WORLDWIDE
- We use Royal mail 1st Class to dispatch all the orders once they are ready.
- Returns is FREE for UK customers. Please see Returns Policy.
- 1 Week Home Trial is covered with free shipping both ways
FREE SHIPPING FOR STANDARD INTERNATIONAL ORDERS,
- Sorry, at the moment, We do not generate Free Returns label for International orders.
- At present, Home Trial Service is only available to UK customers.
SHIPPING & POSTAGE
TRACKING YOUR ORDER
You Can track your orders & Home Trials on My Account.

SHIPPING & POSTAGE
SHIPPING & DELIVERY FAQs
What if I receive damaged frames?
We want to deliver your glasses as soon as possible and in perfect condition. In the improbable event that you receive a defective piece, please contact us at support@specscart.co.uk or give us a call on +44(0)1613125767 and we will resolve this. Try to include as many details as possible about the order.
What should I do if I'm experiencing issues with my prescription?
Sometimes it takes a few days to adjust to a new prescription, but if you're having on-going trouble with your glasses, please contact us at support@specscart.co.uk or give us a call us on +44(0)1613125767. We'll help determine the issue so that we can re-make your glasses and make sure that your prescription is accurate!
Adjustments & Aftercare
Most of our orders will not need any adjustment in fitting. For frames that do need a slight adjustment, we shall tell you how to do that yourself at home! All frames come with a screw driver and keychain, so that they prove handy in events like these.
Adjusting nose pads Challenge – The glasses sit too high Quick fix – Hold your glasses with your non-dominant hand and use your thumb on your dominant hand to gently push out on the plastic nose pad. Do this to both sides until they sit comfortably on your nose.
Challenge – The glasses sit too low Quick fix – Hold your glasses with your non-dominant hand and use your thumb on your dominant hand to gently push in on the pad arm (behind the nose pad). Do this to both sides until they sit on your face comfortably.
Adjusting the arms on metal frames
Run the earpieces under really warm water (not boiling, but as hot as you can get it) for a few minutes. You may also use a different method for heating them. Gently bend the earpieces slightly downwards or upwards to add curve.
PRESCRIPTIONS
Understanding Your Prescription ?
Your prescription must be no older than two years. And, no older than 1 year if you're 70 & above.
A General Ophthalmic Prescription looks like this: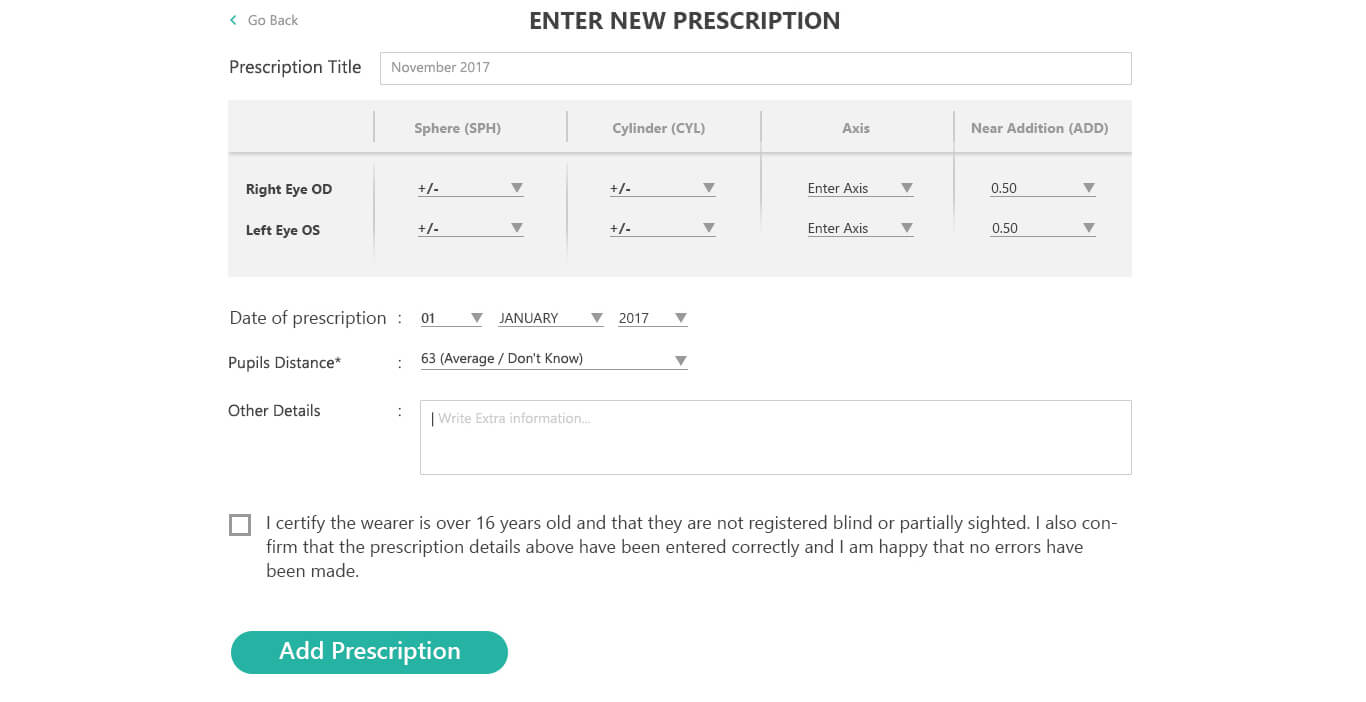 This could be entered in the system as:
We would recommend you to scan and send the prescription or upload a photo at the checkout. As this would make things easier for you.
For any help we are just a call away : +44(0)1613125767
Pupillary Distance
What Is PD or Pupillary Distance
PD measures the distance between the pupils of your eyes. This measurement is important to make sure that your eyes match up to the optical centre of your lenses. The average adult's PD is around 63 mm. Armed with your prescription and PD, you can shop on Specscart.com to find your perfect pair. Your PD measurement is typically written beneath the prescription.
How can PD be measured?
PD can be measured in two ways. The first is binocular, which is a pupil-to-pupil measurement and involves a single measurement, like 63 mm. The other type of measurement is called monocular, which is a per-eye measurement from the pupil to the middle of the face. It is a double value measurement, like 31mm/31mm. Monocular measurements are most often used when the face is not perfectly symmetrical, meaning one eye is closer or farther from the middle of the face than the other. You can use a ruler to measure it by your own or download or template
ATTACH THE SCALE
PD(PUPILLARY DISTANCE):
Distance in millimeters(mm) between the centers of the pupils in each eye. This measurement is used to make prescription glasses.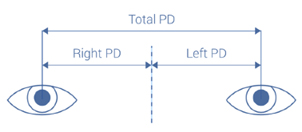 MEASURE YOUR PD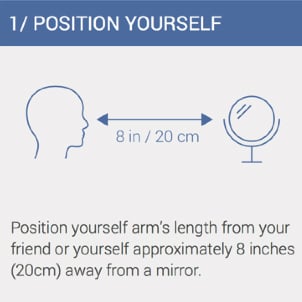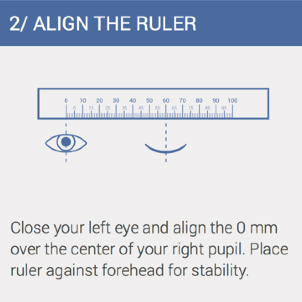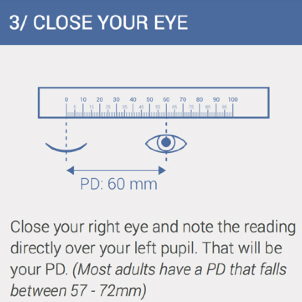 I don't know my PD
If you're unsure of your PD and don't have a spare pair of glasses to send us to get a PD measurement from, you can simply choose the "Use Average /I don't know my PD" option and we will use an average value of 63mm. If you have a higher prescription, we recommend you seek your correct PD value before placing your order.
How do I measure my PD at home?
Measuring your own PD is easy – simply buy a normal ruler or a printable PD ruler that can be downloaded here!
You can always call us on +44(0)1613125767 for help.
Stronger Prescriptions?
Specscart cannot fulfil orders to customers with eyesight in the following ranges –
The combined SPH and CYL vision is greater than +/-8.00
The CYL vision is over +/-4.00
LENSES & COATINGS
We offer the highest quality lenses. We offer Anti-UV, Anti- Reflective, Impact resistant as complementary. We believe with time these features are mandatory for today's wearer.
Our lenses and packages - Distance, Near, Varifocals & even Non-Prescriptive we will glaze all kinds of Top Quality for you
Single vision
Single Vision lenses are for people who have trouble seeing either near or far (but not both). If you need a pair for both near and far vision, you should go for bi-focals or varifocals.
Varifocals/Progressive lenses
Varifocals are the superheroes of lenses. They allow you to see near and far using just one pair of varifocal glasses. They have a gradual change in vision from the top of the lens to bottom, which allows you to see all distances clearly through one lens. Unlike bi-focals, they do not have a dividing line within the lens. It is perfect for people who need to switch between long, intermediate, and short distances throughout the day.

You can choose from a wide variety of lens coatings such as:
You can also thin your lenses down on your opticians advise or prescription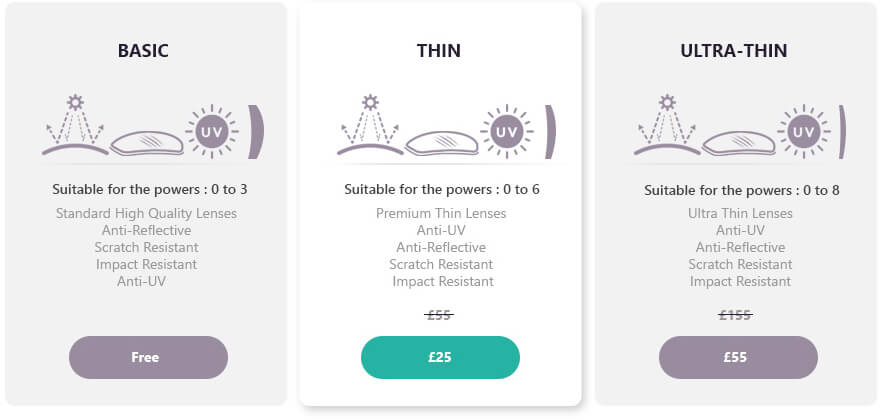 And yes we are always a call away for assisting in choosing the right lenses for you. +44(0)1613125767
ORDERS
How To Order
Go through our wide range of eyewear to find the perfect pair for yourself. You can also use our Home Trial Service to make a better decision.
Once you've chosen which frames you want to order, move on to selecting lenses. Choose one among our lens coating & package.
You can browse through a large range of frames & lenses, and make a decision depending upon their thickness (or lack of it) and prices.
Once you're done with that, enter your prescription or send it later (through e-mail). You can call our team at +44(0)1613125767 for any help.
When you're happy with your order, you can continue on to the payment options. Once the payment is done, just sit back and relax – you'll soon receive your new pair of glasses!
ORDERS
Payments
You can pay for your glasses using a credit/debit card: VISA, VISA Electron, Switch, Solo, Maestro, Mastercard Or PayPal
Once you have completed the payment process, wait a few moments and your confirmation page should load automatically on your screen, followed by a confirmation email. If this doesn't happen, call our team on +44(0)1613125767 so they can help you.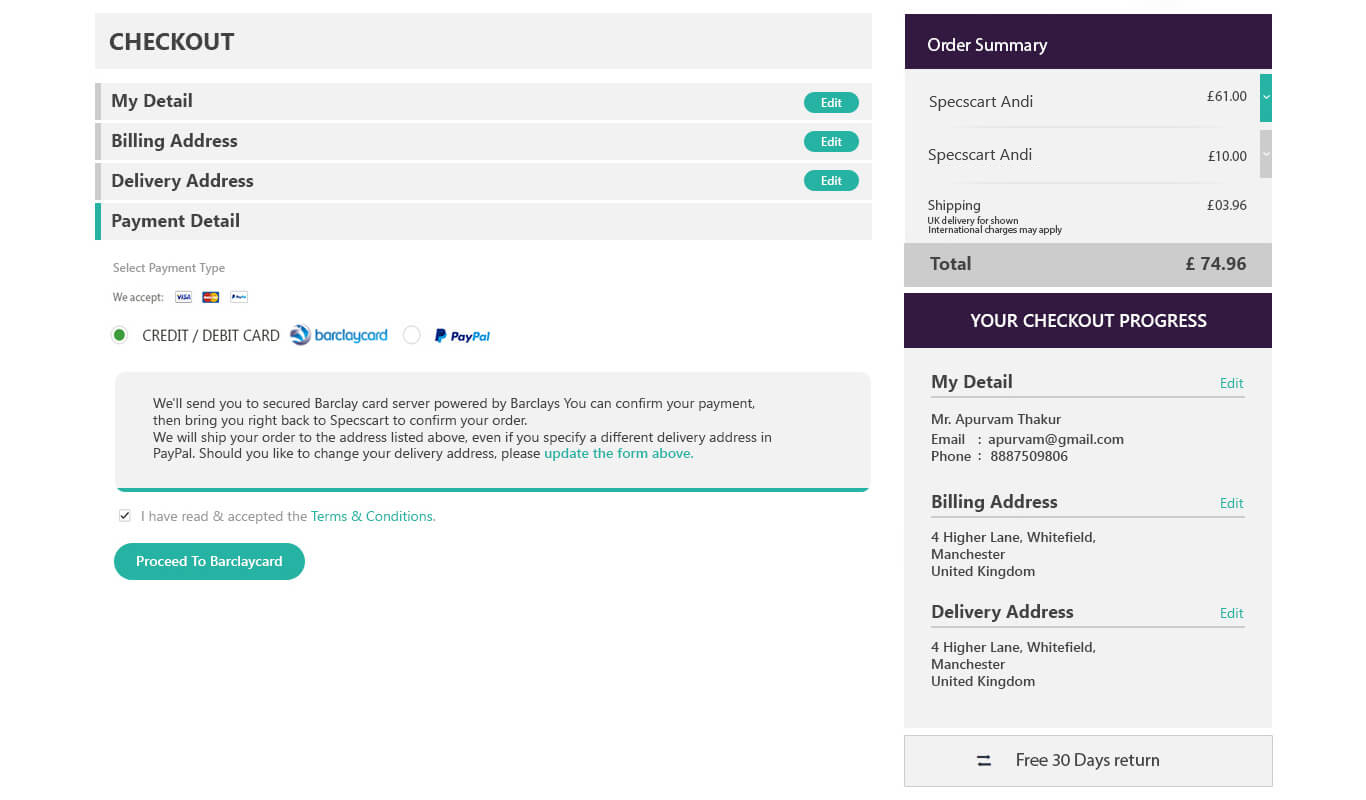 Is the Payment method secured?
We use Barclays 3D secured payment server. The website is SSL certified. You can also use Paypal as an option. Where you will be redirected to Paypal's payment gateway.
1 Week Home Trial
Shop online, Try offline!
If you're confused about which frame to buy, you can pick out a selection of maximum 4 frames to try at home using this free feature. You've 7 days to take them for a spin and decide which one(s) to buy. Also, shipping is free both ways!
How it works
Pick 4 frames We'll mail them to you for free. Try them out for 7 days and see which ones you like the most.
Make one (or more) your own! Buy the pair any time online or by calling us, and we'll send you a fresh pair.
Return your frames Once your 7 days are up, place your box in the post with the prepaid returns label. Done!
FAQs
1. Which styles are available for Try-At-Home?
Most number of our frames is available for Try-At-Home. Some styles maybe unavailable because they're either with other customers, or a part of the limited-edition collections. If you come across a pair that you like but are unavailable for Try-At-Home, you may contact us – we're always there to help you out!
2. If the Try-At-Home feature is free, why do you need my payment details?
We require your card details for security purposes – the Try-At-Home program is free of cost. Only if the trial frames are not returned within the designated time (7 days), or damaged frames are returned, we will need to charge the cardholder on file for the full price. We will always notify you before we charge you.
3. Can I order two Trial Carts at once?
Sorry, we only send one Try-At-Home package at a time! But once we receive your current package, we'll send the next one immediately.
Other FAQs
1. The frames that I like are out of stock. What should I do?
We continuously update our collections. If you need a pair and it can't wait, you can always browse through frames of similar shape and colour. You can also make use of our Home Trial feature.
2. Do you sell glasses for children?
No, it's currently illegal to dispense glasses for children under 16 online.
3. How do I order multiple pairs of glasses with different prescriptions?
If you are interested in purchasing multiple pairs using different prescriptions (e.g. one for you and one for your spouse), please select specify different prescription for both glasses at the checkout.
If you select send later and send 2 prescriptions through email, We will call you to confirm which prescription is to be used for which pair.
Contact Us
If you have any questions please drop us an email or give us a call. One of our customer executives will get back to you asap – support@specscart.co.uk. Alternatively call us on +44(0)161-3125767.
Privacy Policy
Your privacy is extremely important to Specscart. We've created this Privacy policy to help you learn what to expect when you interact with us. By using our website, you agree to the collection, use, disclosure, and procedures this Privacy Policy describes. Please note that this Privacy Policy does not apply to third party websites ("Third Party Services"), such as Facebook, Twitter, Pinterest, Instagram, Snapchat, and Google+, that we do not own or control, even if you access them through our Services. We try to work only with Third Party Services that share our respect for your privacy, but we cannot take responsibility for their practices, content, or privacy policies. We encourage you to carefully review the privacy policies of any Third Party Services you access so that you know how they will collect, use, and share your information. Your use of this website is also subject to our Terms and Conditions.
What data do we collect?
Data which you provide us
On creating an account: When you create an account with us, you provide a name, email address, and password. Your account password isn't stored by us.
When you buy a product or use our services: If you make a purchase, we request information from you to facilitate the transaction and get you the products. You may also provide us with information when you use certain online features, such as 'Try at Home'. This information may include your name, email address, phone number, shipping address, and date of birth, prescription information, including any images of prescriptions you may provide to us, medical history and information about your vision, information about the products you try on and purchase. If you provide us with an image of your prescription, we obtain any information that appears on the prescription form. For some online features like 3D Try-On, we may ask you to take or submit an image of yourself.
For buying the product, we ask you to provide payment information, which may include payment card information (such as credit card number, type, and expiration date), billing address, and shipping address. Our payment processor, which is required by credit card issuers to meet specific security requirements, will collect, store, and process your credit card and other payment information on our behalf using industry-standard security measures. We do not store any payment card information.
When you contact us: If you contact us in person, by calling, messaging, email, or through Social Media, or by some other means, we may keep a record of your contact information and the content of the communication for later reference. We receive responses to any survey that you choose to complete for us.
Data from cookies and other technology:
Like most websites, our website may use technology such as "pixel tags"and "cookies" that allow us and our service providers to collect information about your actions on our services. Our service providers may collect information about your online activities over time and across different online services. Cookies are small files that web servers may place on your computer when you visit a website. You may be able to set your web browser to reject cookies entirely or require that it request permission from you before accepting each new cookie. You can also delete cookies from your web browser once you leave a website. Disabling cookies – If you don't wish that we place cookies on your devices, you can set up your browser to disable to reject cookies. This will ensure that no website will be able to place cookies on your device. You can do this by changing the preferences in the settings of your browser. This may also mean that you won't be able to enjoy full use of all the parts of the website. If you want to delete previously stored cookies, you can do so manually through browser settings. This will, however, not prevent websites from placing further cookies on your website.
How do we use the information provided by you
We use the collected information to provide and improve our services and your experience on the website. Some of the ways we may use this information are –
to provide, personalize, and improve our products and our service
to facilitate selling and delivering your purchases and Try at Home
to communicate with you, including to respond to your comments or questions, and to send you updates about your order
to understand your use of our services to help us improve the customer experience
to provide you information, recommendations, and marketing materials about our products and Services
for our other internal business purposes
We may use location information collected from your mobile device to enhance your shopping experience and to provide you with location-based services, such as advertising, search results, and other personalized content, as well as to assist us with foot traffic measurement and service improvements in our stores.
Sharing the data collected
We may share the information as below –
With Vendors: We may provide your information to our agents or service providers as necessary to help them deliver the services, including order fulfilment, delivery services, payment processing, account registration, website- related services, such as web hosting, improvement of website-related services and features, maintenance services, data analytics.
The data collected by web servers and cookies may be used to ascertain the number of visits to website, average time spent on it, pages viewed, etc., too measure and analyse our product offerings marketing approach to improve our products and the site's functionality and content.
Changes to the Privacy and Cookie Policy
We occasionally review this Privacy Policy to make sure it complies with applicable laws and conforms to changes in our business. We may need to update this Privacy Policy, and we reserve the right to do so at any time. Your continued use of our services constitutes your acceptance of the terms of the Privacy Policy as amended or revised by us from time to time.
Contact Us
If you have any questions about viewing or updating your information, this Privacy Policy, or our privacy practices, please reach out to us at support@specscart.co.uk