Free Shipping & 24 Hr Dispatch. Even On Weekends!
Happy to Help
You're at the right place

Orders

Track Your Order

Shipping & Postage

Prescriptions

Lenses & Coatings

1 Week Home Trial

Other FAQs
Adjustments & Aftercare
ORDERS
Go through our wide range of eyewear to find the perfect pair for yourself. You can also use our Home Trial Service to make a better decision. Once you've chosen which frames you want to order, move on to selecting lenses. Choose one among our lens coating & package. You can browse through a large range of frames & lenses, and make a decision depending upon their thickness (or lack of it) and prices. Once you're done with that, enter your prescription or send it later (through e-mail). You can call our team at +44(0)1613125767 for any help. When you're happy with your order, you can continue on to the payment options. Once the payment is done, just sit back and relax – you'll soon receive your new pair of glasses!
You can pay for your glasses using a credit/debit card: VISA, VISA Electron, Switch, Solo, Maestro, Mastercard Or PayPal Once you have completed the payment process, wait a few moments and your confirmation page should load automatically on your screen, followed by a confirmation email. If this doesn't happen, call our team on +44(0)1613125767 so they can help you.
Is the Payment method secured?
We use Stripe secured payment server. The website is SSL certified. Customers can also choose Paypal as an option. Where you will be redirected to Paypal's payment gateway.
SHIPPING & POSTAGE
How Fast Is Specscart Rocket
All our glasses are crafted in‐house in the UK, which gives us an extra advantage in dispatching them as fast as possible. While we do a quick dispatch, the final delivery depends on our delivery partner - DPD, which aims for 24hr express delivery, but it's not guaranteed. We deliver your orders on all 7 days of the week - even on weekends.

Given below are the dispatch Time Tables for various combinations ‐ We guarantee dispatch time but not delivery time. All orders are subject to UK cut-off time 2pm*
In case of any queries about the order, please call us at +44(0)1613125767 or mail us at [email protected]. We try our best to make glasses at a lightning speed.
| Order | Dispatch |
| --- | --- |
| Prescription Type : Non - Prescriptive Coating : All coatings (Clear, Blue, Tint, Transitions) | 24 hours (Excluding Weekends and Bank Holidays) |
| Prescription Type : Single Vision (Stock) Coating : Clear | 24 hours (Excluding Weekends and Bank Holidays) |
| Prescription Type : Single Vision (Stock) Coating : X-Blue, Transitions & Dark or Graduated Tints | 48 hours (Excluding Weekends and Bank Holidays) |
| Prescription Type : Single Vision (Stock) Coating : Polarised Tints | 7 - 10 days (Excluding Weekends and Bank Holidays) |
| Prescription Type : Single Vision (Very Strong Prescriptions) Coating : All coatings (Clear, Blue, Tint, Transitions) | 7 - 10 days (Excluding Weekends and Bank Holidays) |
| Prescription Type : Varifocals Coating : All coatings (Clear, Blue, Tint, Transitions) | 7 - 10 days (Excluding Weekends and Bank Holidays) |
| Prescription Sunglasses (Mirror Tints) | 7 - 10 days (Excluding Weekends and Bank Holidays) |
FREE SHIPPING FOR STANDARD DELIVERY - UK & WORLDWIDE
- We have partnered with DPD to dispatch all the orders once they are ready. Returns are FREE for UK customers. Please see the Returns Policy for more details. 1 Week Home Trial is covered with free shipping both ways.
FREE SHIPPING FOR STANDARD INTERNATIONAL ORDERS
- Sorry, at the moment, We do not generate a Free Returns label for International orders. At present, Home Trial Service is only available in the UK.
PRESCRIPTIONS
Your prescription must be no older than two years. And, no older than 1 year if you're 70 & above.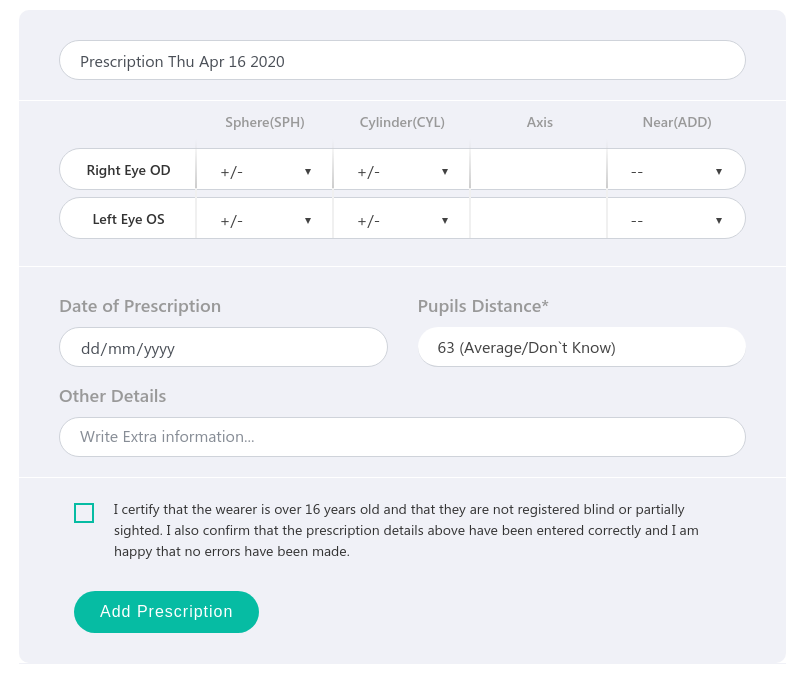 This could be entered in the system as:
We would recommend you to scan and send the prescription or upload a photo at the checkout. As this would make things easier for you. For any help we are just a call away : +44(0)1613125767
What Is PD or Pupillary Distance
PD measures the distance between the pupils of your eyes. This measurement is important to make sure that your eyes match up to the optical centre of your lenses. The average adult's PD is around 63 mm. Armed with your prescription and PD, you can shop on Specscart.com to find your perfect pair. Your PD measurement is typically written beneath the prescription.
How can PD be measured?
PD can be measured in two ways. The first is binocular, which is a pupil-to-pupil measurement and involves a single measurement, like 63 mm. The other type of measurement is called monocular, which is a per-eye measurement from the pupil to the middle of the face. It is a double value measurement, like 31mm/31mm. Monocular measurements are most often used when the face is not perfectly symmetrical, meaning one eye is closer or farther from the middle of the face than the other. You can use a ruler to measure it by your own or download or template
ATTACH THE SCALE
PD(PUPILLARY DISTANCE): Distance in millimeters(mm) between the centers of the pupils in each eye. This measurement is used to make prescription glasses.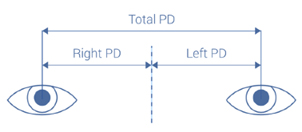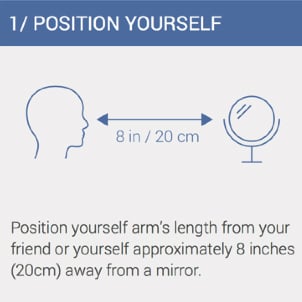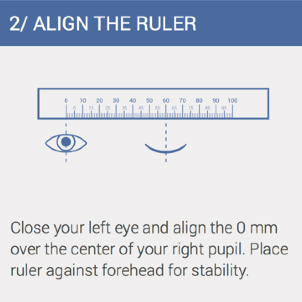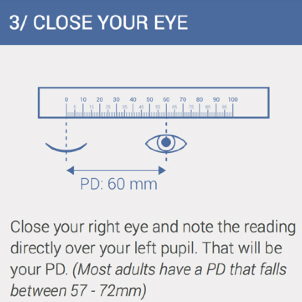 I don't know my PD
If you're unsure of your PD and don't have a spare pair of glasses to send us to get a PD measurement from, you can simply choose the "Use Average /I don't know my PD" option and we will use an average value of 63mm. If you have a higher prescription, we recommend you seek your correct PD value before placing your order.
How do I measure my PD at home?
Measuring your own PD is easy – simply buy a normal ruler or a printable PD ruler that can be downloaded here! You can always call us on +44(0)1613125767 for help.
Stronger Prescriptions?
Specscart cannot fulfil orders to customers with eyesight in the following ranges – The combined SPH and CYL vision is greater than +/-8.00 The CYL vision is over +/-4.00
LENSES & COATINGS
We offer the highest quality lenses. We offer Anti-UV, Anti- Reflective, Anti-Scratch, and Impact-Resistant as complementary. We believe with time these features are mandatory for today's wearer. Our lenses and packages - Distance, Near, Varifocals & even Non-Prescriptive we will glaze all kinds of Top Quality for you
How Fast Is Specscart Rocket
Single Vision lenses are for people who have trouble seeing either near or far (but not both). If you need a pair for both near and far vision, you should go for bi-focals or varifocals.
Varifocals are the superheroes of lenses. They allow you to see near and far using just one pair of varifocal glasses. They have a gradual change in vision from the top of the lens to bottom, which allows you to see all distances clearly through one lens. Unlike bi-focals, they do not have a dividing line within the lens. It is perfect for people who need to switch between long, intermediate, and short distances throughout the day.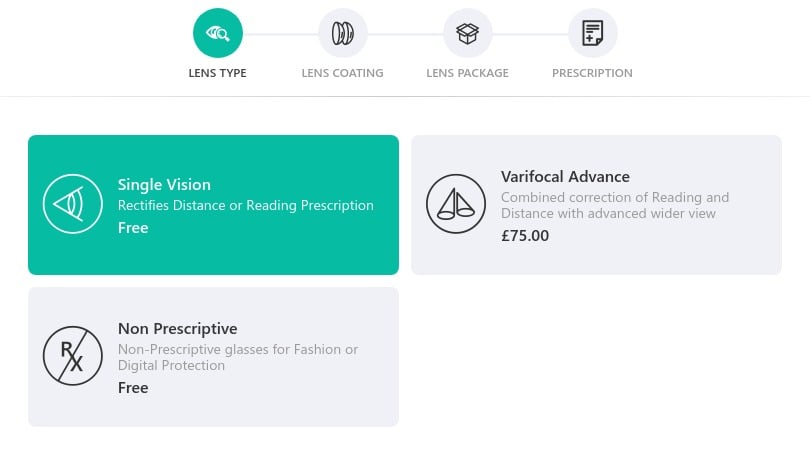 You can choose from a wide variety of lens coatings such as: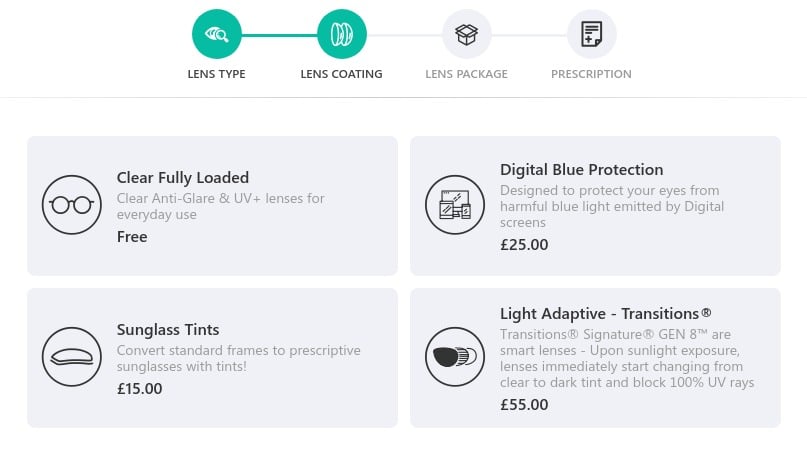 You can also thin your lenses down on your opticians advise or prescription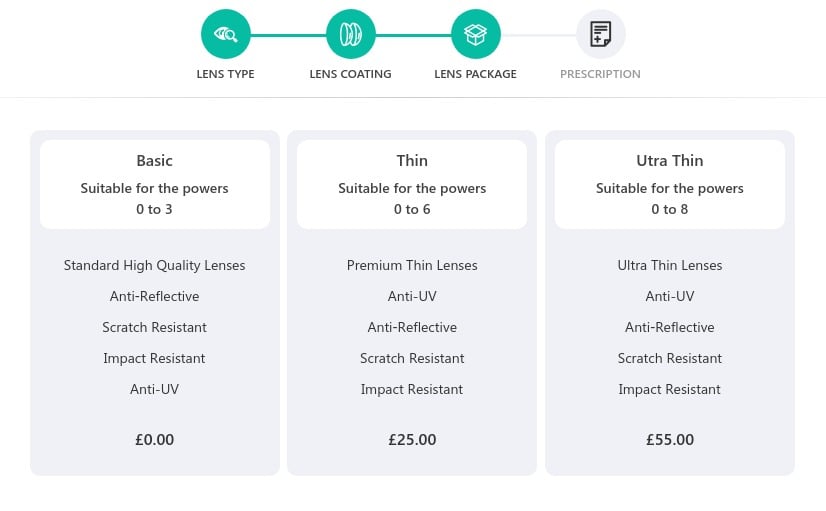 And yes we are always a call away for assisting in choosing the right lenses for you. +44(0)1613125767
1 WEEK HOME TRIAL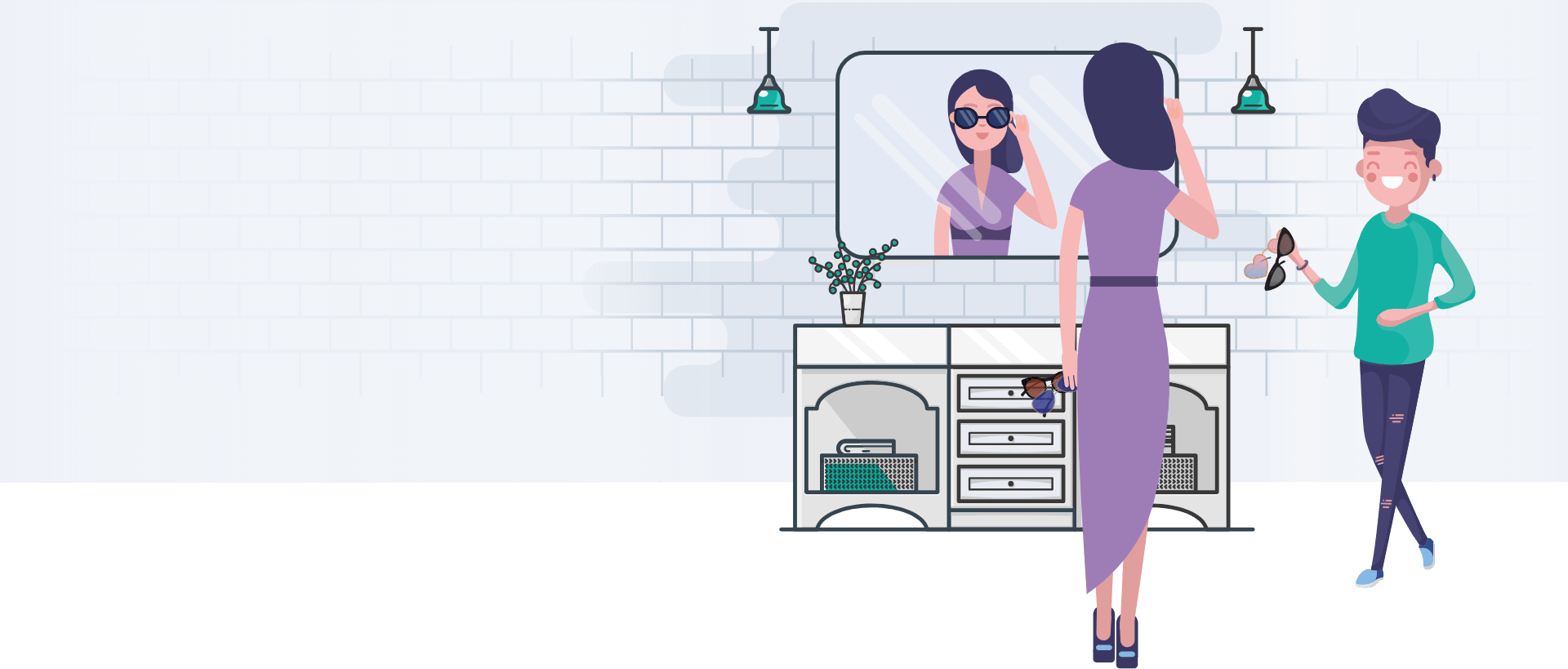 Try at Home
1 Week Free Home Trial
Get Choosy. 4 frames, 7 days - direct to your home
Try at Home
If you're confused about which frame to buy, you can pick out a selection of maximum 4 frames to try at home using this free feature. You've 7 days to take them for a spin and decide which one(s) to buy. Also, shipping is free both ways!
Pick 4 frames We'll mail them to you for free. Try them out for 7 days and see which ones you like the most. Make one (or more) your own! Buy the pair any time online or by calling us, and we'll send you a fresh pair. Return your frames Once your 7 days are up, place your box in the post with the prepaid returns label. Done!
1. Which styles are available for Try-At-Home?
Most number of our frames is available for Try-At-Home. Some styles maybe unavailable because they're either with other customers, or a part of the limited-edition collections. If you come across a pair that you like but are unavailable for Try-At-Home, you may contact us – we're always there to help you out!

2. If the Try-At-Home feature is free, why do you need my payment details?
We require your card details for security purposes – the Try-At-Home program is free of cost. Only if the trial frames are not returned within the designated time (7 days), or damaged frames are returned, we will need to charge the cardholder on file for the full price. We will always notify you before we charge you.

3. Can I order two Trial Carts at once?
Sorry, we only send one Try-At-Home package at a time! But once we receive your current package, we'll send the next one immediately.
OTHER FAQs
1. The frames that I like are out of stock. What should I do?
We continuously update our collections. If you need a pair and it can't wait, you can always browse through frames of similar shape and colour. You can also make use of our Home Trial feature.
2. Do you sell glasses for children?
No, it's currently illegal to dispense glasses for children under 16 online.
3. How do I order multiple pairs of glasses with different prescriptions?
If you are interested in purchasing multiple pairs using different prescriptions (e.g. one for you and one for your spouse), please select specify different prescription for both glasses at the checkout. If you select send later and send 2 prescriptions through email, We will call you to confirm which prescription is to be used for which pair.
ADJUSTMENTS & AFTERCARE
Most of our orders will not need any adjustment in fitting. For frames that do need a slight adjustment, we shall tell you how to do that yourself at home! All frames come with a screw driver and keychain, so that they prove handy in events like these. Adjusting nose pads Challenge – The glasses sit too high Quick fix – Hold your glasses with your non-dominant hand and use your thumb on your dominant hand to gently push out on the plastic nose pad. Do this to both sides until they sit comfortably on your nose. Challenge – The glasses sit too low Quick fix – Hold your glasses with your non-dominant hand and use your thumb on your dominant hand to gently push in on the pad arm (behind the nose pad). Do this to both sides until they sit on your face comfortably.
Adjusting the arms on metal frames
Run the earpieces under really warm water (not boiling, but as hot as you can get it) for a few minutes. You may also use a different method for heating them. Gently bend the earpieces slightly downwards or upwards to add curve.
RETURNS POLICY
We want our customers to be happy with our product, and if anything is less than perfect we are happy to accept returns. You can send it back to us up until 30 days (60 days if Varifocals) post receiving the order – no questions asked.
It's simple! Just call us at +44(0)1613125767 or drop us an email at [email protected] to request for return. Do share your order number. We will generate a Free returns label (For UK only). Once informed, please proceed with the following steps: Make sure the invoice, price tag and original packaging is intact. Seal it properly, stick the returns label over the existing address label and drop the package in a post-box or at the post-office.
If the exchange is made with a product of lower value, we will not be able to give you the difference back. So choose wisely! If the product is bought during promotional campaigns, you will have to return the entire order value, or simply ask for an exchange! Partial returns are not accepted. Do carefully seal them and send it back. Glasses that are scratched, bent, twisted or gone through any wear and tear will not be refunded. It is our recommendation that you obtain proof of postage from the Post Office as we are unable to take responsibility for packages lost in post. Your statutory rights in relation to returns and refunds are not affected.
How long do I have to return the glasses?
You have 30 days to return your glasses (60days if Varifocals), from the day you received your glasses were despatched to you. See the returns policy for further information.
How long will the return process take? How do I know you've received the glasses?
Refunds are typically processed within 10 to 15 working days. When we receive the frames, you will receive an email from us confirming that your glasses have been returned successfully.
What info do I need to provide if I want to return an item?
To return your frames, you will need the order number which has to be provided once you contact our team. This can be found in your My account, the delivery invoice, or the order confirmation email.
PRIVACY POLICY
Your privacy is extremely important to Specscart. We've created this Privacy policy to help you learn what to expect when you interact with us. By using our website, you agree to the collection, use, disclosure, and procedures this Privacy Policy describes. Please note that this Privacy Policy does not apply to third party websites ("Third Party Services"), such as Facebook, Twitter, Pinterest, Instagram, Snapchat, and Google+, that we do not own or control, even if you access them through our Services. We try to work only with Third Party Services that share our respect for your privacy, but we cannot take responsibility for their practices, content, or privacy policies. We encourage you to carefully review the privacy policies of any Third Party Services you access so that you know how they will collect, use, and share your information. Your use of this website is also subject to our Terms and Conditions.
What data do we collect?
Data which you provide us
On creating an account: When you create an account with us, you provide a name, email address, and password. Your account password isn't stored by us.
When you buy a product or use our services: If you make a purchase, we request information from you to facilitate the transaction and get you the products. You may also provide us with information when you use certain online features, such as 'Try at Home'. This information may include your name, email address, phone number, shipping address, and date of birth, prescription information, including any images of prescriptions you may provide to us, medical history and information about your vision, information about the products you try on and purchase. If you provide us with an image of your prescription, we obtain any information that appears on the prescription form. For some online features like 3D Try-On, we may ask you to take or submit an image of yourself.
For buying the product, we ask you to provide payment information, which may include payment card information (such as credit card number, type, and expiration date), billing address, and shipping address. Our payment processor, which is required by credit card issuers to meet specific security requirements, will collect, store, and process your credit card and other payment information on our behalf using industry-standard security measures. We do not store any payment card information.
When you contact us: If you contact us in person, by calling, messaging, email, or through Social Media, or by some other means, we may keep a record of your contact information and the content of the communication for later reference. We receive responses to any survey that you choose to complete for us.
Data from cookies and other technology:
Like most websites, our website may use technology such as "pixel tags"and "cookies" that allow us and our service providers to collect information about your actions on our services. Our service providers may collect information about your online activities over time and across different online services. Cookies are small files that web servers may place on your computer when you visit a website. You may be able to set your web browser to reject cookies entirely or require that it request permission from you before accepting each new cookie. You can also delete cookies from your web browser once you leave a website. Disabling cookies – If you don't wish that we place cookies on your devices, you can set up your browser to disable to reject cookies. This will ensure that no website will be able to place cookies on your device. You can do this by changing the preferences in the settings of your browser. This may also mean that you won't be able to enjoy full use of all the parts of the website. If you want to delete previously stored cookies, you can do so manually through browser settings. This will, however, not prevent websites from placing further cookies on your website.
How do we use the information provided by you
We use the collected information to provide and improve our services and your experience on the website. Some of the ways we may use this information are –
to provide, personalize, and improve our products and our service
to facilitate selling and delivering your purchases and Try at Home
to communicate with you, including to respond to your comments or questions, and to send you updates about your order
to understand your use of our services to help us improve the customer experience
to provide you information, recommendations, and marketing materials about our products and Services
for our other internal business purposes
We may use location information collected from your mobile device to enhance your shopping experience and to provide you with location-based services, such as advertising, search results, and other personalized content, as well as to assist us with foot traffic measurement and service improvements in our stores.
Sharing the data collected
We may share the information as below –
With Vendors: We may provide your information to our agents or service providers as necessary to help them deliver the services, including order fulfilment, delivery services, payment processing, account registration, website- related services, such as web hosting, improvement of website-related services and features, maintenance services, data analytics.
The data collected by web servers and cookies may be used to ascertain the number of visits to website, average time spent on it, pages viewed, etc., too measure and analyse our product offerings marketing approach to improve our products and the site's functionality and content.
Changes to the Privacy and Cookie Policy
We occasionally review this Privacy Policy to make sure it complies with applicable laws and conforms to changes in our business. We may need to update this Privacy Policy, and we reserve the right to do so at any time. Your continued use of our services constitutes your acceptance of the terms of the Privacy Policy as amended or revised by us from time to time.
Contact Us
If you have any questions about viewing or updating your information, this Privacy Policy, or our privacy practices, please reach out to us at [email protected]
Track Your Order
Tracking your order is easy! Here's all you need to do.
1. Go to 'My Account' and click on 'Tracking Orders'.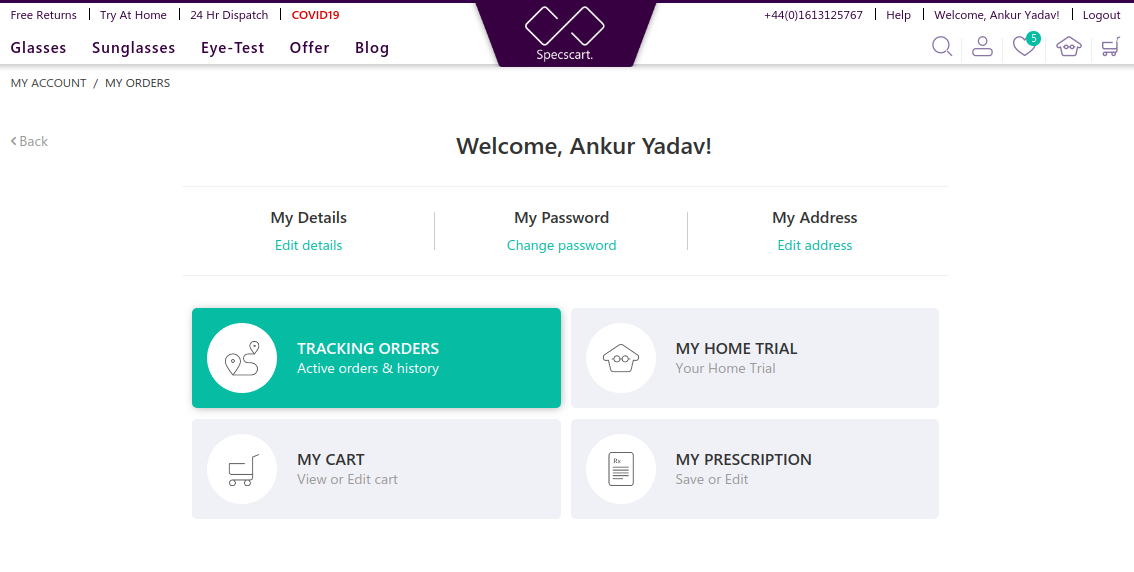 2. Choose the order you wish to track from the list that appears and click on 'Detail' beside it.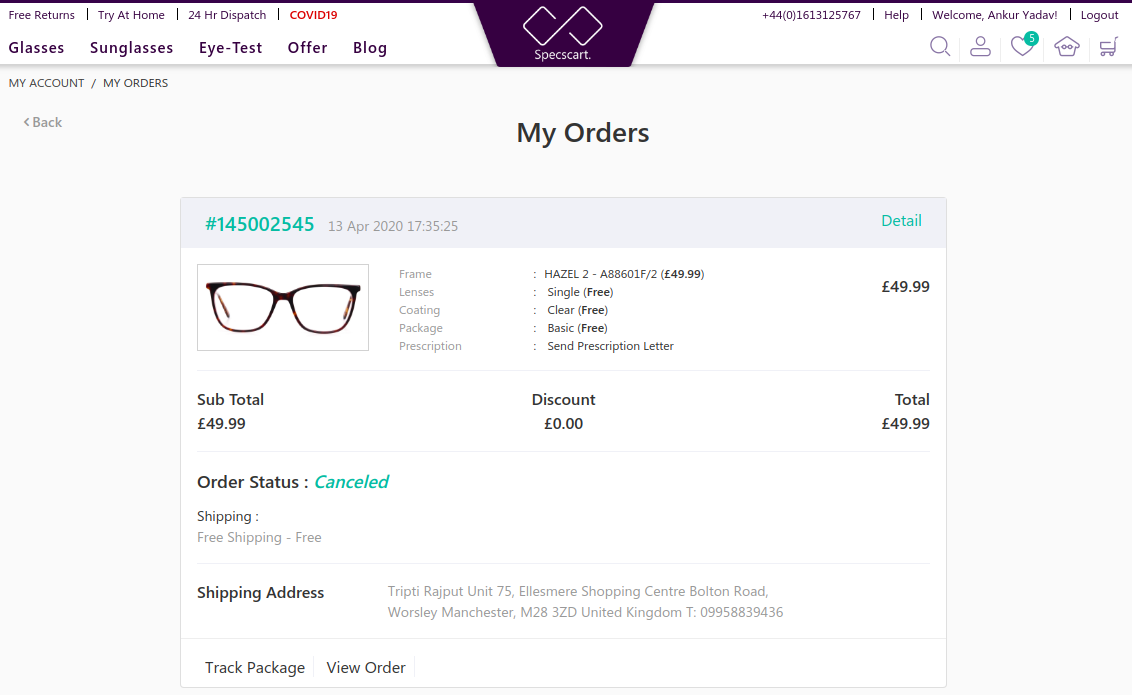 3. Scroll down a bit or click on 'Track Package' to check your order's current status.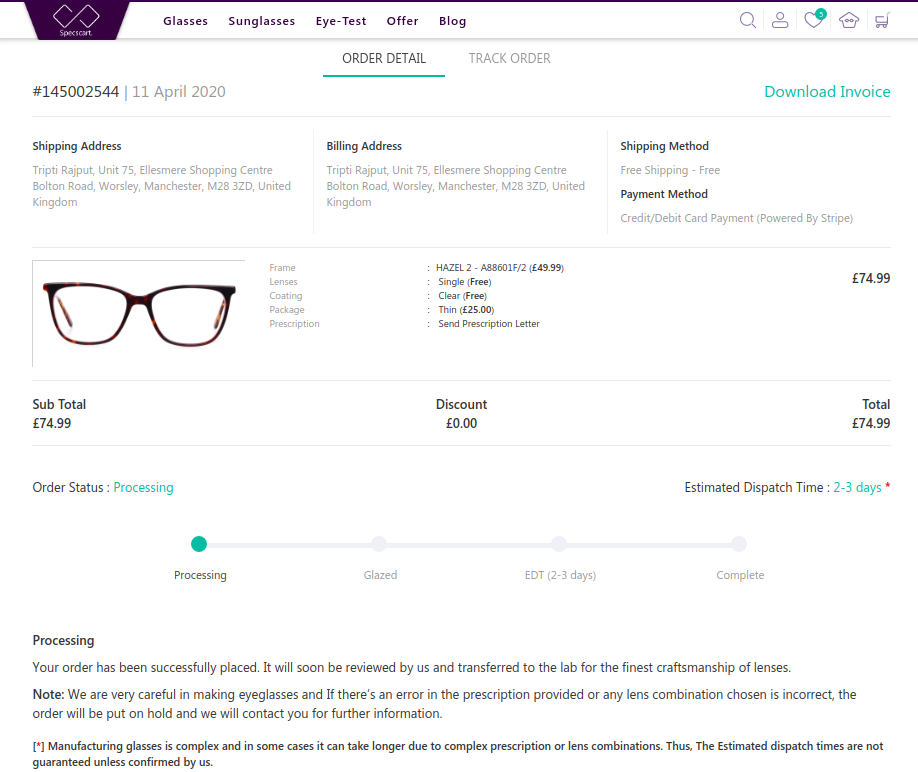 Ordered frames for Home Trial? Here's how you can check their status.
1. Go to 'My Account' and click on 'My Home Trial'.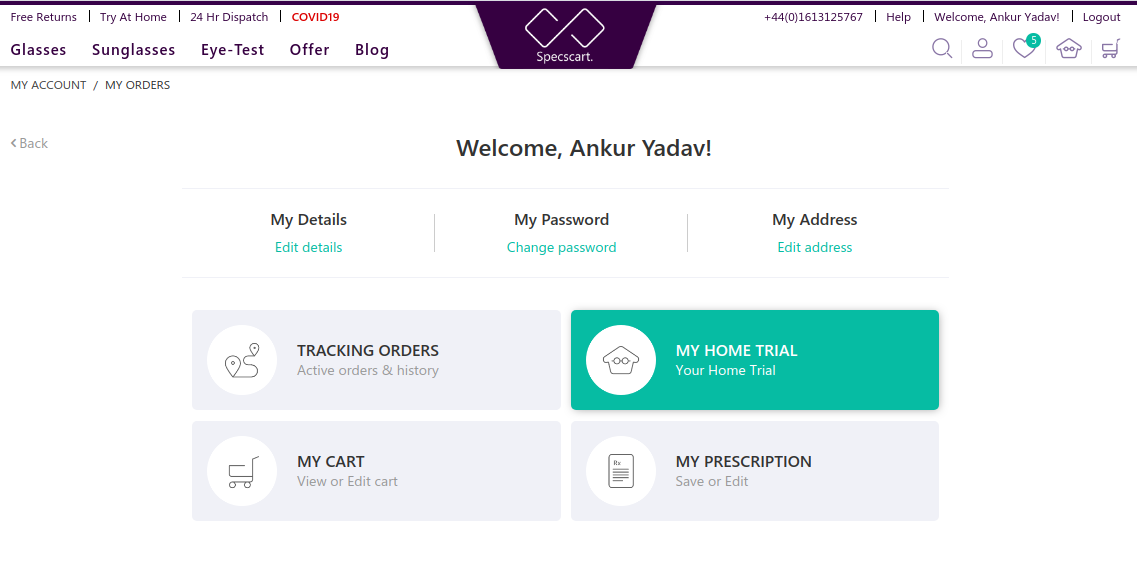 2. On top you'll find the latest home trial package you ordered.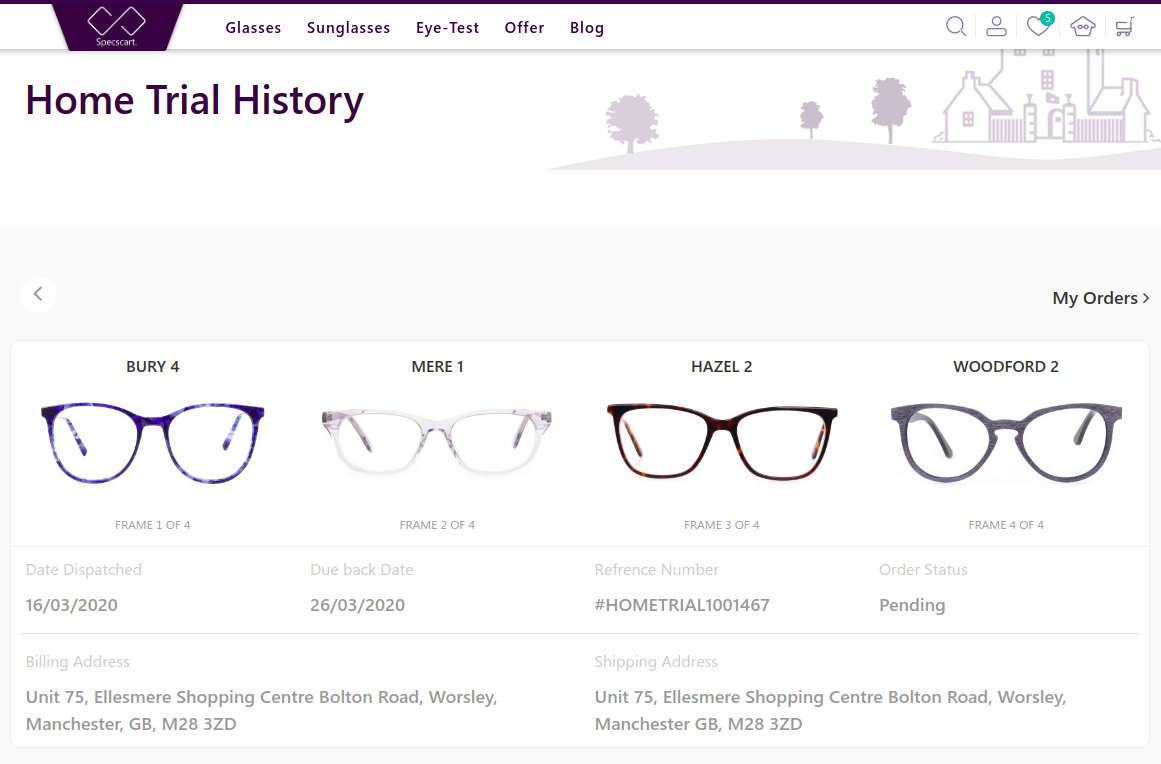 3. Alongside the package details, you can check out its status.
Q1. What if I receive damaged frames?
Ans. We want to deliver your glasses as soon as possible and in the perfect condition. Yet, in an improbable event wherein you receive a defective piece, please contact us at [email protected]. You can also give us a call on +44(0)1613125767 and we will resolve this. Try to include as many details as possible about the order.
Q2. What should I do if I'm experiencing issues with my prescription?
Ans. Sometimes it takes a few days to adjust to a new prescription. Yet, if you're having an on-going trouble with your glasses, please contact us at [email protected] or give us a call us on +44(0)1613125767. We'll help determine the issue so that we can re-make your glasses and make sure they don't trouble you anymore!
Q3. Do I have to pay for the return of Home trial package?
Ans. Do not worry! We send a return label along with the home trial package, so that when you wish to return it after 7 days, you can do so without paying a dime.
Q4. Do you offer a faster shipping option?
Ans. Yes, you can call us at 01613125767 to upgrade to Special Delivery Guaranteed by next day 1pm.