Free Shipping & 24 Hr Dispatch. Even On Weekends!
Pen down a love letter to summers with our yellow sunglasses . Infused with an energising aura and hued with saturated colours, the collection is a re-imagination of 'feel good vibes.' Be ready to teleport into a Tropical Heaven and bask under the 'Tuscan sun' with yellow glasses sunglasses made for the bold and unafraid..
Loading Products...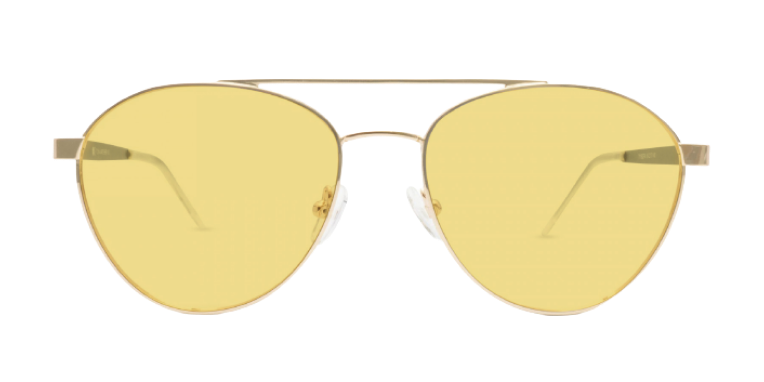 Yellow Aviator Sunglasses
When to Wear our Mellow-Yellow Range
The magic of yellow aviator sunglasses' truly manifests under foggy, cloudy, and slightly dim weather conditions.
The purpose of our Yellow aviator Sunglasses is more than just 'skin deep.' Designed to enhance vision, clarity, and definition in low light conditions, the yellow tinted lenses can be the go-to night driving glasses for individuals who are sensitive to night-time glares emanating from traffic signals and vehicles.
Besides, instantly putting you in a good mood, these yellow shades reduce the overall intensity of light and filter out a large chunk of blue light in dim weather conditions, thereby improving contract vision.
Round Yellow Eyeglasses
An Ode to British Summers
Round Yellow Sunglasses: For high-impact looks whose charm lingers long after you have left the crowd!
Inspired by nature's bounty that blesses British soil every summer, our round Yellow Sunglasses pay homage to the country's 'summer-y emblems.' Daffodils, sunflowers, ice-cold margaritas, clear azure skies, and the gritty sands of Brighton - the range captures all these essences and serves them in a vibrant platter of high-quality lenses and sleek frame designs.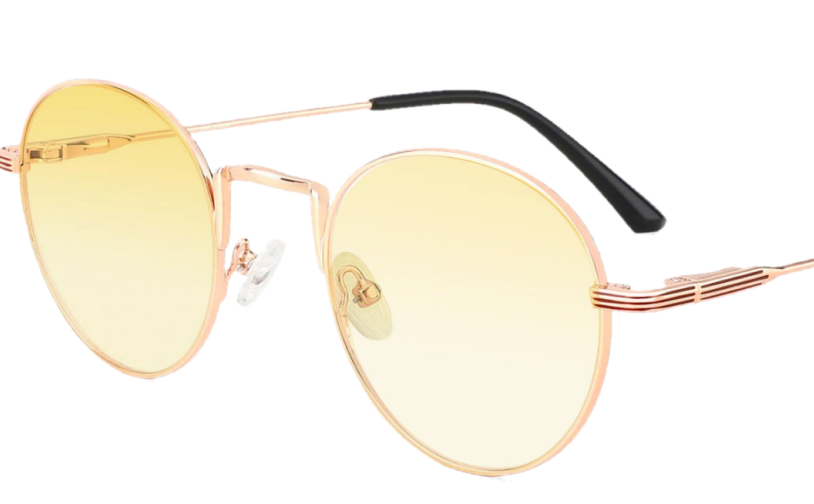 Women's Yellow Sunglasses: Colour Theor
For a first impression that lasts, buy women's yellow sunnies in fashion-forward frames and elevate their appeal with colour theory! Yellow is a primary colour, which commands attention and radiates exuberance, happiness, and hope! The eye-catching colour looks best when colour-blocked strategically by using the colour theory. For captivating ensembles that linger in the onlooker's memory, pair women's yellow sunglasses with blue, lilac, or beige outfits.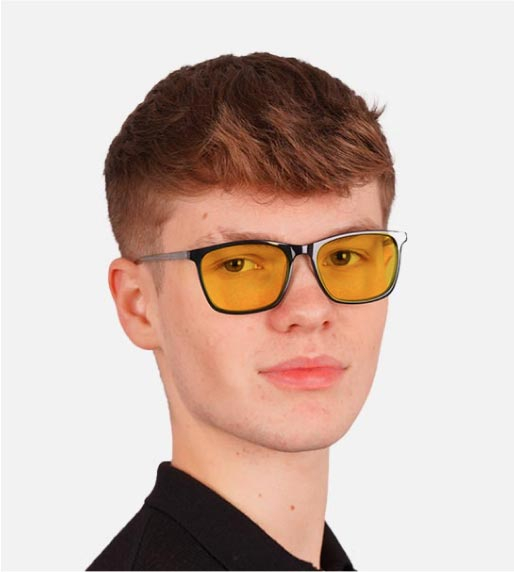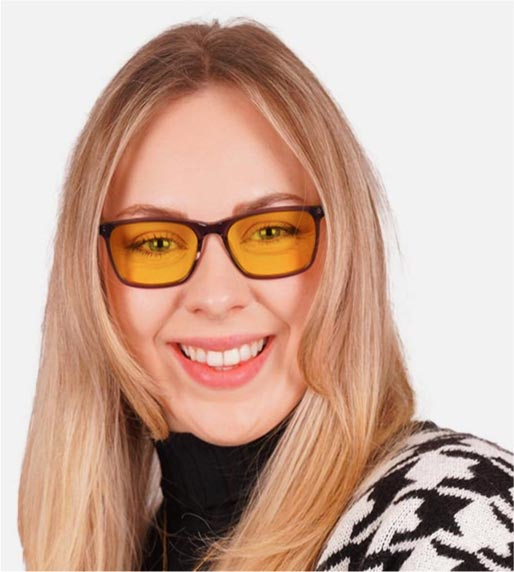 Men's Yellow Sunglasses: Ideal Occasions 
For artists, and enthusiasts of sports; for fashion freaks, and fellows working under foggy conditions; for nighttime drivers sensitive to glares and indoor gamers - Specscart's yellow sunglasses for men have got your back!
The snow appears incredibly bright when there is no immediate sunlight on it, and a direct stare can severely damage the cornea. But, by improving depth perception, yellow sunnies help dodge the detrimental glares emanating from snow. So, #snowreadywithSpecsart! Moreover, the range is ideal for wearing during indoor ball games, driving under foggy conditions. So, our yellow sunglasses are made for the 'man with many talents!'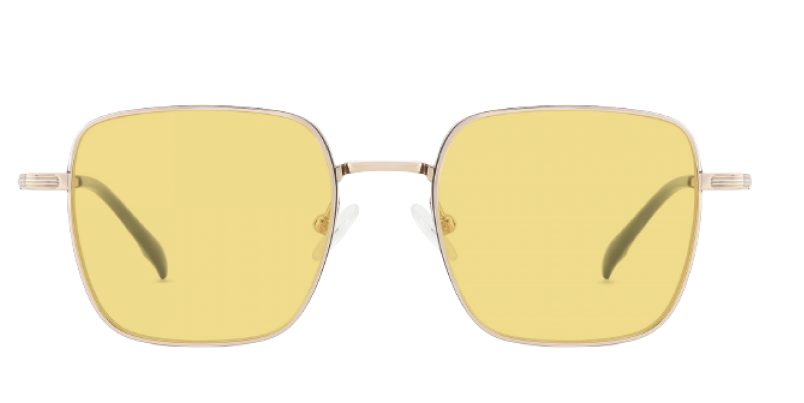 Yellow Square Sunglasses
A Fresh Chapter in Fashion
Notes of bold vibrancy packaged in a citrusy flavour, our yellow round and yellow aviator sunglasses are sure-shot ways to gain more style points!'  Evoke and exude the romance and spirit of warmer and happier days with frames that echo a typical 'Santorini' summer. For a brunch date, opt for yellow square sunglasses or cat-eyes with a classy and minimal outfit. Have an adrenaline-inducing game of baseball this week? Consider oversized square yellow frames for all-round protection, increased outdoor depth perception, and an uber-fashion persona
Black and Yellow Sunglasses
A Duochrome Magnificence
Add a sweet cinnamon spice and a tantalising tangy twist to every attire with high-quality, comfortable, and fashion-forward black and yellow eyeglasses collection from Specscart! Driving to a rave? Why not donn black and yellow aviator shades with a monochromatic ensemble and enter the party with an unparalleled panache! Planning a beach vacation? Combine your sarongs and sundresses with a classy black and yellow-tinted cat-eyes, and be prepared to make heads turn!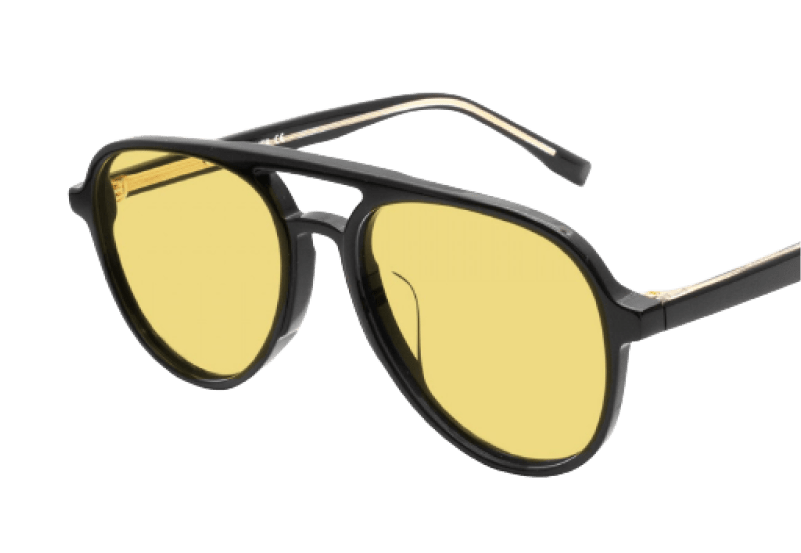 Indoor Advantages of Yellow Shades Tints
When inside, the yellow tinted lenses of our sunglass range helps enhance vision by brightening up the indoor region. The vivacity of yellow sunnies increases the depth perception, so that when you walk into an area with less natural light, your perception is automatically enhanced.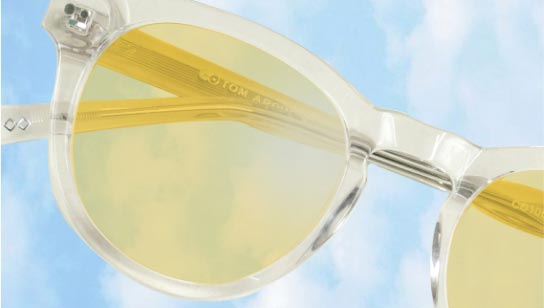 Outdoor Benefits Yellow Sunglasses Tints
Yellow lens tints block the harmful UV rays from the sun, and serve as the 'knight in shining for your vision.' They also benefit by sharpening depth perception outdoors for a brighter and more vibrant surrounding in overcast contexts. If you are an enthusiast of games like golf and baseball, then sunglasses with yellow lenses can help in focusing the eyes on the ball. So, ace your game with Specscart's Yellow Shades collection!
Signature Sunglasses Housed in Vibrant Frames:
The Mellow-yellow Collection by Specscart
Transport to a technicolour world, and experience life through a bright lens, which is refreshing, hopeful, and brimming with happiness; buy our yellow sunglasses today!
'A thousand splendid suns' combine to provide colour to our yellow sunglasses. Super-pigmented shades affixed with high-quality polarised lenses, our yellow sunnies are beauty and performance personified. For an editorial feel and versatile functionality, the Mellow-yellow range is all you need. So, just like the Beatles from 1966, begin your 'Yellow Submarine' life in style and suave; order our yellow sunnies now!
FAQs
What are yellow sunglasses for?
Yellow sunglasses are best to wear during foggy and cloud weather, as they increase the depth perception and crispness and help focus on objects better.
Are yellow sunglasses bad for eyes?
No, yellow shades are not bad for eyes. They provide enhanced visual clarity and depth perception and might help reduce eye strain when outdoors.
Do yellow sunglasses block blue light?
Yellow tints on glasses might reduce the impact of blue light in hazy or overcast situations. Besides, yellow sunnies might be beneficial for people who spend a lot of time in front of the computer screen.
Do yellow sunglasses protect your eyes?
Yes, yellow sunglasses can be helpful to the eyes and offer protection. By enhancing depth perception for a brightened surrounding in hazy situations, yellow shades might reduce eye strain. Besides, for players of golf and baseball, yellow tints can help keep the eyes on the ball.
---