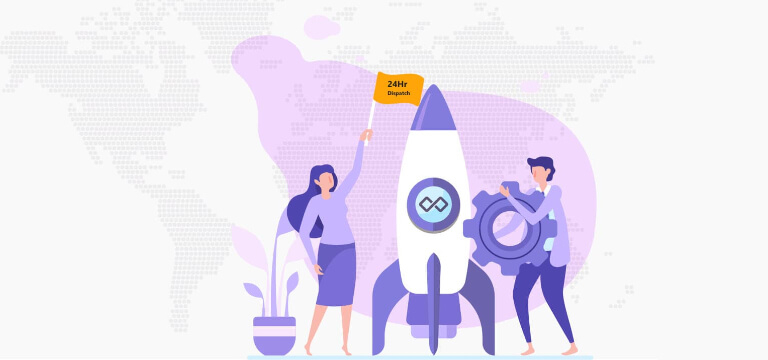 Specscart Rocket!
Same Day Glasses Dispatch Next Day Delivery
Free Shipping Across the Globe!
Specscart has mastered the supply chain for the same day glasses dispatch. Specscart makes every pair in its UK lab that gives an additional edge to offer same day glasses dispatch online UK
Prescription Glasses dispatched in 24Hr?
How do we do it?
Specscart has achieved the fastest turn around which is a 24 hour dispatch for prescription glasses. This has been possible with the state of the art in house laboratory in Manchester and advanced manufacturing standards. At a Specscart Lab, advanced technology and 20 years+ experienced technicians make sure that every pair goes through the 3-point checks while maintaining the manufacturing speed for the same day glasses dispatch next day delivery.
---
All Glasses are crafted in‐house in the UK!
This gives us an additional advantage to do things faster than others.
National UK Delivery
We dispatch all orders by Royal mail 1st Class as standard. 1st class aims 24hr delivery ‐ but it's not guaranteed. If you are in a rush, you can always upgrade to Special Delivery Guaranteed by next day 1pm by calling us at 01613125767.
International Delivery
All International orders are dispatched by DHL Tracked Priority. It takes 7‐10 days from the dispatch date depending upon your country.
All orders are subject to UK cut off time 1pm. Dispatch time excludes Weekends and Bank Holidays.
Coronavirus (COVID-19) Notice
For our teams' safety - We are opening the lab on restrictive days. It will take extra 5 working days in addition to the displayed time due to the nationwide lockdown. Our customer service team remains open from home.
Orders & PrescriptionType
Coating
Dispatch
Non ‐ Prescriptive
All coatings (Clear, Blue, Tint, Transitions)
24 hours
Single Vision (Stock)
Clear
24 hours
Single Vision (Stock)
X‐Blue & Transitions
48 hours
Single Vision (Stock)
Dark or Graduated Tints
48 hours
Single Vision (Stock)
Polarised Tints
5‐7 days
Single Vision (Very Strong Prescriptions)
All coatings (Clear, Blue, Tint, Transitions)
5‐7 days
Varifocals
All coatings (Clear, Blue, Tint, Transitions)
7-10 days
Prescription Sunglasses
Mirror Tints
5‐7 days
Designers
Ted Baker, Hackett, Marc Fabien, Salvatore Ferragamo, Calvin Klein
4‐5 days
(Additional)
Every effort is made to craft and dispatch your glasses at the fastest speed. However, it can take longer than expected for complex lens combinations and prescriptions.