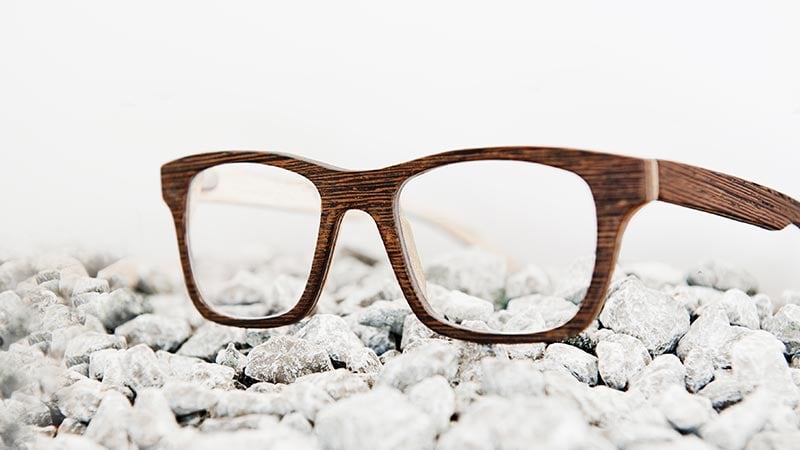 5 Reasons to go for Wooden Glasses
There are 2 types of people in this world - those who think wearing glasses is a responsibility, and those who think it is an opportunity. And with so many styles available these days, the opportunities are endless! I have been wearing glasses since I was a kid and have tried everything - titanium, acetate, stainless steel etc. But my favourite - and the most unique and refreshing style these days - is wooden glasses. It has such raw and organic vibes that they look great with all kinds of outfits.
From professional and elegant to hip and trendy - there are so many styles to choose from. All Specscart wooden glasses frames are made of compound wood - a mix of plant-based cellulose acetate and natural wood. This results in beautiful natural grains and authentic texture.
If you are confused about switching to wooden prescription glasses, here are reasons that will convince you.
1. Eco-friendly Choice
You are making a conscious choice to help save the environment by purchasing glasses made of wood. Every action you take to replace a plastic product with an environmentally friendly one helps to lessen your carbon footprint. When it comes to glasses, swapping from a pair of plastic glasses to a pair of eco-friendly frames can help reduce your carbon footprint.
Wood is one of the most environment-friendly materials, especially when it's supplied sustainably! It is a one-of-a-kind material that aids in the fight against climate change by absorbing carbon dioxide from the environment while also reducing fresh carbon emissions.
Wood frames need a lot less energy to make and manufacture than cheap glasses made of plastic. Please also note that we don't use plastic in any of our frames - we use acetate instead, which is a plant-based material and much more eco-friendly than plastic.
What's more, sustainably obtained wood is a renewable resource that originates from trees. It can be continually regrown through natural processes, replanting, and correct forestry management, unlike other materials. Harvesting trees and replanting new ones helps a forest's health, regrowth cycle, all of which have a great impact on the planet.
2. It Does not Contain Any Harmful Products
Because wood is naturally sturdy, it doesn't require much processing, if any, in order to create a pair of eyeglasses. To put it another way, they're all-natural. When plastic or metal frames are manufactured, the production and processing of several materials to generate the final product might result in a few environmentally damaging pollutants.
Since it is such a natural material, it is relatively unlikely to cause any allergy or reactions. You can wear these for long periods of time without any discomfort.
3. Grains and Texture
Glasses with wooden frames have a texture that can't be replicated in other frames. The highlight of these glasses are the natural grains across their surface. Whether it is the more common ebony brown glasses or edgy black ones, their spots, stripes and patterns are very eye-catching. Each pair of wooden glasses is unique in itself.
4. Wooden Glasses are Comfortable and Lightweight
When you put on a pair of wooden frames, you'll realise that they're noticeably more comfy than any other type of glasses.
In comparison to other materials, wooden frames are incredibly lightweight, providing excellent comfort that can allow for long day wear without experiencing any strain or pain on the nasal bridge or around the ears.
5. They are The Trend of the Season
Last but not least, wooden glasses are absolutely stunning! Wooden glasses frames may add a subtle natural variation to any appearance, from stylish to punk to corporate to hipster.
Wood is an undeniably gorgeous natural material that always adds flair and elegance, especially when it's handcrafted. Whether it's to enhance your clothing with wooden accessories or to design your home with wooden furniture! Without a question, wood is a versatile material that can be used in a variety of settings and styles.
Glasses are the same way. Neutral colours, craftwork and wooden frameworks are in trend this season. If you are still confused about wooden glasses, go for our Free Try at Home feature and try any of these 4 glasses for 7 days!
Our Latest Stories
Specscart Blog
Want the latest update on designer eyewear, shades or glasses? Our blogs give exceptional insights into the latest eye care measures and eyewear trends, fashion and style hitting the streets of United Kingdoms. From finding an optician or optometry near you to the latest designer glasses or sunglasses for the summer and spring fashion, you'll learn something useful every day. We publish regular informative measures on eye care, the latest design in eyeglasses and sunnies, celebrity specs and fashionable choices you can make in your lifestyle to up your fashion game. Read on to find information about various glasses types, eye condition and fashion trends in a fun and simple way that you would fancy with a cuppa tea.
10% OFF
USE CODE
READER10
COPY CODE
Hello, fellow reader!
You like to read stuff, and we love that about you!
Here's an exclusive 10% coupon for our Blog readers
Stay Updated
Sign Up for the latest trends and exclusive offers!