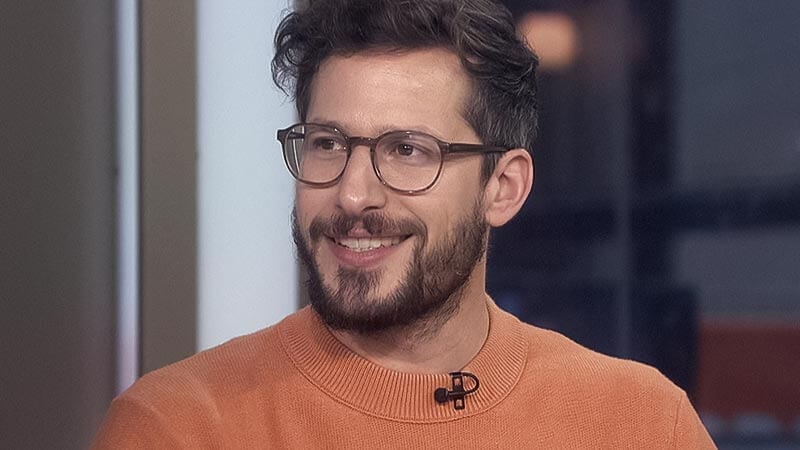 Andy Samberg's Specs Appeal - 5 iconic eyewear moments
If there's something Andy Samberg is more famous for other than his comic timing, it's his good looks. And he looks even more adorable when he puts glasses on. That's not just me, a lot of people think that way. Now take this for example - some time back Samberg uploaded a pic on twitter with glasses and beard, which sent the twitterverse into a spiral. He has mentioned in a few interviews that he has 10 pairs of frames, including prescription sunglasses. He also dislikes wearing contacts (something we have in common!)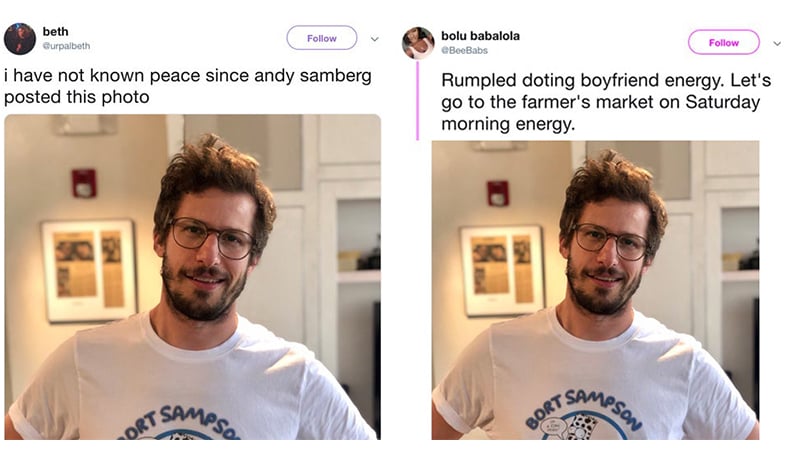 There's even an account on tumblr with the name "Andy Samberg Specs Appeal"! Clearly, the Brooklyn Nine-Nine star has a lot of fans in this club (including me!) As a part of this fan club, I thought of compiling a list of my favourite moments of Andy Samberg glasses (along with similar styles from our collection!)
Andy Samberg Eyewear Collection
These are some of my favourite looks of Andy Samberg wearing glasses. Have a look and see if you like them too!
1. Playful and Off-duty Look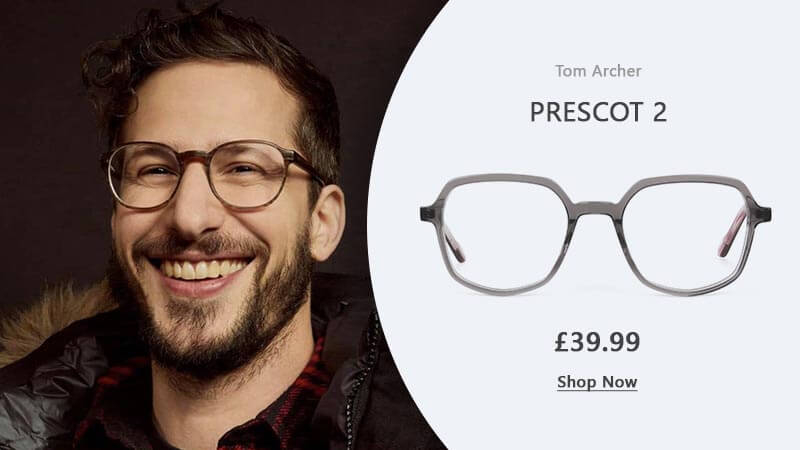 These are apparently his favourite frames, as you can see him wearing it most often at various events and behind the scenes photos on sets. With a greyish, crystal toned look, glasses suit various skin tones - making them perfect as fashionable glasses for men. The angular shape also adds character to the face, making them incredibly stylish. The ones we have featured here have a geometric shape (with extra angles at the bottom part), which make them look even more modern. The best part is that they go well with formal and casual wear.
2. Chunky Glasses for a Geeky Chic Look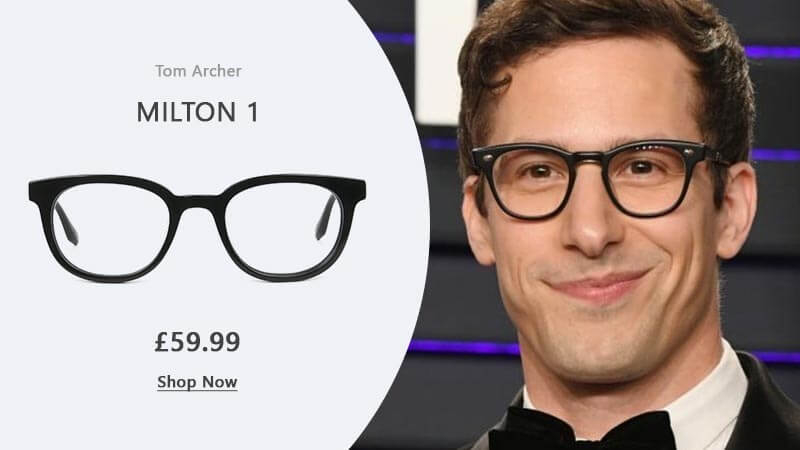 Chunky black glasses like these are a regular on the red carpet. Celebrities prefer wearing them for a smart and fashionable look, especially with suits for black tie events. It seems to be perfect for Andy as well, whose dorky charm is perfect for these glasses. He wore these while hosting the Emmys in 2015. Thick wayfarers are no longer thought of as nerdy or too studious, in fact they are a very fashionable choice now. And like Andy here, these glasses particularly go well with formal suits. You can also pair them up with a turtleneck and jeans.
3. Keeping it Simple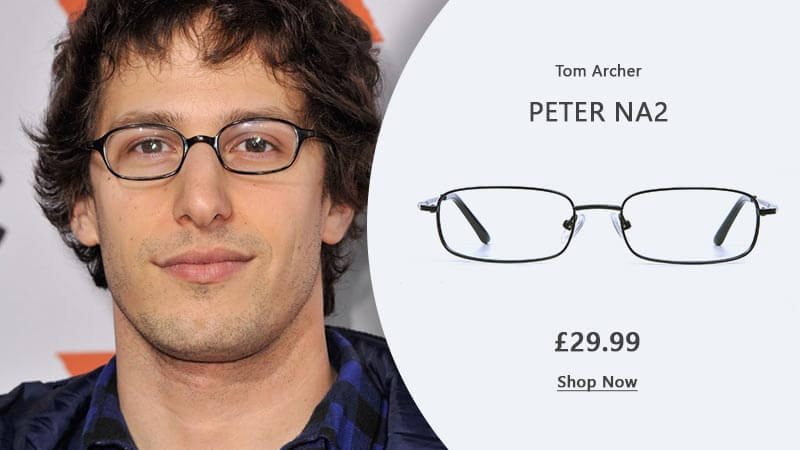 One of the first few styles that Andy Samberg ever sported were these full rim curved rectangular glasses. They are quite reminiscent of Will McKenzie from the Inbetweeners. Although he has stopped wearing these, I think it's a very functional style. And with a great price, it is also one of the best cheap glasses online. These might just be the new cool!
If you too are a fan of things old-school, then Peter might just be for you.
4. Retro Cool in Round Glasses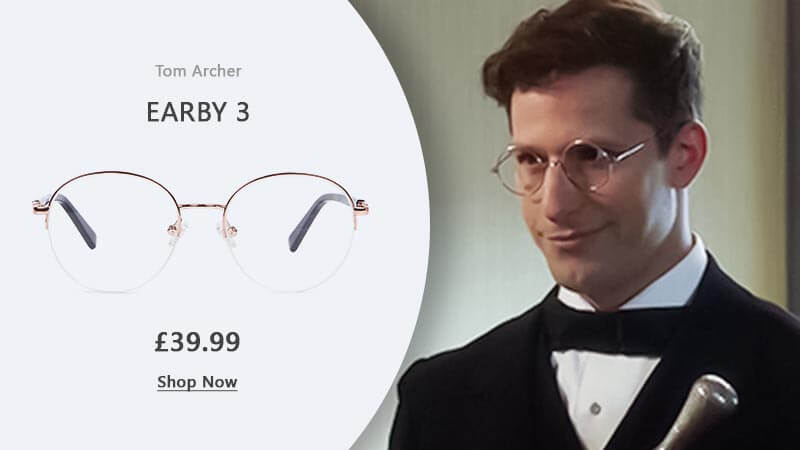 Apart from real life, Andy Samberg has sported a lot of different styles in his hit sitcom as well. Playing the character of Jake Peralta, he wore these round metal gold round glasses with a tuxedo in one of the episodes. With a retro, gentlemanly look, he looks like someone from the 80s. Retro styles like these have made a huge comeback, whether it is round glasses or aviators. Metal glasses look more sophisticated and elegant (especially gold ones), so they go better with formal wear.
5. Old School in Black aviators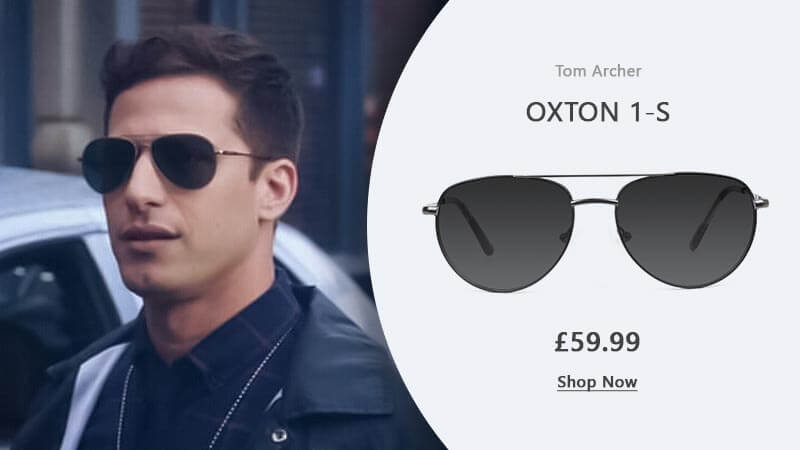 Another one from his turn as Jake Peralta from Brooklyn Nine-Nine - Samberg is seen wearing classic black aviators here. Not just glasses, Andy Samberg sunglasses are eye-conic as well! And you can never go wrong with aviators. The classic teardrop shape has always been in style, and particularly suits people with sharp features. They are a great accessory for road trips, beach walks, etc. Wear them with a leather jacket and you are good to go! When it comes to our Oxton, they combine classy with a modern appeal, these will help you enhance your look. Be it an office party or a casual day at the beach, these aviators will help you stand out. When it comes to durability, these metal frames are sturdy enough to last for a long time.
These were some of my favourite Andy Samberg glasses and sunglasses moments. It was of course tough to stick to 5, but these capture how wearing frames can elevate your look. If you are looking for the best designer glasses frames online, make sure to check out our website. With free shipping and free home trial on glasses, I'm sure you will find something you love!
Our Latest Stories
Specscart Blog
Want the latest update on designer eyewear, shades or glasses? Our blogs give exceptional insights into the latest eye care measures and eyewear trends, fashion and style hitting the streets of United Kingdoms. From finding an optician or optometry near you to the latest designer glasses or sunglasses for the summer and spring fashion, you'll learn something useful every day. We publish regular informative measures on eye care, the latest design in eyeglasses and sunnies, celebrity specs and fashionable choices you can make in your lifestyle to up your fashion game. Read on to find information about various glasses types, eye condition and fashion trends in a fun and simple way that you would fancy with a cuppa tea.
Hello,
fellow reader!
An exciting offer is on the way to your inbox!
You like to read stuff, and we love that about you.
Enter your email-ID below and we will send you an exclusive offer!