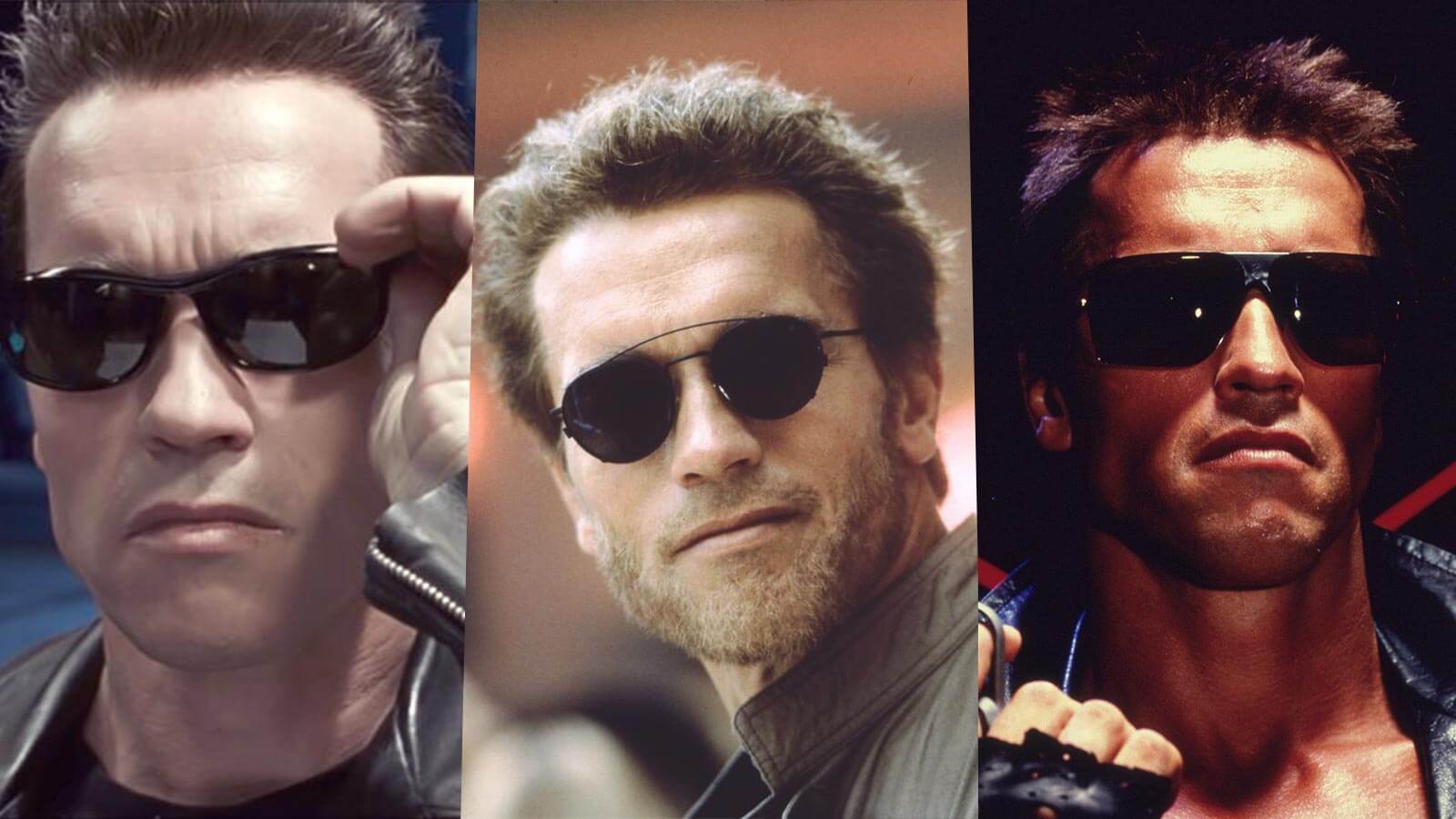 Discover the Most Famous Arnold Schwarzenegger Sunglasses Today
Fans love Arnold Schwarzenegger sunglasses that were made famous by his role in the Terminator series. This made the actor known for his eyewear, obviously along with his mesmerising skills. The actor, filmmaker, professional bodybuilder and politician at one time, has Austrian American roots. He is also an author who has written several articles and books on sports.
We'll delve more into the life of the awesome man while telling you about the most famous eyewear he donned and captivated with. Let's get going!
The Best of All - Arnold Schwarzenegger Sunglasses Terminator 2: Judgement Day
The most popular of all his sunglasses were those that Arnold Schwarzenegger wore in Terminator 2. The character was called the Model 101 and also as T-800. It was a synthetic organism composed of living tissue covering a titanium endoskeleton (hyper alloy). The role was basically that of a human-like robot which was reprogrammed and sent to save the character 'John Connor' in the movie.
The sunglasses that Arnold Schwarzenegger used all through the movie were a pair of sleek wayfarers with thick arms. You might as well like to call the pair of rectangular shape because of the sleek appeal. This pair in black grew quite famous ever since the movie was released.
While we don't have the exact same pair for you (we might have it in the future), but we have a similar pair that will look as dazzling as you like. It is a black grey wayfarer pair of sunglasses in the beguiling colour. Similar to T-800 i.e., Arnold Schwarzenegger's sunglasses, these too have thick arms which captivate those around you enough to get distracted by your notable presence.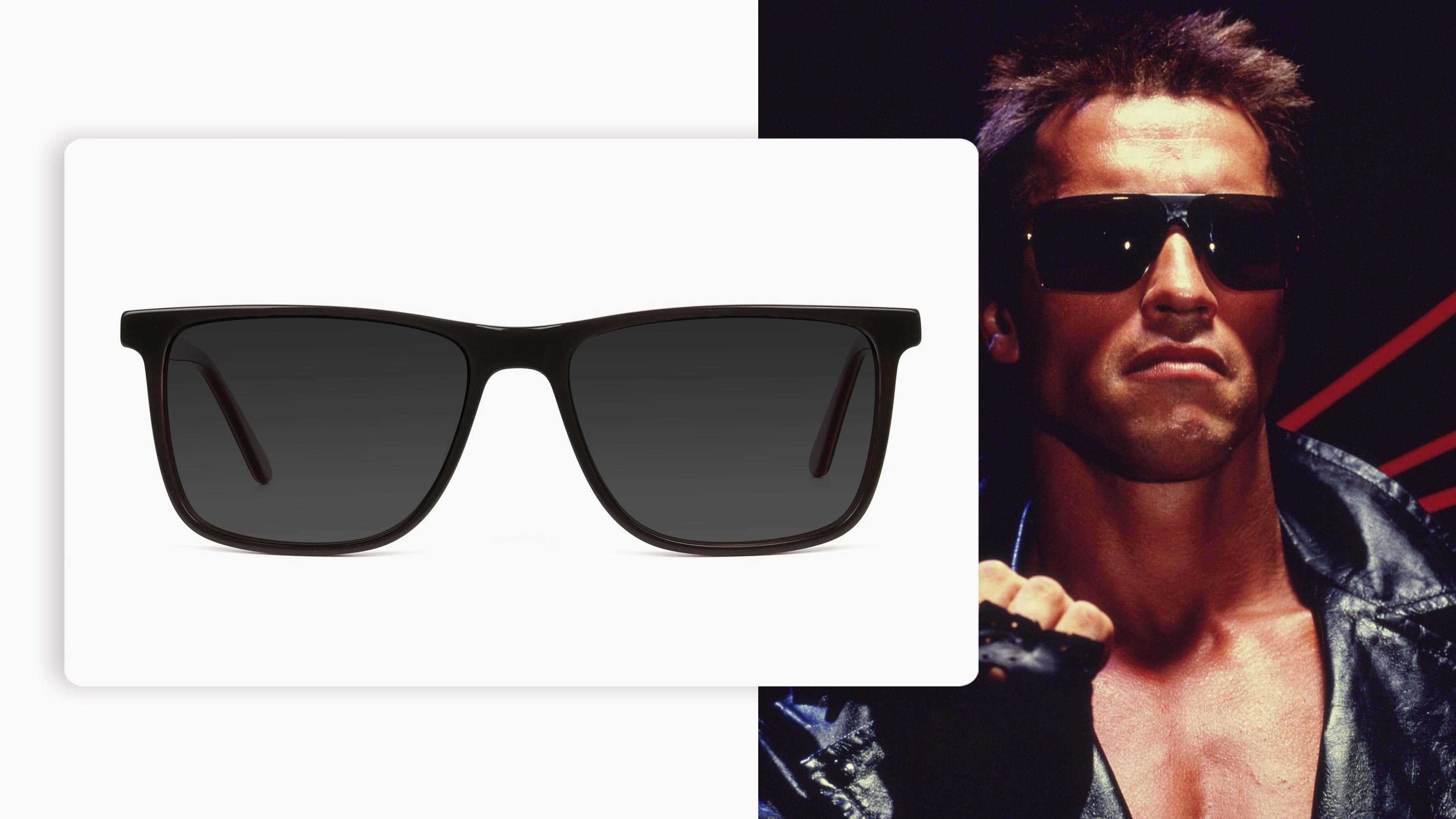 This pair called Aron is made with mixed material i.e., both metal and acetate to avail the benefits of both together. It does not distinguish between genders, and thus, suits almost anyone with a curvy face. So, if you have a round, oval or heart-shaped face, you are in for a treat as the pair of sunglasses can't help but look flattering on you.
Its advanced reflective X-pro coating will save you from the UVA and UVB rays of the sun and help you stay clear of diseases like macular degeneration, pterygium, cancer of the eyelid etc. After all, you are not T-800, the robot-like human who won't be affected by such diseases.
We have another pair with a modern twist of aviators that looks quite similar to the one Arnold wears in the movie. It's called Henry, here at Specscart. Its black and grey lenses that have the same reflective X-pro coating we just talked about that makes it score great as a pair of sunglasses. Since this pair of shades is as sleek as the one worn by T-800 in the movie, you might want to choose them over the one we talked about before. The double bridge of the aviators will also give you a feeling like that of Tom Cruise in the movie Top Gun, in case you are a fan of him as well. Check out the black and grey pair of sleek aviator sunglasses here.
If that's not something you like, we have a third pair of similar sunglasses. These are almost the same in terms of the shape that the actor used for the role. However, the pair only differs in terms of lenses. It has grey lenses and a gunmetal frame made in metal and stainless steel. So, not only is it super sturdy but also super stylish thanks to the shape. You can find these dark aviators here. We, here at Specscart call this pair Hardy.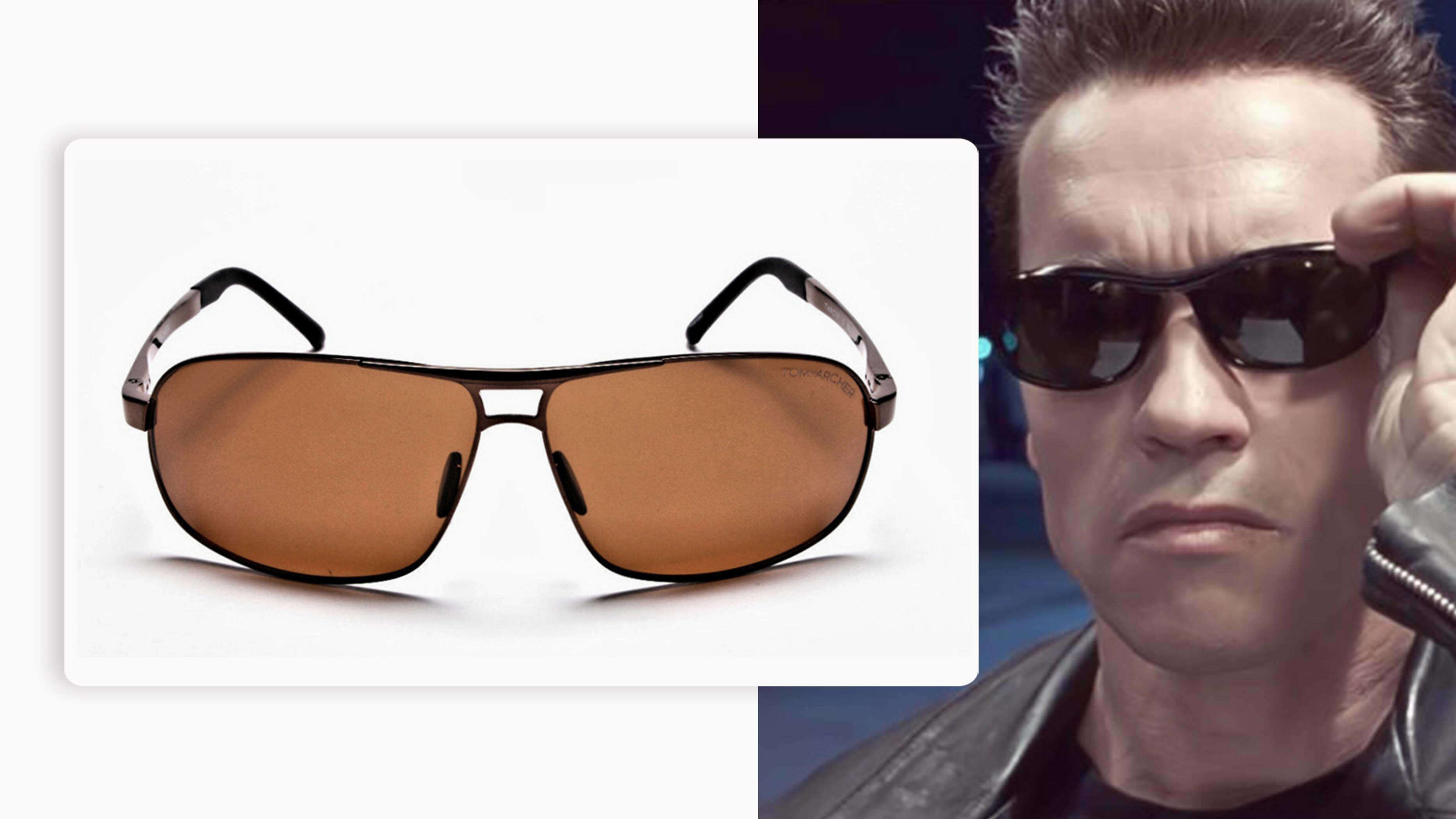 Fun fact: Terminator 2: Judgement Day became the highest-grossing film of 1991. Not only that, but it was the highest-grossing one of Schwarzenegger's career as well. So, now you know how popular those sleek black sunglasses got.
The Second Best? - Arnold Schwarzenegger Sunglasses in Terminator
Released in 1984, The Terminator was the first of the Terminator franchise. The actor plays the role of the terminator - a cybernetic organism disguised as a human being - that is sent back in time to kill the character 'Sarah Connor'. She is the mother (to be) of John Connor, whom he saves in the next film. Sorry for the spoilers if you haven't yet watched the terrific series of Terminator films already.
Throughout the film, Arnold Schwarzenegger wears a pair of black sunglasses. These are not the ones he uses in the next film though. These are a mix of square and wayfarer style with oversized lenses in black. The sunglasses are a necessity for the character because he has a robotic eye. During one scene, Arnold playing the role of the cybernetic organism is shot in the eye. His evil character shows some vulnerability while looking in the mirror to the bloody eye. He then pulls out his robotic eyeball and reveals the red lens that helps him see. The sunglasses help him hide the state and get back to his evil work. Although, the look he then has is quite intriguing as the red burning light from the lens penetrates through the lenses.
Ready to have a similar pair for yourself? The original pair was a wraparound one in the wayfarer shape. It had big lenses. One of the pairs that are quite similar is the one we call Aron. Yes, the one we explained above. If that's not what you like, you can always check out the sunglasses section when you buy glasses online at Specscart and you'll find the pair you seek.
Arnold Schwarzenegger Star Glasses From Terminator 3
If you haven't watched Terminator 3: Rise of the Machines, you might not know that Arnold wore star glasses in one of the scenes that looked quite funny on him. These star-shaped glasses in the pinkish-purple tint were found in the jacket that came among the clothes he snatched from someone in the bar. Although, after wearing the glasses for a moment or two, the character threw them and crushed them under his feet. Seems like he realised they didn't suit his personality at all.
So, we don't suggest the same Arnold Schwarzenegger glasses to you too. However, who doesn't like a quirky and cool pair that can stick out a mile? That's why we recommend you try these asymmetrical glasses with two of the most classic shapes. One of the lenses is round, while that of the other eye is in the square shape for people to know that you are different, just like Arnold Schwarzenegger. No wonder this pair of glasses is called Stark.
If you want a quirky pair that's not as peculiar as Stark, you can as well find your fancy in geometrical glasses. These also help you stand class apart without any shouting out loud colours or shapes. They help you establish a unique personality. Thus, helping you pull off an extraordinary look. Why not try these lightweight gold and brown glasses? Made in metal with a sleek high nose bridge, the eccentric pattern at the temples, and comfy nose pads, the Colton 2 makes a highly appealing pair to don. Not only will it help you show off your eccentricity but will also give an awesome experience to cherish.
Arnold Schwarzenegger Sunglasses in Kindergarten Cop
The kindergarten cop is a comedy flick in which Arnold Schwarzenegger plays the role of a detective who works undercover as a kindergarten teacher. He does so, in order to arrest a drug dealer. Doing this is important because he needs to find the criminal's ex-wife for apprehending him. But has no clue except the name of the school where the criminal's son studies.
This fun film in which the character eventually realises his passion for teaching and also finds a love interest at school has some major fight and shooting scenes. Thanks to such scenes, the 1990 film made us acquainted with a pair of sunglasses in black that look chic and sassy on Arnold.
Guess what? We have a similar pair that you will love to flaunt. We at Specscart call this pair Othello. These black and round sunglasses in the grey tint are built in metal and stainless steel. The double bridge on the sunglasses brings a masculine emphasis that makes you express your fancy for the actor. Whether you want it as prescription or non-prescription sunglasses, the pair is bound to look flattering on you. So, wait no more, and check out the black pair of round sunglasses. You are sure to love the classic double bridge. Why miss the chance to show off the same appeal as the kindergarten cop?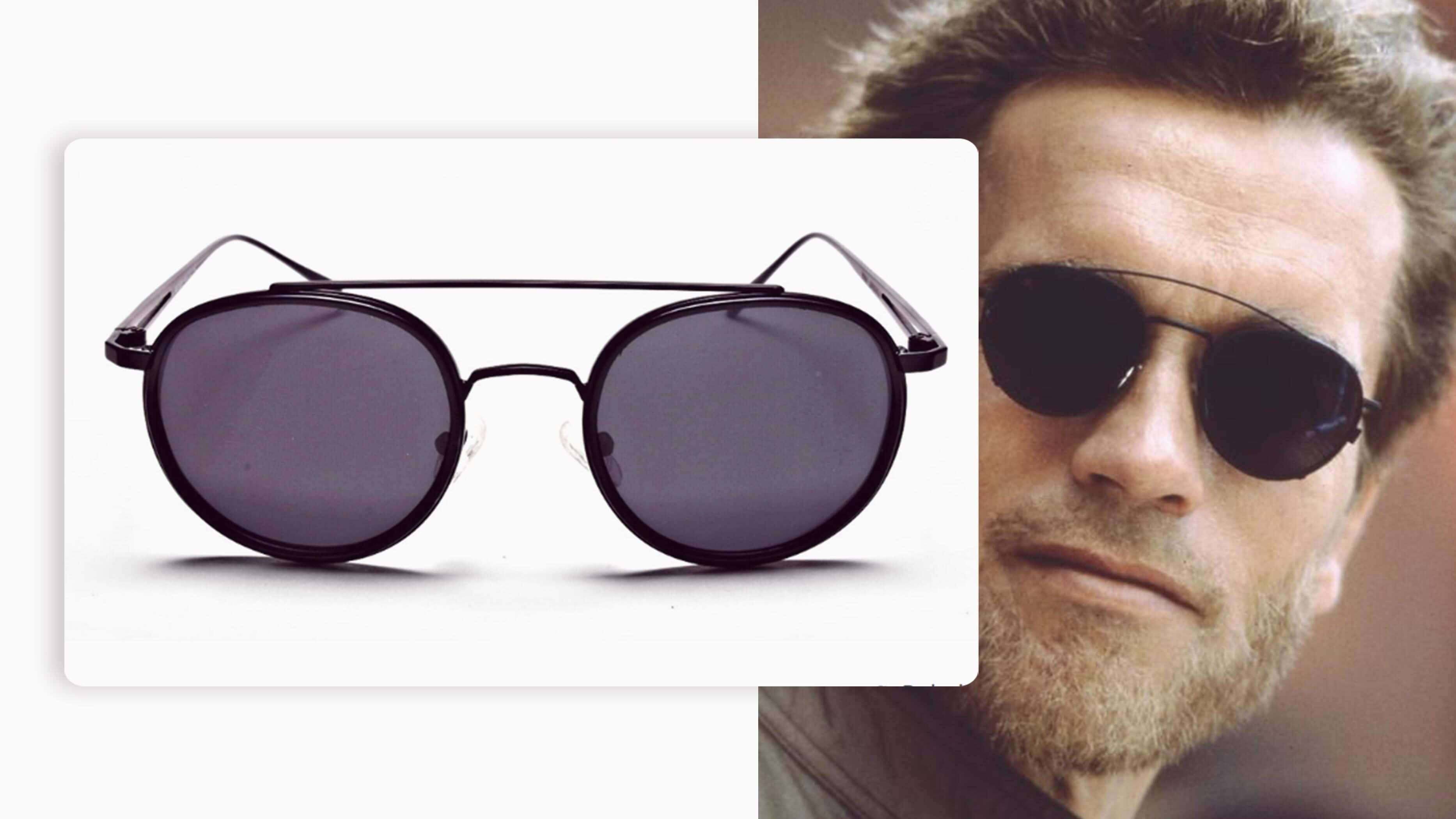 Find Your Favourite Arnold Schwarzenegger Sunglasses at Specscart
We bring you the most mesmerising pairs in the latest trendy styles that can't help but amp up your spirits. Our in house brands like Tom Archer and Marc Fabien, aim to help you get all kinds of glasses and sunglasses that your favourite celebrities use. And you already know about the pairs that Arnold Schwarzenegger wears.
All your favourite pairs start at quite a nominal price without compromising on quality and style. Additionally, Specscart makes sure that style and care go hand in hand. That's why all glasses at Specscart come with free protective coatings. These include anti-UV, anti-glare and scratch-resistant coatings. The anti-UV coating can save you from the ill effects of ultraviolet light from the sun. Thus, it protects you from diseases like age-related macular degeneration, pterygium and cancer of the eyelid.
Apart from these free coatings, you can also have X-blue lenses to make your glasses anti-blue light glasses. This way your glasses will become as strong for protection as T-800 in Terminator 2. Anti-blue light glasses offer protection against the harmful blue light that is emitted by our digital screens all the time. By shielding your eyes this way, the glasses save you from computer vision syndrome (dry eyes, eye strains, headaches, blurry vision etc). They also save you from hampering your sleep cycle and therefore, from insomnia. Ultimately, prolonged exposure to blue light also raises the chances of depression, diabetes, and obesity. Thus, anti-blue light glasses save you from that too.
How about photochromic lenses in your glasses? Such lenses change their tint colour from light to dark as you move outdoors in the sun with its UV light. And as you come back indoors, the lenses turn back clear. They change their tint colour according to the UV light present around as they absorb the light. You might want to check out these type of glasses if you want to save yourself from the trouble of switching between pairs when moving outdoors and indoors again and again. After all, you have other important things to focus on, right? Maybe that's as awesome a task saving John Connor.
As might be obvious you can choose prescription or non-prescription glasses or sunglasses to sass up your attire in a matter of moments. Specscart has all kinds of styles and colours you might seek. From Havana to camouflage, wayfarers to aviators, or round or rectangle, you will find all popular eyewear under one roof.
Don't have a prescription? Visit us at our store and we'll provide a free comprehensive eye test! If you want the test to be done at the comfort of your home or workplace, we can send our optician as well. And yeah, don't worry about any shipping charges. Specscart delivers all orders freely worldwide.
You might also want to avail our free home trial service. You can order up to 4 frames for 7 days and enjoy trying them out and asking your friends and family for opinions. And if you don't like any of the pairs, you can order another home trial package and then another until you get the one you seek. Don't forget, it's free of charge.
What if you already have the pair of Arnold Schwarzenegger glasses or sunglasses frames or any old pair for that matter? Send them to us and we'll change the old lenses in new high-quality ones that come with the free essential coatings. You can also ask us to add other coatings you need.
What is the wait for? Get your eyewear fashion game as strong as the Terminator with Arnold Schwarzenegger sunglasses and glasses today! Did you know? Most glasses at Specscart get dispatched within 24 hours! So, you may as well get your pair by tomorrow. Get going!
Our Latest Stories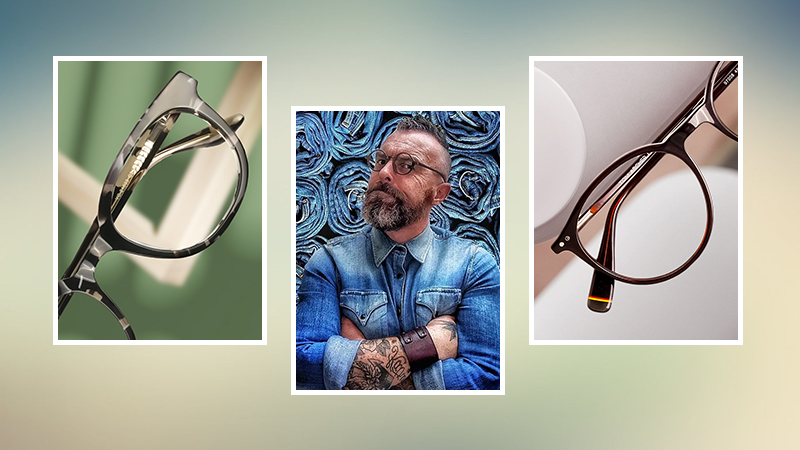 G
Gemma Gough
Published on October 23, 2021, 6:20 am
Men's glasses 2022: Key trends you should know
Men's eyewear for 2022 has exciting silhouettes. From reworked aviators to conventional square glasses, read all that you need to know about men's eyewear trends in 2022
Learn More
Specscart Blog
Want the latest update on designer eyewear, shades or glasses? Our blogs give exceptional insights into the latest eye care measures and eyewear trends, fashion and style hitting the streets of United Kingdoms. From finding an optician or optometry near you to the latest designer glasses or sunglasses for the summer and spring fashion, you'll learn something useful every day. We publish regular informative measures on eye care, the latest design in eyeglasses and sunnies, celebrity specs and fashionable choices you can make in your lifestyle to up your fashion game. Read on to find information about various glasses types, eye condition and fashion trends in a fun and simple way that you would fancy with a cuppa tea.
Hello,
fellow reader!
An exciting offer is on the way to your inbox!
You like to read stuff, and we love that about you.
Enter your email-ID below and we will send you an exclusive offer!