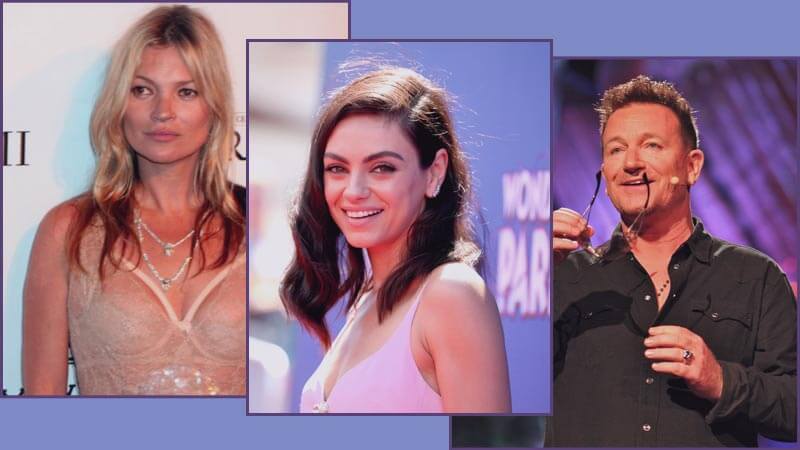 10 Celebrities you didn't know have/had eye diseases and disorders
To us mere mortals, celebrities look like gods or goddesses. We want to be like them cuz to us, they are perfect. They don't seem to have a flaw and everything about them is so envious.
I rarely have days when my hair goes the way I want it. And then there are these demigods waking up with perfect hair and skin every day.
While we don't own a private jet or a 24K gold-plated cell phone, there's one similarity between us and these superstars - health issues. They have them, we have them.
Even famous people suffer from serious health and eye conditions. Your favourite celebrities walking on the red carpet with fancy designer dresses may have to same eye problems as you.
Mila Kunis
Celebrities live their lives under a microscope. Their adoring fans are always paying close attention to their appearance and an eye out for their every move. Kudos to Mila Kunis for keeping her eye problem a secret for years.
While it's evident that she has heterochromia, nobody knew that she was almost blind in one eye. Mila had chronic iritis that results in partial blindness in one of her eyes. Later on, she corrected this problem by undergoing surgery. But, she could be seen sporting thick black-rimmed prescription glasses on several occasions.
Kate Moss
Kate Moss is the living example that you don't have to have perfect symmetry to be a supermodel. She is 5ft 8inch tall which is too short to have a successful career in modelling and she has strabismus.
In one of her interviews with Harpers Bazaar, she revealed that she wasn't always this glamorous. As a kid, she had a lazy eye and wore an eye patch and pink glasses to correct her vision problem.
Despite that, she still has wonky eyes that are nothing short of beautiful. Besides that, she likes to carry a couple of shades in her bag as she complains that they often go missing. Now that's relatable.
Johnny Depp
The most versatile actor of his day and age, Johnny Depp is not a stranger to eyesight problems.
Some people who see him in interviews and red carpets may think that he is a fan of the tinted glasses trend. But, he has a practical reason for wearing those glasses - he is blind as a bat in his left eye.
He was born with a vision problem as wears prescription glasses ever since he could remember. For his iconic role of Jack Sparrow in 'Pirates of the Caribbean', he had to put his glasses aside and was only able to see a few inches in front of him.
Whoopi Goldberg
In 2014, Whoopi Goldberg shared an important update on her health telling her millions of fans that she had developed glaucoma. She said that her sight had gotten worse and she also had to hire a driver as she was not able to drive on her own.
Glaucoma is a serious eye condition that should not be taken lightly as it often leads to blindness. Early detection of this problem remains the only effective cure for this disease.
Thus, taking regular eye tests is important to keep a close check on your ocular health. Get a free eye test in the UK for glaucoma and prevent it from getting worse.
Hugh Grant
While he may not need scuba goggles to watch a movie as he did in Notting Hill, his eyesight is quite weak and he can't go even a day without his specs. Whether off-screen or on-screen, Hugh Grant in glasses never ceases to make us swoon.
He had Covid in February and on 'The Late Show With Stephen Colbert', he revealed a very unusual symptom saying his eyeballs felt about three sizes too big. While I can't say if that's a symptom, experts believe that Covid can bring some notorious and unusual changes in your vision.
If you feel like your vision has changed suddenly or your eyeballs have started to look different, consult a healthcare specialist.
Jennifer Aniston
Hollywood sweetheart Jennifer Aniston suffers from dry eye syndrome and is addicted to eye drops to keep her eyes lubricated. In an interview with the Health magazine, she told that she faces trouble reading scripts due to her dry and itchy eyes.
She has been suffering from this problem for years and admitted that she even sometimes uses eye drops 2 or 3 times an hour. If you too have dry eyes, maybe it's your screen time playing the evil. Check with an eye doctor and use blue light blocking glasses during screen time.
The actress even collaborated with the Shire in 2016 and 2018 to spread awareness about dry eye syndrome. She was already nearsighted but now that she has developed presbyopia, she literally can't see anything. This is why she wears glasses wherever she goes and looks amazing in every pair. Jennifer Aniston in glasses in glasses is something we never knew we all needed.
Stevie Wonder
The superstar singer-songwriter came into this world blind. He lost his eyesight to retinopathy of prematurity. It's an eye disorder caused by abnormal retinal blood vessels. It can occur in premature babies which could be Stevie had it as he was born 6 weeks earlier than the due date.
Despite the disease, Stevie Wonder became one of the most successful musicians of his time. In an interview with The Guardian, he said that he is able to use his imagination and write about things or places that he has heard about from other people. He is a living example of how a disability cannot hold you back.
Stephen Curry
Professional basketball player Stephen Curry was diagnosed with keratoconus - an eye condition where the cornea starts to thin out and bulges outwards taking the shape of a cone. This problem progresses through adolescence and early adulthood.
Later on, he underwent a medical procedure "corneal crosslinking", that can strengthen the weakened collagen fibres of the cornea. He once told The Athlete that although squinting has started to look normal, his corrected vision has definitely improved his game.
Bono
Bono wearing sunglasses isn't a style thing even though it has become his signature style. Bono himself admitted he has been living with glaucoma for the past two decades. The condition makes your eyes sensitive to light and glare.
Certain glaucoma medications constrict your pupils which increases light sensitivity. Thus, wearing prescription sunglasses provide your eyes relief from harsh lights both indoors and outdoors.
Dame Judy Dench
Known for her excellent portrayal of a variety of roles on the big screen and M in the James Bond movies, Dench is learning how to cope up with age-related macular degeneration (AMD). AMD occurs due to the gradual loss of central vision as one age. It gives birth to vision problems such as blurriness, distortion and may even lead to vision loss.
She uses vision tools and techniques such as a mobile app made specifically for people with AMD to read the news. She also hates to be labelled as the 'National Treasure' but that's what she is.
Vision problems can happen to anybody. It's important that we are aware of the symptoms and have regular eye tests to diagnose these problems early. If you don't want to pay for those eye appointments, book them for free with us.
Our Latest Stories
Specscart Blog
Want the latest update on designer eyewear, shades or glasses? Our blogs give exceptional insights into the latest eye care measures and eyewear trends, fashion and style hitting the streets of United Kingdoms. From finding an optician or optometry near you to the latest designer glasses or sunglasses for the summer and spring fashion, you'll learn something useful every day. We publish regular informative measures on eye care, the latest design in eyeglasses and sunnies, celebrity specs and fashionable choices you can make in your lifestyle to up your fashion game. Read on to find information about various glasses types, eye condition and fashion trends in a fun and simple way that you would fancy with a cuppa tea.
10% OFF
USE CODE
READER10
COPY CODE
Hello, fellow reader!
You like to read stuff, and we love that about you!
Here's an exclusive 10% coupon for our Blog readers
Stay Updated
Sign Up for the latest trends and exclusive offers!