According to the science behind blue light glasses, it is quite evident that continuous exposure to harmful blue light impairs your vision. On the other hand, we know that reducing our screen time and limiting our daily tasks isn't possible. Since we need to rely on multiple devices regularly, avoiding blue light becomes a real task. The good news is that you can use glasses that block blue light effectively. Thanks to their exclusively designed lenses, filtering out blue light is highly possible now. Get these functional pairs and protect your vision from artificial sources.
However, we always want to know whether these blue light glasses are actually effective or not- after all, we need to invest in the right place! If you want to learn the testing methods, let's walk you through some of the processes without any further delay.
What Are the Various Types of Blue Light Blocking Lenses?
Blue light glasses are available in different variations. They are handcrafted to offer clarity and performance to glass users. Go through the types without any further ado:
Yellow Lenses- Night Driving Glasses - If you have a habit of hitting the streets with your car, grab these night-driving glasses with yellow lenses in the first place. As you already know, vehicles with LED light technology are growing at a rapid pace now. These night driving glasses will block the blue light and provide crystal clear vision. Chances of getting exposed to accidents shall decrease.
Clear Lenses- Computer Glasses - Computer glasses with clear lenses are used while watching television or working with your smartphones or computers. The primary motive of these eyewear options revolves around filtering out the harmful blue light and combating digital eye strain. If you are a working professional or college student, make sure to get your hands on these pairs as soon as possible.
Red and Orange Lenses- For Better Sleep - Glasses with red and orange lenses improve your sleep quality. They filter out melatonin-disturbing light and make it seamless to see through it. Instead of dealing with unnecessary eye strain, you can use these glasses to sleep peacefully at night.
Blue Light Glasses- Do They Really Work?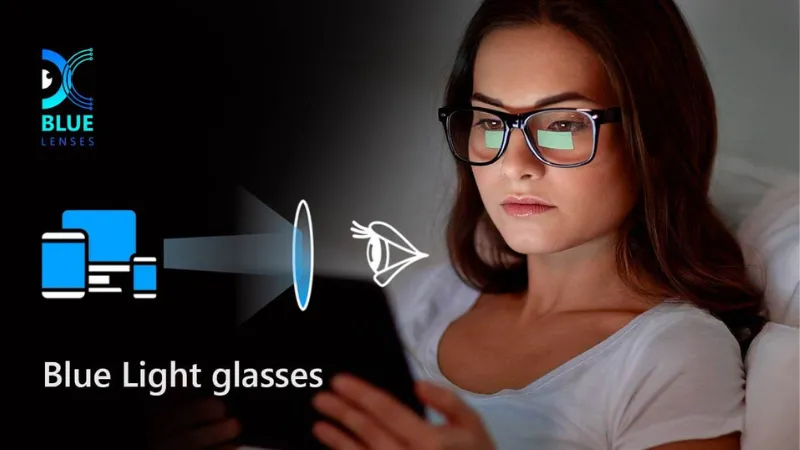 Blue light-blocking glasses aren't harmful at all- you can don them throughout the day without facing any kinds of problems. But, there are blue light blockers that don't provide optimum protection! By trying some tests, you can gain insights into their functionality. All you need to do is perform certain tests and that's it. Let's pave the way toward learning them now:
Methods to Test Blue Light Glasses
Given below are some of the processes for testing the efficiency of blue light glasses:
Clear Lenses - In order to test your blue light glasses with clear lenses, there are certain tests that you can follow:
Lens Reflection Test - You can conduct this lens reflection test right at your home. Here, you will have to wear your pairs and notice whether the glasses are blocking blue light or not. Should you witness a blue tint, you might consider that the blue light filter is working. On the other hand, if your pairs reflect violet or purple, these glasses might not provide proper protection from blue light. This is one of the basic methods that's been tried and tested.
Brand Spectrum Report - Getting access to the brand spectrum report is the best way to learn about the efficiency of your blue light glasses. Here, you will have to get in touch with the company and obtain a spectrum report from them. You can check the overall amount of blue light that is blocked by the glasses in these exclusively formulated reports. Remember- these clear glasses serve your purposes during the daytime. Go through the spectrum report and check whether the glasses are filtering 30% of the blue light or not.
Blue Pen Test - In a blue light pen test, you will be needing a white card and a blue light pen. Shine the blue light pen through your glass's lenses and you will notice that the rays are not passing through. Instead, they are getting filtered.
Red and Amber Lenses - As mentioned earlier, clear lenses are typically used during the daytime. Thanks to these red and amber lenses, maintaining your eye health at night is easier now. Let's check out the blue light tests for these lenses:
The Squares Test - This is a test where you need to look at black and blue squares after putting on your blue light-blocking glasses. If both the boxes appear to be black, it means that your glasses are working just fine. On the other hand, if your amber and red-blue light pairs are not making the blue box appear black, get rid of them now.
Spectrum Report - Again, you know this one- a reliable method to bestow your trust upon. If your lens is red in colour, it must block 100% of green and blue light up to 550 nm. On the other hand, if your lens is amber- it must be potent enough to block 100% of the blue light. The staff in the eyewear company will perform this test with a lab-grade spectrometer. You can trust these adequate results with your eyes closed.
The RGB Chart Test - The RGB colour chart is another test to find out whether your blue light glasses are functional or not. Wear your glasses, look at these charts and watch whether the blue area is blocked off or visible. While you can't perform this test with your daytime glasses, the RGB chart test is definitely effective for nighttime pairs.
Professional Way of Testing Blue Light Glasses
The tests mentioned above are incredible- but, if you are looking for something professional and accurate, use a visible spectrometer. Here, the process of lens testing is carried away with standardised light. What does that mean? The incoming light typically includes every colour used to perform a test with top-notch accuracy.
Let's Conclude
Blue light-blocking glasses are capable of combating eye diseases like macular degeneration and cataracts. These accessories will safeguard your retina and reduce multiple risk factors with much ease. Say no to dry eyes, eye strain and various other issues by investing in these blue light glasses. We at Specscart are ever-ready to help you out. Reach us anytime and we will make sure to meet your requirements.