The revolution in the eyewear industry has been spectacular. The early 20th century led to the creation of the first patented varifocal lenses, and since then there has been no looking back.

In 1955, the first commercially available varifocal lenses came into existence, and almost 70 years later, the technology of varifocal lenses has improved by leaps and bounds. The latest innovation in varifocal lenses is known as the 'Digital Freeform lens.'

They are custom made for the wearer's unique prescriptions and result in a frame-lens duo that snugly suits the requirements of the wearer.

For the younger generation, varifocal lenses might seem like a distant dream, but for a large chunk of the population above 40 years, they are a concrete reality. What exactly are varifocal lenses, and what are their pros and cons? Let us find out!
What are Varifocal Lenses?
People with myopia or hypermetropia (near-vision and distance-vision) need only one pair of glasses. However, at times, an individual, especially above the age of 40, might need glasses for both near and distance vision correction. Under typical circumstances, they would have to get more than one pair of glasses and constantly switch between them for a clear view of distant and proximal images.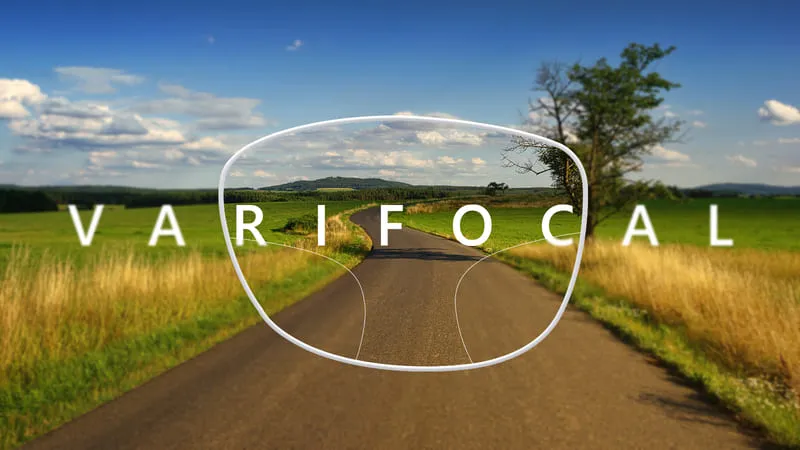 Caption: Varifocals are a type of digital glasses
However, such hassles can be avoided with varifocal lenses. They allow continuous vision for any distance via a single lens, and also correct presbyopia. It is a common age-related vision problem characterised by the inability to focus on near objects.

According to a PubMed study, 85 percent of people aged 40 years of older develop presbyopia. Besides, in 2015, it was estimated that 1.8 billion people globally had presbyopia and the prevalence is expected to peak at 2.1 billion by 2030.

Now coming back to varifocals, they are an upgrade to the erstwhile bifocal or trifocal lenses, which had visible and telltale lines on the lenses. On the contrary, varifocal glasses offer a seamless look with excellent gradual vision correction.
Now that we have touched the basics, let us check out the pros and cons of varifocal lenses.
Top 3 Pros of Varifocal Lenses
Similar to everything else in the world, there are some pros and cons of varifocal lenses, as well. Let us focus on the pros first.
No Visible Lines

One of the biggest advantages of varifocal lenses is that they are very inconspicuous, and do not let the other person that you have presbyopia. Many people upgrade from bifocals to varifocals, owing to the latter's seamless look.



Caption: Varifocals have a seamless lens but bifocals have a distinctive line

Presbyopia is a natural age-related condition, but some people are not comfortable letting the world know about their vision impairment. In such a context, varifocals emerge as the 'knight in shining armour,' offering a shield against the onlooker's gaze.

Although varifocal lenses have no segregated division, their upper section can be used to look at distant objects, the middle portion is for intermediate vision, and the bottom part is for nearby objects.
Read more about presbyopia here!

Customised Fit

The second advantage of varifocal lenses is that they are customised to snugly fit your face structure and prescription. It is like a tailor-made suit meant only for you. When you visit the optometrist for varifocals, they take all your prescriptions, including the Pupillary Distance (distance between both the pupils). Thus, superb comfort and fit are a sure-shot accompaniment of varifocals.

One Pair of Glasses Do It All

Last but not least, varifocal lenses are beneficial because they elevate the advantages of bifocal lenses by two notches. With varifocals, you do not have to carry different pairs of frames, as they are an all-around packaging, offering single, intermediate, and distant vision all in one.

Caption: You only need one pair of varifocal lenses for near, intermediate and distance vision

Therefore, a person suffering from presbyopia will not have to constantly alternate between near vision and distant vision glasses. Simply put, varifocals improve the quality of life of the wearer.
Cons of Varifocals Lenses
Now, let us focus on the cons of varifocal lenses.
More Expensive

One of the biggest disadvantages of varifocal lenses is that they burn a hole in the pocket for some individuals. As varifocals are digital lenses, they are costlier to produce. Besides, the varifocal glasses with the latest technology that offer the widest field of vision are even more expensive.

For instance, the most expensive varifocals are priced at £ 300 and above. So, price becomes a major deterrent for people wanting to buy varifocals. But, at Specscart, we aim to make varifocal glasses accessible by offering the best-quality variants at a cost-effective rate of £ 84 and no hidden cost.

Peripheral Vision is Distorted

Not all varifocal lenses are the same. Some varifocal lenses do not provide a good enough field of view. Thus, the vision through the peripheral areas are distorted and do not offer a satisfactory experience.

However, it is noteworthy to mention that varifocals infused with the latest technology come with minimal distortion and an excellent field of vision. But, if you are looking for cheaper prescription glasses, it is best to opt for bifocals.

It Takes Time to Adjust to Varifocal Lenses

The third disadvantage of varifocals is that it takes quite some time to get used to varifocals. In case of varifocals, it can take anywhere from 2 to 2 weeks to get acquainted with the lenses.

Even though you have been a regular spectacle wearer since your teenage years, when you put on varifocals, it is always a novel experience. You might also face mild headaches and eye strain initially.

Read here, If you want to know how to adjust to varifocal glasses more easily,
Final Thoughts
So, there we have it, a crisp overview of the three pros and cons of varifocal lenses. Despite their apparent disadvantages, varifocals are a blessing for many people. They remove a lot of the hassles associated with presbyopia, and improve the quality of life of the wearer.
References
https://www.reviewob.com/how-do-you-price-free-form-progressive-lenses
https://www.ncbi.nlm.nih.gov/pmc/articles/PMC8163965
https://prescriptionglassesonline.co.uk/varifocal-glasses-should-you-get-them-or-not
https://www.lensmartonline.com/blog/eyeglass-lens/details/varifocal-lenses