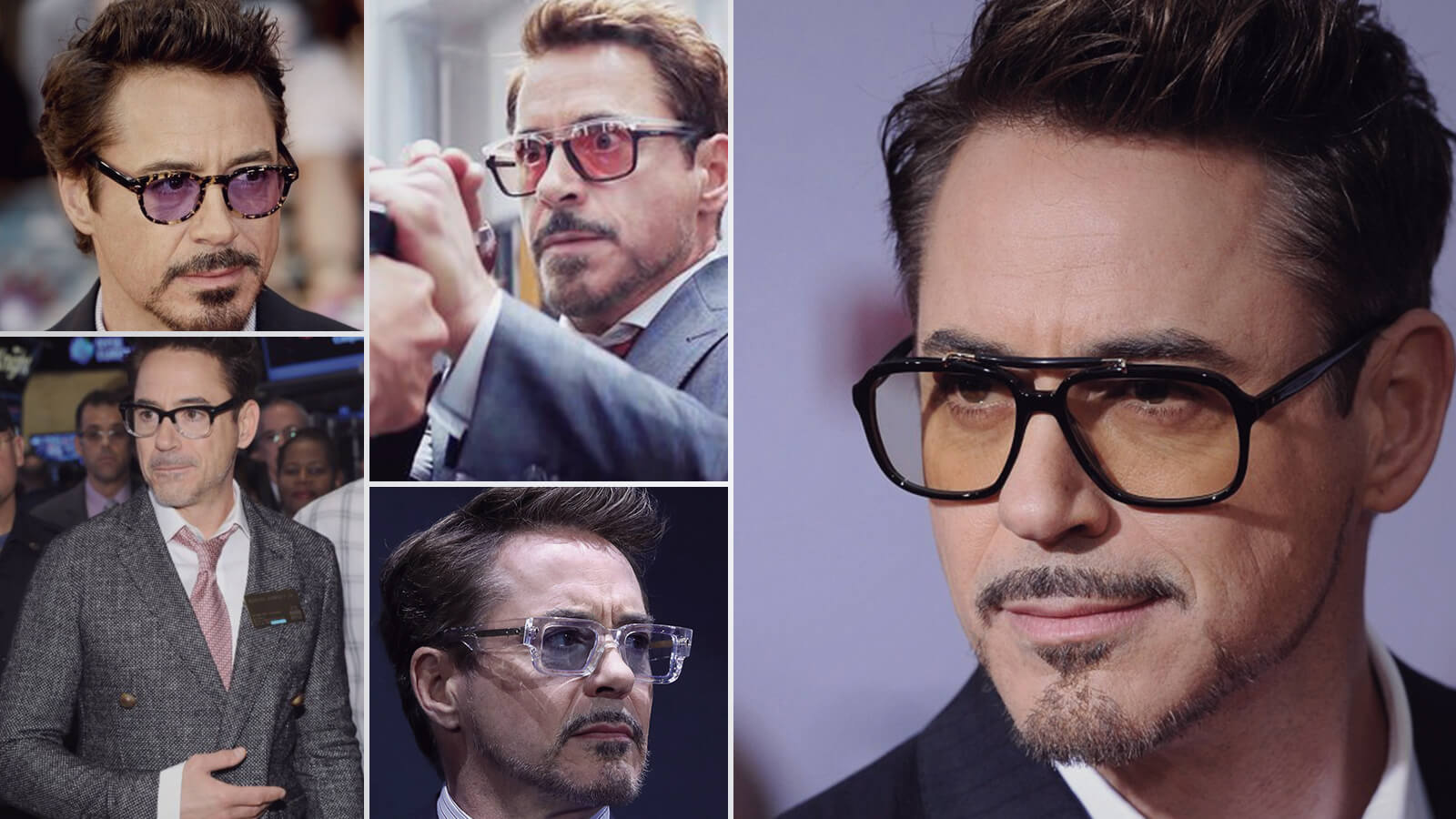 Time to Discover the Top 10 Robert Downey Jr Glasses and Sunglasses
Robert Downey Jr glasses and sunglasses are a sight to behold when we see them on the Iron man! You too would want to try these pairs and check out the splendours that help Robert Downey Jr amp up his style quotient. Time for you to look the same. Have a look at these mesmerising pairs of Robert Downey Junior sunglasses and glasses! The Tantalising 10 Robert Downey Jr Glasses and Sunglasses You Ought to Try
The Dual Tone Black and Grey Robert Downey Jr Glasses
If you are a die-hard Robert Downey Jr fan you might remember his look with dual tone glasses and a grey suit at a red carpet event. The dual tones were black and silvery grey that laid the emphasis on his scintillating eyes. Well, you can't help but admire them. And guess what? We have a similar pair for you. After all, if you are a fan of the star, thanks to his mesmerising movies, you ought to own a pair that will help you express your fancy.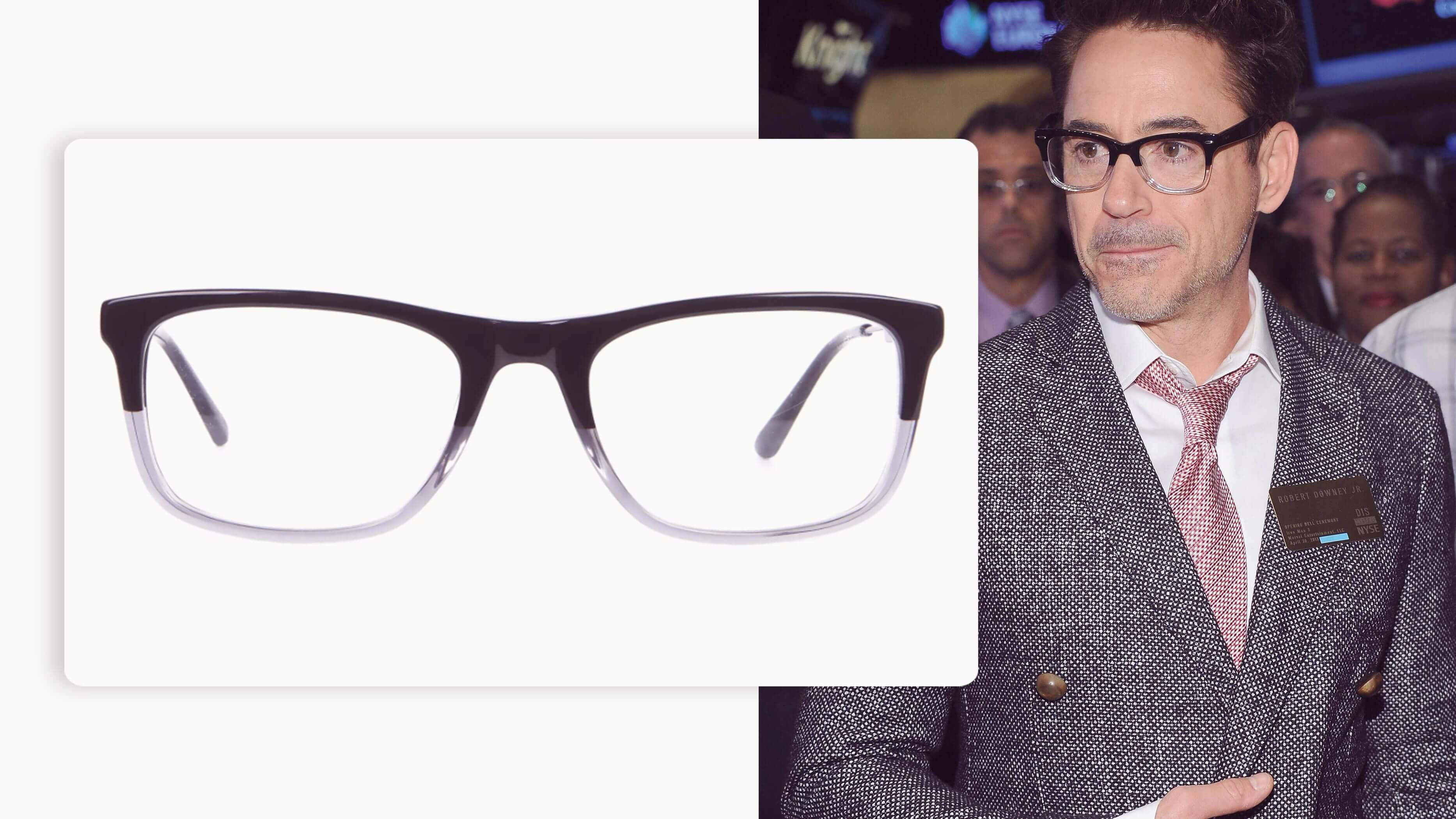 The pair we have for you at Specscart is called Parker. It is a full rimmed pair in gold temples that sports dual tone at the frame front. The grey and black match exactly the colours of our beloved Robert Downey junior glasses. Made with a melange of both metal and acetate, these frames bring the benefits of both. And thus, present a dazzling and strong appeal in a matter of moments of you wearing them.
A special thanks to its nose bridge in gold and the comfy and adjustable nose pads that give off their support. The style, in case you are wondering, is a square and wayfarer blend. And thankfully, the pair suits both men and women alike. So, whoever you are you can sass up with this pair of Robert Downey Jr glasses in any outfit no matter even if the occasion is that of being on the red carpet. Here it is. The dual tone pair of glasses Robert Downey Jr loves to style up with.
The Asymmetrical Robert Downey Jr Glasses
While he is often seen in different appealing pairs of glasses, Robert Downey Jr was once spotted in asymmetrical glasses that made him look a class apart. Well, we don't remember the occasion. If you know about it, please help us out and tell us in the comments. But, we have the exact, yes the same pair for you.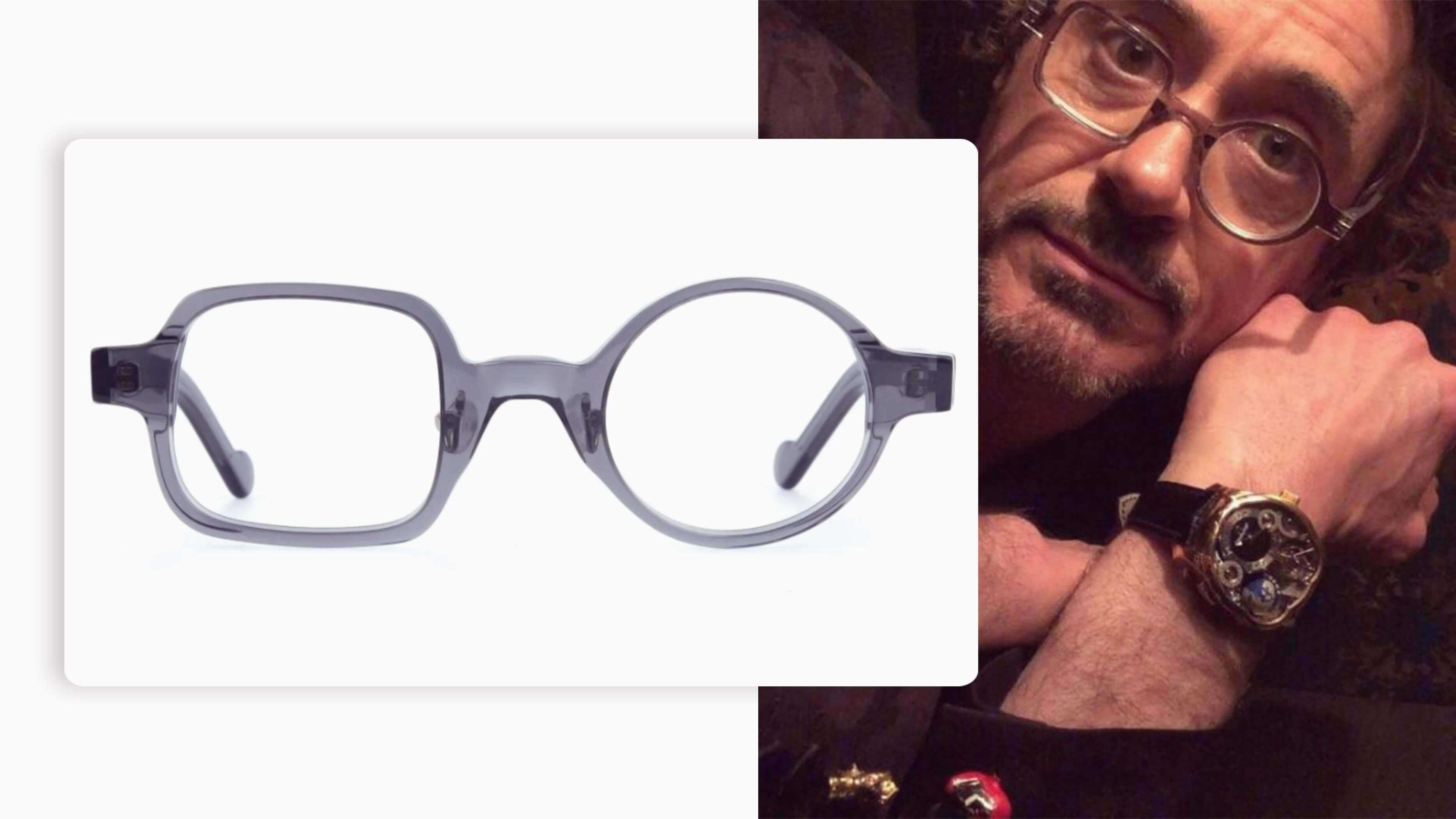 The asymmetrical pair has a round shape on one eye area and a square on the other. Made in gorgeous grey in the dusty shade, the frame looks highly flamboyant and makes you look quirky and geeky at the same time. These are especially fun to wear if you are someone like Robert Downey Jr who loves playing with different kinds of glasses and sunglasses every now and then. Go and try the pair to know how you will look and feel as you get cheerful compliments whenever you step outside with them. The pair is called Stark, here at Specscart.
Robert Downey Jr Glasses Infinity War Black Glasses
While these mentioned above were some of the Robert Downey Jr glasses he wore in normal life, and we'll come back to some later, let's have a look at what kinds of pairs the man donned in his most famous movie series - The Avengers.
In the 2018 film, The Avengers: Infinity War, Robert is seen wearing big black aviators in the wayfarer shape that made his genius and intellectual appeal shine. With the silver temples and the grey lenses, he looks highly flattering and portrays a look that you will love to don too. That's why we bring you similar pairs of glasses.
Not always is the Iron man seen in a quirky pair of modern times. He loves changing his look now and then. In one instance, he didn't go with a cool ultramodern pair and rather a vintage one. The pair he sported was a beguiling black pair of aviators, in the square shape and orange-tinted lenses. And no surprise, he styled it perfectly well with his all-black attire.
The benefit of such a pair of Iron Man Glasses is that it's versatile, and that's why we recommend you to have one such pair too. Find similar pairs of Robert Downey Jr glasses at Specscart. Almost similar to what the actor wore, these glasses are squarish and have the incredible double bridge that helps you stick out a mile. Its tantalising appeal in the full-rimmed structure is made for both men and women to admire and flaunt. So, what's stopping you from having a try?
It is a pair of black glasses made with mixed material to take advantage of the strength of both metal and acetate, the pair promises superpowers like that of the Hulk. And its temples and the double bridge are similar like that of Tony Stark's (the character Robert plays) pair in the film, which helps you express your fancy for him.
The pair is designed to suit both men's and women's fashion, so you need not worry. Also, you can treasure their extravagance no matter whether you are heading to a party, client meeting or summer vacation at the beach. Formal or casual every kind of occasion will experience an added charm thanks to these pairs of Robert Downey junior glasses.
Robert Downey Jr Sunglasses Civil War
The Avengers and the related movies by Marvel have brought us many heroes. Along with them, the movies have acquainted us with many kinds of sunglasses as well. While we already told you about Captain America's aka Chris Evans glasses or sunglasses in the movie Captain America: Civil War, Robert Downey Jr also sported a unique pair. The pair has two temples, in one which is clear and one in sheer black. It has a double bridge that brings in the essence of aviators but is shaped rectangular with a black bottom and clear top at the frame front. The sunglasses had a unique and captivating red tint with translucence that could help you see Reobert Downey Jr's scintillating set of eyes.
Fun fact: these glasses that Tony Stark wears in the movie are also bulletproof. The character had to take a bullet to his face in one scene and the glasses saved him.
Robert Downey Jr Glasses Endgame
The movie brings a lot of surprises for us eyewear fans. Robert Downey Jr is found in different glasses in a few different scenes and all of the pairs help him amp up his style. And thus, they can help you too. One of the pairs that he donned in the movie was a square, boxy frame. It gave off an intellectual vibe, which Downey of course carries with his own cool charm.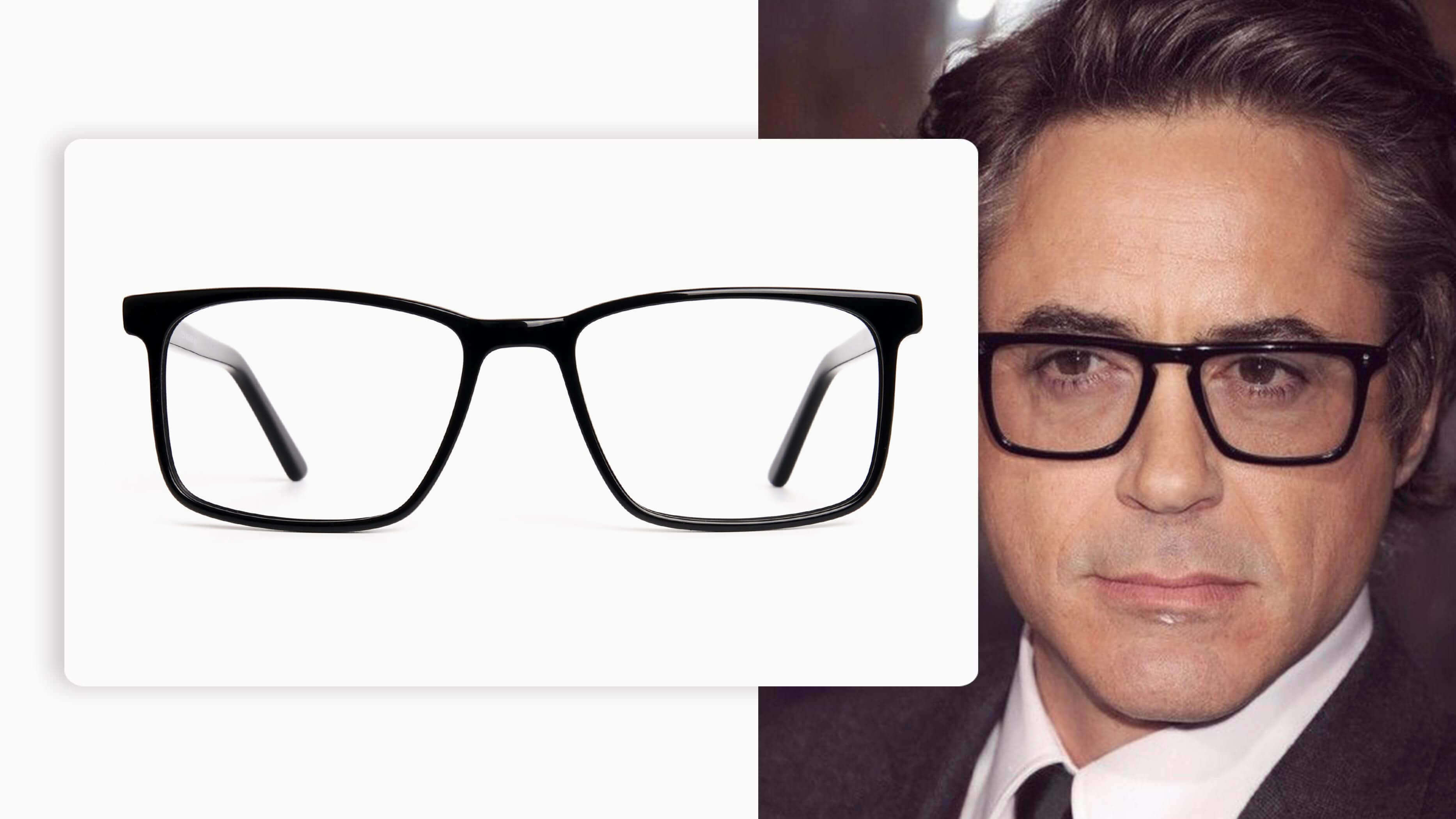 Again, we have similar pairs for you. These rectangular glasses have the same modern cool style. It is designed to look flattering on both men and women. What sets it apart from other square frames is the subtle style on its arms.
In another scene, Robert Downey Jr wears a pair of oversized Havana glasses. These are a blend of round and rectangular shape and have a top bridge that helps stick out a mile. The scene is that in which he drives up to meet Chris Evans playing the character of Steve Rogers aka Captain America.
Robert Downey Jr Glasses Spider Man Homecoming
During his special appearance in Spiderman Homecoming, Robert Downey Jr is found wearing a brownish-yellow tinted pair of glasses with silver temples. The pair has a yellow high nose bridge that makes Tony Stark stand class apart. Well, we feel his personality is enough to do so.
The pair is a set of Aviators with the oversized lenses and the light tint that helps you see Robert Downey Jr's stark eyes that can't help but captivate. We're sure you too would want a pair like that that helps you express your personality. Hop over to our website and find some gorgeous looking pairs for your ensemble.
Robert Downey Jr Clear Glasses
The incredible actor, Robert Downey Jr is famous for the variety of shades in different tints and colours he flaunts. However, he has also been spotted with yet another quirky pair but with no hues. That's right! The actor was once seen in clear frame glass in the rectangular shape with thick temples. No wonder, the frames looked splendid on RDJ.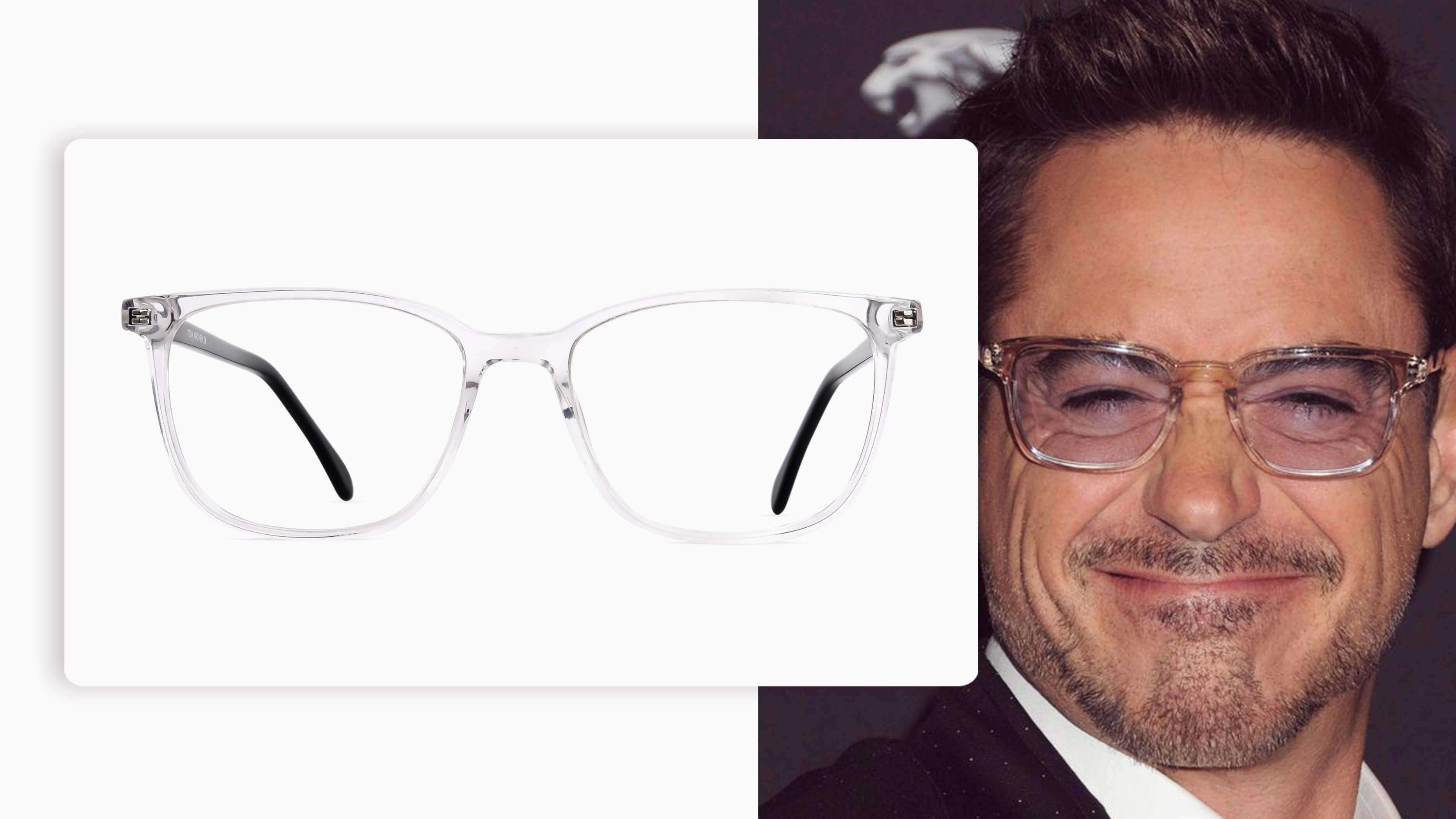 Never tried clear frame glasses? Well, then this is your chance. We at Specscart have a pair just for you. We call this pair Read. This full rimmed pair in rectangular shape are made for both men and women to cherish. Its crystal clear in a squarish shape helps drive the emphasis on your facial features. Crafted in acetate, a lightweight material made with plant cellulose, the frames spell high quality and durability for you.
Robert Downey Junior Sunglasses - the Terrific Tortoiseshell
All those Robert Downey Jr sunglasses worn in avengers were marvellous, weren't they? Well, RDJ has been spotted with various frames of eyeglasses and sunglasses all through his career, even at various events and parties and not just films. One of these was a pair of Havana tortoiseshell shades. As he loves playing with colours, he sported purple tints with this pair. We have similar pairs of tortoiseshell glasses for you that are versatile and go well with anything you please. We call this pair of sunglasses by the name of Wardley.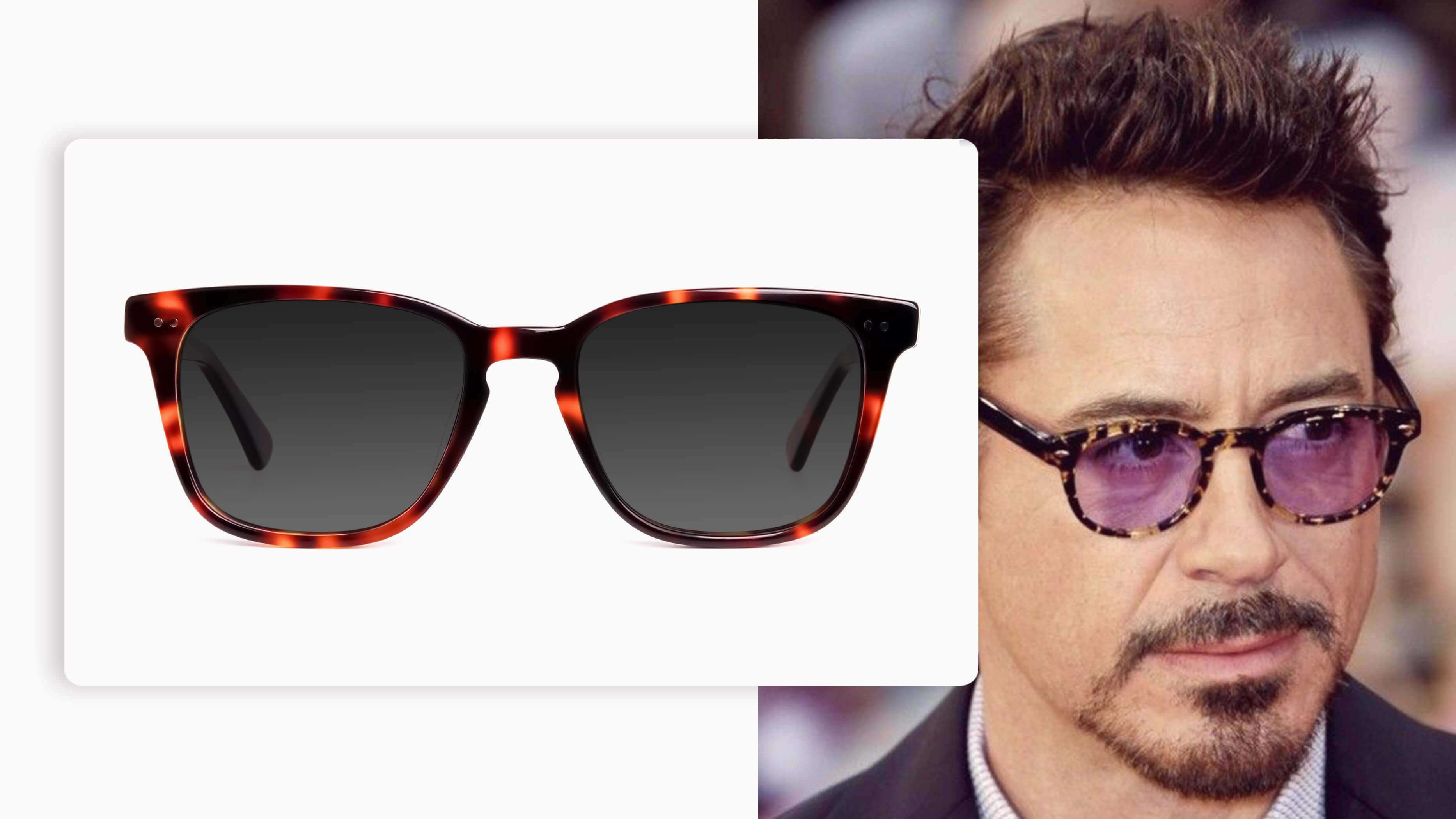 It is an oversized pair of havana tortoiseshell sunglasses in the square shape. It sports the same keyhole nose bridge that was spotted in the pair of Robert Downey junior glasses. These eccentricities are what makes such pairs special. And that's why you should not miss trying them. Go ahead and see if this pair of tortoiseshell shades suits your fancy.
Robert Downey Junior Sunglasses - the Captivating Clear Frames
Another pair that the actor loves donning is a pair of crystal clear shades. These Robert Downey Jr sunglasses or the Iron Man Sunglasses made quite a mark when he wore them on the red carpet. We have a similar pair for you. The name this time is Read. And yes, it heats up the surroundings for people to notice and shower their compliments for the incredible pair. And when you tell them that this looks exactly like a pair of Robert Downey Jr sunglasses, they are sure to turn envious.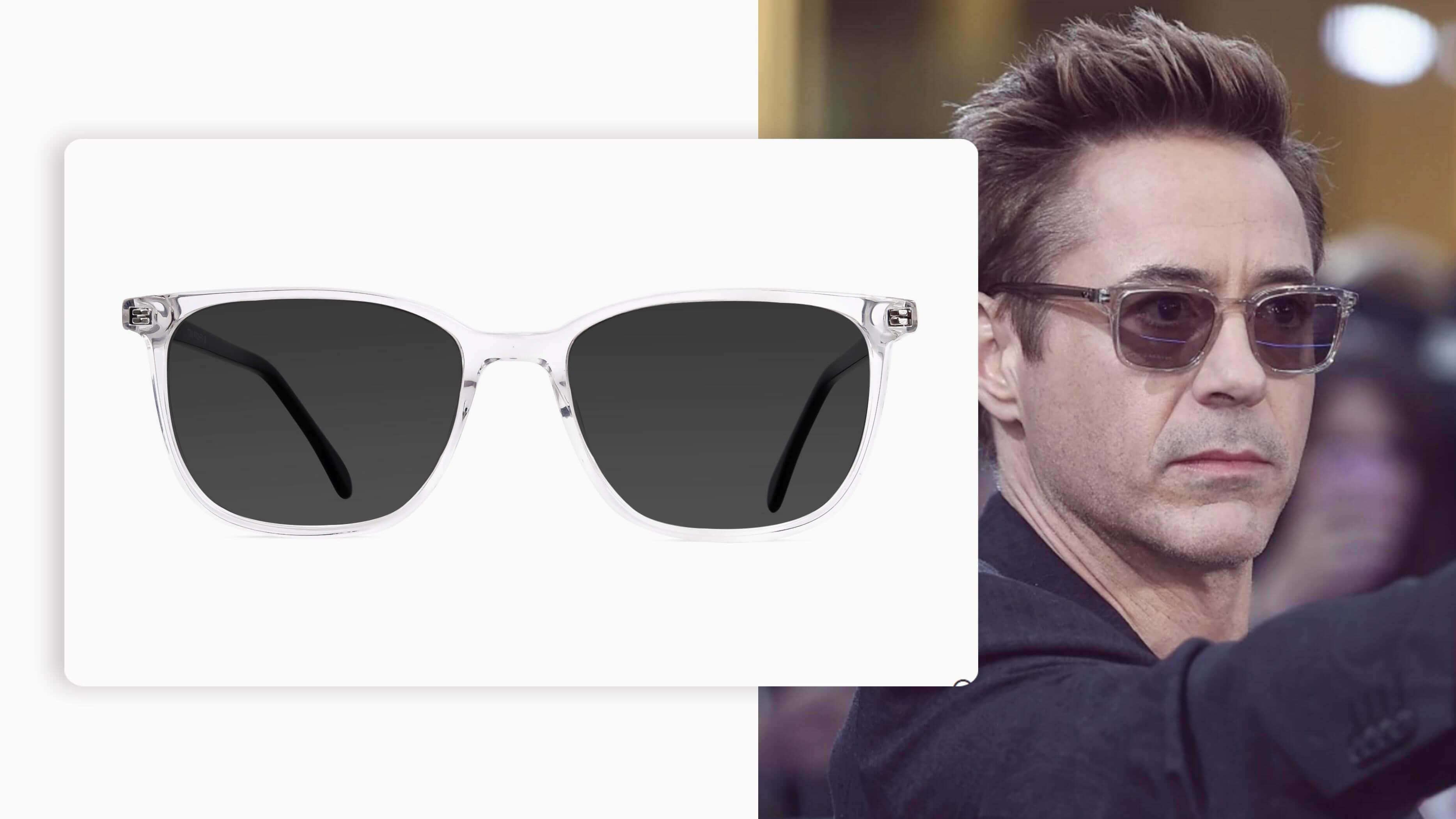 With a blend of wayfarer and cat-eye, these crystal clear sunglasses make way for a sheer style that you ought to love. Do not miss trying them. You might miss splendour!
A Final Word
Speaking of trying, did you know that Specscart offers a 7 day free home trial? Yes! You can order up to 4 frames of eyeglasses for trial and choose any you like and then buy. And if you didn't like any, you order another home trial package and then another. And it's always going to be free. Along with that, Specscart offers you free essential coatings including anti-glare, anti- UV, and scratch-resistant coatings that protect you from a lot of trouble. Since the frames are made in high-grade acetate or metal, you can be sure of comfort and quality.
What's more? Most eyeglasses are dispatched within 24 hours and are shipped for free worldwide. And if you think, they don't suit you, which is rarely the case, you can always return them to us within 30 days.
Additionally, you can also choose photochromic lenses or anti-blue light glasses for further protection of your eyes at nominal charges.
So, get cracking! Choose your favourite Robert Downey Jr glasses and sunglasses and get them at Specscart today!
Our Latest Stories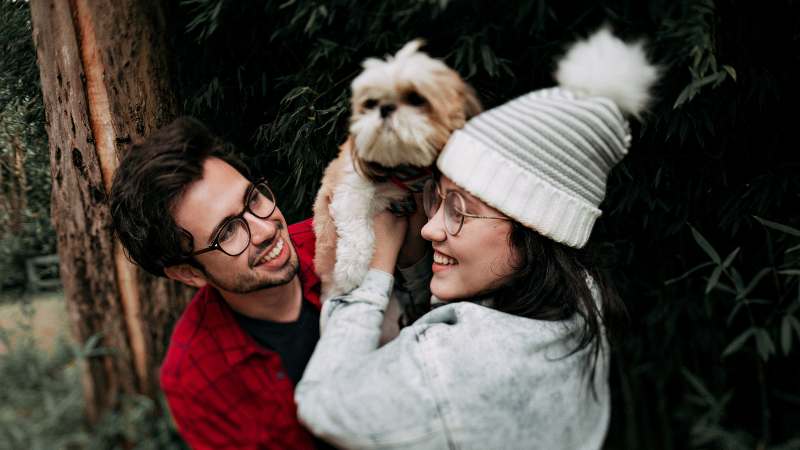 24Hr Dispatch Via Specscart Rocket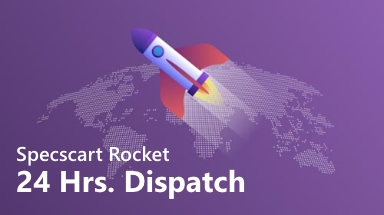 Surprisingly fast delivery for every last minute occasion. Glasses at your doorstep With a hell-for-leather chase!
Buy Now
Read More
---
Hello,
fellow reader!
An exciting offer is on the way to your inbox!
You like to read stuff, and we love that about you.
Enter your email-ID below and we will send you an exclusive offer!