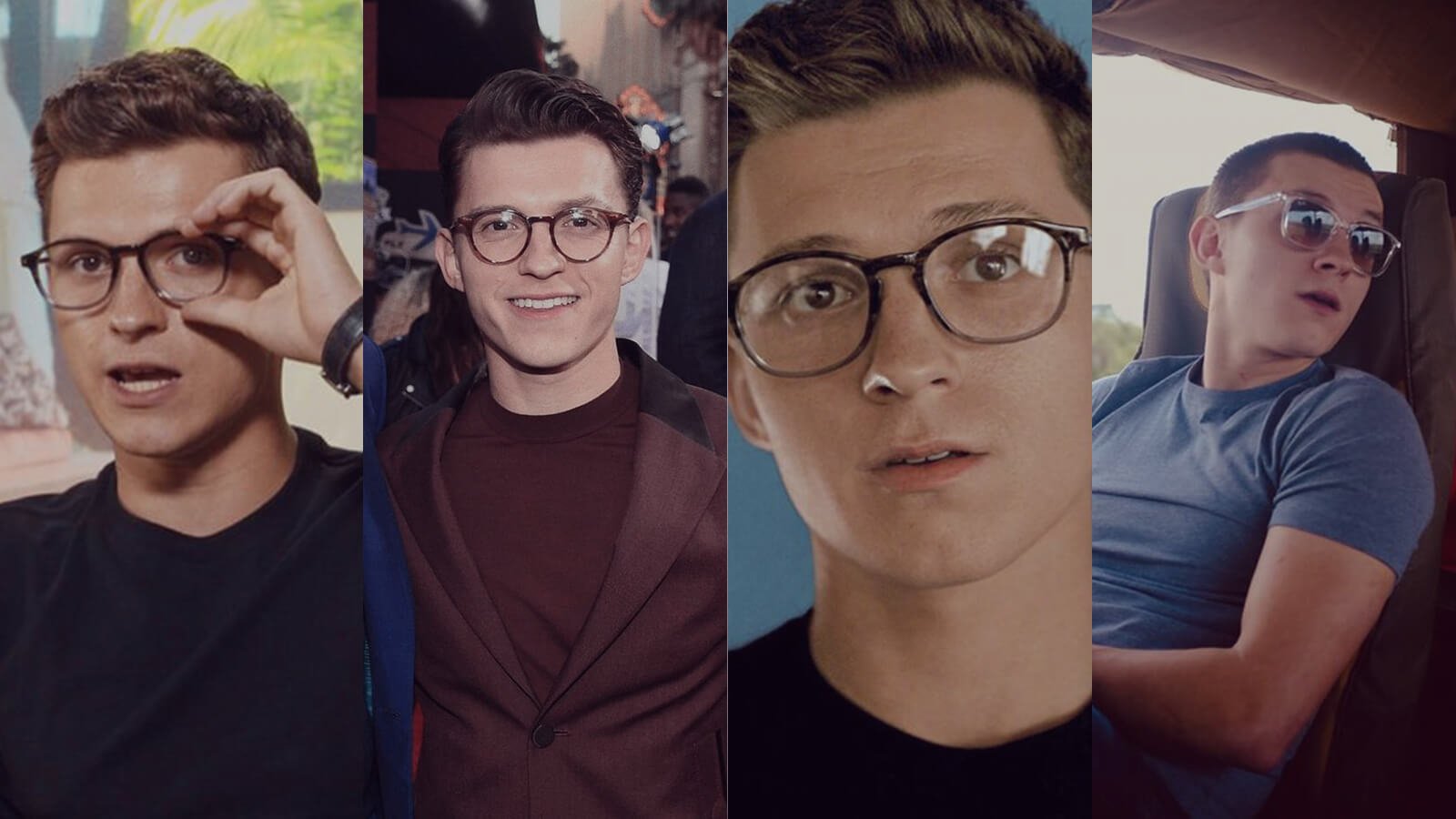 Get the look in glasses: Tom Holland Edition
Tom Holland glasses are getting more hype than himself. It's justified as he has numerous collections of glasses and he wears them with great styling. Hence fans can't help but adore the fashion statement he puts up in display with his every new Instagram post. In case, you'll aren't aware who this teen heartthrob is then let me introduce you to the new Spiderman.
Tom Holland is an English actor most popular for his role as Peter Parker in the Spiderman Movies. Before being a movie star, he was a theatre kid who mostly indulged in dancing. His parents are photographers and comedians, his interest in the entertainment business began quite early. He began his acting career through doing theatres and starred in a Musical called Billy Elliot the Musical for two years. He then went on to star in the disaster drama movie called The Impossible along with his two brothers. For this role, he received his first-ever reorganisation by the London Film Critics Circle Award for the Young British Performer of the Year.
It was the time when he joined the Marvel Cinematic Universe that he became a household name and their new superhero. He got the role to play the iconic Peter Parker as Spider-Man in the film Captain America: Civil War (2016) then in Spider-Man: Homecoming alongside Zendaya (2017). He went to play Spiderman in the Marvel superheroes movie like Avengers: Infinity War (2018), Avengers: Endgame (2019) and Spider-Man: Far from home(2019). He received BAFTA for a young rising star in the year 2017.
He is notoriously known for being the spoiler in the group as he though unintentional have given out major spoilers about his movies and other Avengers series. He's trained in martial arts and other forms of dancing which ultimately paid off in his movies and hope so the directors also forgave him for the spoilers.
Known for being the cool kid in Hollywood, he's fame came from his bubbly and frank personality. Always found in his Spiderman outfit, he showed his styling statement in the interview and promotions. Needless to say, he's got a sophisticated British way of styling his ensemble which is always finished off with a chic pair of glasses. He's got a lot of them.
Here's how you can get the perfect British look with an extra pair of Tom Holland glasses. Find out the pair of your beloved Peter Parker aka Tom Holland glasses to style in your next look.
Sweet and Sophisticated: Dual Tone Glasses
When you love playing around with your looks in glasses, you tend to get creative, Just what all-new Tom Holland glasses tell us. Here you can see that Tom matched his outfit with his glasses in black, however, being in simple black wasn't quite enough so he added some blue shade in as well to get the perfect pop in colour. Which makes his look more interesting and sophisticated by just looking at it. He just made his look way out of the ordinary by adding an extra shade of colour in his glasses.
These dual-tone glasses are perfectly getting rid of the boring nerd glasses look and makes your look way off the boring or bland chart. You've got to notice the beauty of these glasses in their charming frames available in two contrasting colours. These dual-tone glasses are the best way to add more appeal to your glasses, why keep it simple when you can make them way better and sophisticated than others. Remember, your choices in the accessory also define your personality hence go for greater and interesting things always.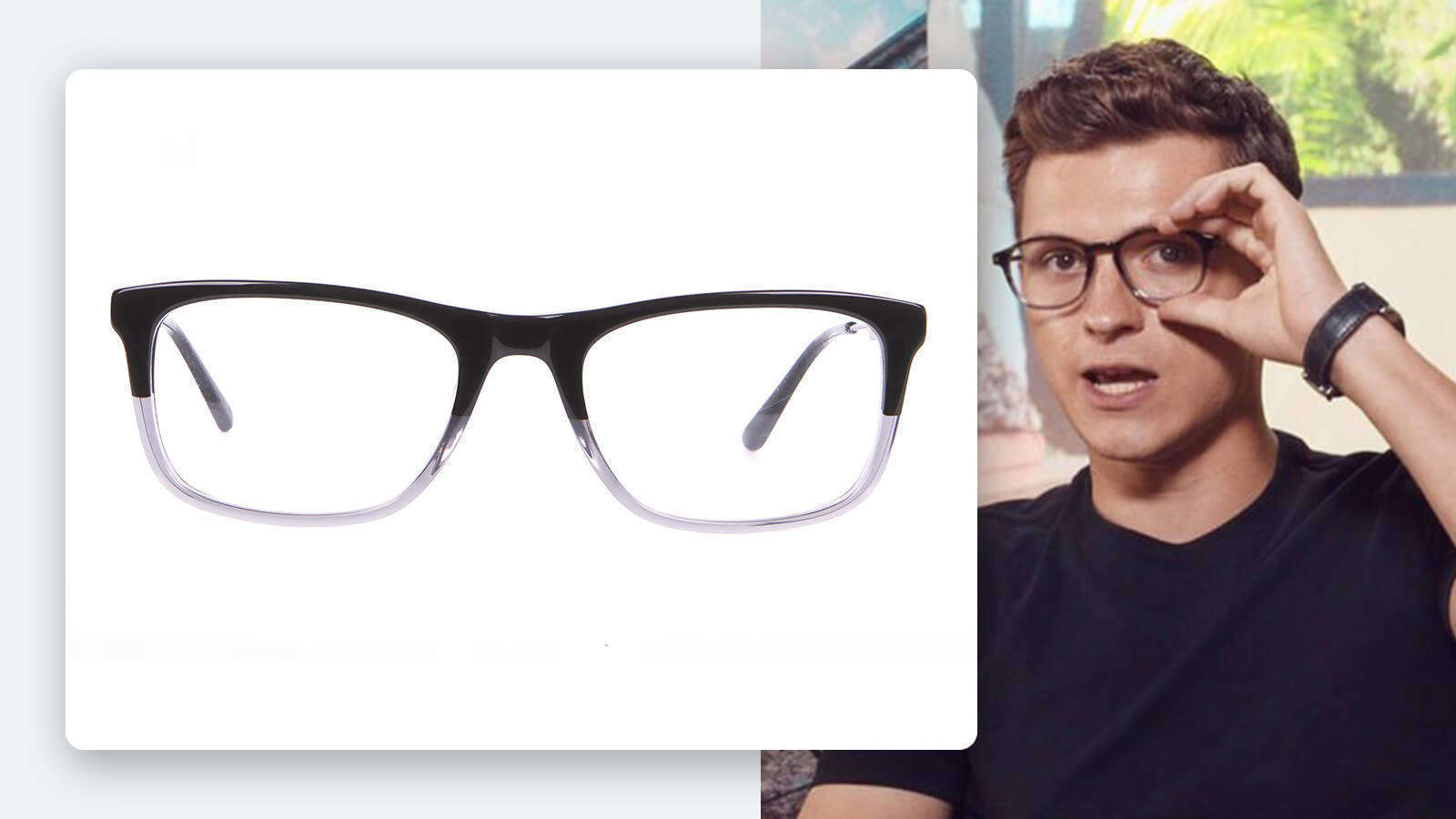 Earthly in perfect Brown: Round glasses in Deep Brown
Tom Holland's glasses collection always manages to impress us. He goes out of his way to be as unconventional to turn our heads. This time, his casual black shirt is accompanied with dark deep brown glasses which are looking phenomenal on his beautiful face. He chose to go with a casual and led back style in his black outfit and subtle yet powerful frame to bring more attention towards his face. When styling is done effortlessly, the amount of impression it creates is way beyond our imagination.
These brown round glasses in wayfarer style with perfect keyholes are simply adorable. This gives off a young and chic vibe to your ensemble, especially in dark texture. It's made with acetate and is simply thin, lightweight and handy that makes it more beneficial. The full-rimmed frames offer a sense of understated attractive silhouette and draw attention to your facial features. Similar to Tom Holland, these glasses are a breath of fresh air!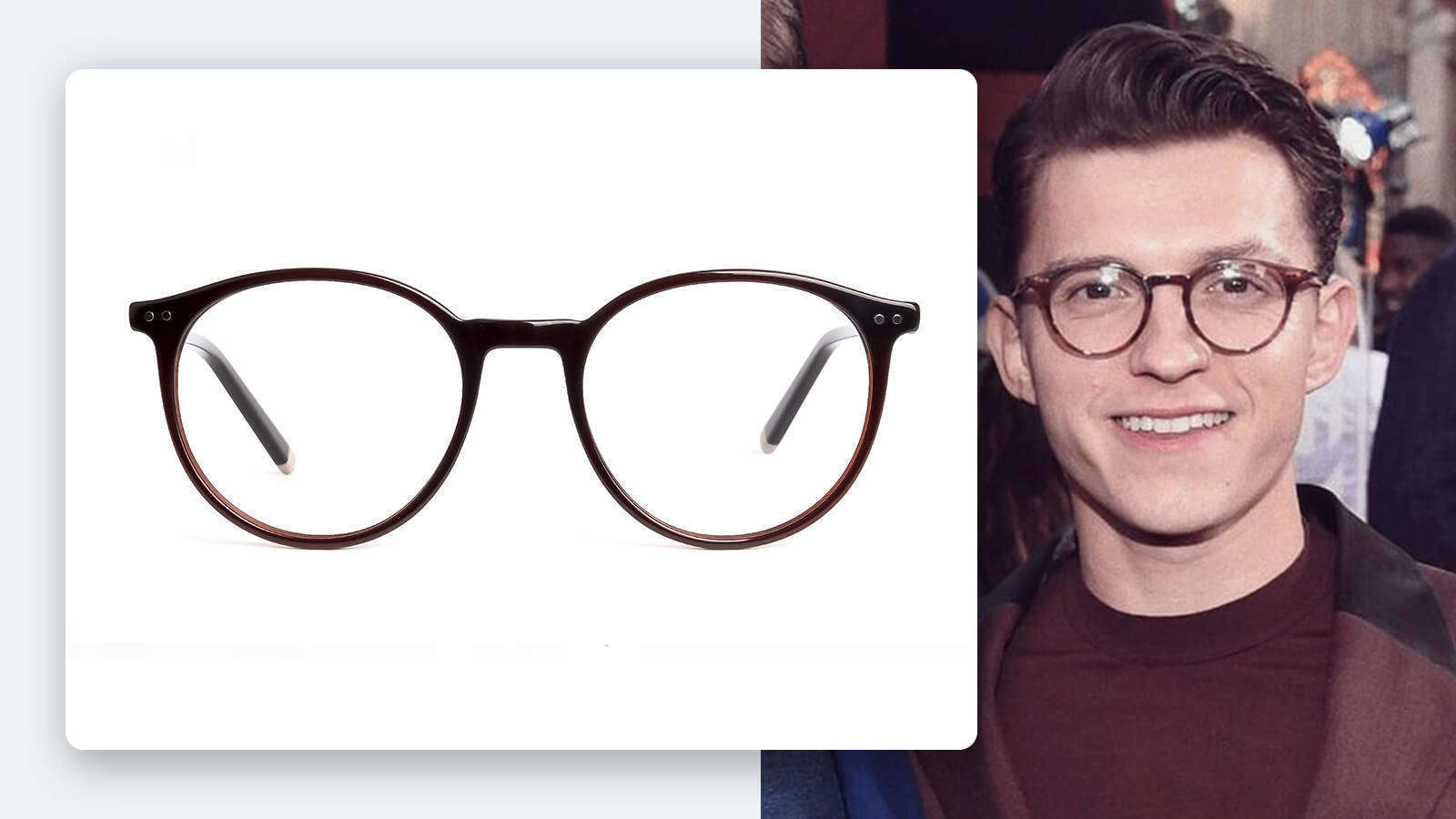 Transparent Beauty: Clear Frame Sunglasses
Aren't you tired of wearing the same solid black sunglasses? So are we. We can thank Tom Holland for his amazing sunglasses choice that now we've got a dapper alternative. If his amazing taste buds in these stunning looking eyewear is still not intriguing then you are in for an hour-long debate. This time he went for more acetate sunglasses rather than the usual black or brown aviators which we had seen quite enough on men. He went with a chic looking versatile pair of clear frame sunglasses-wearing on his holiday which makes his look extremely ultra-modern.
Transparent frames are quite in the trend now for being so versatile with every outfit as these flatter all of the colours in the rainbow. However, the best part about these glasses is that the acetate and clear texture make them look extremely fresh. The crystal clear frames are simply irresistible on any face, the colour, the design and loads of other attractive features catch easy attention and makes you look amazingly handsome/pretty.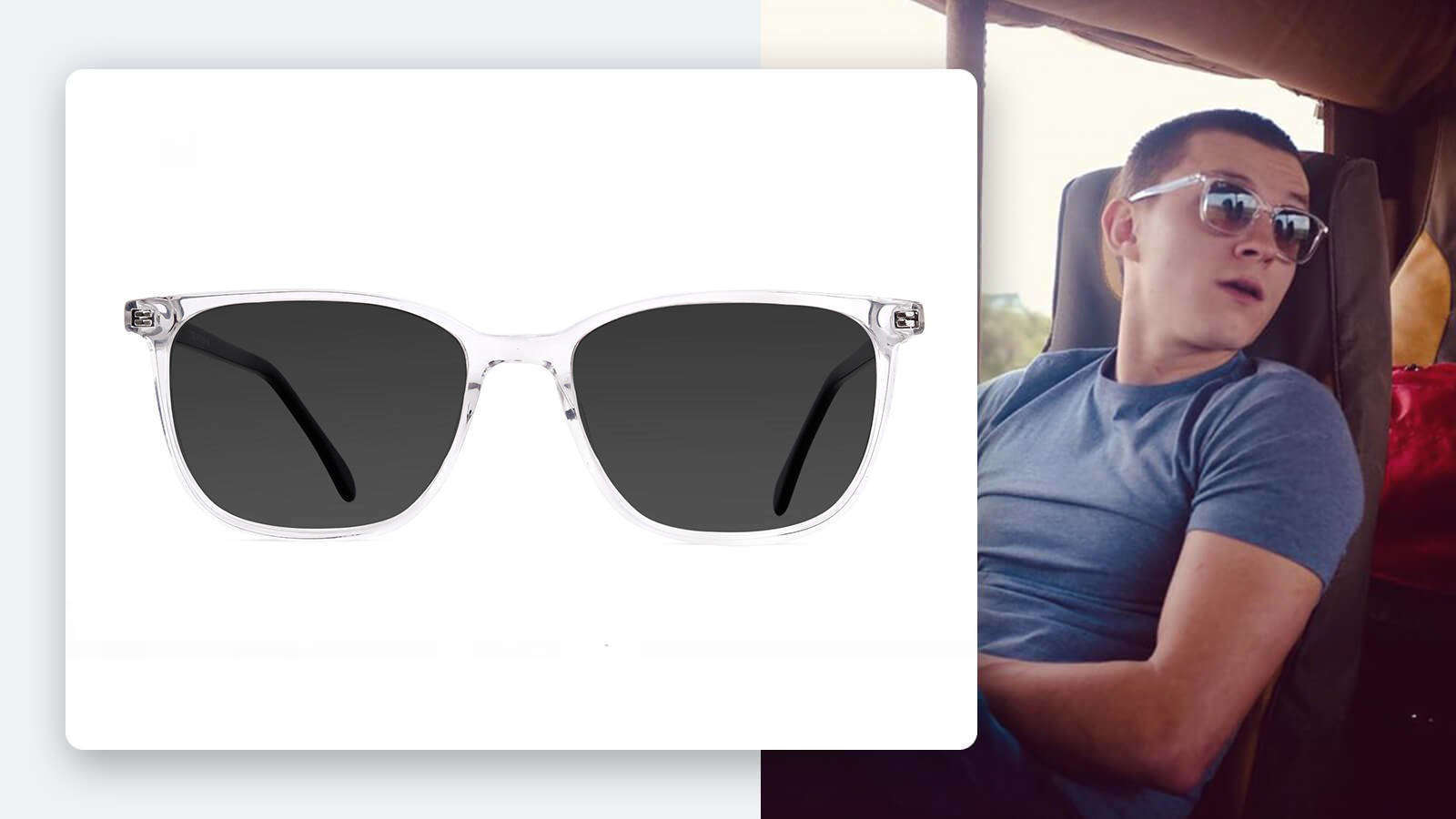 Back with the Brown: Havana & Tortoise Shell Glasses
It's safe to say that Tom Holland glasses contain a hint of brown and sober design to it. This type of design is most beautiful with darks suits or outfits just like how Tom Holland has outdone it. This Tom Holland glasses/Spiderman look was taken as his best red carpet looks while he was promoting his latest movie. It is most famously known as the iconic Tom Holland orange glasses.
The fiery mix of brown and orange and producing Havana is just as beautiful as it looks, it gives a perfectly mature and serious vibe. These glasses are designed into warmer shade hence they are perfectly giving a thoughtful and earnest look. Just what Tom Holland was going for with his overall brown suit ensemble.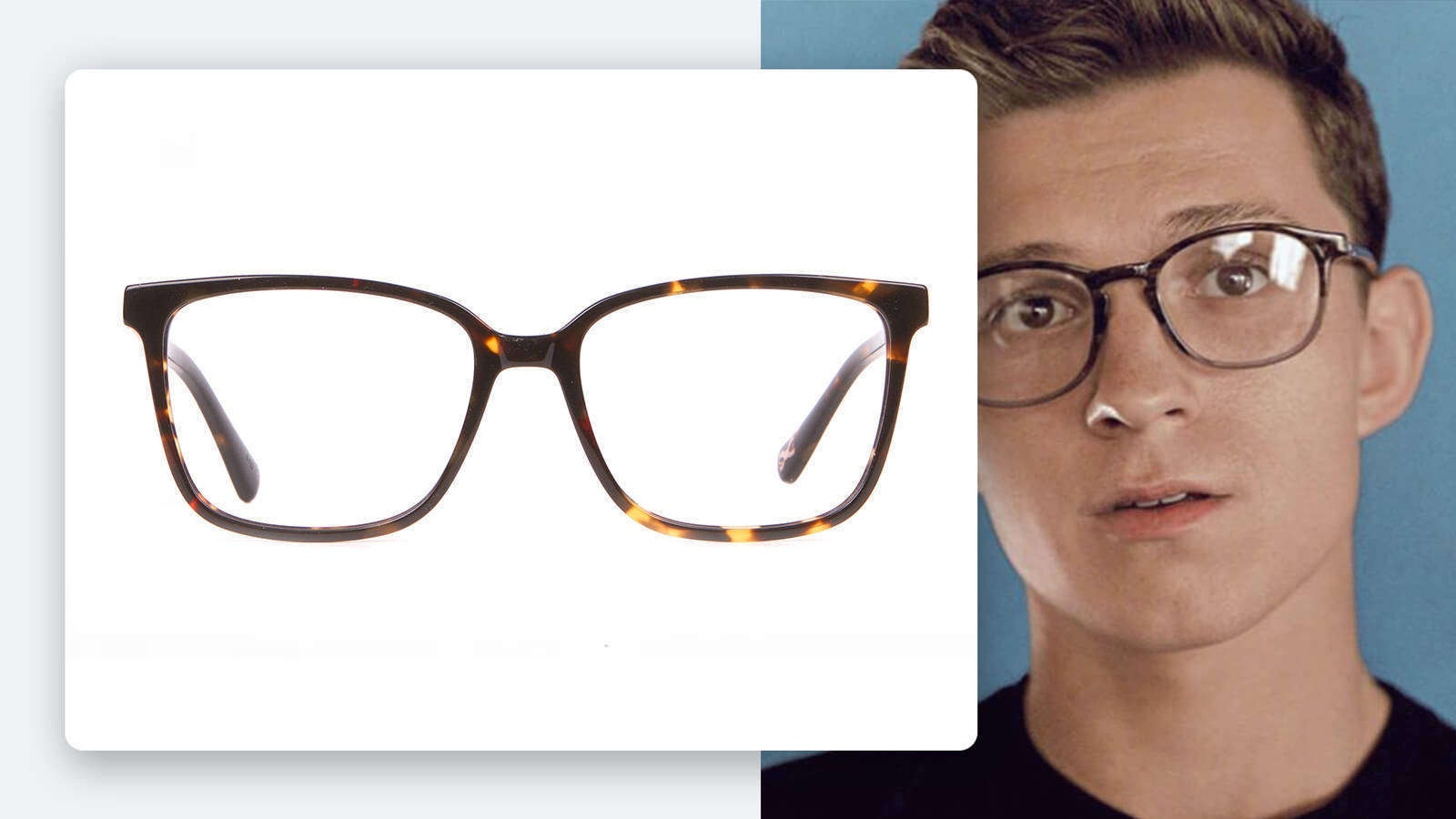 Be it his look or his personality, he just is simply adorable. Grab his fresh looks and get the instant Spiderman/ Tom Holland glasses to copy for upgrading your next look.
Our Latest Stories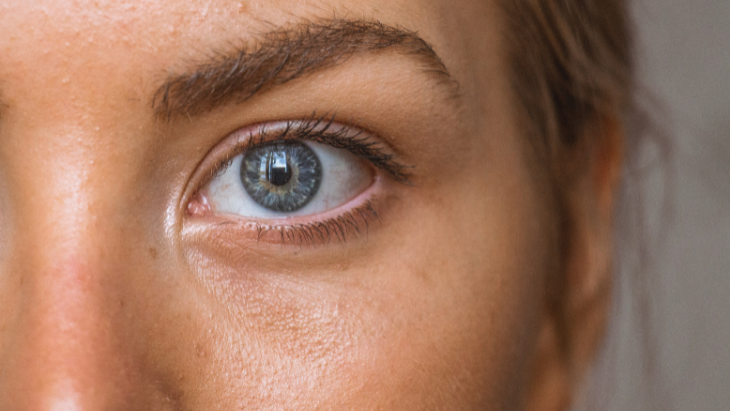 Specscart Blog
Want the latest update on designer eyewear, shades or glasses? Our blogs give exceptional insights into the latest eye care measures and eyewear trends, fashion and style hitting the streets of United Kingdoms. From finding an optician or optometry near you to the latest designer glasses or sunglasses for the summer and spring fashion, you'll learn something useful every day. We publish regular informative measures on eye care, the latest design in eyeglasses and sunnies, celebrity specs and fashionable choices you can make in your lifestyle to up your fashion game. Read on to find information about various glasses types, eye condition and fashion trends in a fun and simple way that you would fancy with a cuppa tea.
10% OFF
USE CODE
READER10
COPY CODE
Hello, fellow reader!
You like to read stuff, and we love that about you!
Here's an exclusive 10% coupon for our Blog readers
Stay Updated
Sign Up for the latest trends and exclusive offers!