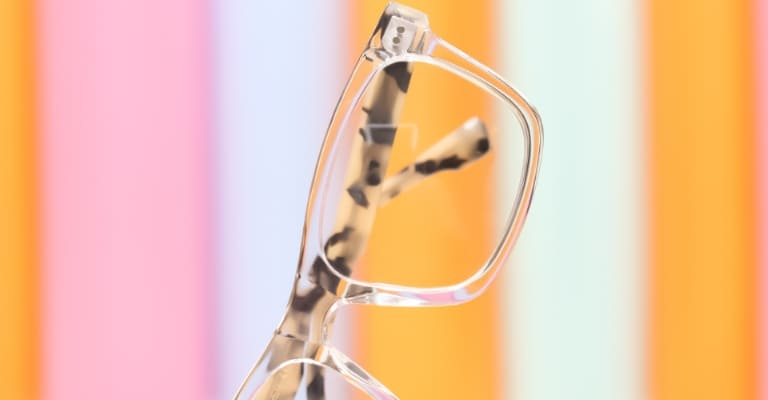 Clear Glasses
A trend that's here to stay
Free Protective Coatings With Every Frame

Anti-UV

Anti-Glare

Impact Resistance

Anti-Scratch
Clear Glasses Frames
Out of the stunning range of glasses available on our site, clear glasses have to be our favourite. Needless to say, they are having a moment in recent years. From mega-celebrities like Gigi Hadid, Bebe Rexha, Kit Harrington to Tom Hanks, clear glasses frames are everywhere. And aren't they a beauty?
You can do so much with them - wear them for prescription, use them as blue light blocking glasses, or simply opt for non- prescription ones for fashion. With these almost invisible glasses, you can blend in or add a pop of colour to give an ultra fashion statement. Whatever your choice of fashion and self-expression feels like, clear glasses frames completely cater to your needs.
Match your face shape
With any frame that you're about to choose, always consider your face shape before buying. First, you have to find out your face shape, and then choose the frame that's contrary to your face shape. For instance, if you have a square face shape then you'll have more angular and boxy facial features that can be softened using round frames, Aviators or Oval glasses.
Complement Your Outfits
Most clear glasses frames are lighter in shade so light coloured outfits are mostly suited to match any of your looks. If you don't want your glasses to lose their limelight, pair them mostly with light coloured clothes. Dark coloured outfits aren't viable as it takes away the attention from your face, making see-through glasses look less impactful.
Makeup Tips for Women
Going with a similar tone of light coloured outfits, clear glasses frames are most suitable with light coloured makeup. You can keep your makeup fresh and light while wearing transparent glasses to not cause any distraction. Going with heavier makeup will only distract people from your look and put a major focus on the dark circles of your eyes than on the frames.
But the most important thing is that it completely depends on you how you wear them. They can be both formal and casual, so their versatility is a plus point. Another great thing about clear glasses is that they look great with tints, so you can also go for Transition Lenses. They also suit most skin tones!

Men's Clear Glasses
Clear glasses for men usually consist of subtle styles. Apart from the see- through frames, there are light colours as well, such as dusty blue and brown.
Here are some of the bestselling clear glasses for men at Specscart.
Crystal blue is the most stunning shade out there when it comes to men's clear glasses frames. These frames are serious and stunning at the same time. A mix of classic shapes i.e wayfarer and rectangular giving you a frame that's astonishing in different ways. Featuring unique details like a low nose-bridge, sleep temples, and smooth surface. Best as your non-prescription or prescription glasses, these Read glasses bring together the most beautiful colour and design together in a single frame. Made out of quality acetate, these frames are extremely lightweight and flexible to wear daily.
In replacement of the chunky bold round frames from the 90s, the Brooke frames are quite an alternative. Coming in the colour of every season - coral orange, these bold yet subtle round glasses are the next big fashion statement. Considering orange shade to be quite daring yet playful, fun and eclectic, these clear glasses frames are unique and distinctive. Not only the colour and design are unique, but the features like sturdy spring hinges, saddle-nose bridge and beautiful temples offer an exquisite touch.
Apart from these popular styles, you can always go for pastel colours without worrying about stereotypes. Just wear whatever you feel comfortable in!

Women's Clear Glasses
There is an even wider variety of clear glasses for women to choose from, with a range of pastel colours like pink, orange, champagne and even red. Apart from the classic and popular cat eye, explore shapes like square And round. Here are a few of the bestsellers.
Here are some of the bestselling clear glasses for men at Specscart.
The Cheshire frames are ultra-feminine, appealing and beautiful in a single glance. Coming in with angular and upswept edges, these cherry red transparent glasses give a bold fashion statement. Your ultimate frame in a range of stunning women's clear glasses frames, these iconic retro and modern mix designs are utterly charming. The glossier red surface and the classic silhouette gives a fiery and distinctive look. Made for every confident and stylish woman, the Cheshire frames are extremely comfortable, and flexible for day-to-day use.
As things are starting to get better and people going out again, bright, funky colours are the trend of the season. Pendle here in bubblegum pink is a very easy going frame with enough personality and character. The pastel shade of pink is fun and is more suited for casual occasions. Wear it with a white tee and denim for the perfect look. Like Cheshire above, the upswept angles of these clear glasses frames give them their sassy look. You just can't go wrong with these!
If you are confused which style to go for, you can try 4 frames for free at your home, using our Try at Home feature.