Free Shipping & 24 Hr Dispatch. Even On Weekends!
Cycling Glasses
Next Grooming Accessory
Loading Products...
Buy Prescription Cycling Glasses - Ride in Style
The list of benefits of cycling glasses is surpassed only by the benefits of, well, cycling. Cycling goggles help to keep dust and bugs out, improve visual clarity, protect eyes from bright sunlight and UV rays - all this while making you look cool on your bike. Cycling prescription glasses have an added benefit of vision correction.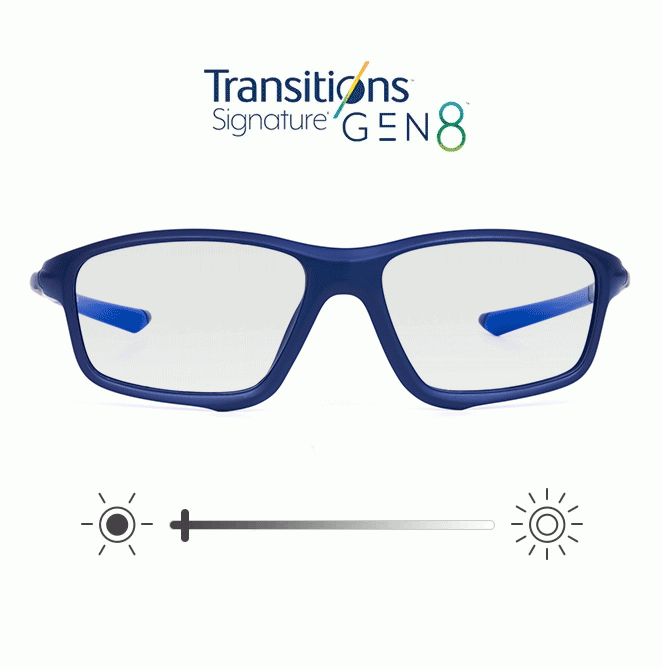 Order Photochromic Cycling Glasses Online
If you are sensitive to light or prefer tints, you can also go for photochromic cycling glasses - which develop a tint as soon as they are exposed to UV rays. Whatever the season or terrain, cycling glasses are definitely an invaluable asset. Whether you bike around town to work or cycle on hilly terrains, a pair of bike glasses will hold you in good stead. The different transition of the photochromic lenses for cycling will help to block the maximum bright light and wil help in a clear vision.
Best Cycling Glasses For Men & Women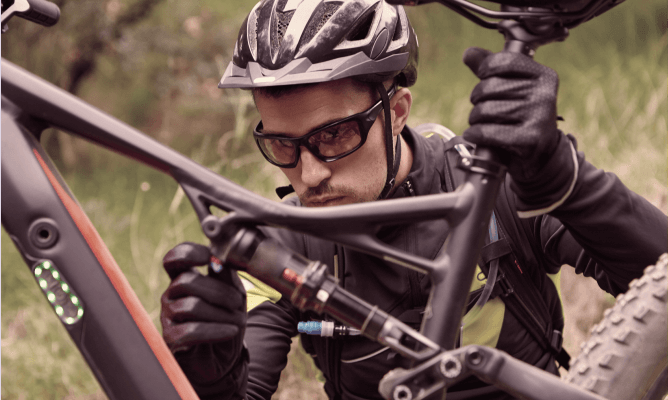 Best Cycling Glasses For Men
Our range of cycling glasses for men has more casual styles which you can wear in your daily life as well. Men's cycling glasses are perfect for an active lifestyle, with all the strengths of sports glasses.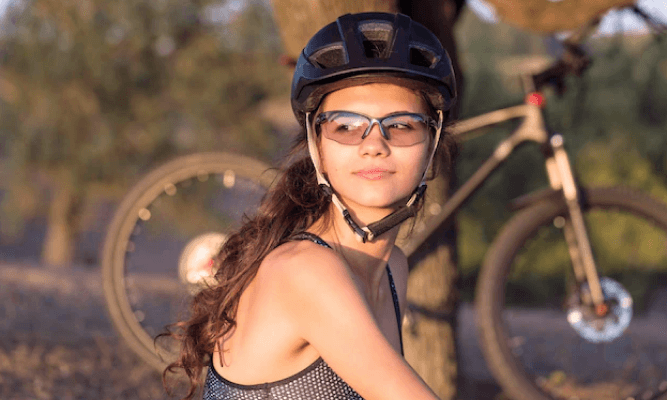 Best Cycling Glasses For Women
There are a lot of options in the market today for cycling glasses. From typical wraparound glasses for professionals to more casual and fashionable frames, there is a wide range to choose from for the best women's cycling glasses. The ladies' cycling glasses are smart and are perfect to go with every personality. The cycling glasses for women will help the eyes to stay protected from the harmful factors of the daily obstacles faced on the roads.
Polarised Cycling Glasses
Within sunglass tints, you can choose between polarised and non-polarised lenses. Simply put, polarised cycling glasses help to block glare. They are recommended if you have to cycle in bright conditions like snowy rights or near a water body.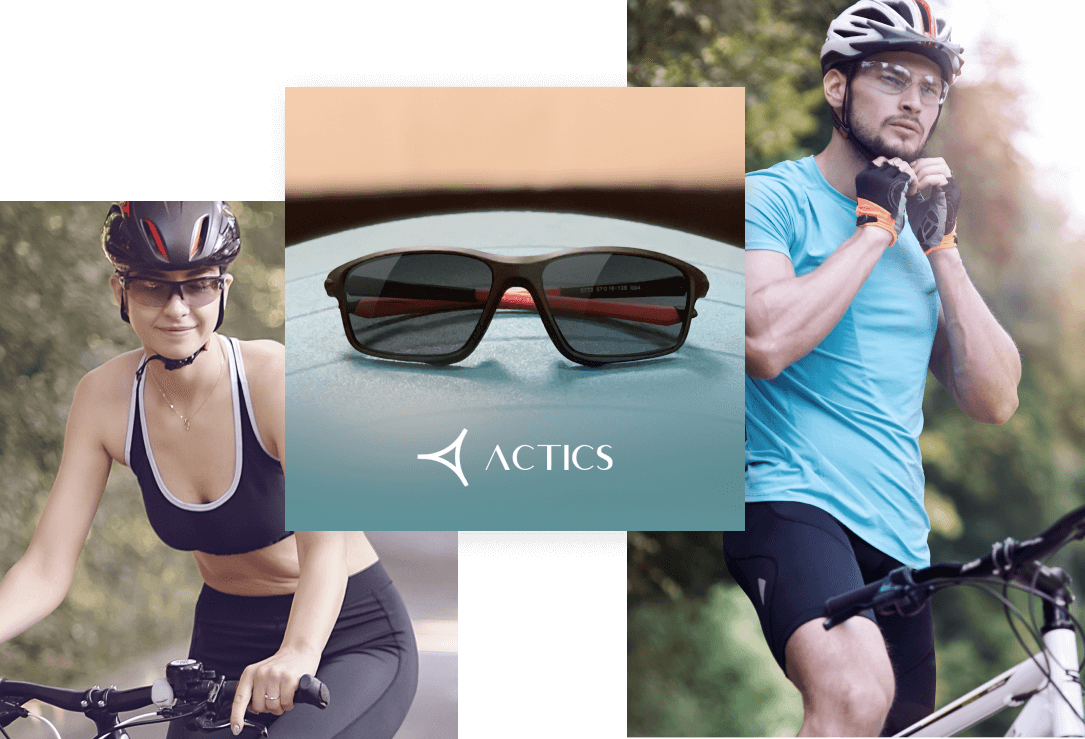 Buy Clean Lens Cycling Glasses for a Fun Day Out!
As the name suggests, clear lens cycling glasses are those which don't have any tint. Go for these if you also plan to cycle in the evenings or at night. Our clear cycling glasses also have standard anti-UV, anti-scratch and anti-glare protection, so you can rest assured about visual clarity and performance. If you love trekking and biking on the mountains, and are looking for some clear lens cycling glasses, then go for clear mountain bike glasses. They will not only help in a clear vision and will also make you look super cool! One who wears prescription glasses can opt for prescription mountain bike glasses.
Road Cycling Glasses
Since we do cycling mostly on the roads, it is very important that our eyes are on the safe hands. The road cycling glasses help with the maximum protection to the eyes and keep our eyes protected. The road bike glasses are very sturdy and smart and wearing them one can make the best use of the road cycling glasses.
Bike Glasses
Many people love biking. In fact, biking is a hobby for many. But one should be very much careful while biking in different places as the roads and the environment is not always favourable. Hence wearing road bike glasses and prescription mountain bike glasses is mandatory. This will keep the eyes protected and will improve the vision clarity.
Cycling Goggles
For our eyes safety, it is very important to wear cycling eyewear. The cycling goggles block the glare and the harmful UV rays from entering our eyes. One who goes cycling regularly should wear cycling goggles for the maximum protection of the eyes. The cycling glasses also protect the eyes from the small dust particles, when entering the eyes causes irritation and problems. Thus wearing cycling goggles is a must while doing the activity.
FAQs on Cycling Glasses
Should I wear my glasses during cycling? What is the point of cycling glasses?
Wearing glasses during cycling will protect your eyes against -
Air flow which can cause your eyes to tear up.
Flying dust, debris and insects.
Bright sunlight and UV rays.
Apart from these, impact- and scratch-resistant glasses will help shield your eyes in the case of a little accident or fall.
What should I look for in cycling glasses?
The most important part of any sports glasses is the material - it should be flexible, strong and lightweight. All our cycling glasses are made with the modern TR90 material.
The lenses should also be fully loaded with anti-UV and anti-glare coatings.
Lastly, their fit should be very comfortable and secure.
What colour lens is best for bright days?
Brown coloured lenses are great at filtering bright sunlight, plus they also provide some protection against blue light.
What colour lens is best for night cycling?
For cycling at night, clear cycling glasses are the best option. Tinted lenses can hamper your vision in low light conditions.
Can you wear cycling glasses over regular glasses?
Our range of cycling glasses includes activewear styles that can also be worn as regular glasses! They are perfect for the gym, running or even a casual day out.
What is the difference between normal cycling glasses and prescription cycling glasses?
There is only one difference between our normal cycling glasses and prescription cycling glasses - vision correction.

Our regular cycling frames come fully loaded with anti-glare, anti-UV and anti-scratch coatings. If you need vision correction and have a prescription, you can also get these fitted with prescription lenses at no extra cost. Prescription cycling glasses will help you see better while you are on the road - so it is important to get your eyes tested and update your lenses at regular intervals of 1-2 years.
How to get prescription cycling glasses?
You can choose any cycling glasses on our website and get them with prescription lenses. In case of clear, single vision lenses, we offer prescription cycling glasses at no extra cost! Please note that these come fully loaded with standard anti-Uv, anti-Glare and anti-scratch coatings.
How to stop Prescription cycling glasses from steaming up?
Are you looking for ways to stop your prescription cycling glasses from fogging up? Here we will tell you a few simple tricks that will help you avoid your glasses from fogging up.
Use anti-fog sprays: A quick spray of this solution on the lenses will avoid fogging.
Surfactant Films: If you don't have an anti-fog spray, don't worry! Simply wash your glasses and soapy water and dry them off after a while. It will also help prevent fogging on the lenses. Any dish soap or baby shampoo would do for this.
Keep them clean and free of sweat, oil and residue!
Why do we need cycling glasses?
Cycling glasses try to increase visibility and protection with a different material and protective coatings.. There are many reasons why you should opt for cycling glasses:
These glasses provide you with a clearer vision which further increases your cycling performance.
They will protect your eyes against debris, dust, bugs, etc.
Cycling on a sunny afternoon? These glasses will protect your eyes from the harmful UV rays and these glasses contrast the light coming into your eyes. Therefore you still see clearly with eye protection.
At last, these glasses look cool! Yes, these glasses look super cool on any person with any face shape.