Free protective coatings with every frame
Anti-UV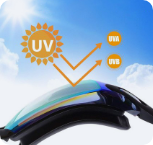 Anti-UV coating
It empowers the lenses to block incoming UVA and UVB rays from the sun to offer crucial outdoor protection
Anti-Glare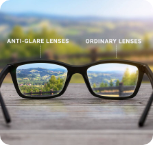 Anti-Glare
A hard, thin filter used to cut down the reflection of light, allowing it to pass through
Impact Resistance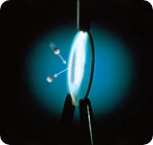 Impact Resistance
The strong material strengthens your lenses, helping prevent physical damages
Anti-Scratch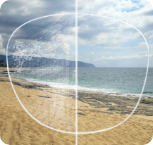 Anti-Scratch
A protective layer that helps prevent scratches, making lenses more durable and safer
Buying Men's Glasses Prescription and Non-Prescription Online in UK at Specscart®
The easy way to buy men's glasses prescription and non-prescription is to order online. The UK-based Specscart now offers the online shop for the fashion glasses. The top trendy designer glasses for men collections, authentic designs and the premium quality at the affordable price are what features Specscart's glasses. If you are looking for some new styles for the coming season, trendy glasses are the game-changer for men. And whether you are having a prescription or not, a pair of finely-designed glasses is essentially important to polish men's everyday outfits. As nowadays fashion glasses for men are coming in rich ranges of styles or texture, it's even interesting to have multiple pairs that match your day-to-day clothing. Especially the affordable price of Specscart's frames is what makes it possible to enjoy the different stylings. And all the shopping could be done by simple clicks online - Specscart will then
dispatch you glasses in the next working day
. Convenient yet super fashionable - that's what all you need when looking for the latest men's fashion glasses.
Top-Fashioned Designer Prescription Glasses Frames For Men
Men want the best and style is very important. Specscart offers 100s of designer men's prescription glasses online and all top quality ranges at affordable prices. Buying men's glasses online gives you more choice and you have as much time as you like to browse and choose your favourites trendy frame. Just at the comfort of your own house or working place, you can select your glasses from Specscart's wide collections, Including different colours, material, shapes and brands that add unique textures to men's daily styles. And what's the best - You can have any designs you want to be made with your prescription - and even the non-prescriptive glasses for the fashion purpose. Just add your
prescription lens
when ordering, and Specscart can customise all prescription glasses to offer you the most enjoyable vision experience. Yep, it really is that simple! Stylish glasses frames for men online in just a few clicks. Why wait or spend time going to find a shop when you have so many top quality designer trendy glasses frames for men to choose from on Specscart. You can choose from designer and the stylish, unique men's fashion glasses that suit your taste. While we have so many new designs to choose from - the prescription glasses shouldn't be just of those classic finish anymore. Instead, they have become the most intimate accessory that reflects men's fashion philosophy. With so many men wanting glasses to match their daily outfits, it's easy to see why men have several pairs of glasses and now it's possible for them to have it - when buying glasses online at Specscart. So forget about the out-fashioned way that sticking to one pair of glasses for all time. As all men deserve at least a few pairs (or many pairs!) of eyeglasses that emphasise their best confidence in any occasions, whether it be formal or casual. And here are some types of stylish glasses for men worth trying:
Full-framed Glasses — The Timeless Fashion that Presents Rich Textures
The full-framed glasses are the most-loved fashion that is one of the men's favourites. What's the best is the full-rimmed finish makes the frames possible to be made into various shapes such as
rectangular
,
wayfarer
, or
aviators
that matches all face shapes. The modern
full-framed glasses
also come with fresh colour mix which pops of the fashion statement of the fashion glasses.
Half-rimmed Glasses — The Subtle Design that Shouts Out Loud
Half-framed glasses
featuring the subtle finish with exquisite metal frames. The supera style is ideal for men's formal occasion. Meanwhile, the
rimless
undercut offers the wider vision field which are really suitable for driving or reading.
Rimless Glasses — The Minimalist Fashion
Frameless Glasses
featuring the subtle finish polishes the extreme confidence of men in formals. The thin and lightweight metal pair with the
rimless
design is the minimalist detail that highlights the most of the fashion taste. And the frameless glasses are flexible to be customised into any lenses dimension and shapes.
You can find all these stylish glasses frames designs at Specscart where you will have options of colour variations. The finely handcrafted glasses frames come in smart tones re-defines men's fashion and create new concepts for men's styling. Meanwhile, Specscart's hand-picked material provides all men's frame with a lightweight and comfortable wearing experience. From now on, no more compromise between fashion look or comfy. At Specscart, you can find all the men's trendy glasses that you can't miss, which are available in brands including Tom Archer, Marc Fabien,
Ted Baker
,
Hackett
,
Salvatore Ferragamo
and
Calvin Klein
.
Try-On All Those Stylish Glasses Frame For Men!
Specscart brings you a matchless variety of men's designer glasses frames. Have a look and find your favourites to flaunt and pull-off your charm with peppy designs and types of frames we have got for you.
Rectangular:
Whether you are in search of the best glasses frames for men's prescription glasses or men's non-prescription glasses, rectangular frames are not going to disappoint you. The
rectangle
is the right frame shape if you have a square, oval, or round-faced shape. When made into men's designer glasses, these help balance out the prominent brows and jawline you might have.
Wayfarer:
With the tweak of round edges to the classic rectangle,
Wayfarers
designer eyeglasses frames for men's glasses have become part of timeless styling. They go well with round and oval face shapes and are available in various colours enough to match any complexion you have. These glasses frames for mens glasses are trending nowadays and you must get them if you wish to own a perky pair of mens designer reading glasses or prescription glasses.
Round:
Never out of style, cool and
vintage round glasses
are the go-to if you need quirky glasses for mens designer glasses. Suiting more on square, oval, and rectangle face shapes, you can get these frolic frames for your eyeglasses and rock any party! With looks that soften, round fashion mens glasses are a good way to quieten down your strong and sturdy appearance if it doesn't go with your personality.
Browline:
Matching oval faces better, the browline type is another stylish kind of frame for men's glasses. They are best if you wish to project a peppy personality while not being too bold or too boring. With a
browline
on your face, regular mens prescription glasses will look no different than fashion glasses. That too, with the comfort and quality you deserve. The semi-rimless style that browline designer glasses frames for men's glasses have, helps in not taking away the attention your eyes deserve. Plus, the modern cum retro look they create makes them even more loved as a designer frame for mens glasses.
Aviator:
Ageless, stylish and trendy,
Aviators
have been seen as the best option as frames for men's designer glasses since decades now. Once used only for sunglasses, Aviators are now also mesmerising as the go-to frames for men's eyeglasses. It will prove to be the right choice whether you wish to own men's designer prescription glasses or reading glasses according to the correction you need.
Cat-Eye:
Not a very famous style for mens eyeglasses,
Cat-Eye frames
are capable of complementing your looks and personality with its charm. Frames for mens glasses of this shape are better suited on men with a heart-shaped face. In fact, it is quite loved in this community as designer frames for men.
Geometric:
Like to strike out and project your unique taste? Yes, you can do so with men's eyeglasses as well. Amongst all the available frames for men's designer reading or prescription glasses, and even men's fashion glasses, the
geometric
ones stick out a mile. Go have a look at the quirky pairs we have for you right now!
Prescription and Non-Prescription glasses
have become an accessory to men's daily activities, including matching colours with their suits or outfits for the day. Men are our top customers, as they continue to praise their new easy way to buy men's glasses online, and that's not all. We have a
FREE Try at Home service
, so you can try 4 pairs of your favourite frames without leaving the sofa. Nobody can ignore the style eyeglasses create when added to a man's daily dress up, be it for work, play or leisure. Spescart offers top quality high standard glasses for men and you get a
30-day money-back guarantee
. Why not have a look to find the perfect frames for you and treat yourself right now. We have 100's of designs, with a choice of colours and materials to suit your taste. It's 24-hour shopping at your fingertips! If you would like to try your trendy men's glasses at home? Why not choose your frames up to 4 pairs and click on try at home FREE. All done, they will be on their way to you and you get 7 days to decide, which pair or pairs you like best.
Order your chosen glasses online
. Put all the frames back in the box and send them back free of charge using the prepaid label. That's it, you get your fresh new fashion prescription glasses asap!
Questions on your mind - Men's Eyeglasses (FAQ's)
Q1. What to do if I can't choose my favourite pair of mens eyeglasses from the wide variety?
A.
Experiencing a paradox of choice? Why not try your chosen frames at home for free. With this service we let you try 4 frames for 7 days at home. If you like any of those, you can order them. Otherwise, you can try another set of 4 frames and then another as many times as you want. Don't forget, the shipping is free both ways.
Q2. I'm in a hurry, how fast can I receive my pair of mens eyeglasses?
A.
We always dispatch our eyeglasses within 24 hours of receiving the order. This is done with an intention to deliver it within the same time frame. But, the delivery isn't guaranteed. So, we offer you another service of Special delivery with a guarantee to deliver by next day 1 pm.
Q3. I already have an awesome set of old frames. Is it possible for you to make my mens eyeglasses with new lenses and no new frames?
A.
Why not? We'll reglaze your glasses for you. How? You can place your order for new customized lenses. Next, you can post your old frames and we'll let you know when we receive them. As soon as your mens eyeglasses are ready, be ready for quick delivery with a 30-day warranty on your lenses.
Q4. What do I do if I don't have a prescription for my eyeglasses?
A.
Don't get worked up, you can place the order by choosing your favourite mens eyeglasses for now and send the prescription later when you have it. As a matter of choice, you can also choose our home eye-test service if you want.
Q5. How to choose the style of mens eyeglasses that will suit me best?
A.
The best style of mens eyeglasses will be matching your face shape. To find what your face shape is you can click a picture and draw an outline by the edges of your face to check. Once you know it, check from the following chart of styles and have fun choosing.
Oval face shape:
Aviators, Cat-Eye, Round, Browline, and Wayfarer.
Square face shape:
Oversized Aviators, Cat-Eye, and Round.
Heart face shape:
Cat-Eye, Wayfarer, Rectangular, and Round.
Round face shape:
Rectangular and Wayfarer.
Triangle face shape:
Cat-Eye, Aviators, and Browline.
Diamond face shape:
Cat-Eye, Round, and Browline.
Q6 Is there any option for me if I have to use my eyeglasses mostly under the sun?
A.
Yes. You can opt for a set of Prescription sunnies or Transitions - Photochromic light adaptive lenses in your pair of stylish mens eyeglasses.
Read More