Free Shipping & 24 Hr Dispatch. Even On Weekends!
Halfrim Glasses
The glasses is half full
Buy 2 Get 50% Off on 2nd Frame *T&C Apply
Anti-UV
Anti-Glare
Impact Resistance
Anti-Scratch
Loading Products...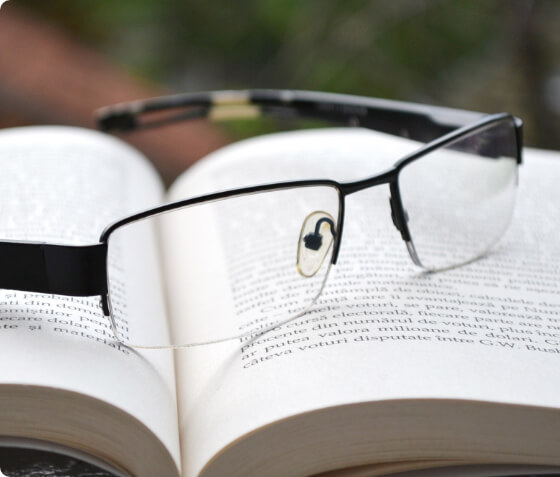 Bring out the freshness, let half-rim be the 50-50 motto
Semi‐rim or half rim glasses only frame the top of glasses. They help accentuate the upper portion of our faces, and our thus perfect for diamond or face down triangle face shapes. They are geometric, clean and modern to the core. Nothing speaks simplicity like half rimmed glasses. That doesn't mean you can't have fun with them! Choose a gunmetal straight nose‐bridge pair for a more casual look, or sleek silver ones for more sophistication.
Half Rim Glasses for Men
For the day when you are not afraid to speak your tongue a pair of Semi rim glasses is a perfect choice. This style for men is instilled with the confidence and charm of a straightforward design. Its subtle balance of form and function doesn't just look great, it also helps to make a great impression. Moreover, half‐rim glasses for men are a great choice for an everyday look.
Half Rim designer glasses will craft a look that is all-day wearable and brings a style that goes with all. There was a time when half rim glasses had no designer choice but not now. For the men who desire to bring a feeling of honesty, a sense of trust with their sayings, trust a pair of half rim eyeglasses that swears to make you have a bold appearance. Not a necessity to have them with prescriptions. They are your fashion accessory with plain lenses. So just go smooth and show the sauve men in you to the world.
Shop Men
Half Rim Glasses for Women
The half rim glasses style for women is fashionable and classy at the same time. Coming in so many shapes to let the diva in you have some cheerful vibes. The alluring designs are great to pair up when you are thinking to take a break from any chunky pair of glasses. But semi rim glasses won't let you compromise with the Bold Avatar. So when you are in a no-sweat mood let your half rim prescription or plain glasses make the buzz.
Made to merge fashion and function with clean lines, meticulous details, and lightweight comfort, this style is a great choice for everyday glasses. So take a half rim and show your prowess!
Shop Women
FAQs
Why should I choose halfrim glasses over full-rim or rimless?
Semi-rimmed or halfrim glasses should be your choice if you need a lightweight pair that gives a look of sophistication and maturity.
Are halfrim glasses in style?
Simplicity is always in style. And halfrim glasses are best known for the simple, nerdy, and minimalist look they bring with them. So, don't get worked up, they are and will always be stylish for you to don your simplicity with elegance forever.
Are halfrim glasses durable?
At Specscart, all glasses are made impact resistant. So, stay assured, halfrim glasses bought from us are durable and will only make you happier.
Can I try these at home?
Yes. You can try a total of 4 frames for 7 days at your home free of any charge. Once pleased with a frame, you can return the home trial package using the return label that's already inside, and order what you chose next.
How much time will it take you to dispatch my order?
We'll dispatch your halfrim glasses just like any other pair within 24 hours of receiving the order. Although, if you have any complex prescriptions, it will require us to put in at least 7-10 days of hard work to help you get your glasses with proper powered lenses made from scratch only for you.