Free Shipping & 24 Hr Dispatch. Even On Weekends!
Loading Products...
Looking to buy rectangular frame glasses? Look no further!
The timeless rectangular glasses will make heads turn wherever you go. For all your style needs, we have multiple options for you in our collection of rectangle frame glasses. You can keep it sophisticated with rimless rectangle glasses, stick to basics with the all-black acetate frames, or take the classic route with metal rectangle frames. Rectangular glasses are also a popular reading glasses style - thanks to their intellectual appeal. So go ahead and buy rectangular frame glasses at attractive prices with no added costs. All our lenses come loaded with free anti-glare, anti-UV, and scratch-resistant coatings.
Tom archer
GLAZEBURRY 4
Glazeburry 4 is crafted to precision- look minimalist and ever stylish by donning these pairs. Brownie points to its comfort and easy-to-carry vibe.
View
Tom archer
Blackpool 2
Say yes to your passion for fashion with Blackpool 2 that is simply adorable.
View
Tom archer
Oldham 4
Graceful and sophisticated, Oldham 4 speaks volumes about top-notch beauty.
View
Here are the Most Trending Rectangular Glasses
When it comes to occasions, the versatility of rectangular glasses once again speaks for itself. From the professional workplace to the elite ball party, from the casual family gathering to the active workout session, there is always a frame for every game in our comprehensive collection. Famous for their minimalist approach, rectangular specs work on every occasion. While the clean lines give you a polished look, the conventional silhouette will add vintage glamour. Don't forget to look into our designer rectangle glasses for men and women that exhibit a premium design and come loaded with superior quality. These pairs will add style to your basic outfits while lending an air of sophistication to your personality. Since retro fashion is bursting in popularity these days, now is the best time to invest in timeless rectangle frame glasses. You can also try rectangle frames with blue light protective lenses or even read in style with rectangular reading glasses.
Hot-selling Home Trial Packs
The pain of choosing new spectacle frames is often overlooked. But, Specscart solves the problem with its curated Home Trial Box.
The pack includes 4 of our most popular glasses based on customer reviews and ratings, delivered to your doorstep!
4Frames3Lenses1Laser For 7 Days with just 1 Click!
So, 1 click is all it takes to try out fan-favourite frames from the comfort of your home!
Buy Rectangular Frame Glasses
When it comes to eyewear, the most versatile and evergreen style for men and women is rectangular prescription glasses. Typically wider than they're tall, they add polished professionalism to your look. But since they're so versatile, they can transform from subtle elegance to geek chic with the use of colourful materials and design patterns. It's a go-to style for women who want to try something clean and simple for their office look. The rectangle shape particularly suits round and oval face shapes. It adds sharpness and highlights your cheekbones, add new defined lines to the look.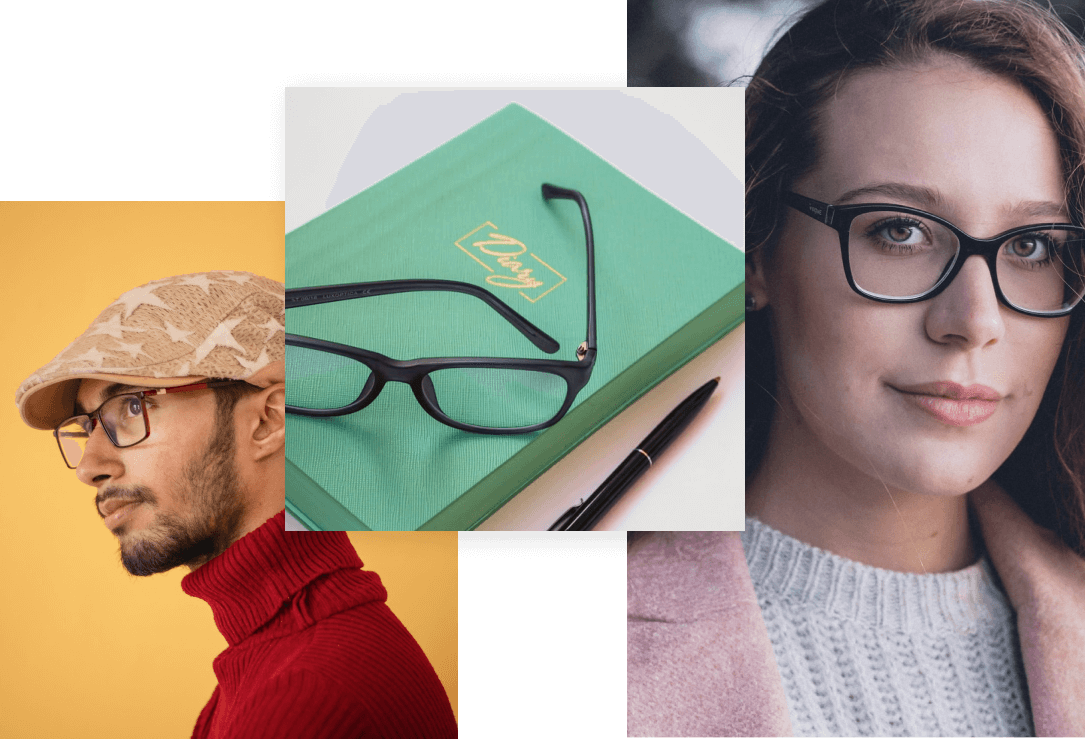 Rectangular Glasses for Men and Women: A classic appeal with a modern feel!
Rectangular glasses are a big trend today! This is one of the most popular styles among both men and women. Although there are pairs for every face shape, rectangle frames accentuate round or oval face shapes brilliantly by adding contours and angles to their soft facial features. However, the versatility of rectangle frame glasses ensures that they uplift all face shapes. We have an extensive range of rectangular glasses for men and women. Browse through them to find your perfect fit.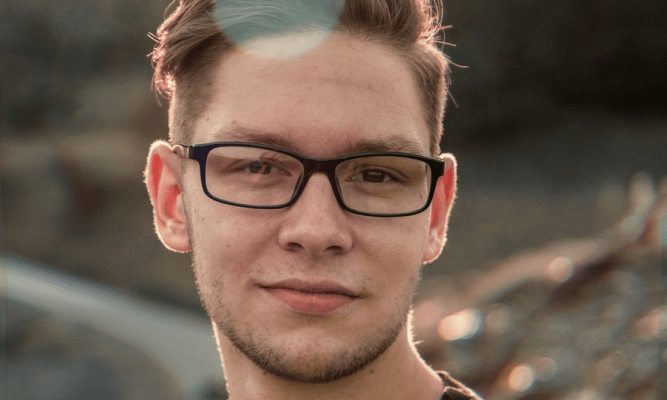 For a Refined Elegance, Order Rectangular Glasses for Men
If you are looking to make a strong fashion statement with your glasses, then you will definitely like our men's rectangle glasses collection. Along with the sophisticated nuance, rectangle frames also give an intellectual and eccentric vibe to allow you to channel your inner Clark Kent. Try out thin rectangle glasses in wireframes or ultra-light rimless glasses to keep your eyewear lightweight. Or, get a hipster look in chunky acetate frames smeared in vibrant and trendy colours. To keep things simple and sleek, order rectangular glasses for men and style them to perfection with any outfit of your choice.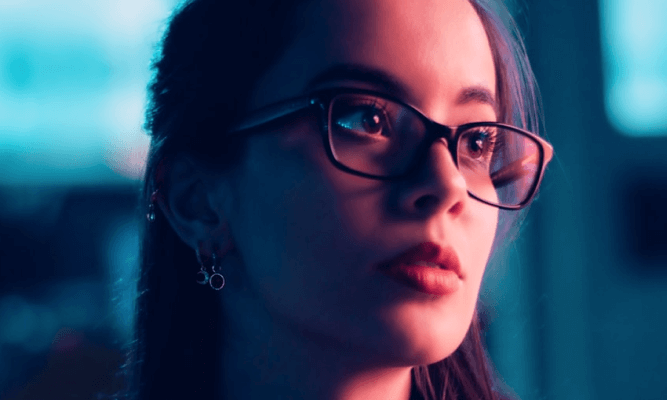 Order Rectangular Glasses for Women to go Geek-Chic
Your search for ladies' glasses that are perfect for the office as well as casual outings comes to an end at our women's rectangle glasses collection. The rectangle silhouette is highly versatile and suits every face shape. From the vintage small rectangle glasses to the contemporary clear frames, from the sophisticated rimless rectangle glasses to the funky oversized frames, these are some of the most trending styles for women's rectangle glasses. Order rectangular glasses for women from Specscart to give your style game a boost.
FAQs About Rectangular Glasses
Which face shapes match well with rectangular eyeglasses?
If you have a round or oval face shape, then you are in for a treat as rectangle frame glasses complement these face shapes brilliantly. However, it needs to be noted that you can style rectangular glasses with other face shapes as well as they are very versatile.
Is a pair of rectangular eyeglasses versatile?
Yes, absolutely! The shape of rectangle frames ensures that they go well with everything, whatever the occasion, face shape, or even outfit.
Can I try these rectangular eyeglasses at home?
Yes, you can try them from the comforts of your home by using Specscart's home trial feature. All you need to do is to select any 4 frames of your choice and place the
order for a home trial
. We will deliver them to you at a super fast speed, and you have 7 days to try them on. Our home trial kit also includes three different types of lenses with laser light to check for their effectiveness.
How much time will it take you to dispatch my rectangle glasses if I order them today?
All the single vision orders with clear lenses will be dispatched within 24 hours after you place the order. For lenses involving complex prescriptions or for advanced lenses such as varifocals, we might take 7-10 days to make the perfect pair from scratch.
What if I wish to exchange or return my glasses?
No worries. You can return your glasses within 30 days of receiving your order. Read our return policy to know more. Then you can choose the
new pair of glasses
you want and we'll dispatch them quickly. After all, we also want you to have the pairs that you are satisfied with.
What face shape do rectangular glasses suit?
Rectangular glasses go well on every face shape. However, since this style has angles, they accentuate round face shapes by adding contours and angles to their soft facial features.
Can glasses improve the look of a rectangular face?
Almost all styles of glasses look good on a rectangular face. However, some of the best styles that accentuate these face shapes exceptionally well are round, aviator, and cat-eye.
Why are glasses so rectangular today?
Rectangle frame glasses are highly versatile as they go well on all occasions, enhance all face shapes, and elevate all outfits. This is the reason why we see many frames lean towards a rectangular silhouette these days.