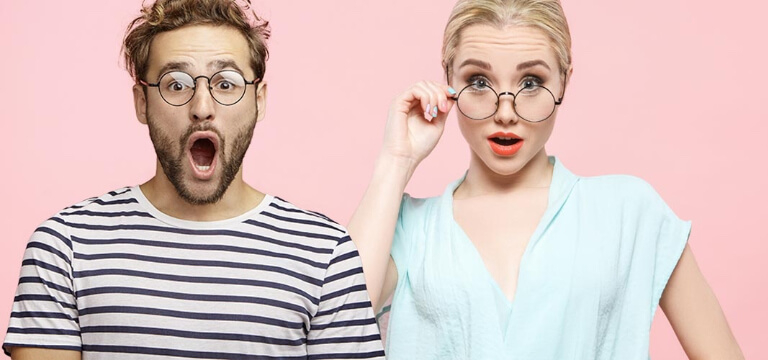 Round Glasses
In style, all year Round


Bring on the Vintage Vibes with Round Glasses
Thinking of changing your look to a more chic one? You don't need to go further than round glasses! These retro frames have been made popular by countless fictional and non‐fictional characters. From Harry Potter to John Lennon, from Elton John to Gandhi – the role models wearing retro round glasses come from all walks of life. That should tell you about their versatility! While they particularly suit square face shapes ‐ helping soften the sharp features – they are great for anyone who's to transform their look to a cooler, more chic one. Round spectacles are geeky yet stylish, vintage yet still contemporary with pops of colour – like our own Jones in marble sunset red. When you buy round glasses online on Specscart, you'll be spoilt for choice. You can choose among slim metal frames in classic colours or peppy acetate ones. There is a variety of sizes as well, depending on your face shape. Whether you want round computer glasses or round glasses for reading, or any other purpose, you'll find the appropriate style. It's all up to what you prefer, slim or chunky, modern or classic, attention‐grabbing or minimal.

High quality acetate frames

High quality acetate frames

High quality acetate frames
Round Glasses Acetate
Round circle eyeglasses were a big hit in the 60s and 70s. The retro style has taken a rebirth with modern acetate frames, which resemble those iconic shapes while adding trendy pops of colour. Pair these acetate round frames with cropped turtlenecks and high‐waist jeans for a truly chic style for women
Shop Men
Shop Women

Chunky metal frames

Chunky metal frames

Chunky metal frames
Round Glasses Metal
Chunky Round metal glasses have seen a comeback in the recent years. A big hit in the '60s and '70s and marked by Steve Job and John Lennon, the Vintage inspired chunky metal frame adds a classic spin to your modern clothing styles. The thin chunky metal is an iconic reminiscent of what retro fashion felt like with its minimalist and timeless pattern. Pair them with Suit or high-waist jeans and turtle neck to ace the formal and casual fashion.
Shop Men
Shop Women

Fashionable mixed material frames

Fashionable mixed material frames
Round glasses mixed material
Retro meets futuristic in mixed material round glasses. They illustrate how the round silhouette has evolved in order to keep up with the latest fashion trends. A lot of our round spectacles acetate frames incorporate metal nose and top bridges for contrast, creating a beautiful aesthetic effect. The metal also adds distinction, so you can wear them wherever you work – from ad agencies to investment banks.
Shop Men
Shop Women
Get that Vintage Look Now
Every trend reaches a full circle and the same goes for round glasses as they have made a major comeback. The stylish frame that lends a vintage look and retro vibe, look great either as a pair of sunglasses for the weekend or every day wear round eyeglasses. The factor that makes them cool is that retro round glasses trend do not have to match with any accessory or your wardrobe. You don't have to wear them to match with any particular dress as they effortlessly complement your style in a unique way. Trendsetters use them to ensure a stand‐apart look for them for any occasion. You can pair them up with a wide range of clothing – dresses, gowns, skirts, shorts, formals, casual, etc. Vintage round glasses make a bold fashion statement and accentuate your features, especially if you have a round, oval square‐faced shape. No wonder, so many celebrities have been spotted wearing the cool round shades for a long time now. There is a massive collection of round glasses at our store that you can check out. Although not every dares to sport the retro era look, round glasses come in many frames and sizes that are apt to suit any face cut. The geek chic look is the new trend now, and definitely the new cool. We offer a range of round eyeglass collection online, so sport the new geek chic look with aplomb and rock your style!