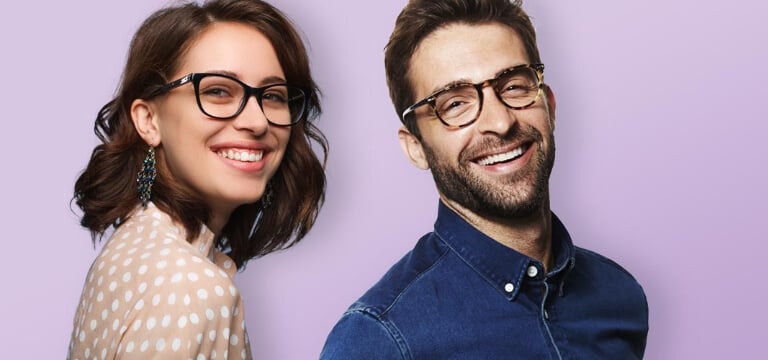 Wayfarer Glasses
Make Way for Subtlety & Class


Wayfarer glasses - The road to classy style
Even if you already have a pair of this classic wayfarer glasses, now's the time to up your game with a fresh colour or twist. If you want glasses that go with everything you own, look for big wayfarer glasses. Modern wayfarers are sleeker than their classic counterpart. You can also get clear wayfarer glasses for a truly modern, minimal and quirky look. Look for wayfarer glasses online at Specscart to find your perfect fit. Thicker prescription wayfarer glasses are more in line with the classic style and are better suited for men. Wayfarer frames for men perfectly suit any spring or summer casual wear. They provide a laidback, cool and comfortable look. No wonder, this is making them one of the bestsellers of 2020. Men's wayfarer eyeglasses usually have thicker rims. While Women's wayfarer glasses don't, pairs designed specially for them are absolute classics. These glasses do not only rule the realms of cinema and TV, but also the real world. Many women opt for wayfarers and we haven't heard a single one of them regreting their choice of frames. These frames are best suited for women with heart‐shaped, round, or rectangular faces. The best part about Wayfarers is that they not only complement, but also give an additional astonishing look to any outfit you choose for yourself. whether it's a frilly floral dress well suited for a day in the sun, or a formal attire perfect for an official meeting. This makes them easy to style with anything too. Wayfarers have been in our lives since forever and are guaranteed to never go out of style, or demand. After all, they are indeed the most ideal of all the frames available. Apart from aviators, wayfarers are the other major style that have transformed from sunglasses to eyeglasses as well. While aviators are more elegant, wayfarer glasses offer a more quirky and chic style. The cool vibes make it perfect for young people and university students. If you've soft jawlines and narrow cheekbones, wayfarer glasses will help accentuate your features. But don't fret, the larger wayfarer styles manage to fit all face shapes!

Wayfarer Glasses Acetate
Wayfarer Glasses Acetate
Over time, traditional wayfarers have evolved with the help of modern, high‐ grade materials like acetate. There's a multitude of styles and colours. You can opt for the classic broad temples, or go with sleeker ones. Dual‐tone acetate wayfarers are one of the biggest trends of 2018, along with transparent wayfarers. But are there any special perks to their acetate build? Certainly! Acetate is a lightweight material in general. It doesn't spell troubles like headaches and eyestrains for you. Unlike heavy frames with super thick temples, acetate makes sure comfort is taken care of first.
Shop Men
Shop Women

Mixed Material
Wayfarers Glasses Mixed Material
Loving the wayfarer shape but want something in metal? These styles have a slimmer look, which also helps you stand out. Break the clutter with a glint of gold or silver. Cherish the exemplary blend of metal and acetate and their perks together. Long and lithe, these fusion glasses can also be worn in corporate settings while being a great choice for casuals already.
Shop Men
Shop Women
Wayfarer Eyewear
All things apart, Wayfarer glasses will always be in trend because of three significant features – colour, shape and size. To effortlessly sport a pair of Wayfarer glasses, you have to find a style that's a bit taller. At the same time, ensure that the frame is on the thicker side, too. Modern Wayfarers usually have a slimmer look, so you can easily spot the difference between the two. Modern Wayfarer glasses maintain the well‐crafted traditional and classic Wayfarer design, while lending a contemporary look resulting in a wide assortment for you to smile at. Modern Wayfarer glasses online are more attuned to the feminine features. Round or oversized Wayfarer glasses are perfect for women who don't want their glasses to overshadow their facial features. Specscart has a wide range of Wayfarer eye glasses collection online for you to choose from. With us, you have the trendiest and most exuberant collection of eyewear online. Pick up a dapper pair of Wayfarer sunnies or specs right away! Allow yourself to relish their fashion centric appeal, with quality and comfort together. Nevertheless, stay tuned to get the best deals and offers from us.