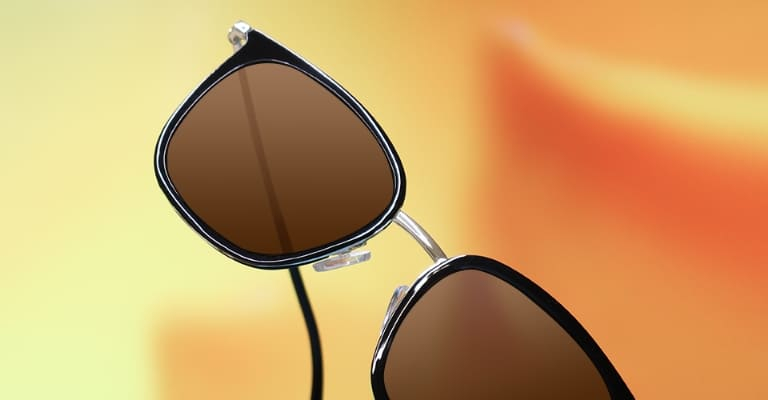 Wayfarer Sunglasses
The harbingers of charm and innovation


The recital of wayfarer sunglasses style
Wayfarer sunglasses started their journey in 1956. They took a fast momentum from day one. The compelling design, coming with a trapezoidal structure. The compelling designs were the universal wearable and stayed in vogue for more than 20 years. They were the charm that made bold headlines in the eyewear fashion industry. Vogue sunglasses have been worn by many famous celebrities. Wayfarers were the snazzy shapes that pumped up the style of pop singers, models, and all who wore them. There were the quick, quirky sparks and uplifters for any face shape Making all fans with the thicker style and bold casings.

John Kennedy and Audrey Hepburn

Tom Cruise with wayfarer sunglasses
The '70s and '80s wayfarer sunglasses. Why were they such a big hit?
Wayfarers marked their presence in 1960 when John Kennedy and Audrey Hepburn made them the epitome of confident styles. Revolutionary style enhancers- the wayfarer sunnies got the spotlight again in the '80s with the movie Blue brother. Blocking the UV rays was done by many sunglasses. But the wayfarer style sunglasses got more fame because like many other celebrities Tom Cruise too paired them up. Thinking when and in which movie? It was in Risky Business. The style charm of wayfarers was even accepted by the fashion maven- Audrey Hepburn. And, thus Wayfarer sunglasses for men and women became the talk of the town.
Shop Men
Shop Women
The new-gen wayfarers
Relive the old era. Coming to rescue your styles but with some modern innovations. The new wayfarers are the style-enhancers, innovation packed and really made to pump your style while protecting your peepers from a lot. Made to get your eyes cool-down, they are the sunnies to beat the sun's fury in style. Look down for some of the quirkiest styles to march in style. Thinking are wayfarer sunglasses still in style? They are the timeless appeal for all fashion mavens. Wish for no looking back? A pair of wayfarer style sunglasses are your power-packed sunglasses. Be the shining diva or the charming hunk. There is something for all. Taking a departure from the old plastic material. The new sunnies are will take you to another level as you will...

Get wayfarer with polarised lenses

New material and modern age materials are made of acetate or metal

Coming to give you a soothing experience

Experience the lightness on your eyes

Modern wayfarer sunnies with the best UV protection
Get something for your eyes that talks of high-street fashion, the new designs are available by mixing and matching many styles. You will have some interesting looks. These wayfarers got cool upgradations by coming in fun and vibrant colours. As they are no longer just black. There are chunk and rich colour palates on the frame and temples. The brighter and flashier reflective lenses. Makes the wayfarer for one and all. Suitable for nearly all face shapes

Wayfarer sunglasses for men

Wayfarer sunglasses for men
Powerpack sunglasses for the sauve men
Who all wish to style with perfection? The flattering looks, bold convicting power and a powerhouse appeal. Something like this you will feel when your attires are dazzled up by a pair of wayfarer style sunglasses. So all the men out there just brace up and get ready for a look that is comparable to none. Today the wayfarer sunglasses for men are designed keeping the old intricacy in mind. The new craftsmanship includes fusing wayfarers with some other shapes to make them look finer. Pair up your casual attire with a basic wayfarer and outshine. Put up like a star with these sunglasses and party attires, beach attires for a light feel.
Shop Men

Wayfarer sunglasses for women

Wayfarer sunglasses for women
Elegance in every ounce, liberating in every way
While men can get a sauve appeal. Ladies, these wayfarer sunglasses are for women who wish to taste the rebelliousness and independence. Get dolled up as wayfarers are the eyes puller. Ready for a casual get together, going for a pool party, outdoors or beach fun. A pair of smart wayfarer will let you travel way far than any other style. For a beach look, one can opt for them in marble finish. For a simple casual day march in style with the wayfarers your white pants. The universally excepted pairs hold universal wearability and retro appeal. These sunglasses are like the old-time hats that everyone wishes to wear and get a debonair look. Designed for all but a man or woman with round, oval, diamond or oblong face shape will feel them more and more. Made to get some little angles. Prefer a wayfarer any day and every day to sort your looks
Shop Women
Let Specscart help you in getting some quirky sunnies in wayfarer or any other style
Choose us if you are looking for the modern version of wayfarer but wish to keep the retro feel intact. Our dedicated team comes with the Specscart genie that will let you cherish your desired sunglasses at budget-friendly prices. Search the wayfarer or any other style and then land on the online address or at the Bury or Walkden store. Count on us for eyeglasses and sunglasses and sunglasses with prescription too. We will get you the best tints on your favs with a precise prescription. We always put our best to sort the looks of all. Take the breeze of cool air and beat the sun's fury in style and with the Anti-UV and polarised lenses.