Free Shipping & 24 Hr Dispatch. Even On Weekends!
Loading Products...
Buy Wooden Frame Glasses
Wooden frame glasses are a new trend among men and women. Be it in round or square shapes, these glasses have made a fashion statement for people. The wooden spectacles are a new charm in the city. The wooden eyeglasses make you look natural and pleasant. The wooden glasses are a perfect fit for all face shapes, sizes, and skin tones. Buy a pair of wooden spectacle frames and enjoy the new fashion of a classy and trendy glasses look with same-day glasses.
Wooden Glasses for Men and Women
There is a wide range of wooden glasses that one can pick up for their new style statement. The glasses are eco-friendly, hypoallergenic, and lightweight. The wooden eyeglasses are super comfortable and one does not feel any pressure on their nose and eyes. The glasses are so good and expressive that they can match anybody's personality. The wooden eyeglass frames are very smart and elegant. People wearing prescription glasses can upgrade their style without taking too much attention to themselves with wooden prescription glasses. The prescription glasses will give you a pleasant and authentic look, just like magic. So men and women get a pair of designer wood frame glasses to enhance the look.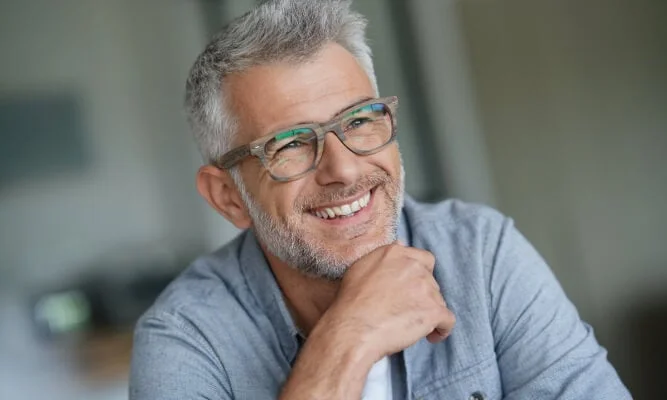 Wooden Glasses for Men
The men's wood frame glasses are easy to clean and lightweight. The wooden glasses make the person look smart and may add a subtle natural variation to any appearance, from stylish to punk to corporate to hipster. Neutral colours, craftwork, and wooden frameworks are in trend this season. The wooden spectacles are perfect for office goers and can be styled with both formals and casuals. The glasses can be worn for a longer duration because of the natural materials that are used to make stylish and elegant wooden glasses.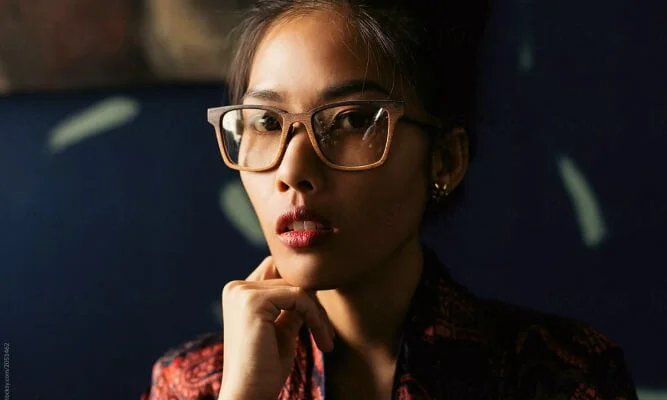 Wooden Glasses for Women
Wood is an undeniably gorgeous natural material that always adds flair and elegance, especially when it's handcrafted. Women can use wooden reading glasses for an exclusive and elegant appeal. Wood frame reading glasses will make their reading experience more better and enjoyable. These reading glasses are an eye-catcher among your pals. The wooden frame glasses provide excellent comfort without any pain or stress. Get a pair for yourself to flaunt your style while reading.
How to Make Wooden Spectacle Frames as Your Eyewear?
They are lightweight

As they are super comfortable and people will not feel any pressure on their nose and eyes. You'll forget your wearing experience. They give you the style statement that looks fantastic! They are so unique and expressive and can match anyone's individuality. Wooden eyeglasses will upgrade your style without taking away too much attention for themselves and will give you a very pleasantly authentic look. It is almost like magic.

Their eco-friendly nature

Who else can say that their glasses are environmentally friendly? Only the people wearing wooden frames can say this. Their eco-friendly nature is already way ahead of the competition and now everybody thinks about what a biodegradable choice of wooden glasses is. Wood frames are the most earth-friendly eyeglass frames that you can buy.

They are hypoallergenic

As of now, wooden glasses frames are going to be part of your daily life. The first thing you are likely to pick up and the last thing you put down. Wooden glasses are 100% natural wood and their plant based treatment keeps them waterproof and sweat resistant. Wood is a natural material that will not have any side effects, so your skin will be protected and not have an allergic reaction or infection.

Wide range of frames and customizable too

People usually look out for colour. So, one of the benefits of wooden eyeglasses is that they can offer you all sorts of materials based purely on looks and quality. If you are creative and imaginative, you can adorn any way you want, in any colour or shade you want.
Reasons for Choosing Wooden Glasses
It is craftsmen's handmade

It is entirely handmade, not mass-produced. So it takes three days to produce. First, we have to design all the designs in advance and manufacture them. The problem in making wooden eyeglass frames because wood colour and texture are never uniform.

It's all about choosing Materials

More than 30 precious woods, carefully selected from all over the world such as red trees, black trees, beautiful wood grain trees, fragrant wood, etc, so that you can enjoy the unique and natural texture. The main reason is that these glasses are always in contact with the human body (body temperature around 35 degrees) and moisture, so most materials are unsuitable for eyeglasses. Therefore, for this reason, the craftsmen only select dry materials that are extremely low in moisture content and difficult to deform.

It's about pattern selection

For eyeglass frames of general design, the thickness when viewed from the side is less than 1 cm. To reflect the surface uncommon to that tree to the width of only 1cm, so careful selection of fine texture is more than everyone imagines is necessary.

About scent

Some precious woods have fragrant materials called fragrant wood. For example, sandalwood, agarwood, kyara, yakusugi, and rosewood are generally well known. In the case of sandalwood, India, Indonesia, and Australia are of origin. It's good that such trees themselves have a fragrance and their sustainability is said to be 1000 years.

Processing method

It will be an essential process of changing wood grain. We used tree wrapping to cut material from wood and process it into plate shapes or members. Then, we will cut the material according to the design. And after several processes, we finally use several kinds of sticks according to the hardness and the part of the wood by hand craftsmen's skilled workers. Though there are about 100 or more processes, there is difficulty because of natural materials, and we do not know which process cracks and knots are found.
FAQs About Wooden Glasses
Where can I buy real wooden frame glasses?
If you wish to buy high-quality real wooden frame glasses, that too, with free essential coatings like anti-glare, anti-UV, scratch-resistant and impact-resistance ones, then Specscart is the place for you. Not only will you find frames in unique styles like the retro-round but also in colours like dusty-green and blue to express your individuality.
Are these wooden glasses strong and durable?
Wood is usually perceived as super delicate, especially when we talk about eyewear. But that's not the case with these wooden frame glasses as the wood used in them is specially treated and multiple layers are used to make it strong.
Do wooden glasses need any special maintenance?
With most wooden glasses you might need to stay clear from water, as the wood might absorb it. However, that's not the case with Specscart. Wooden glasses that we make are waterproof and sweat-resistant, thanks to the plant-based treatment we use.
Can I try these glasses at home?
Yes. Absolutely. You can try up to 4 frames for 7 days at the comfort of your home free of charge.
How much do wooden frame glasses cost?
At Specscart, you can buy wooden frame glasses at a cost of £54.99 only with free protective coatings.
How much time will it take you to dispatch my wooden frame glasses?
Only 24 hours. That's right, most glasses at Specscart are dispatched within 24 hours and may even get delivered in the same time period. Although, if your lenses have a strong prescription or need complex coatings, then we might take anywhere between 5-10 days to get you your pair of top-notch quality glasses made from scratch.
Are vintage wood frame glasses handmade?
Yes, all our wooden glasses are handmade. Due to the nature of the material and the skill required to make them, they have to be crafted by hand. The cheaper varieties that you may find elsewhere are mass produced and are not purely made of wood.
What kinds of wood are used for making wooden glasses frames?
The following types of trees are used to make
vintage wood frame glasses
-
Oak
Rosewood
Walnut
Birch
Bamboo
Bamboo as a material is super strong and flexible. It will bend to any extent without breaking. That is why you can find
bamboo prescription glasses
in any shape.
In some cases the wood is varnished to give a slightly shiny or polished look. For the real, totally authentic look, you can go for unvarnished ones
Please note that these trees are from ethically managed forests, with only mature trees being used. They are cut and then replanted to carry on the growth. We try to be as environmentally conscious as possible in our processes.
Are vintage wood frame glasses waterproof?
Yes, wood frame glasses can take their share of splash! A bit of rain is fine, but try not to submerge them under water. When cleaning them, it is advisable to use a moist cloth.
Are wooden glasses in style?
Yes! Although they are commonly known as
vintage wood frame glasses
, they are as much as a modern style as they are
retro
. Being biodegradable, they are much more environment friendly than plastic. So it's advised not to go for plastic copies! They are also a unique fashion statement. Depending on the exact shape and style, you can wear them to meetings, weddings or even a casual day out.
Where can I get real wood frames online?
You can buy wooden frames at Specscart - Our collection is made of pure wood.
Can we get blue light blocking glasses in wooden frames?
Yes! From acetate and metal to wooden, all our frames are available as
blue light filter glasses
Whether prescription or non-prescription, you can get any lens type or coating with any frame.