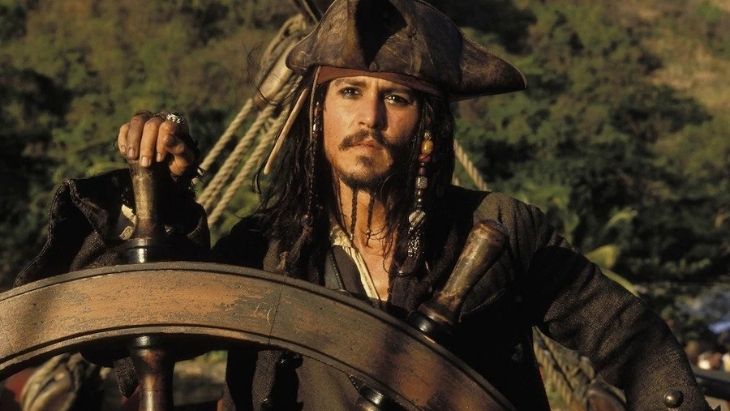 The Pirate Behind the Scenes - Johnny Depp Glasses
"I've Got A Jar Of Dirt!"
Do you remember this line? No. Then go back watch Pirates of the Caribbean. The funny and witty deliveries by Depp always managed to squeeze out giggles. His mind-blowing performances are worthy. You can not forget his charm even when he is not looking the best.
Certainly, dressed as a pirate, getting chased to the ends of the world or while giving a tour in a chocolate factory, you cannot say he looked charming. But he sure charmed you with his impeccable deliveries.
Apart from his marvellous acting, you cannot overlook his choice of glasses, which is surprisingly down to earth, unlike his choice of characters. And you can very well copy his style.
Check these glasses and get similar ones from us.
To down 2 shots, you can pop these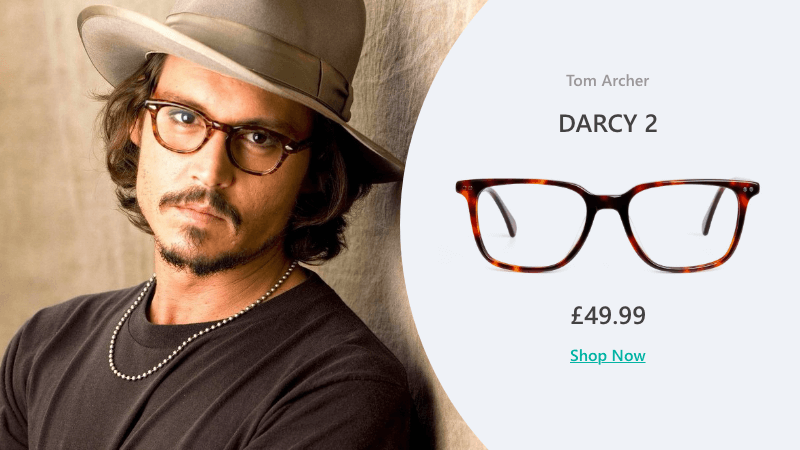 Tortoiseshell glasses are called evergreen glasses. These glasses have been in trend since the 50s. Depp also looks amazing in them. Alluring to be exact.
Get similar shades of glasses with casual tees and maybe a hat as well. You are sure to make heads turn. Gazing with these glasses makes your eyes enchanting and very appealing.
Look professional with a charm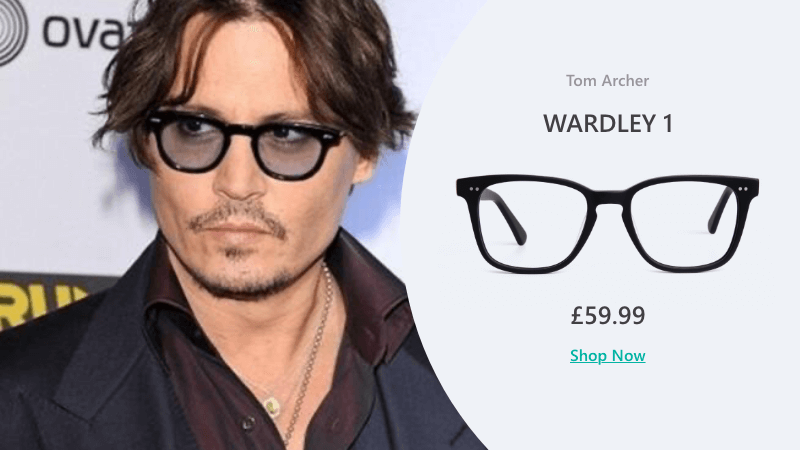 Black is a staple for most men. And women as well. So, how can Willy Wonka not wear black glasses?
Not the eccentric Willy Wonka, but Depp in galas and formal occasion wear black glasses. They appear classy and casual.
If you are going for a professional look that is a bit of both, try these glasses. Johnny Depp glasses are expensive designer glasses frames. But you can get similar from us at almost the tenth of that price.
For a tinted vision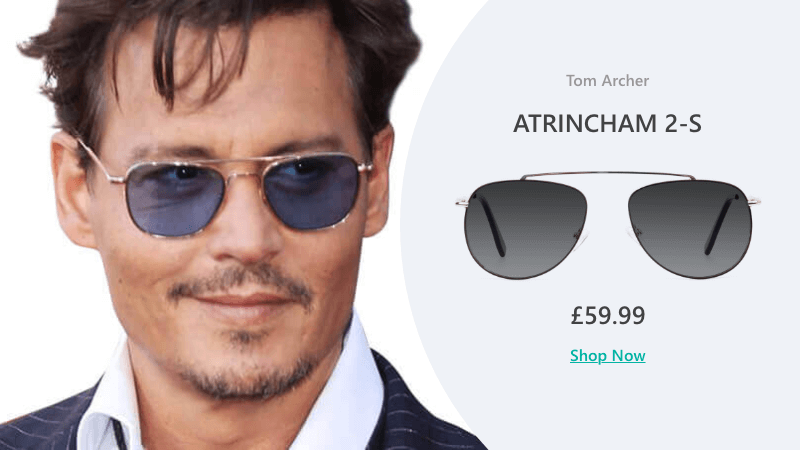 Depp always wears glasses with blue tints. You can see his glasses darkening when he is out in the sun and clear when he is indoors. He sported golden rimmed aviators for some time. You can try these shades too. They are still in trend and quite fashionable to boot.
We have similar shades with more of a modern touch in geometric frames. Check them out. Choose your tint colour. For Depp, it's blue as it gives better colour perception. You can try green, brown or grey shades that will give you comfort when out in the sun.
For Innocent Appearance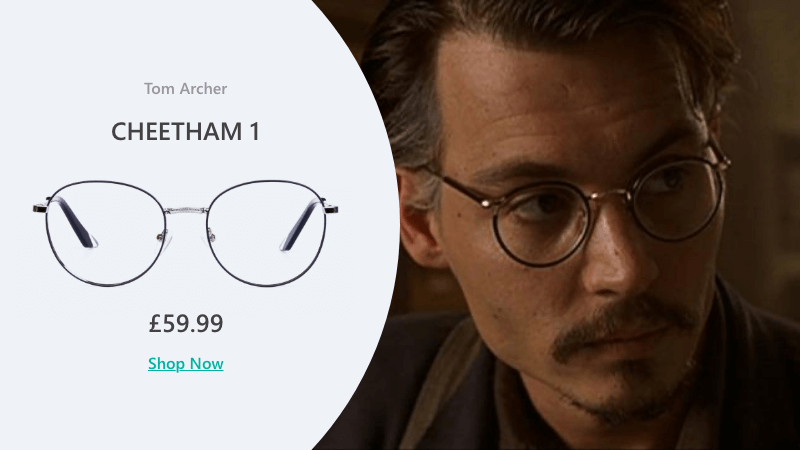 "I'm dishonest, and a dishonest man you can always trust to be dishonest."
If you remember this famous quote from Depp's movie, then you know the peril of having a dishonest face. It's not that you are dishonest, it's just that you appear dishonest. And Depp, as a pirate, appears not very earnest.
If you face the same issue, try wearing round glasses. Round glasses have the magic of softening anyone's appearance and make them appear honest. You don't actually have to be a saint. You can pop on round glasses to appear more trustworthy. It is better to have a favourable impression.
Down to Earth Appearance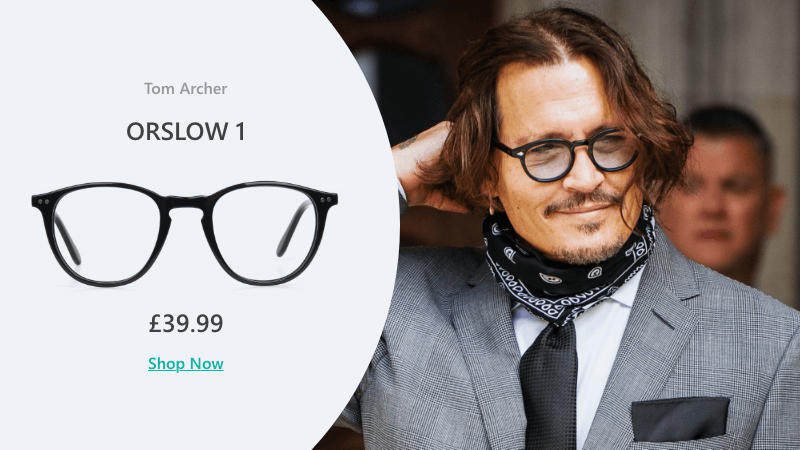 Sometimes you want to appear down to earth rather than too formal and unapproachable. You can get that with these black glasses that Depp wore.
You can match up with your formal attire or your get-go outfits. These glasses go with both looks. With a wayfarer style, these glasses will go with most face shapes.
A Nerdy Hipster Vibe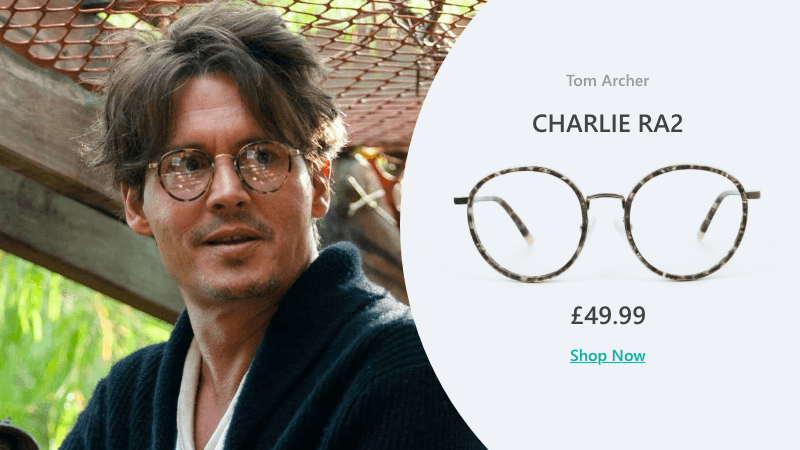 Which movie was it?
A nerdy hipster trying to change the world or somewhere in that line. The gist is he appears nerdy, not the boring kind, but more of a hipster full of quirks because of the glasses he wore.
You can get the nerdy hipster vibe from similar round glasses.
Round glasses can soften the appearance, and in tortoiseshell, they can light up your appearance. To get more attention or to appear a bit quirky, get these similar glasses. With these, you can confidently say this profound quote -
"The Problem Is Not The Problem. The Problem Is Your Attitude About The Problem."
Get Trendy
Depp doesn't always wear down to earth glasses. He can get trendy too. Check out these translucent brown frames. These are worthy of a try.
These glasses match your skin tone. These low-key glasses do not contrast with your style or any outfit you wear. You can make these glasses go with just any style.
You can appear chic, elegant or fun-loving with your outfit style. These transparent glasses frames will only accentuate your appearance.
Depp had a tumultuous life. He started by playing guitar in various bands, doing odd jobs and finally getting his break as an actor in A Nightmare on Elm Street. From then he kept doing movies that interested him and finally getting critical and commercial success with the Pirates of Caribbean franchise. He was listed on Guinness book records for being the highest-paid actor.
Later with his ongoing legal battles, he suffered career setbacks. And now in 2021, he is set to receive a lifetime achievement award at San Sebastian Film Festival.
And with the petition to bring him back into the Pirates of Caribbean franchise, hopefully, we might see him as Capt. Jack Sparrow again.
Our Latest Stories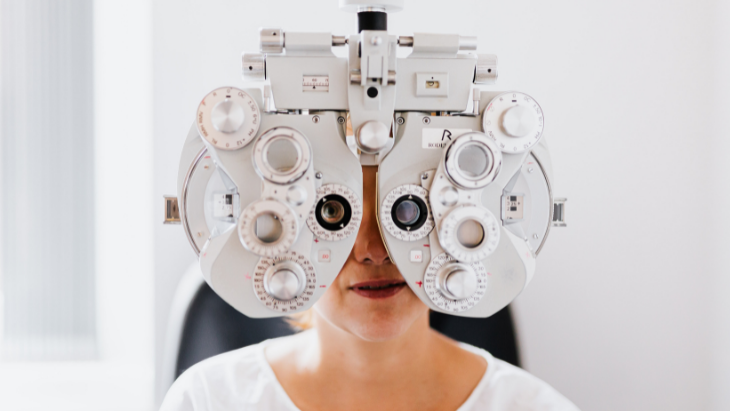 J
Julie Topping
Published on September 15, 2021, 12:49 pm
10 things opticians wish the patients knew
Water is as good for your eyes as it's for your skin and every eye has the same colour. An eye test could tell a lot about your health and detect various health issues
Learn More
Specscart Blog
Want the latest update on designer eyewear, shades or glasses? Our blogs give exceptional insights into the latest eye care measures and eyewear trends, fashion and style hitting the streets of United Kingdoms. From finding an optician or optometry near you to the latest designer glasses or sunglasses for the summer and spring fashion, you'll learn something useful every day. We publish regular informative measures on eye care, the latest design in eyeglasses and sunnies, celebrity specs and fashionable choices you can make in your lifestyle to up your fashion game. Read on to find information about various glasses types, eye condition and fashion trends in a fun and simple way that you would fancy with a cuppa tea.
10% OFF
USE CODE
READER10
COPY CODE
Hello, fellow reader!
You like to read stuff, and we love that about you!
Here's an exclusive 10% coupon for our Blog readers
Stay Updated
Sign Up for the latest trends and exclusive offers!