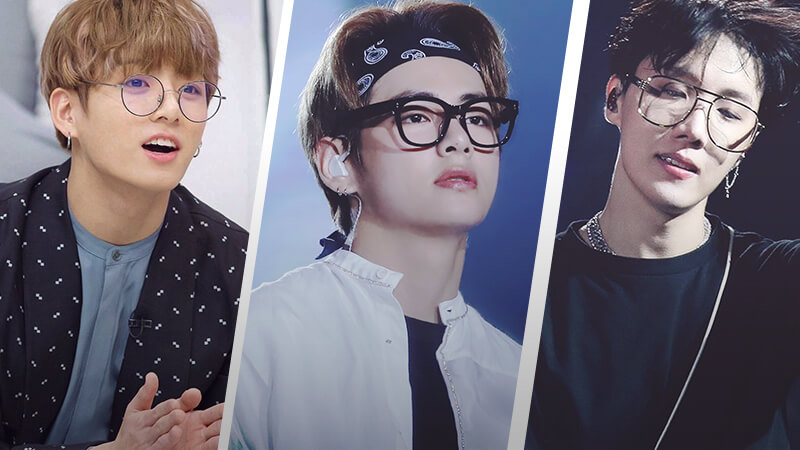 BTS in glasses: The boy band's favourite eye-conic looks
Have you guys heard of BTS? No, I don't mean "behind the scenes" or "be there soon". I am talking about the hit K-pop band BTS.
The popularity of BTS is not new. They became the first Korean boy band to feature on the top 40 UK's official singles chart with their smash hit Idol in 2018. They also performed on The Graham Norton Show the same year.
Their latest pop-disco track Dynamite became gold-certified in the UK and recorded a whopping 1.7 million streams within only 48 hours of its release.
If you think that I am making it up, they also featured on the cover of Time magazine and also spoke at the UN. BTS stans are all over the world and are called the army.
The popularity of BTS led to many fashion trends over the past few years inspired by the bandmates impeccable sense of style. Since their much-awaited single Butter will be out soon on 21st May, I thought it made sense that we celebrate their best glasses looks.
BTS with Glasses
Most of the BTS members wear glasses for fashion - an idea that we encourage at Specscart. From nerdy glasses to funky oversized frames, BTS glasses arsenal has every style. Let's have a look at some of the glasses that give them the boy next door personality.
RM in Glasses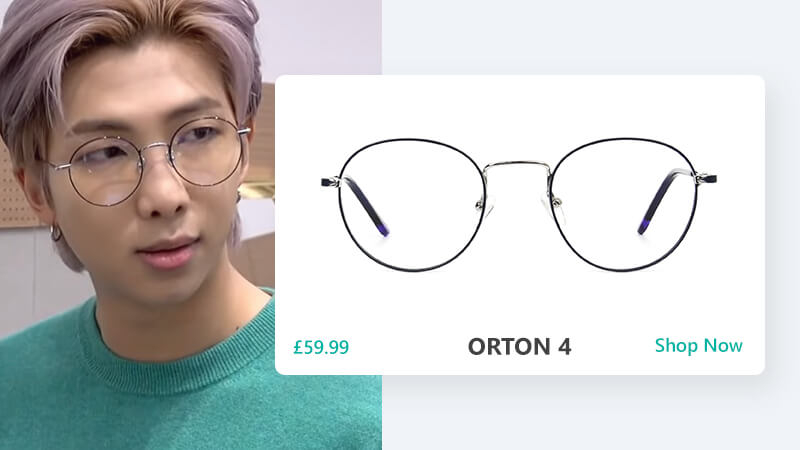 The intellectual leader of the group often dons thick black rectangular glasses to flaunt his IQ of 148. Circular metal glasses are another signature look of his. He is also shortsighted which means he wears glasses for his vision problem. He wears them during award ceremonies and interviews.
RM is a huge fan of accessories. When he is not wearing glasses, he uses sunglasses to complete his looks. Orton takes inspiration from RM glasses with a laid back style and vintage appeal. This shimmering beauty will suit the sharp angles of your face. From your turtleneck crop tops to semi-formal shirts, Orton looks perfect with anything. But it goes especially well with casual wear.
Jin with Glasses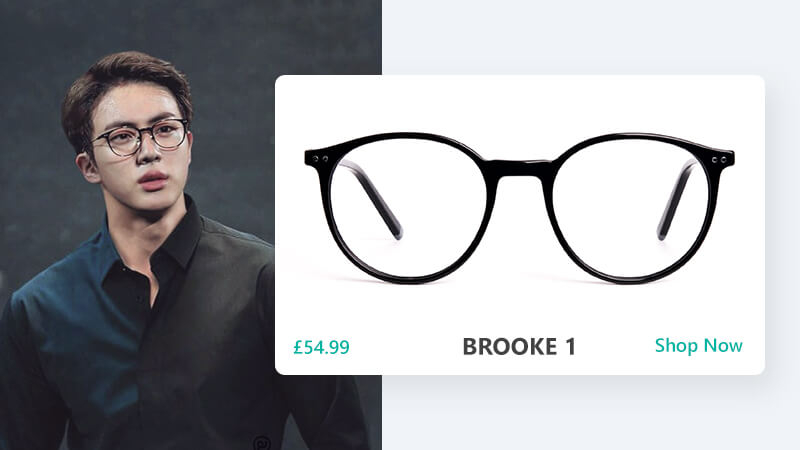 Next up in BTS in glasses frames, we have Jin or worldwide handsome as he would like to call himself. And in this picture, he really does look worldwide handsome. The eldest member of the group was even trending on Twitter when he took his specs(y) look to the red carpet for the first time.
Whether square or round, the oval face shape of Jin looks perfect in every frame. If you want to look like Jin with glasses, Brooke is here to help. With its sleek round structure and matte black finish, Brooke is the very definition of the modern classic. Take out your smart outfits and get a clean look just like Jin's with Brooke. It is a unisex frame which means it works in both women's and men's glasses.
V Glasses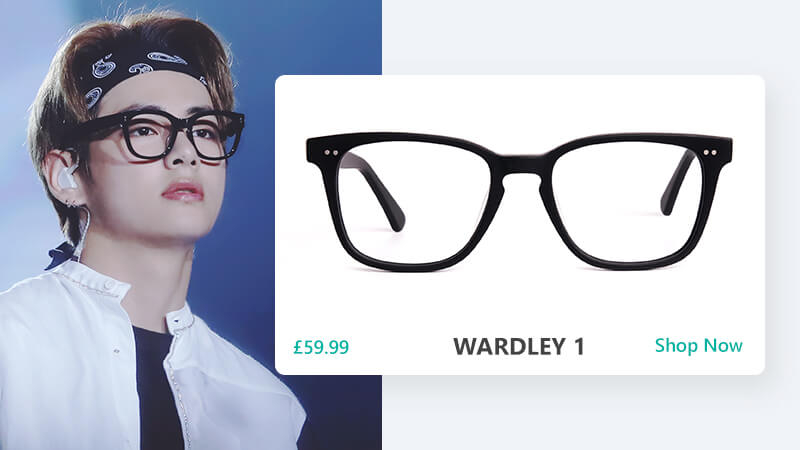 V's glasses styles are as diverse as BTS music. While he often goes for oversized glasses, he sometimes likes to keep it lowkey with barely-there frames. But we are here to talk about this chunky bad boy that he wore during one of BTS's stage performances.
Exclusive from V's glasses collection, Wardley takes your look from boring to hip within seconds. From your workplace attires to those wild weekend parties, Wardley works like a charm anywhere you take them. Since the colour is black, you will save yourself the time of picking outfits.
J-Hope Glasses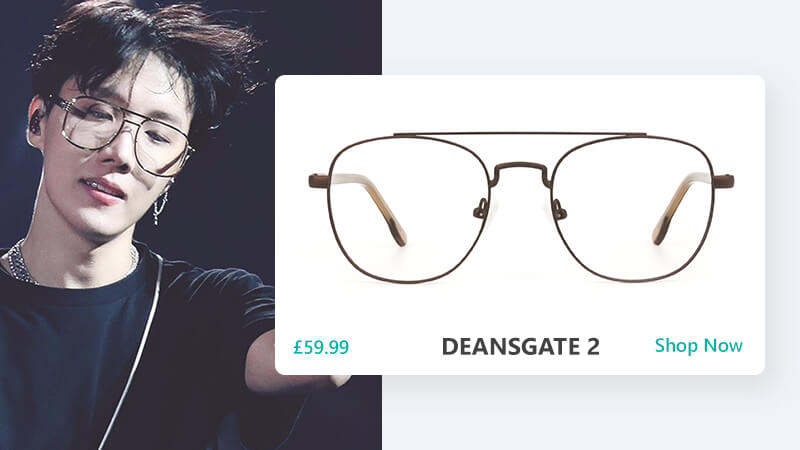 The rap devil of BTS spits pure fire with his verses, dance moves as well as his style. His personality is bold, fun and playful and he makes sure that these qualities reflect in his style too. With these oversized aviator glasses, he sure looks like someone not to be messed with.
Just like other members of the group, J-Hope also knows the power of good old round specs. But boy does he make these glasses look super cool.
Steal the BTS's J-Hope glasses style with Deansgate. With their grooviness and old school vibe, these glasses are perfect for lovers of retro fashion. It flatters every face shape and is not heavy at all. So you can wear them for long concerts just like J-Hope does.
With its visually stunning silhouette and powerful appeal, Deansgate makes a great case for upbeat style. Get it as your next fake or blue light glasses and have fun styling it up.
Suga Glasses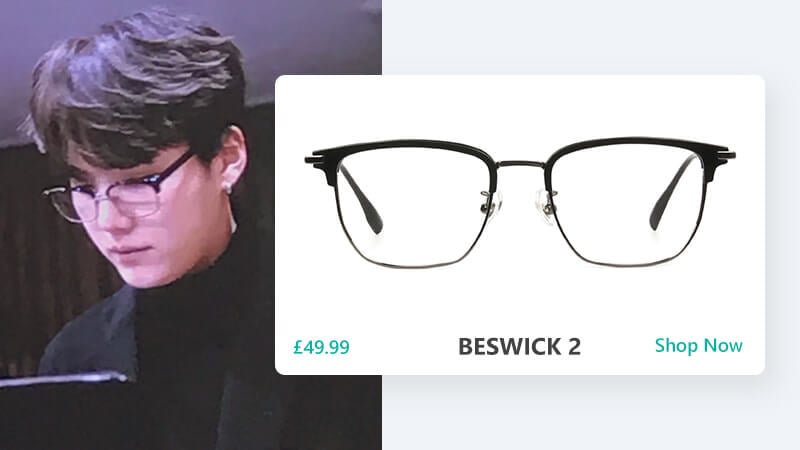 Another intellectual from the group, Suga likes to keep things simple and sophisticated. Black is his go-to colour and he often wears all-black ensembles. He knows that an outfit is always incomplete without an accessory. This is why he takes the help of this black browline frame to complete his sleek look.
Beswick here imitates the famous look of Suga glasses and should be on your list if you work as a professor. Whether you have a business meeting to attend, going out for brunch or catching a basketball match, these glasses are a fun addition to your every avatar.
Jimin Glasses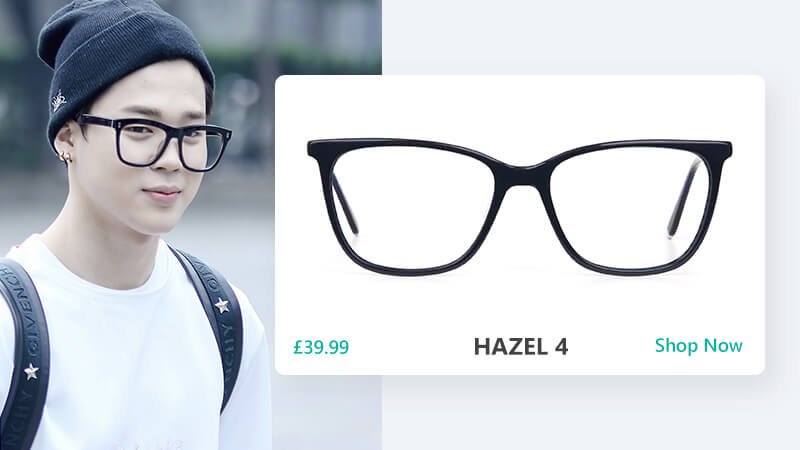 Jimin likes to keep his outfits basic and let his accessories make the noise. A thing that he learned from RM I guess. Where he is often papped wearing tinted glasses (his signature look), a pair of oversized wayfarer glasses in a polished black frame suits him just well.
Add youth and sophistication to your style with Hazel. Imitating the design and silhouette of Jimin glasses, Hazel is a versatile fashion accessory that breathes life to all your outfits. With Hazel, no look will ever be boring.
Jungkook Glasses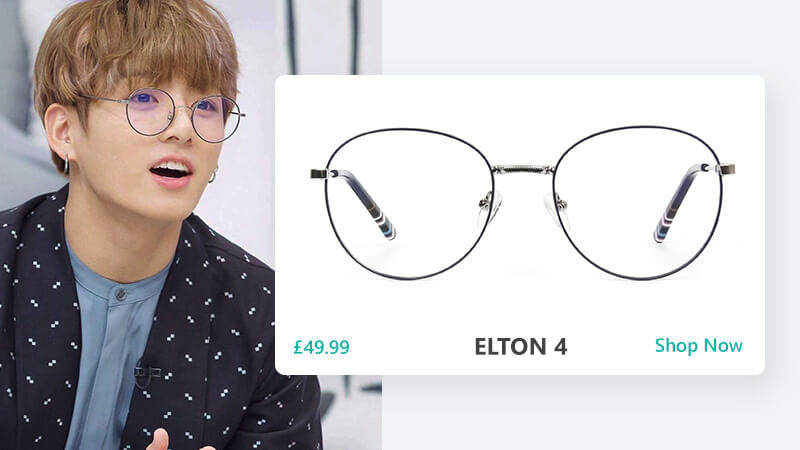 Next up we have the youngest member of the group, Jungkook. Even when he is the youngest, his style is the most laid back and retro-inspired. When it comes to glasses (or choreography), there is nothing complex for Jungkook. He often wears thin round glasses to suit the soft angles of his face.
Elton is elegant and has the most precious nostalgic vintage vibe. With its intellectual appeal and knockout design, this thin wire frame is high on both style and comfort. Wear it as your next pair of prescription glasses or with Plano lenses just for the sake of fashion.
If the style of BTS inspires you just as much as their music, these glasses should be on your bucket list. Get these BTS glasses frames at the most affordable prices from us. If you buy now, you will save 10% on these styles.
Our Latest Stories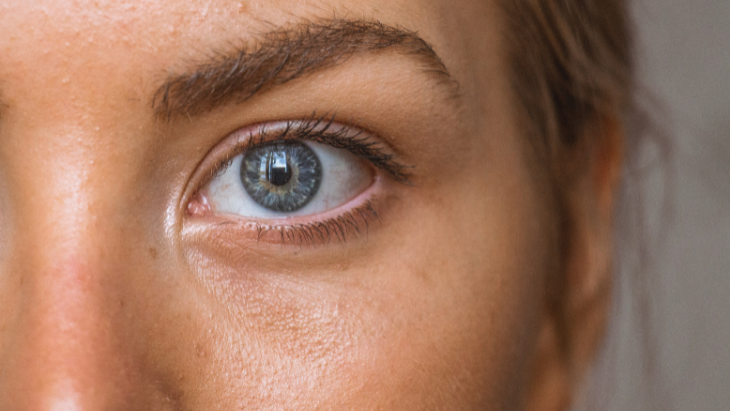 Specscart Blog
Want the latest update on designer eyewear, shades or glasses? Our blogs give exceptional insights into the latest eye care measures and eyewear trends, fashion and style hitting the streets of United Kingdoms. From finding an optician or optometry near you to the latest designer glasses or sunglasses for the summer and spring fashion, you'll learn something useful every day. We publish regular informative measures on eye care, the latest design in eyeglasses and sunnies, celebrity specs and fashionable choices you can make in your lifestyle to up your fashion game. Read on to find information about various glasses types, eye condition and fashion trends in a fun and simple way that you would fancy with a cuppa tea.
10% OFF
USE CODE
READER10
COPY CODE
Hello, fellow reader!
You like to read stuff, and we love that about you!
Here's an exclusive 10% coupon for our Blog readers
Stay Updated
Sign Up for the latest trends and exclusive offers!