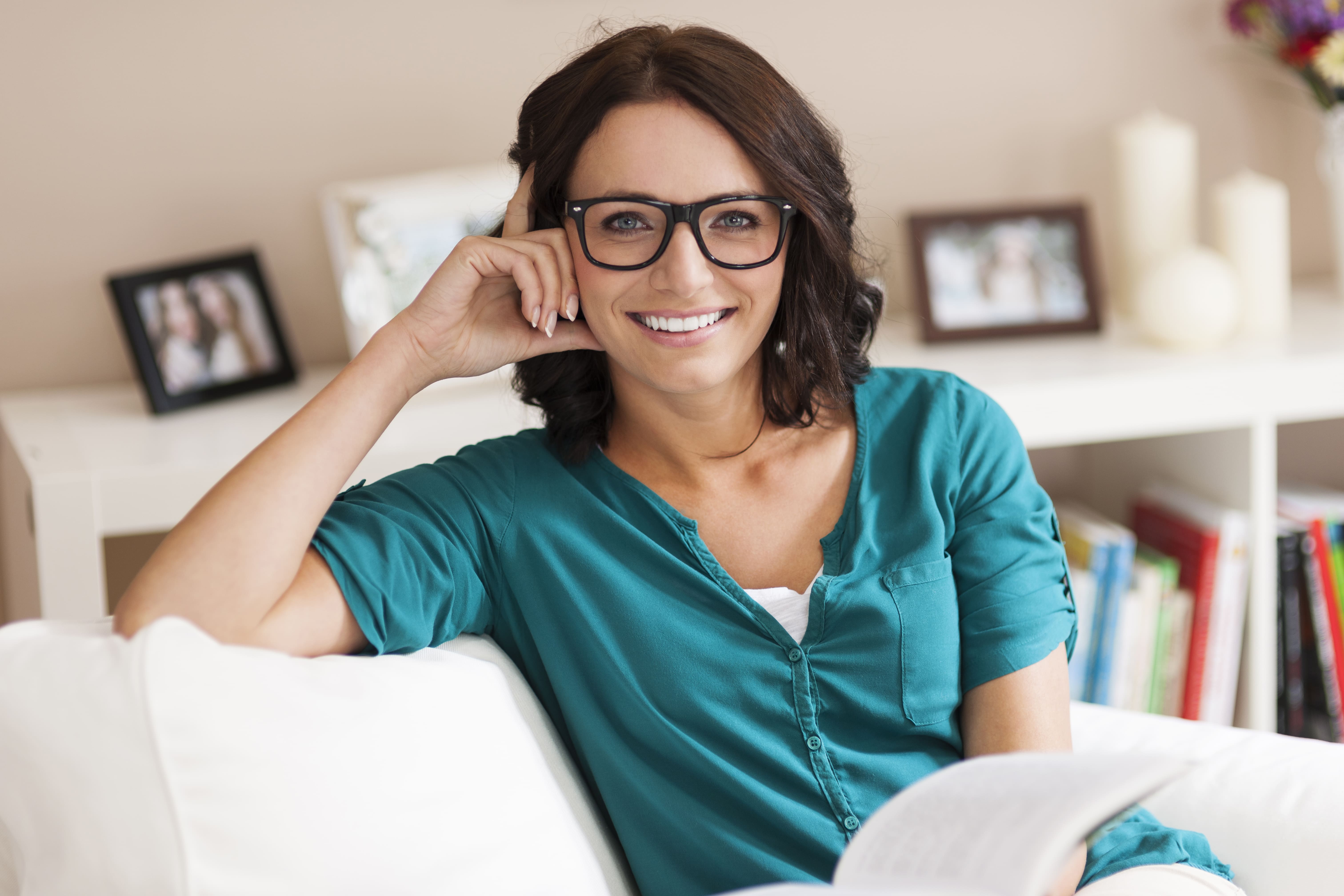 Eyeglass frame size guide: How to find glasses that fit?
A big reason why so many people pull back from buying glasses online is that they fear that they might end up with the wrong frame size. But it breaks my heart so much as they are missing out on exciting deals and offers they could get if they shop online.
At Specscart, we offer discounts and deals on glasses all the time which is why most of our repeat sales come from our online customers. You can also buy glasses online in the UK and get the right frame size. I'll tell you how to shop for glasses by size in the UK with this eyeglass frame size guide.
Does glasses frame size matter?
Just how important it is for your glasses to suit your face shape, they must fit you properly to give you a comfortable experience. Glasses that don't fit might affect the placement of the optical lenses eventually affecting how you see out of them.
Yes, I get that having a trendy pair is the way to make a fashion statement but if your glasses don't fit, they'll be falling out of place. While you can use some tips and tricks to stop glasses from sliding down your face, investing in a well-fitting pair of glasses is a smart thing to do.
If you want specs that are tailor-made for you, we'll tell you how to shop glasses by size in the UK. If you buy from us, you don't have to worry about getting ill-fitting spectacles as we give a free home trial for all our glasses frames. And you'll get next day glasses delivery as well.
How to know if your glasses fit properly?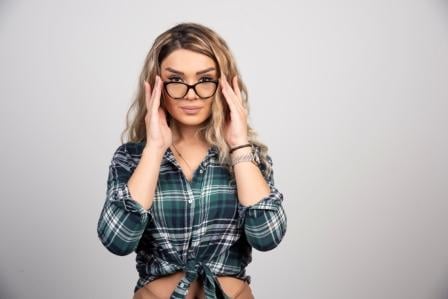 Your glasses should fit perfectly on certain parts of your face such as your nose. If you don't want to end up with the wrong size, here are the guidelines that'll tell you how your new frames should fit you.
They should fit your nose bridge
One way to check your glasses for the right fit is that they should be tight at your nose.
The bridge of the glasses should sit on your nose in a way that leaves only a small space above.
If you're moving or bending, it should not slide down. If it does, then your glasses might be too loose for your face.
If the bridge is so tight that it almost starts to hurt your nose, get a new pair right away.
You won't face any problem with the bridge of the frame if you know how to measure your face for glasses frames.
The lenses should cover your eyes
After all, what's the point of having glasses that don't cover your eyes properly, right? Look in the mirror and check:
If your frame is wider than the width of your face and the lenses are curved like your eyes.
If the optical lenses are covering your entire eye.
Hitting the right lens sizing is a way of making sure that your glasses will give you clear vision. Improper lens size will lead to discomfort and poor vision. Make sure you check the lens width when shopping for glasses by size in the UK.
The temple arms should rest over your ears
Check the length of your frame's arms.
The part where the arms start to curve should sit over your ears.
If the curve starts too soon, it would make your glasses slide down your nose.
If the arms are too tight, it can give you a mild headache.
Important components of eyeglass frame size?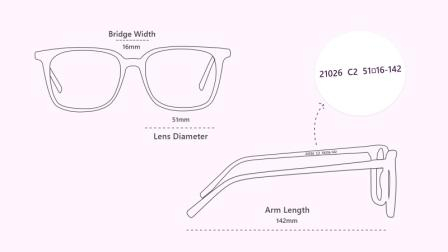 If you look closely at the inside of your frame, you will find some numbers written on it. They could go something like 53-20-140 where the first number '53' represents the lens diameter, '20' stands for the bridge of the frame and '140' is the length of the temple arms. All of these measurements are taken in millimetres.
Sunglasses are larger than spectacles so these numbers may increase slightly when measuring your sunglasses.
What is lens diameter?
It refers to the width of the optical lenses in mm. The measurement is taken from the eyeglass bridge all the way to the end piece of the frame front.
The height and width of the lenses is a matter of personal choice but it's also affected by the frame style you choose. For instance, oversized designer glasses have bigger lenses. Lens diameter is an important number in the eyeglass frame size chart.
What is bridge width?
Bridge width refers to the gap between the lenses. This should be measured carefully because if it's too small, it could pinch your nose and if it's too loose, your glasses will be falling down your face every now and then.
What is eyeglass temples length?
This number denotes how long are the arms of your glasses. These arms should be long enough so they can comfortably sit over your ears. Prescription or reading glasses that don't have curved temple tips may not always have this measurement.
How to measure your face for glasses frames?
If you don't know how to measure your face for glasses frames, you can take the help of your current frame. Measure it using a ruler and note down the numbers. Use these numbers when buying glasses online to enter information about your facial measurements.
How to measure the width of your face?
If this is your first time trying glasses, take out your ruler and have a pen and paper handy. I'll tell you how to measure yourself for glasses.
Stand in front of a mirror and hold a ruler parallel to your temple. Hold it straight so you don't ruin the process.
Measure the distance between the temples in inches.
Whatever number you get, multiply it by 25.4 to convert it into millimetres.
This is how you measure your face for glasses frames. The number you'll get in the end is your facial width. Now you have to find frames with the same width. Don't worry if you can't find a frame with the exact width of your face. Even if your glasses are 2 or 3 mm wider or smaller than your face, they'll fit you.
How to measure your nose bridge?
If you are thinking "does bridge size matter in glasses", the answer is a resounding yes. The right bridge width will make sure that your glasses don't slide down your nose and sit comfortably on your face.
Usually, the size of the bridge ranges from 14mm to 24mm unless your nose is too thin or too wide. If your nose bridge is on the level of your pupils, then you have a small nose bridge that is 16 to 18mm wide. However, if your nose bridge is above the level of your pupils, it would range somewhere between 19 to 21 mm
How to measure your pupillary distance?
This refers to the distance between the pupils in each of your eyes. Measuring your PD is a tricky thing to do on your own. Take the help of a friend to measure the distance between your pupils accurately.
It's important for the optical centre of your lenses to fall right in front of your pupils to give you the best results. You can also ask an optician near you to measure your PD for glasses.
Now that I've walked you through the important guidelines and steps to measure your face for glasses frames, you're now ready to buy glasses online. Comfortably is the most important thing when picking a pair of specs and if the glasses don't fit you properly, you can't expect comfort or correct vision.
Make sure you use this guide to find eyeglass frames that fit your face. At Specscart, you can also get a free home trial for your selected glasses so you can check the fit yourself.
Our Latest Stories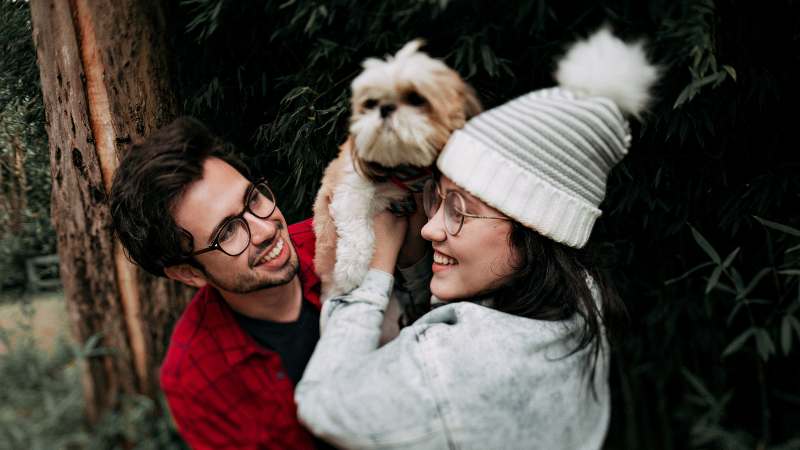 24Hr Dispatch Via Specscart Rocket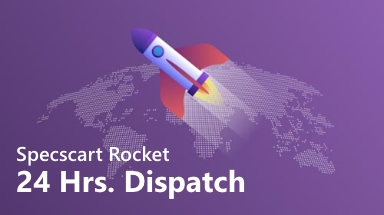 Surprisingly fast delivery for every last minute occasion. Glasses at your doorstep With a hell-for-leather chase!
Buy Now
Read More
---
Hello,
fellow reader!
An exciting offer is on the way to your inbox!
You like to read stuff, and we love that about you.
Enter your email-ID below and we will send you an exclusive offer!