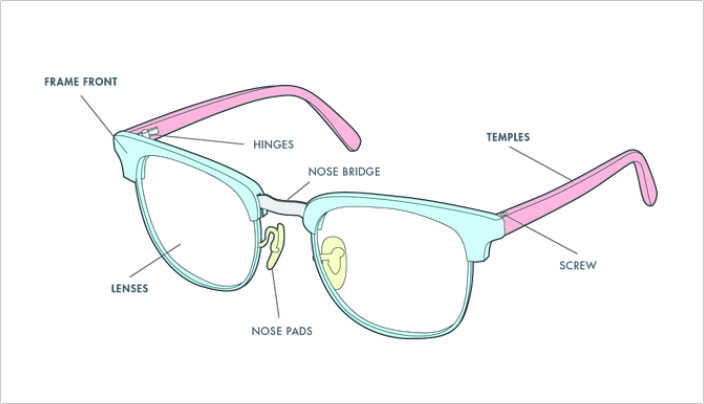 The beauty of every eccentric detail in parts of glasses!
Not a long ago, glasses were known for being a sight corrective tool. You would see people wearing solid black frames on literally everyone's face. The same design and absence of diversity in style, texture and material make these beauties a repetitive and weary object.
It is until now that we've seen a significant admiration towards these underrated pieces of a fashionable accessory. Now, people seem to get its powerful presence, how it achieves to project a look of your desire and turn you smart and sophisticated. Glasses have become a statement of chic and elegant style. People often wear glasses on special occasions or while commanding or giving a speech/talk in front of people. It makes them look accountable, intelligent and worthy of every second of attention.
Can you name any other accessory whose presence can cause such a leading impact? I'll wait! Unfortunately, there's nothing worthy to compare. Glasses are beautiful, dynamic, impressive and influential from every angle. Their detail in design and inspiration from various sources makes them an antique.
Talking about the parts of glasses, let's discuss every little aspect of glasses and their parts that contribute towards this monumental craft.
Parts of Glasses and their functions
Lenses: Window of Visual
The lenses are instantly visible from the rest of the glasses. It's the most important part in the whole structure, it contains the prescription that enables you to see correctly. The lenses are crystal clear with your loaded prescription and all sorts of essential coating that you ask from while ordering your own. The lenses are made to accustom to all sorts of high and low prescription for every eye in the world. Mostly the lenses are present in the range of single-vision, bifocal, and varifocal.
Tip: Lenses, as we've mentioned, are the most influential part of your glasses. You need to keep them protected and safe from the harsh environment as they are delicate. Hence it's highly recommended to keep your lenses clean and clear. Try to clean them once in a day with the soft cloth that's generally available with the glasses and remove the dust, dirt and smudges.
Bridge: The bridge that brings Balance
In every glasses frame, the part in the glasses contains a bridge that connects the two lenses which are often constructed at the top. It is a line that is in contact with your nose and is known as frame bridge. Bridge measurement of every individual differs based on the size of their nose. Nose bridges are available in different ranges, mostly known as Saddle Bridge or Keyhole Bridge.
Tip:
You need to keep in mind that you buy glasses with your nose bridge measurement for comfort and grip. You might think initially that there's no major difference present there but unfortunately, it does create a problem if it's bigger or smaller in size. It can cause the nose bridge to fall or be too tight that causes pain in the nose. All sorts of problems can be acquired with the wrong measurement.
Rims: Silhouettes of Elegance
Rims are the perfect boundary in beautiful texture and material present to shape the lenses. The rims or the wires wrapped around the lenses support holding lenses in place while offering stunning silhouettes. Rims are now the most interesting part of glasses for everyone, they are distinguished, liked, loved or even disliked because of their texture or shape. Many glasses also contain rimless glasses. You can also get rimless glasses as well now and they are perfected with the lens arrangement.
Tip:
Since rims are the most recognisable part of glasses then you should play with their colour and design to transform your look. You can master any look, whether, for an interview, party, meeting or date night, the rim offers you a magnetic appeal.
Nose Pads: Soft and Delicate against your Skin
Just like the nose-bridge, nose pads are also soft tissue around the bridge, attached to the lens is designed to offer comfort and proper adjustment. Nose pads help to avoid dislodge of eyeglasses while they sit on your lenses and help to make them stay at a single position firmly. Nose pads can be of different types like screw-on, push-on, or slide-on nose pads. All these different ranges of the nose pad help to ensure that you get the maximum level of comfort and alignment with your frames.
Tip: Try our different nose pads on glasses before buying any eyeglasses. A selected nose pad might not always prove to be the best until you try them on and see the change and effects. Hence finding the most comfortable, soft and adjustable nose pads should be the ultimate mission.
Hinges: Glue two parts together
Hinges keep two different parts of glasses together with its robust and neat design. Eyeglasses hinges are crafted for connecting the frame front to the temple of the glasses. The hinges help to spread and fold the temples to offer handiness and ease of wearing and carrying. There are many types of hinges like spring hinges which are considered as the best one out of all. While copper hinges and stainless hinges are quite rare to find in glasses.
Tip:
Hinges need to be perfectly functioning, they should smoothly open and fold without any problem or effort. Make sure the hinges are tightly designed so that they offer a good grip.
Temples/Arm: Keep them steady and stable
Glasses have a temple that is also known as a temple or arm. It helps the glasses to stay on our face while sitting themselves on our ears. The temple size and width matter towards affording comfort and ease of wearing. The length of the temple in your glasses should be around 135mm, 140mm or 145 mm, these are the most common heights that suit almost 90% of the face. Temples are also available in distinct or independent design from their frames at front. It brings more aesthetic to the overall design and construction of the glasses. Temples also contain temple tips at the end which are shaped into a pear, round or flat shaped shows that the edge doesn't cause any problem behind the ear.
Tip: Measure the length of the temple, make sure the end of the temple is curved inwards so that it doesn't slip away while you bend. The temple tips are soft edges and free from any sharp angularity.
Our Latest Stories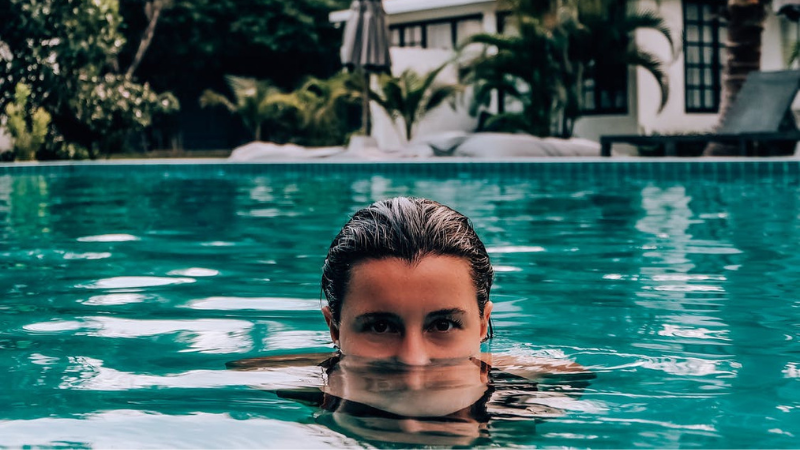 24Hr Dispatch Via Specscart Rocket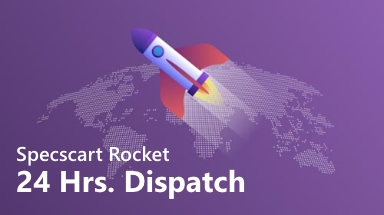 Surprisingly fast delivery for every last minute occasion. Glasses at your doorstep With a hell-for-leather chase!
Buy Now
Read More
---
Hello,
fellow reader!
An exciting offer is on the way to your inbox!
You like to read stuff, and we love that about you.
Enter your email-ID below and we will send you an exclusive offer!