Today, we have cut down the glazing time of single vision glasses to 30 minutes and when we look back on our resolve to prepare glasses in a quick turnaround time, we indeed feel super proud. However, the work goes on as we aim to operate in a more efficient and speedy way.
Are you curious to know how we have managed to integrate speed with precision to get the orders ready at Specscart? Read on!
From Stock To Lab
Our warehouse and lab are located at the headquarters in Bury. Once an order is placed, we segregate the ordered frame from our inventory and place them in a tray along with the order sheet. Both the ordered sheet and the tray have an assigned barcode. Both these barcodes are scanned and the status is fed into the system as 'Tray Up'. Well, we have a barcode each - for the tray and the frames - to avoid any mismatch of the orders.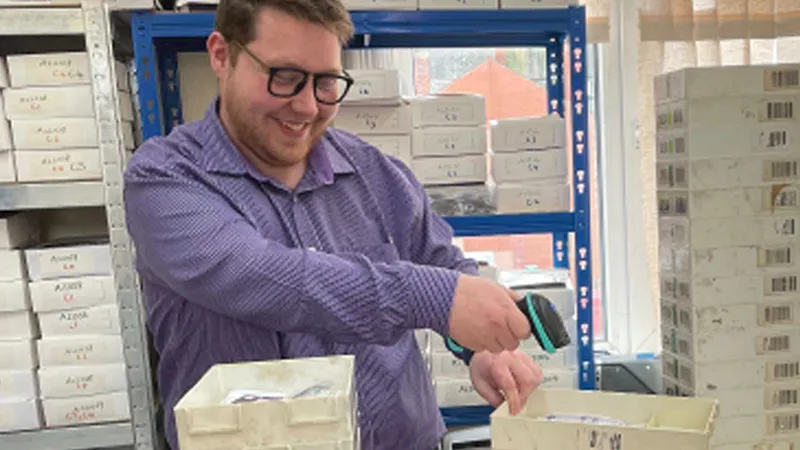 The above-mentioned system where the status of an order is recorded is a back-end portal, which is an integral component of lab automation that we have introduced to track every single order placed at Specscart, in real-time.
Glazing In
After the tray is passed onto the lab, our lab technicians scan the same barcodes and the status of the order is updated on our portal.
In the glazing process, the lenses (whose stock is maintained in the lab) are traced, cut with proper finishing, and then fitted into the frames. To stay true to our free 24 hour dispatch service, almost all single vision orders with clear lenses are glazed within 30 minutes. As and when the barcodes are scanned for glazing, the timer starts ticking. Credit must be given to the team at our lab as they love this challenge.
The entire glazing process is being tracked in real-time with the help of our backend system.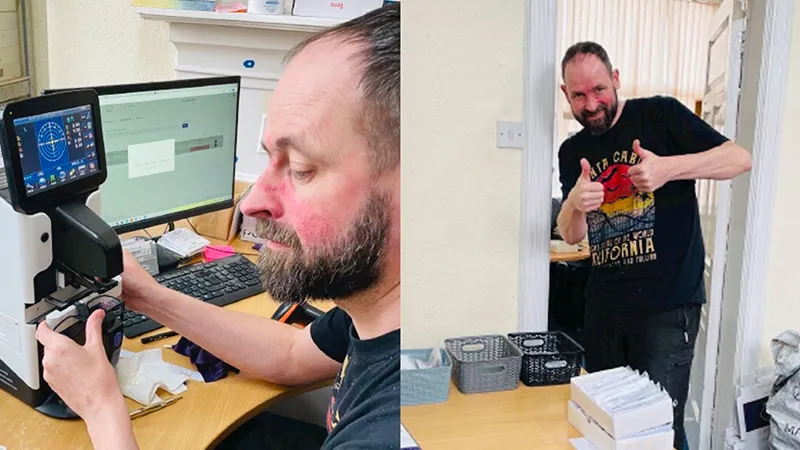 There is an important thing to understand here. It is to do with the orders comprising complex lenses. There are three such conditions -
For varifocal glasses orders, we offer custom pairs. Once an order is placed, we send a sample pair to customers. The customer then reverts back with a photo wearing them. Finally, to make tailor-made varifocal glasses, we take into consideration various factors such as their face shape, the particular frame, pupillary distance, and the most complex part - a prescription that is different for both near and far. This entire process of making accurate glasses takes around 7 days.
For orders involving higher prescriptions, our technicians hand glaze the lenses for better results and hence, it may take extra time.
Since transition lenses are a trademark product, orders involving them may take around 4-5 days.
For all orders placed at Specscart - both single vision and complex orders - estimated time of arrival (ETA) is provided at the time of purchase and we make sure that we stick to it. Transparency is a practice that we follow in our functioning.
Return From Glazing
After the completion of the glazing process, the glasses are placed into the same tray and scanned by our lab technicians to change the status of the order to 'Glazing Out'. Immediately, our team knows the status and within no time, the order is passed to the packing room where it is packed before dispatch.
The Specscart box used to pack your orders is made out of paper - an eco-friendly option. Combining sustainability with function and style is something we constantly strive for.
Along with your very own pair of glasses, the packing includes a branded protection case for storing the glasses, a creatively designed cleaning cloth, a cleaning spray, and a keychain screwdriver to tighten your glasses at home by yourself.
Each of our orders is packed up like a Christmas present!
The order is now ready to dispatch. It will now be collected by our delivery partner - Royal Mail First Class - and delivered to your doorsteps in a quick time.
You Too Can Track Your Orders In Future
At Specscart, we believe that there is always room to become better. We are working on introducing tracking for customers so they too get to know what stage their ordered glasses have reached at any given time.
An efficient system, state-of-the-art machinery and a skilled team are not the only things that go into preparing your orders in quick time and with precision. The most important factor that makes this a possibility is a passionate Specscart Team determined to change the way people perceive glasses.