The summer cocktail tastes sweeter when you are wearing the right pair of sunglasses. And, what better place to take inspiration from than red carpets, movie premiers, and gala events. A-list celebrities have an entire 'battalion' that solely caters to their style needs. The least we common Brits can do is observe, analyse, and emulate, albeit, with our own unique panache!
A foolproof way to spruce up any outfit is by pairing it with the right shades. By inducing an element of mystery and intrigue, sunglasses have the power to elevate even the simplest and most laid back outfit to a 'high fashion' status. In this very interesting guide, we have curated some of the hottest celeb sunglasses moments of the season, which can serve as your 'style muse' and also as a timely dose of pop culture tidbits.
Vin Diesel in Dapper Shades for the Premier of Fast X
The much-awaited movie - 'Fast X,' which is the tenth edition of the 'Fast and Furious' franchise premiered at the Colosseum in Rome on 12th May, 2023! The star-studded event was attended by the film's cast members, including Vin Diesel, Charlize Theron, Brie Larson, and Helen Mirren.
The glitzy premier's glamour quotient was further heightened by the gala of atelier outfits, with which the movie stars flaunted on the carpet. Of course, among the most striking looks was that of Vin Diesel, who flaunted a crisp black tuxedo with a pair of gradient sunglasses.
Step out in style with Vin Diesel-inspired sunglasses from Specscart. Our JASON SC-1 has a stylish gradient lens with anti-reflective UV-X PRO coating. Everyday feels like a movie premier with these high-fashion aviators!
Johnny Depp's Stylish Sunglasses in the Cannes Film Festival
There is something so enticing about Cannes. The festival delivers old-school Hollywood glamour unlike any other event, and the 76th edition that started from May 16th, 2023, was no exception. Star power was at its absolute peak at Cannes' 2023, and Hollywood bigwigs like Natalie Portman, Julianne Moore, and Leonardo DiCaprio graced the festival's red carpet.
However, the most peculiar yet provocative appearance was that of Johnny Depp. The actor was given a fresh makeover for the festival, which he attended for the premier of 'Jeanne du Bary.' The 59-year-old actor was styled by a luxury brand and donned an elegant customized double-breasted tuxedo. However, even with all things 'designer,' we could not take our eyes off Depp's dapper sunglasses.
For an entry as grand and anticipated as Johnny Depp's at Cannes, look no further than our ALVINGTON 3-S3! These Johnny Depp-style sunglasses will make every event or outing feel like Cannes. So, why wait?
Read about the trendiest summer sunglasses of 2023 here!
Margot Robbie's Barbie Sunglasses for the Vogue Cover
The gala of Barbiecore has officially begun as Margot Robbie became the Vogue cover girl for the summer 2023 issue. The actor is set to play the titular role in Greta Gerwig's upcoming and highly anticipated movie - Barbie. The campy yet chic shoot provides us a tiny taste of what is to come.
Styled by fashion editor - Gabriella Karefa-Johnson, the Vogue shoot honors Barbie throughout the decades and her many accolades as an astronaut, a cowgirl, a presidential candidate, and more. Of course, the shoot also pays homage to Barbie's hyper-feminine wardrobe and love for sunglasses.
'You can be anything' with our Barbie-inspired sunglasses pair - DOVILE SF-4 These thick-framed cat-eye sunnies in an ultra-modern silhouette are something that our very beloved 'Barbie' would have definitely loved.
Beyonce's Sunglasses from the Renaissance Tour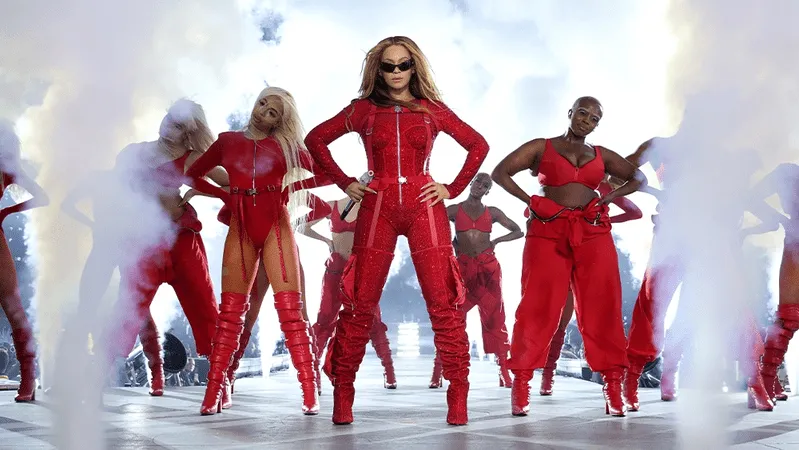 Credit: Robb Report; Original Creator: Kevin Mazur/WireImage for Parkwood
Beyonce is taking over the whole of Europe with her Renaissance World Tour. The 'Crazy in Love' singer has been making headlines since her concert run began on May 10th, 2023. In a recent viral clip of the concert's London spin, Queen Bee can be seen scouring through the crowd and giving one attendee a pair of off-white sunnies.
Since then,Beyonce's white sunglasses have hit it off the park when it comes to Google searches. While performing her percussion-heavy 2009 hit 'Diva' at Tottenham Hotspur Stadium in North London, Beyonce threw a pair of sunglasses to one of her fans, who turned out to be the very lucky Global Valentino.
For our American readers who are going gaga over Taylor Swift's ERA's tour, our latest blog has got your outfit mood board covered!
To get Beyonce-like sunglasses, you do not have to struggle through a crowd of screaming fans, as Specscart has got your back. 'Run the world' with our 'TARBOCK 1-S' and slay like the Queen Bee herself!
Celebrity tidbits when served on a fashion-centric platter become all the more interesting. May 2023 was a spree of memorable events, which will be etched in the history of pop culture. So, be a part of the mainstream culture in style and suave with Specscart sunglasses!