Varifocal glasses are a great option for people who need different prescriptions for distance and near vision. They allow you to see clearly at all distances without having to switch between different pairs of glasses.
But how do you choose the right size frames for varifocals? Here are some tips to help you find the best fit.
What are varifocals?
Varifocals, also known as progressive lenses, are a type of corrective eyewear that addresses multiple vision problems with a single pair of glasses. Varifocals have grown in popularity among people with multiple vision needs, particularly those over the age of 40.
Unlike bifocals, they do not have a visible line or segment that separates the different zones of vision.
Why is frame size important for varifocals?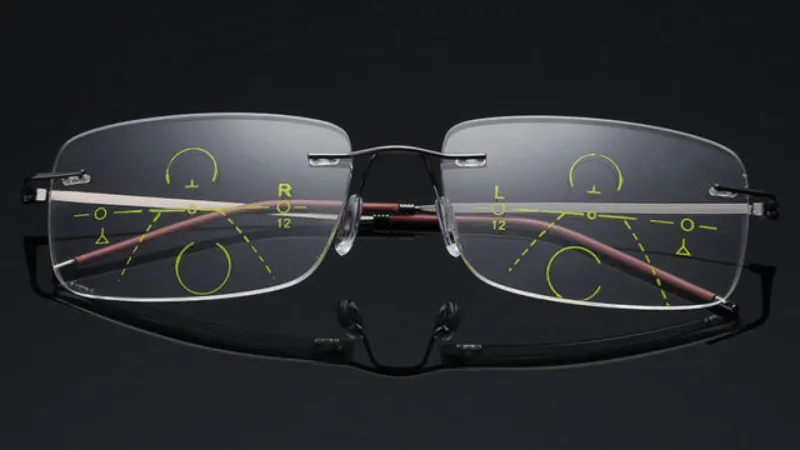 Varifocal lenses have a graduated power, which means that they require precise alignment to ensure that the wearer can see clearly at all distances. If the lenses are not properly aligned with the wearer's eyes, they can cause visual distortion and discomfort.
The size of the frame is crucial because it affects the position of the lenses relative to the eyes. The frame size affects how well you can see through your varifocal lenses. If the frame for varifocals is too small, you may not have enough room for the different zones of vision. If the frame is too large, you may have to move your head more to find the right focus. The frame size also affects how much peripheral distortion you may experience around the edges of the lenses.
How to measure frame size?
The frame size is usually indicated by three numbers: lens width, bridge width and temple length.
Eye size - this is the horizontal width of each lens, measured in millimetres.
Bridge size - this is the distance between the lenses, measured in millimetres.
Temple length - this is the length of the arms of the glasses, measured in millimetres
For example, 53-17-138 means the lens width is 53 mm, the bridge width is 17 mm and the temple length is 138 mm.
You can find these numbers on the inside of your current frames or measure them with a ruler.
What is the ideal frame size for varifocals?
The ideal frame size will depend on the size and shape of the wearer's face. The goal is to find a frame that is wide enough to accommodate the lenses and ensure proper alignment, but not so wide that it extends beyond the edges of the face. The bridge should also fit comfortably on the nose without slipping.
The lens height should be at least 30 mm to accommodate the different zones of vision.
The pupil should be centred horizontally and vertically in the lens to avoid peripheral distortion and ensure optimal vision.
The frame should fit comfortably on your nose and ears without slipping or pinching.
How to choose frames for varifocals online?
When shopping for varifocal frames online, it's important to pay attention to the frame measurements provided by the retailer. You can use these measurements to compare to your own facial measurements to find a frame that will fit well. Additionally, it's a good idea to look for frames with adjustable nose pads or other features that can help ensure a comfortable and secure fit. If you are wondering about getting varifocal lenses with your existing frames, you can check this detailed guide.
Remember, if you want to buy varifocal glasses online, you need to have a valid prescription from your optician that includes your pupillary distance (PD). This is the distance between your pupils in millimetres and it helps to align your lenses correctly. You can also use a PD ruler or app to measure it yourself.
Once you have your prescription and PD, you can browse through a wide range of frames online and use a virtual try-on tool to see how they look on your face. You can also filter by frame size, shape, style and colour to narrow down your options.
Specscart offers free try at home trial kits that allow you to try on up to four frames at home before you buy. This way, you can check the fit and comfort of the frames and get feedback from your friends and family.
What are some examples of frames for varifocals?
There are many types of frames that suit varifocal lenses, from classic to trendy styles. You can also check our quick guide on varifocal lenses. Here are some examples of frames that work well with varifocals:
Rimless frames:These frames have no visible rims around the lenses, giving them a minimalist and elegant look. They are ideal for varifocals because they do not interfere with the transition between the zones of vision.
Metal frames: These frames are made of durable and flexible materials such as titanium or stainless steel. They offer a sleek and sophisticated look that suits most face shapes. They are also suitable for varifocals because they have thin rims that do not obscure the vision.
Plastic frames:These frames are made of acetate or other synthetic materials that come in various colours and patterns. They offer a bold and fashionable look that can express your personality and style. They can also accommodate varifocal lenses as long as they have enough depth and width.
Final Words
Varifocal glasses are a convenient and comfortable way to correct your vision at all distances. However, choosing the right size frames for varifocals is crucial to ensure optimal vision and comfort.
Specscart's varifocal lenses by London Optics are the best out there in the market. These are the highest quality tailor-made platinum varifocal lenses. They have the widest vision field with minimum distortion, for the best optical experience. It has a seamless transition between the three parts, starting from distance at the top, to Intermediate and ending with Reading.
So, now with all the information above you can easily choose the perfect frame size for varifocal lenses!