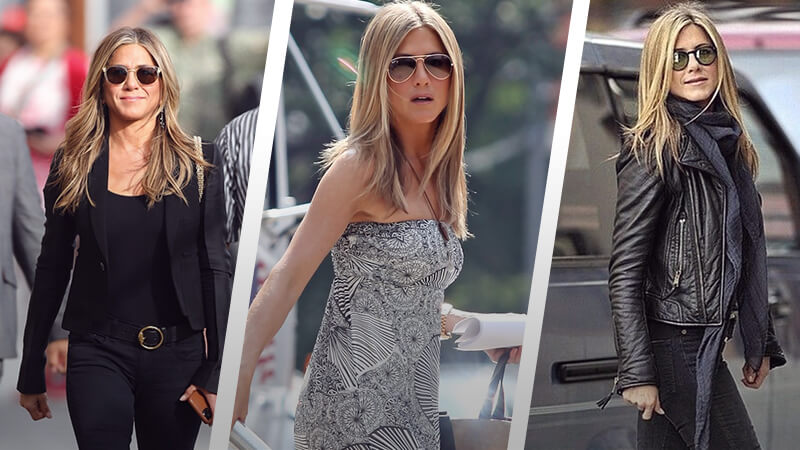 7 Times When Jennifer Aniston's Eyewear Game was on point
Being a true 'Friends' fanatic, the Friends Reunion is the highlight of 2021 for me (not speaking too soon).
If you haven't seen the hit 90s sitcom, I have one question for you - WHY? Alright! I am not mad at you. But, even if you haven't seen the show ever, you have most probably heard about Jennifer Aniston aka Rachel Green. I mean her hairstyles on the show used to be goals for women back in the day.
Jennifer Aniston is Rachel Green in real life, meaning that she has a killer fashion sense as well. She has excellent taste in accessories like designer clutches or statement scarves. But lately, it's been her eyewear that I can't get enough of.
If you are hoping to channel your inner Jennifer Aniston, here are the top eyewear looks of the A-list actress.
Jennifer Aniston Glasses and Sunglasses
One thing that I admire about her style is that she doesn't chase after fashion trends. She often credits her Greek heritage for her flawless look but I think her glasses deserve some appreciation too.
Here are some of Jennifer Aniston's glasses and sunglasses that add to her style appeal.
1. Geek Meets Chic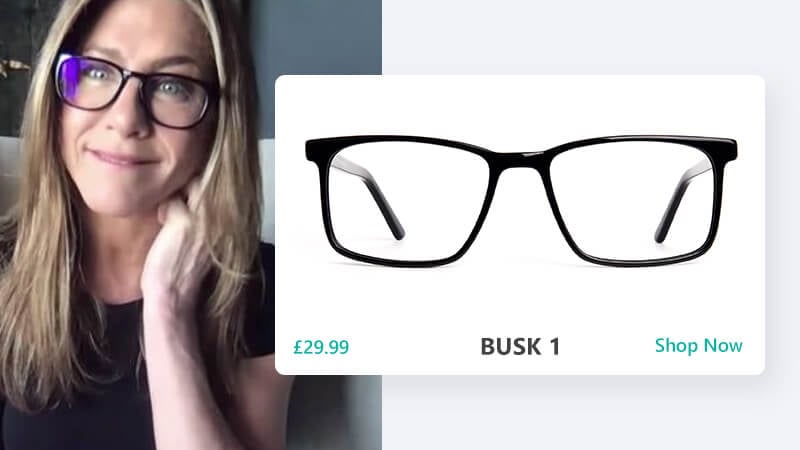 During an online chat with Jimmy Kimmel, Jennifer opted for a pair of black rectangular glasses with sleek lines to channel the hit 90s vibe. She is a woman of class and has a thing for sophisticated accessories.
Maybe you could also use a decent pair of black rectangular glasses for your online meetings. Busk is the twin brother of Jennifer Aniston's glasses. The sleek shape has a modern take on your granny glasses.
Try busk on a striped bodycon midi dress in navy blue and white for a geek-chic style. A cropped denim jacket and retro trainers will put a vintage spin on your look. This frame is available in both prescription and non-prescription glasses.
2. Reworked Classic
Another piece of eyewear from Jennifer's capsule wardrobe is this aviator frame. Teaming it up with a pin-stripped navy blue pantsuit and a crossbody bag, the deep look is contrasted by the gold rims resting on her face. Well, the boss lady looks fair as she has multiple businesses up and running.
If you want to reinvent Jennifer Aniston's glasses look in 2021, Brampton is a perfect choice. The powerful teardrop shape follows this year's oversized fashion. But, don't let the size fool you. This frame is as light as a feather thanks to its metal body.
Pair this piece of designer glasses for women with a solid button through denim skirt and a ruffled top (cuz it's pretty). Complete the look with chunky sandals and you are all set for a fun day. Don't overdo it with gold jewellery though.
3. High End Meets Street Style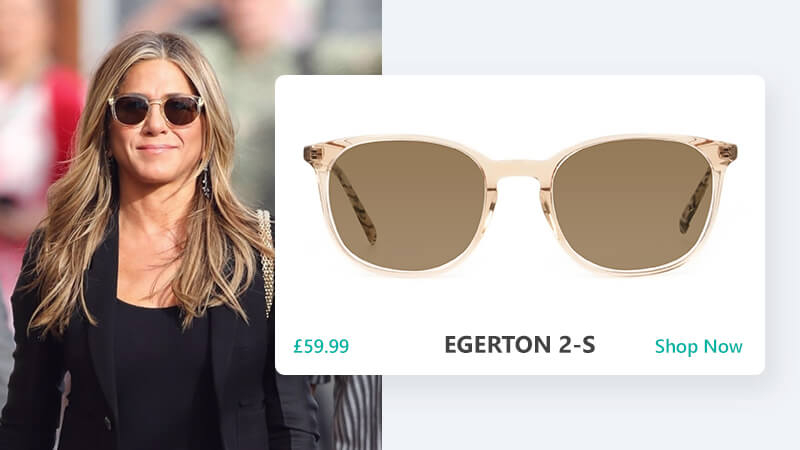 Another wardrobe inspo for workaholic women, this all-black ensemble is a go-to option for a smart dress code. Keeping things simple in a monochromatic look, Jennifer decided to go easy on sunglasses as well and hence the clear frame.
Egerton is getting much love this season due to its summery vibes. A multicolour ruched floral dress and strappy flat sandals paired with Egerton make for a perfect daytime date outfit.
For a casual day out, don this Jennifer Aniston sunglasses inspired shade with a nude crop top, jean shorts and ankle boots.
4. Stunning Green Shades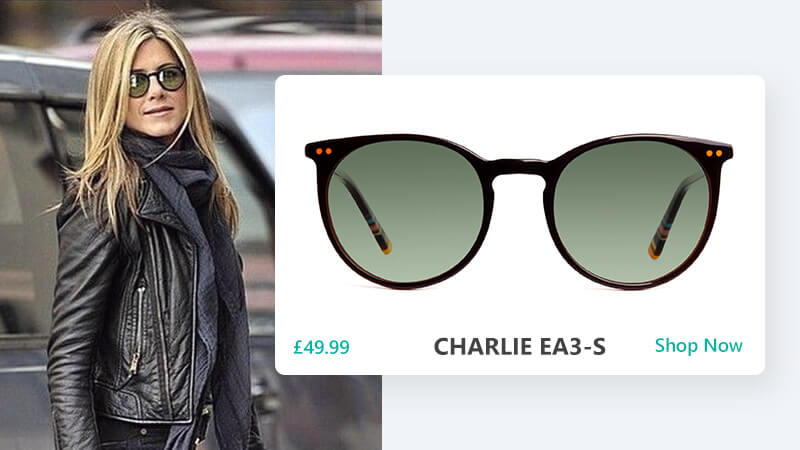 Black jeans and leather jackets are staples in Jennifer's wardrobe. The black skinny jeans, biker boots and leather jacket are going seamlessly with the blue scarf making her green shades stand out even more.
If you can't help but stare at her stunning shades, you could also get them at a fairly affordable price from us. Have a look at Charlie here. Doesn't he remind you of Jennifer Aniston's sunglasses?
The trendy sunglass tint with a round silhouette makes it perfect for people with square or heart-shaped faces. Going for a date with your gal pals? A shimmery satin cami top and skinny leather jeans will work wonders with Charlie.
5. All Things Sassy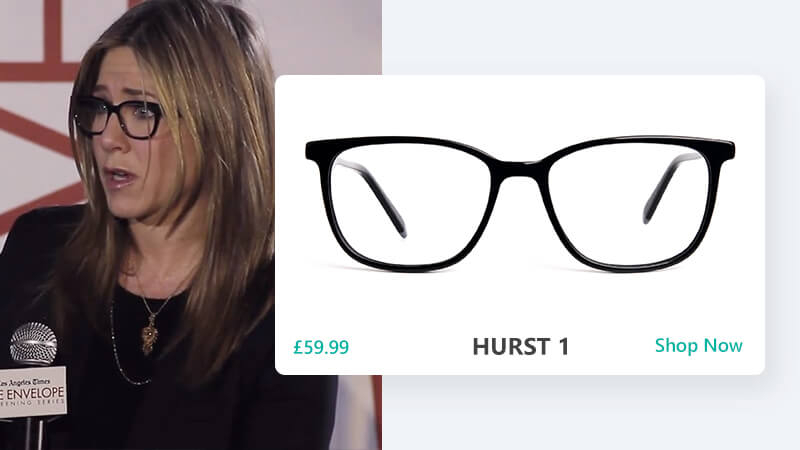 During the screening of Jennifer's movie Cake, she decided to give this black wayfarer frame a shot. She went for a monochromatic ensemble and dressed in black from head to toe. I think I may have some insight into her favourite colour.
Hurst is identical to Jennifer Aniston's glasses in a wayfarer silhouette. The offbeat look mixed with the classic shape is perfect for almost every face shape. That helps if you are looking for a pair of online spectacles. Perfect for casual outings or family get together, the cool laid back style is the very essence of Hurst.
From your bold denim jackets, lounge pants to cropped jeans, this frame will go with any outfit in any colour. For a girly look, a slim fit turtleneck, mini skirt and knee-high boots will do the job.
6. Born with Elegance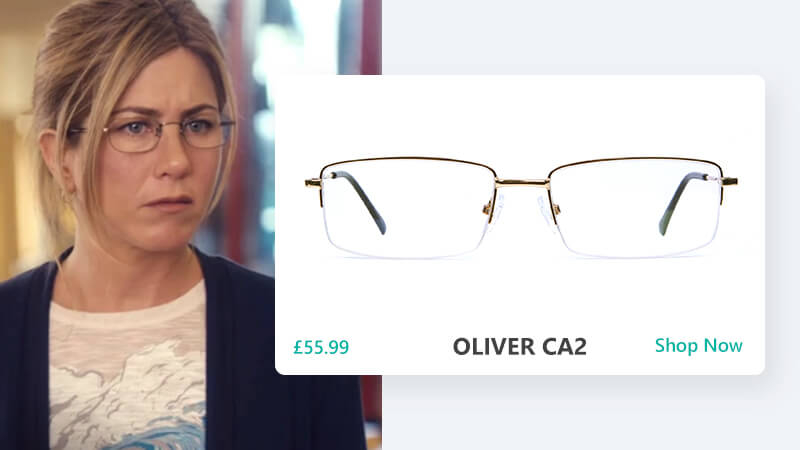 Jennifer is not a stranger to wearing specs in movies. She took a break from her glamorous self and wore this elegant eyepiece in the hit rom-com Just Go With It. This rimless style used to be a great hit in Jennifer Aniston glasses in the 90s. She wore them everywhere from red carpets to running errands.
Scoot over bold and heavy frames, Oliver wins hearts for its sheer simplicity and down to earth style. Keep your outfit simple and let the accessory talk. A basic black tee, boot cut jeans and mules are the best counterparts to this minimalistic style. Shop from us and get huge discounts and fast glasses online.
7. A Timeless Staple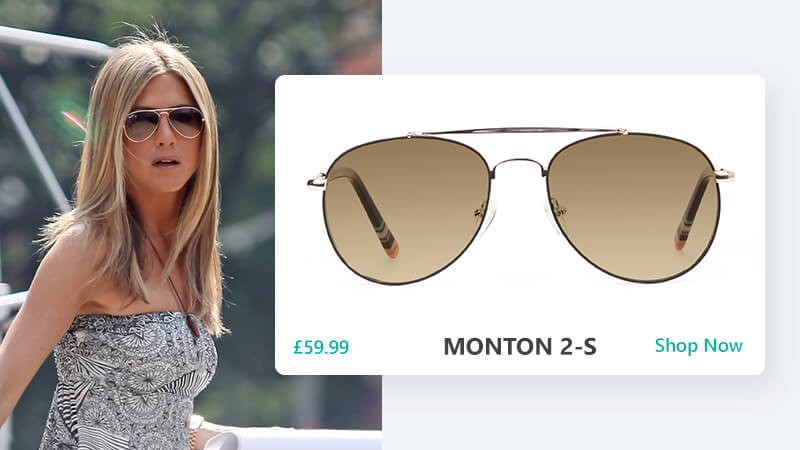 Who doesn't love aviator sunglasses? Not Jennifer Aniston, I tell you. If you thought that aviators only looked good with biker boots and leather jackets, now is the time to change your mind. You can even team it up with a maxi dress and you will look anything but boring.
Monton is the cross between bold and subtle. The powerful aviator silhouette sits well with the soft aesthetic. From looking biker glam to the girl next door, Monton is here to make all your dreams come true. Go on and shop for these Jeniffer Aniston's sunglasses from us and create your next look.
You don't have to search for Jennifer Aniston's glasses brand when you can find all these styles at Specscart. We don't recommend just any frame. Take the 3D trial to select the best frames for yourself.
Our Latest Stories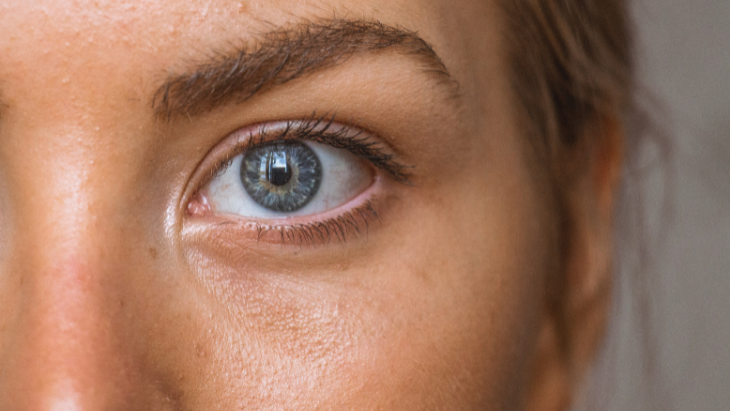 Specscart Blog
Want the latest update on designer eyewear, shades or glasses? Our blogs give exceptional insights into the latest eye care measures and eyewear trends, fashion and style hitting the streets of United Kingdoms. From finding an optician or optometry near you to the latest designer glasses or sunglasses for the summer and spring fashion, you'll learn something useful every day. We publish regular informative measures on eye care, the latest design in eyeglasses and sunnies, celebrity specs and fashionable choices you can make in your lifestyle to up your fashion game. Read on to find information about various glasses types, eye condition and fashion trends in a fun and simple way that you would fancy with a cuppa tea.
10% OFF
USE CODE
READER10
COPY CODE
Hello, fellow reader!
You like to read stuff, and we love that about you!
Here's an exclusive 10% coupon for our Blog readers
Stay Updated
Sign Up for the latest trends and exclusive offers!