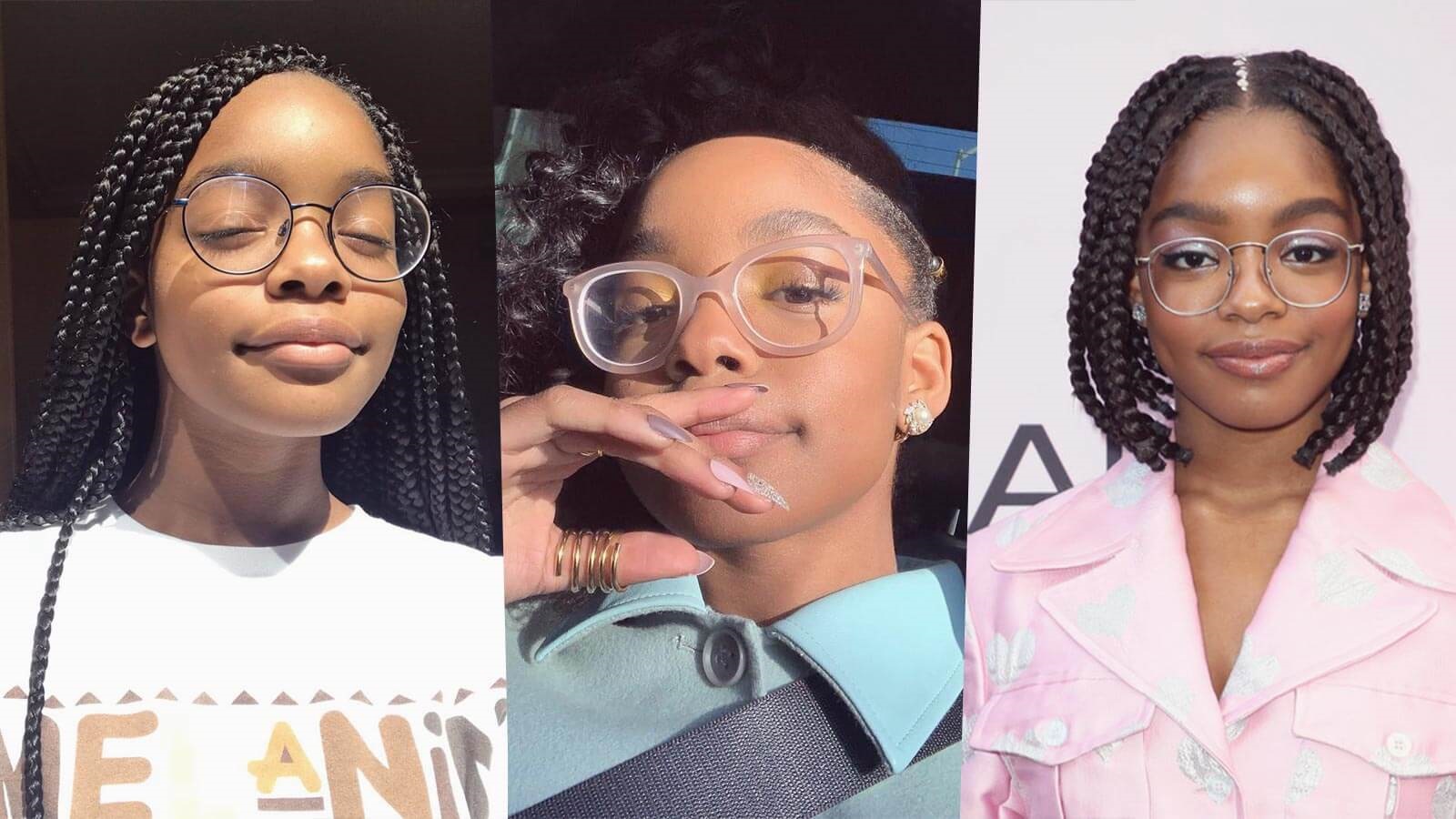 Sass up One Level With Marsai Martin Glasses
Marsai Martin glasses are what you seek if you are someone moving fast in life. You'll forget all doubters and haters and leave them to dust behind you as you start using a pair of these glasses. No, the glasses aren't induced with black magic. A pair of these glasses will amp up your spirits and remind you of the mesmerising star who has proven it to the world, that age is just a number. Why do we say so? Well, because the girl Marsai Martin herself has broken all kinds of age records.
Currently of age 15, Marsai Martin is an American actress and producer who has won several awards already for her performances and productions. Famous for her role in the comedy series Black-ish as Diane Johnson, Marsai started her career at age 5, for a national commercial.
There are loads of stories about the youngest executive producer in Hollywood. We'll talk about them in this article as we take you through the most famous and stylish Marsai Martin eyeglasses.
Discover Types of Marsai Martin Glasses That Raise Your Ensemble up a Notch
Marsai Martin Pink Glasses
Marsai's been spotted many times in her nude pink eyeglasses. A recent occasion where she wore them was at Steve Harvey's show last year. She was there to promote her film 'Little'. It's a comedy film and her first studio feature for Hollywood. At Steve Harvey's show, along with many other things, Marsai talked about the driving permit that she was going to that the same year. It's hard to believe she's just 15 when you see her on such talk shows and the way she portrays herself. Some fun moments in this show were when Steve asked her to identify a few female celebs through their childhood pictures. He even said he will give her a clue for each, but Marsai didn't need that. She was naming all the celebs without the clues as to if she playing a rapid-fire. And she was right all the time.
We believe such skill and talent, and not that of naming the celebs but her acting and survival in the industry, are a result of her flamboyant confidence. And in our opinion, one of the most significant players in her looks that make her so enthralling a character is her glasses.
Do we have a similar pair for you to flaunt? Yes, we do! Here's what we call EGERTON, a crystal clear pair of frames in the nude pink colour that are similar to the Marsai Martin pink glasses. This pair in wayfarer with subtle round edges in the bottom half can accentuate your charm the same way they do for Marsai, the young diva.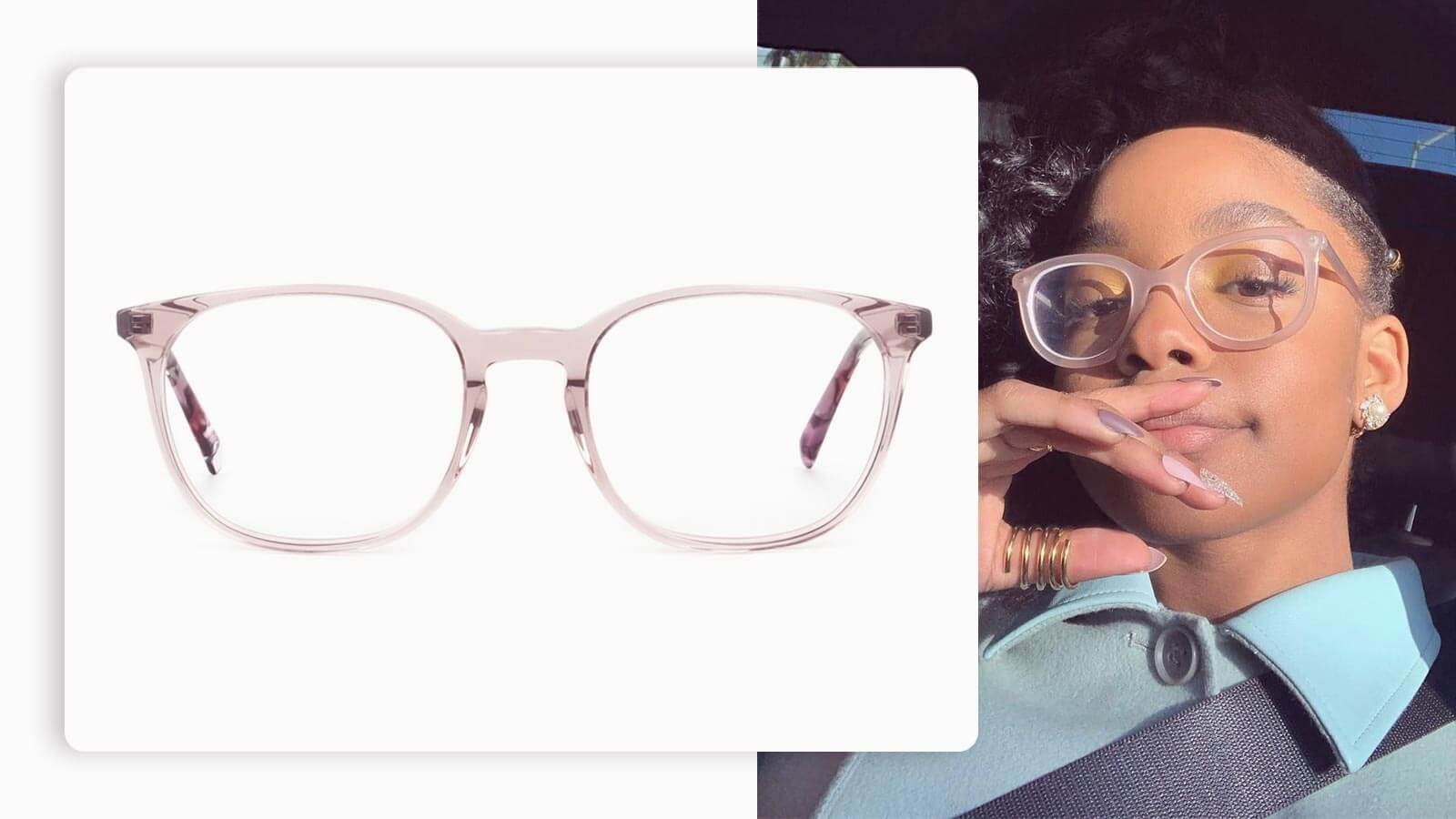 What's special about these frames, is the quirky detailing on the temples that help you stick out a mile. And that's very important if you are looking out to make an impact on the world, just like our beloved Diane Johnson of Black-ish is doing. The frames help you turn heads without being too bold while you show them off on any kind of occasion. Yes, they will suit any outfit on girls, thanks to the feminine pink hues and the style of the frames. Each part of the frames is made with such an effort to make them all strong and sassy on their own just like Marsai. That's what makes the glasses so supreme in quality and comfort along with the appeal.
Marsai Martin Eyeglasses in the Crystal Clear Frames
Yes, not only pink, but Marsai has been spotted a lot many times in her crystal clear frames with no hues. These help her stand apart from the crowd and complements her melanin complexion. Since it is not a bold and sparkling pair, the eyeglasses help the actress show off her facial features and ensure that the frames don't take all the attention. That's how the Marsai Martin glasses can help you too.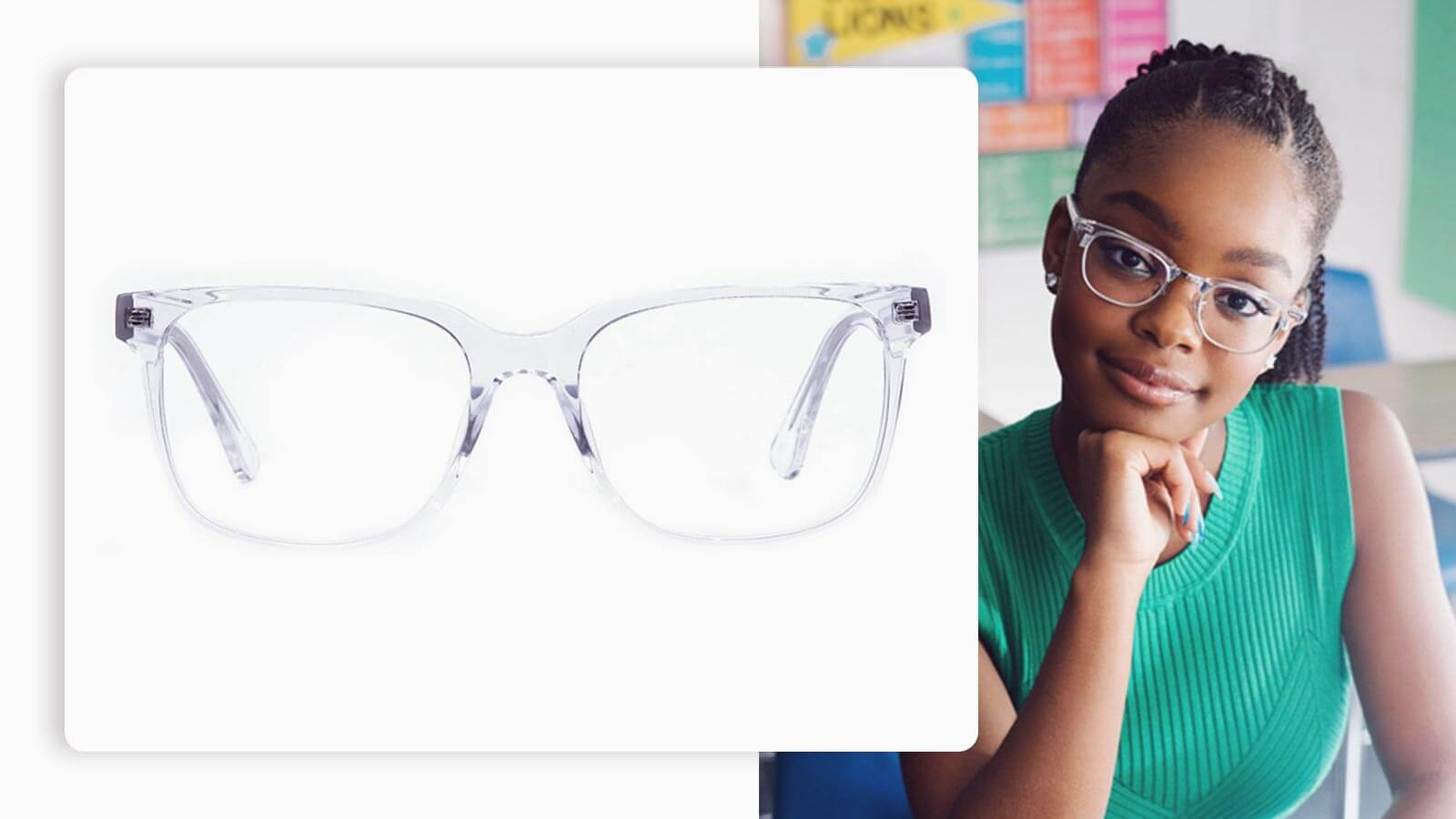 One of the popular occasions where she was spotted with them, was on Instagram. The 'Little' star was 'welcoming' her pimple and basically acknowledging the fact that she is as normal a teen like any other girl. This for many was a bold step because usually, celebs don't even wonder to show off a no-makeup look. And this magnificent star was driving attention to a skin issue and addressing her teens.
And if you are curious, yes, we have exactly the pair you need. We call it DEXTER. The frames are made for both men and women and they are a sight to behold. The crystal clear frames come with distinct temples that make them stand out. A wayfarer styled pair, made in high-grade acetate this is one of the most extravagant pairs available in our ultra-special Tom Archer assortment. This makes it even more important for you to check them out. To add to that, they are also one of the bestsellers, so buckle up and grab your pair right away or the stocks might not last.
The Black Rectangular Marsai Martin Glasses
Caila (yes, that's her first name), the star kid of Black-ish was seen wearing black rectangular glasses all through the series. Why is this even important you ask? Because, well, Marsai, was the first black girl with glasses for the producers of the show. And they liked it very much as said in one of the interviews that the young star gave.
These rectangular glasses helped her character a lot in the series. And even after that she almost always had her glasses on no matter what film or show she was on.
Marsai has a special story to tell the world with her glasses. Her days at elementary school were quite troublesome. Her bad eyesight resulted in blurry vision whenever she would try to look at the board. The teachers made her sit in the front row to solve this, but she was always judged for this. When she asked her parents for a resolve, they took her to the eye doctor, who made her wear glasses. While this solved the vision problem, it created a new one. And that was to be confident with her looks as a black girl with eyeglasses.
This battle made her stronger, as she had to learn how to embrace her looks with the eyeglasses. Now, she appreciates the glasses. For her, they are her confidence and swag. Her production house, genius productions, which she started at the mere age of 13, also has a logo with the glasses. In her own words, her glasses define who she is as a person.
Here's how she describes it in an interview.
She says she knew that she needed eyeglasses or just that she needed something, but was too apprehensive to say something. That's because she was already having a difficult time as the only black girl in her school, so to have glasses which got more attention on her was just not comfortable. She further says that she was definitely the type of person who would say that they are there just to learn and to play on the monkey bars etc, not to hang out with the others. But when she created that confidence and swag to make sure she pushed to her full potential in whatever she did, she became a little more social.
The actress has even paired up with a vision company, to put a word out there for parents. She wants every parent to pledge that their kids have perfect 20/20 vision and can confidently go by their life with the glasses on.
The 'Little' Treats Here and There
If you know Marsai Martin, you would have mostly seen her in the black rectangular glasses she wore on 'Black-ish' or the crystal clear frames she wears. But there are many other kinds of eyeglasses that Marsai has been spotted in, and you would agree with us on this opinion, that she looks flamboyant with these pairs on. What are these styles of Marsai Martin glasses exactly? Let us reveal them to you.
The Black Rounds
Marsai has sported black frames in various styles on many occasions. Sometimes it's with the cat-eye blend with gold temples, and sometimes it is a pure black set of eyeglasses.these make a great pair to flaunt when you don't have the time for styling and thus make a frolic fast-fashion accessory.
Specscart brings you a similar pair of Marsai Martin glasses. We call this pair HEB241. The round glasses in black are made in thin lightweight yet durable metal. The temple tips are designed beautifully in colours like tortoiseshell to help you set yourself apart.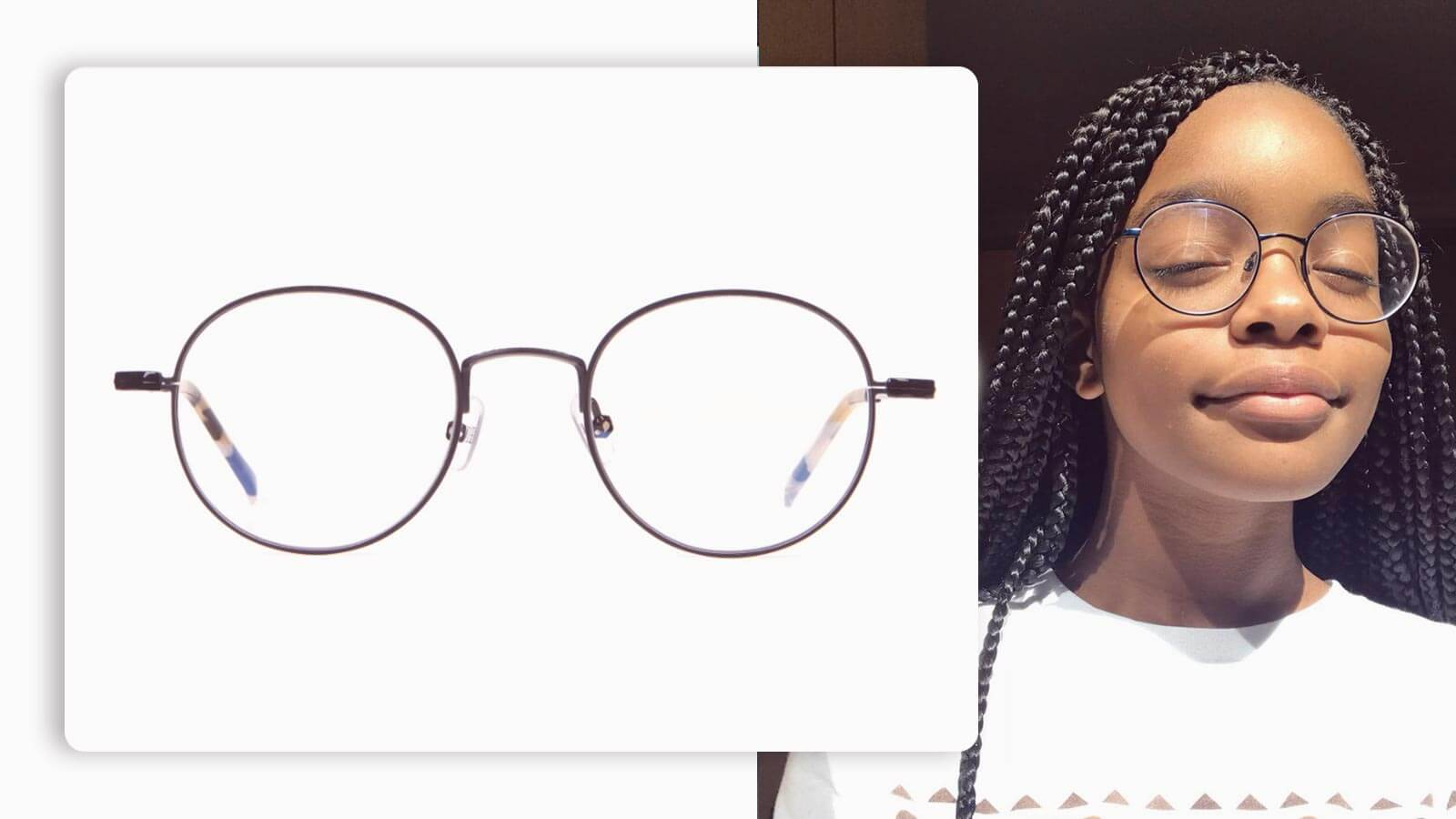 The Oversized Geometrics in Gold
Once the news of Marsai Martin with under eye gels had gone popular in which she had worn her flattering pair of gold geometric glasses. These oversized glasses looked magnificent while the gel worked its way into Marsai's skin to heal the dark circles and provide the cool feel she needed.
Specscart has a similar pair for you to try. These gold brown geometric glasses are called COLTON> and they suit both men and women alike. Their lightweight yet notable presence on your faces is bound to make you as popular and loved as Marsai in your circle. The shimmer with the subtlety and minimalistic creativity with the edges makes it stick out a mile. Thus, helping you make your mark just like the 'Little' star from Texas.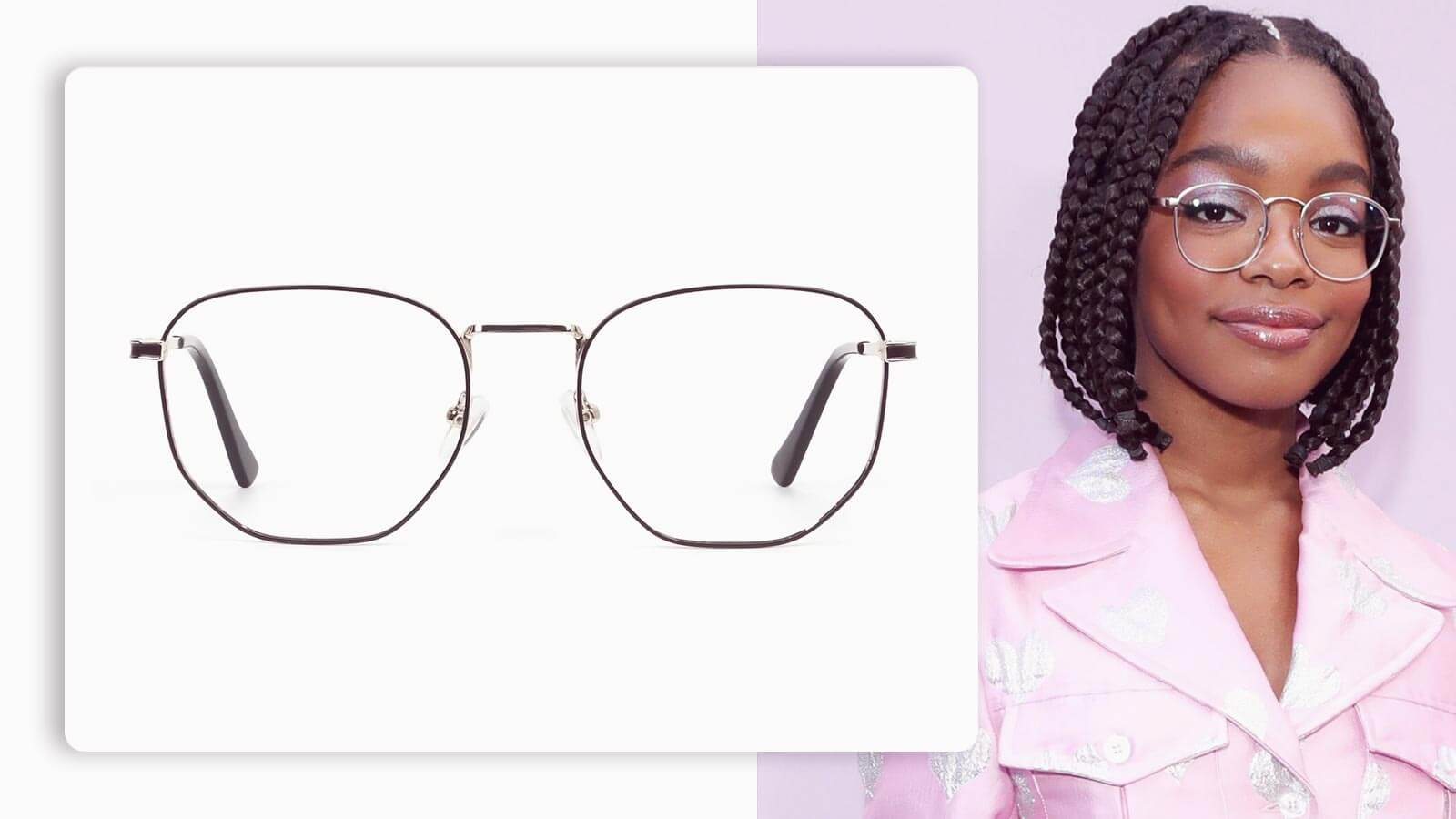 The Cat-Eye Browline Pair in Black and Silver
Silver is one of those colours that Marsai loves to flaunt. She was seen sporting a magnificent glimmery dress in silver with long earrings and a pair of glasses in silver in black. This was a browline and cat-eye combo that helped add the grace to her eyes and overall look. The event was the 69th annual Primetime Emmy Awards at Microsoft Theater in Los Angeles that was flooded with many other celebrities making their mark like Marsai.
Yes, do not worry, Specscart has these Marsai Martin glasses in our special Tom archer collection. We bring to you keyhole bridge glasses sporting the style combo of cat-eyes and browlines in the round. That too, with black and silver colours that speak of power and confidence. Yes, that's the secret of Marsai's powerful demeanour at the event we just talked about.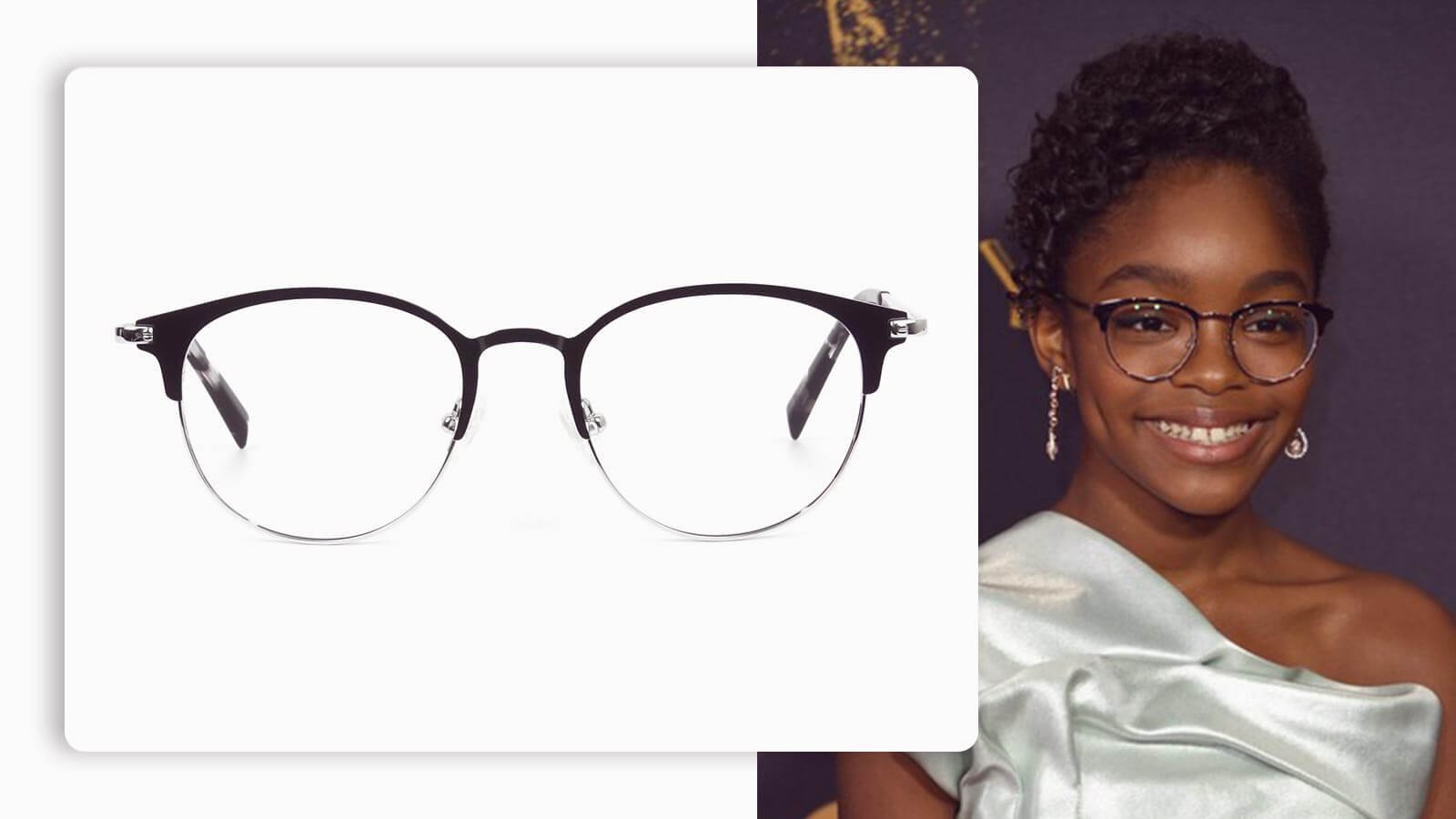 The Final Word
The 15-year-old actress and producer may hate peanut butter but she loves eyeglasses. Thanks to her, Specscart has a new collection of Marsai Martin glasses to help you flaunt your charm just like her.
Not only these, but you will find many other pairs of Marsai Martin glasses at Specscart. After all, just like the 'black-ish' star, we too love eyeglasses and want people to have the best of vision, but in style.
If you are wondering why Specscart is the right choice for you to buy your favourite Marsai Martin eyeglasses, then allow us to help you with the reasons. For instance, Specscart is the choice of several eyeglass wearers as can be observed from their reviews on trusted sites like Trustpilot and Google.
To add to that, Specscart makes buying premium quality and flattering Marsai Martin glasses easy and affordable. We make it affordable with the help of our in house labs and technicians, that helps take away the middlemen costs.
Further, we add a free layer of anti-glare, anti-UV, and scratch-resistant coatings on all eyewear to save you from spending those extra pounds on essential protection.
Moreover, Specscart also offers the reglaze glasses option which you can use if you already have Marsai Martin glasses. You can send your pair to us and we'll add impact resistant and high quality lenses in your latest prescriptions in those frames and make them anew.
People also love our services because we dispatch most frames within 24 hours of receiving the order. And additionally, we offer free and no questions asked returns as well.
All this, so that we can serve you for correct vision and help raise your eyewear fashion game up a notch.
So, get going and choose your favourite Marsai Martin glasses to get them for your ensemble! Who knows, they might make the defining change in your appeal and help you make your mark just like Marsai did even at such a young age. Go, grab your pair now!
Our Latest Stories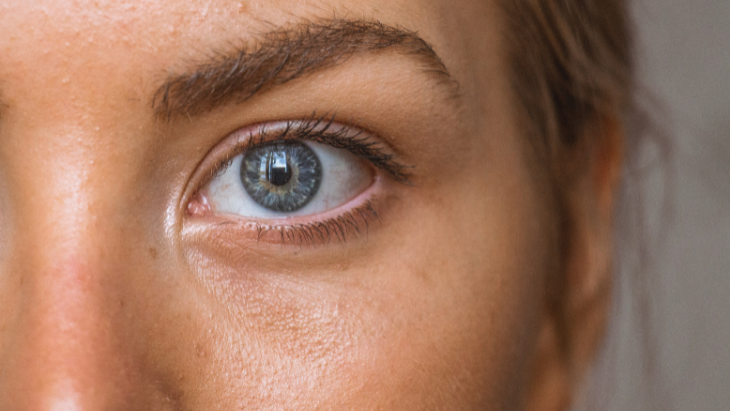 Specscart Blog
Want the latest update on designer eyewear, shades or glasses? Our blogs give exceptional insights into the latest eye care measures and eyewear trends, fashion and style hitting the streets of United Kingdoms. From finding an optician or optometry near you to the latest designer glasses or sunglasses for the summer and spring fashion, you'll learn something useful every day. We publish regular informative measures on eye care, the latest design in eyeglasses and sunnies, celebrity specs and fashionable choices you can make in your lifestyle to up your fashion game. Read on to find information about various glasses types, eye condition and fashion trends in a fun and simple way that you would fancy with a cuppa tea.
10% OFF
USE CODE
READER10
COPY CODE
Hello, fellow reader!
You like to read stuff, and we love that about you!
Here's an exclusive 10% coupon for our Blog readers
Stay Updated
Sign Up for the latest trends and exclusive offers!