Free Shipping & 24 Hr Dispatch. Even On Weekends!
Buy 2 Get 50% Off on 2nd Frame *T&C Apply
Anti-UV
Anti-Glare
Impact Resistance
Anti-Scratch
Loading Products...
What are Reading Glasses?
The reading glasses prevent eye strain and also help in the correction of vision and are required above the age of 40. The reading glasses are also known as power readers. Reading glasses are also available as ready readers with a particular prescription lens that only helps the person to read.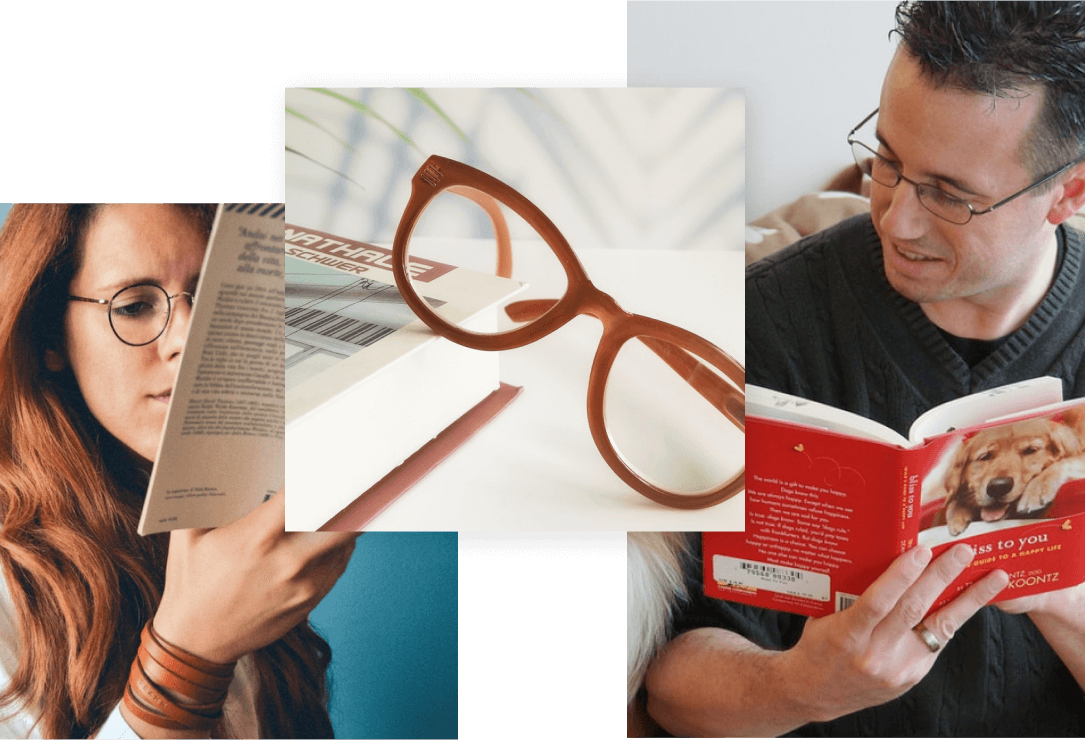 Buy Prescription Reading Glasses Online
We all are very comfortable buying things online. Online services have leaped during and after the pandemic and people are highly dependent on online services across the globe. Hence buying reading glasses online will help in saving time and money. While we buy reading glasses online, we can choose different frames according to our fashion needs.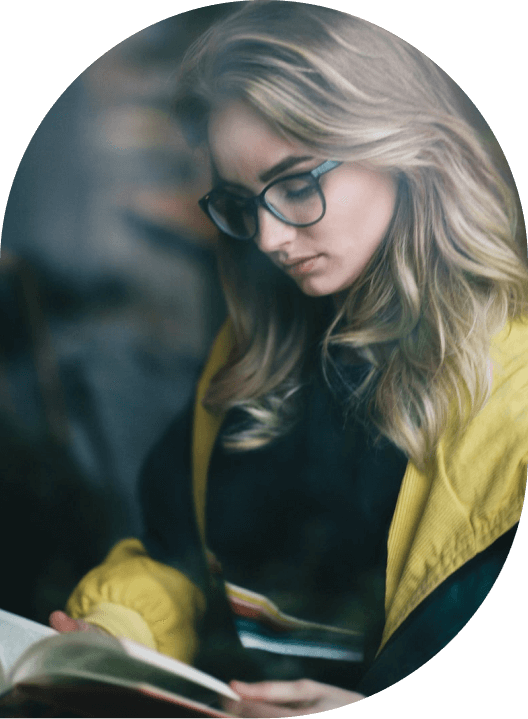 Reading Glasses for Women
When the glasses were made, they were available only in a few shapes and people mostly brought these glasses from chemist shops where they get reading glasses at a particular prescription. These glasses were only used for reading and no other purposes. But now women can choose their favorite pair of ladies' reading glasses as reading glasses. How about a pair of trendy reading glasses like oversized cat-eye glasses? They are a perfect fit for every woman who wants their reading glasses to be fashionable. One can buy women's reading glasses for a look change. Or how about getting a pair of geometric glasses? The ladies' reading glasses are way more beautiful than the imagination. Various other frames can be exactly fit for reading glasses and the frames are very classy and sophisticated and are perfect as reading glasses for women. They fit with every attire and can be worn for all purposes. So ladies, buy reading glasses for women and you can flaunt the look with different outfits.
Reading Glasses for Men
Unlike women, there are reading glasses for men too. The purpose of reading glasses is the same for all, whether it is for women or men. The difference lies in their fashion and the way they dress up. For different occasions, they want different frames that match their attires. Similarly, there are various frames for reading glasses for men. An oversized black round or a pair of square glasses will make them no less handsome. The men's glasses will also complement their age and make them look fashionable. Buy men's reading glasses for a smart and classic look, and make your reading experience more fun and enjoyable.
Cheap Prescription Reading Glasses
We all are aware of the fact that the reading glasses that are available in the shops are non-prescription reading glasses. They come with a specific prescription and without any frame choice. One has to buy the glasses in whichever frame is available in the shop. But we here provide cheap reading glasses with prescription as we understand the importance of glasses for a person and our main vision is to help people with glasses. Hence here we will provide the person with cheap reading glasses and with a huge collection of trendy glasses for men and women. Get some sunglasses online for your latest fashion at a cheaper rate and in high quality so that one can wear both sunglasses and reading glasses while going out. A pair of rectangle sunglasses will be a treat to the eyes.

Designer Reading Glasses
When you buy reading glasses you want your glasses to be fashionable. Here in Specscart, we have multiple designer reading glasses that suit your every mood. The unique frames with free coatings and prescription are a perfect fit as your reading glasses with prescription. There are reading glasses for men and women and we have got the best for you. Designer reading glasses are not only for reading but also for following the latest fashion trends.
Prescription Reading Glasses
Since the advancement of the techniques and technologies have changed the mechanisms, the reading glasses are now available by prescription. Prescription reading glasses are those that can help a person in reading and also for vision correction. This not only helps people read small prints and numbers but also helps to see the near objects. The glasses also help in a clear vision of close objects. Thus it is advised that before going to buy a pair of reading glasses, consult a doctor and then opt for the required reading eyeglasses with a prescription.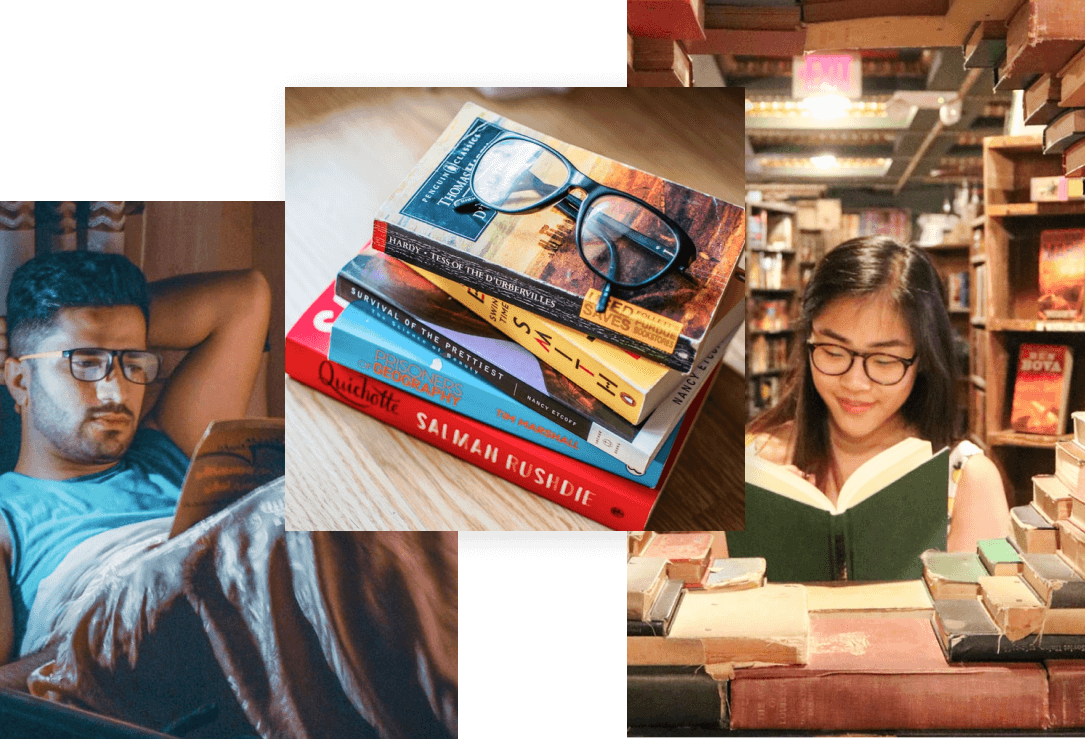 Non-Prescription Reading Glasses
Non-prescription reading glasses are those which are known as ready readers. These glasses come with a specific number and one can get them in hand. The ready readers are available in our online and offline stores. Non-prescription glasses frames in our collection are quite trendy and good to go for all purposes. Non-prescription reading glasses come at a cheaper rate but with the best quality as we believe in serving with the best quality. One can opt for transition lenses too as this will not harm their eyesight.
FAQs About Reading Glasses.
Do I need reading glasses?
If you are above the age of 40 and find difficulty in reading small letters, or prints or facing trouble focusing on the close objects then you must consult a doctor and get your reading glasses as fast as you can before the condition gets worse.
Where Can I Buy Reading glasses?
Specscart is the best place to buy your reading glasses. They provide cheap reading glasses with prescriptions and have varieties of frames to choose from. There are frames for both men and women that follow the latest fashion trend.
What strength reading glasses do I need?
Before opting for a pair of reading glasses, go for an
eye test
and get the right strength of reading glasses for a clear and focused vision.
Can I wear my reading glasses all the time?
Yes, reading glasses may be worn all the time without any disturbance. But you may not be required to wear it all the time unless you feel like it.
Does using reading weaken the eyes?
No, using reading glasses does not weaken your eyesight. This is because no proof has been found against the corrective vision glasses to damage eyesight.
Can any frames be made into reading glasses?
Yes, you can choose any frames on Specscart and they can be made into your reading glasses.
How do I order reading glasses?
Choose any of your favourite frame(s) and click on buy & select lenses. Choose a single vision option while selecting lenses - once we have your eye test prescription, your reading glasses will be made and dispatched.
What is my reading glasses prescription power?
You can find your reading prescription power on your eye test prescription. The easiest way to provide your reading prescription is to click a photo of your prescription and upload it while ordering glasses or send the photo of your prescription to us by email.
I need reading glasses for the computer. How do I order them?
Your reading power of the computer is at an arm's length distance whereas a general reading book will be much closer. This results in a change of prescription. We use the term "Intermediate" distance for these glasses. You can place an order by selecting a single vision and put a request for the glasses to be made for computer/tablet and we will make them perfect for your computer work.