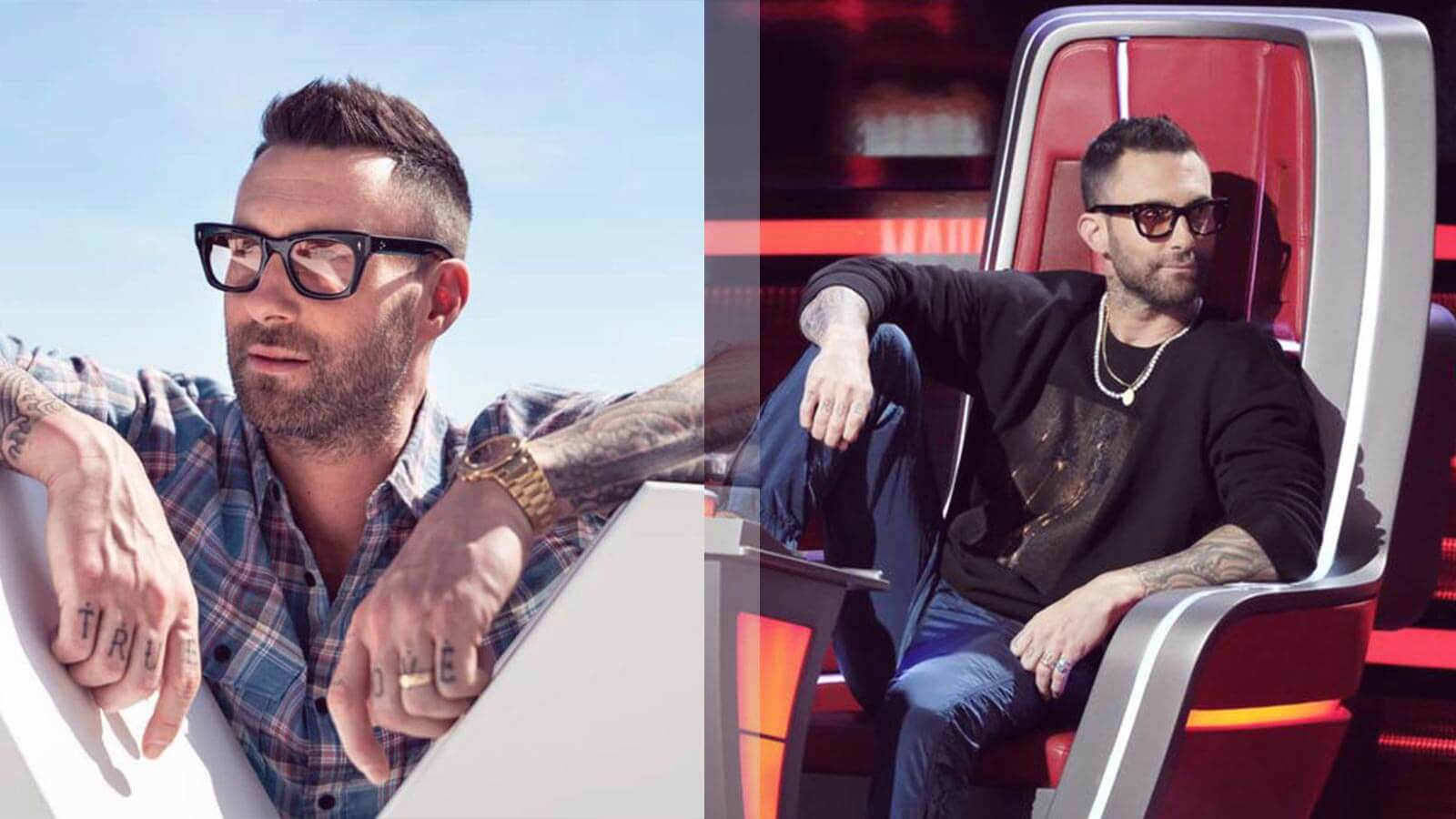 4 Admirable Adam Levine Glasses That Will Raise Your Look up a Notch
No wonder Adam Levine glasses and sunglasses are such a hot topic amongst fans when Adam Levine himself is a rockstar with incredible style statements. Born in 1979, the American singer-songwriter, actor and record producer is a lead singer for the Maroon 5 band. He started his music career as a lead vocalist and guitarist with the band called Kara's Flowers. This was in 1994. After the band split in 1997, owing to the failure of their first album, it reformed again in 2001. This time, the band didn't back down and went on to produce 6 more albums since then.
In our opinion, it's the dedication of the band and the lead singer as awesome as Adam Levine that helped them make it this far. And style adding to self-esteem plays a big role. That's where Adam Levine glasses come into the picture. The man loves donning them to accentuate his charm.
Want to embellish your personality as well? We suggest you to try Adam Levine glasses and check out their spark. So, without further ado, let's start with this list of top rated Adam Levine glasses and sunglasses.
4 Flattering Adam Levine Glasses to Check Out Now!
Adam Levine Glasses From Sugar - the Music Video
'Sugar' is a song from Maroon 5's fifth album which was released in 2014. The third single of the album, this song was written by Adam Levine himself along with Mike Posner, Dr. Luke, and Jacob Kasher Hindlin. 'Sugar' is a funk-pop disco song that has been loved for 20 weeks straight as one among the top 10 of the hot 100.
The video was shot in Los Angeles after being inspired from the movie 'wedding crashers'. The inspiration led Maroon 5 to crashing weddings that were happening in the city at the time in that video. Although, these weddings were completely staged according to many sources on the internet.
Nominated for the best pop group performance at the 58th grammy awards, 'Sugar' is also YouTube's 11th most viewed video in 2020.
During this video, Adam Levine was wearing blue tinted glasses in the style which was a particular blend of wayfarers, square and round shape. As most of his glasses, these were in the beguiling black colour and thick rimmed with thick temples. Thus, drawing attention to his scintillating set of eyes and not diverting the attention his mesmerising voice and pop song deserves.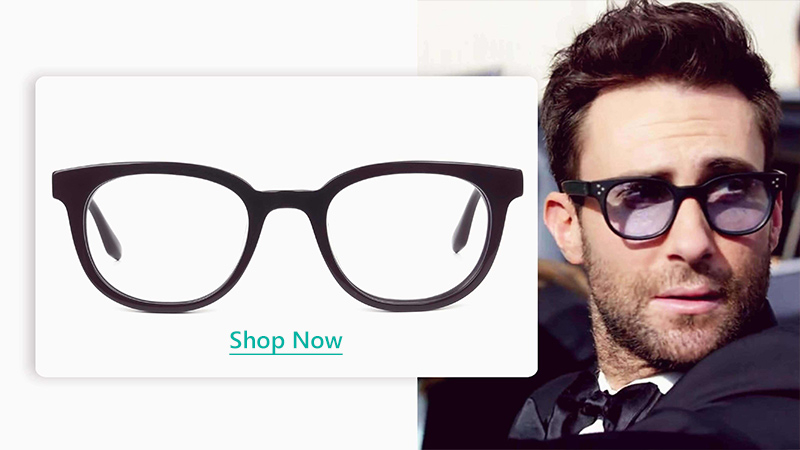 We have two similar pairs for you to try. One is a black pair of vintage horn rimmed glasses. It has the same style blend of square, round and wayfarer shapes. The thick rims and temples make it captivating enough for people to notice your magnificent eyes and shower their compliments on your flamboyant look.
The pair is made with plant based cellulose (acetate) that is not only cool for the environment but is also lightweight and thus keeps you from any headaches or eye strains that come with heavy frames. The comfort is graced with the top notch quality and strength of acetate, as it promises durability.
Being completely black, the frames are highly versatile and suit almost any occasion or attire. You can get these in the same blue tints as Adam Levine and flaunt similar looks like his in the video.
Another pair inspired by Adam Levine glasses that we have for you, is called Warford. The pair has a similar shape like the one donned by Adam in the video, but a distinct nose bridge. The keyhole nose bridge adds to the uniqueness and accentuates your appeal instantly.
The rims and temples are thick as inspired from Adam Levine eyeglasses but the temples are of the translucent type in blue. This another distinct feature is a modern touch to the all black pair and helps you style differently and make your mark in the fashion eyewear game.
Adam Levine Glasses From Payphone - the Music Video
Phone was released in 2012 and featured the world class rapper Wiz Khalifa. The song is from Maroon 5's fourth studio album and was written by Adam Levine, Wiz Khalifa, Benny Blanco, Shellback, Robopop, and Ammar Malik.
The Adam Levine eyeglasses in the video were Aviators. Surprisingly these did not have thick rims and temples and were not in the color black like most of Adam Levine glasses. The shape is a blend of oval and rectangular giving the pair some curves that will compliment you if you have edgy jawline and cheekbones. Also, the pair has black thin temples, with silver rims and a double bridge that can help you stick out a mile.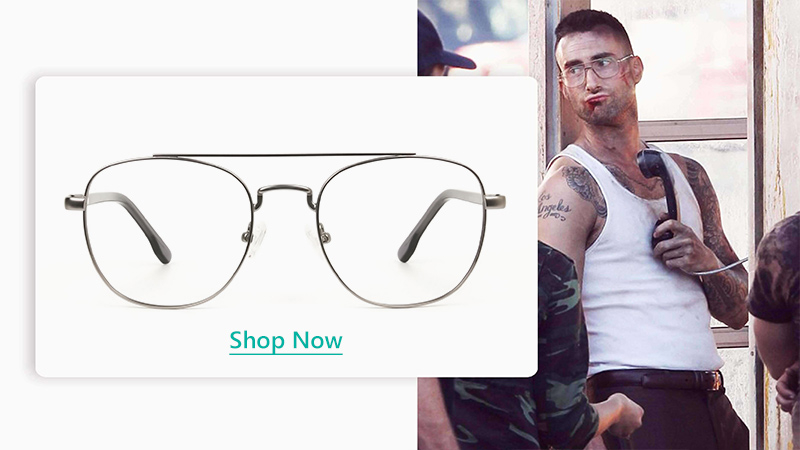 But where to find a similar pair? You guessed it right! Specscart has two similar pairs for you. One goes by the name of Deansgate and is quite a seller. It is in the gorgeous gunmetal colour and has a flat double nose bridge. Similar to Adam Levine eyeglasses it is a blend of oval and rectangular shapes and has thin temples. Overall, it is an awesome pair, especially if you don't want the shimmer of silver as in Adam Levine glasses.
Another pair is for those of you who love the scintillating silver colour. We at Specscart call it by the name of Oxton. It is in the round shape and has unique temple tips that are bound to get you many admiring glances. The blend of silver and black and the thin rims along with the modishness of metal promise a highly stylish pair. And since it is made of metal, the frames ought to last long while ensuring complete comfort as well.
Adam Levine Glasses From The Voice - the Singing Show
The American singer was a coach on the show 'the voice' for 16 seasons. It is a singing competition series where he had quite a great time. He has now moved on and exited the show in 2019 last year and has become a stay at home dad for his kids.
During the show, Adam Levine glasses became a talk worthy point when fans got the opportunity to sometimes criticize and sometimes praise the singer for his eyewear choices.
One of his glasses that were quite talked about was the black thick-rimmed wayfarers in the brown tint. While some fans said that the frames looked quite mesmerizing on Mr Levine, many made fun of it and some disliked it openly.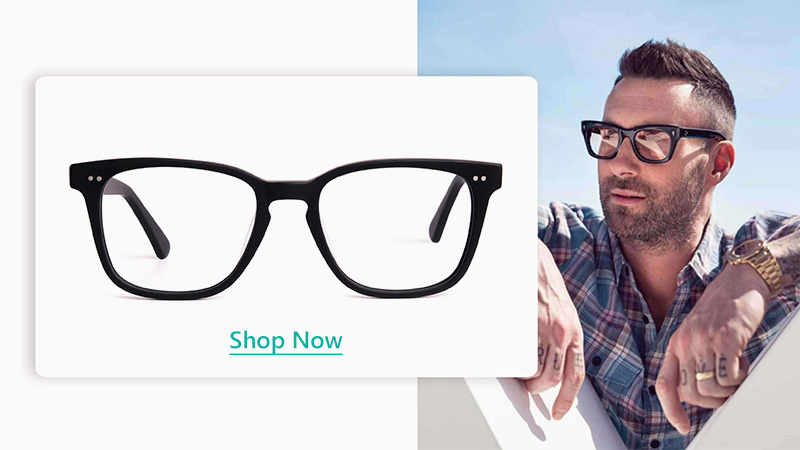 In our opinion, they looked quite magnificent and that's why we bring a similar pair for you to don. The pair is called Wardley. It is a pair with the same signature black thick rims and temples and is made in modish looking acetate just like Adam Levine eyeglasses. What's different is the keyhole nose bridge that is ought to make you stick out a mile as you captivate and attract a downpour of compliments from those around you. The wayfarer shape adds to the bold appeal you wish to portray without losing on the characteristic of minimalistic creativity.
Another pair that Adam Levine has been spotted with on the show are black rectangular pairs of glasses without tints, these too have somewhat thick rims and temples. We, at Specscart, have a similar pair for you but with a modern twist. We call it Bunbury and the modern twist is the slightly embellished temples that amplify the fashionable spirits of the colour black.
Like other pairs, this pair is also made in acetate and has a long-lasting nature along with comfort and style.
Adam Levine Glasses From Animals - the Music Video
Released in 2014, animals were a part of Maroon 5's fifth album. Like 'Sugar', this was too written by the lead singer of the band Adam Levine along with Benny Blanco and Shellback. The song was on number 3 of the Billboard top 100.
During this video, Adam Levine wore a pair of browline frames with shimmering gold metal rims. It's no surprise that the temples were thick and black and the pair of eyeglasses looked highly flattering on the American singer.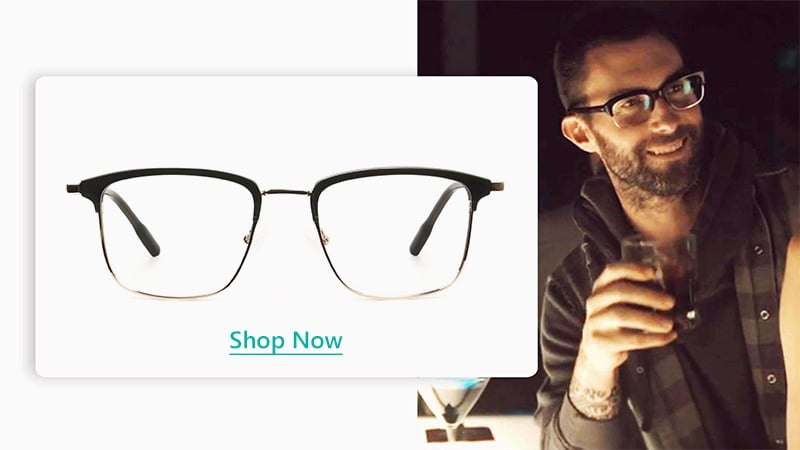 As always, we at Specscart have a similar pair for you. We call it by the name of Dale. It has a similar black browline, with gold rims in the second half of the frames and thick black temples. The nose bridge is of the keyhole type and the frames add a sense of bold to the whole attire. With the classic rectangular shape like the one that Adam Levine donned, the frames add edges to your curvy facial features and amplify your charm. The shape suits best on those with oval and round faces.
The Adam Levine glasses sported clear lenses just like this pair of frames that we are talking about. This retro pair is bound to look mesmerizing on you and that's why we highly suggest you try it.
If you do not want to flaunt the bold appeal, we have a similar pair in the square shape. It has thinner rims and temples and does not take away the attention from your facial features. The pair is called Dalton, here at Specscart. It is yet another metal pair with adjustable nose pads that promise immense comfort and quality.
The Last Word
That's not all, Adam Levine yellow glasses are quite popular as well, along with the wayfarer shaped Adam Levine sunglasses. Here is a pair of sunglasses inspired by the singer's collection. It is called by the name of Ferris and is bound to captivate people towards your beautiful eyes.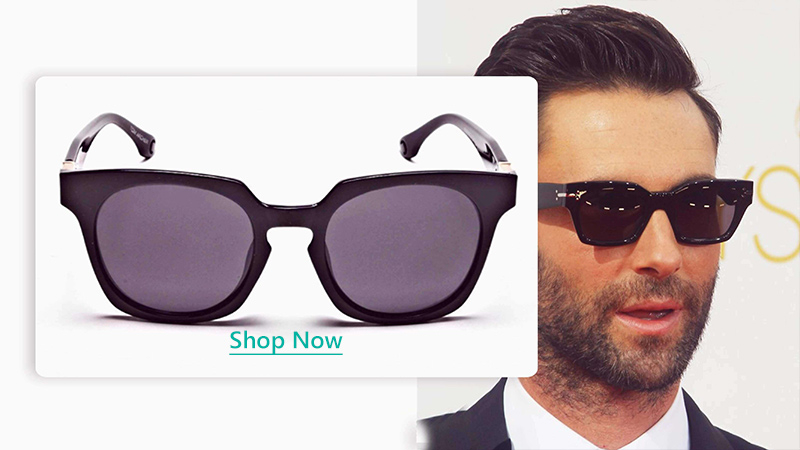 It is a pair in black with grey tints and thick black rims as Adam Levine likes to have. The oversized structure and the embellishment in the temples make it stick out a mile and get you admiring and envious glances in no time.
The pair is from our special collection that has uv400 sunglasses. These have the advanced anti-reflective UV X-pro coating that not only saves from regular UV light but both UVA and UVB light which can cause a lot of eye diseases if not avoided. These can be age-related macular degeneration, cataracts, etc.
In fact, blue light can also lead to similar diseases. It causes the computer vision syndrome ie.,e dry eyes, blurred vision, eye strains and headaches. Plus, this light emitted from digital devices can cause disruption in our sleep cycle leading to insomnia which can raise the chances of having depression, obesity and diabetes.
So, we also suggest you choose the digital blue light protection option when buying glasses online. While it comes at a minor additional cost on regular lenses, it can save you from terrible problems as stated above.
The regular lenses at Specscart already come with anti-glare, anti-UV and scratch-resistant coatings, so you need not worry about the harmful effects of UV light on your eyes if you are wearing glasses made at Specscart.
You can even get photochromic lenses. These turn dark when you go outdoors by absorbing UV light and turn back clear when you come back indoors. Thus saving you the trouble of switching between two pairs.
If you already have a pair of Adam Levine sunglasses or glasses, you can use them and we'll replace the old lenses with the new ones according to your latest prescription. Even if you don't need the prescription, you can get the fully loaded lenses that come with free protective coatings. The service is called reglaze glasses.
Do not worry about shipping charges, as it is always free worldwide. Plus, you can avail the 30-day returns if you are not satisfied with the eyewear. To add to that, Speccart also lets you try 4 frames of glasses for 7 days at the comfort of your home, and this home trial is absolutely free. Yes, we pay for the return shipping as well. So, you can cherish the frames at home and try them as much as you want. What if you didn't like any of the 4 you chose? Return your current home trial package and order another one, and then another, until you find the pair you are looking for.
As the cherry on top, most orders at Specscart are dispatched within 24 hours of receiving the order, so you can even get your favourite pair by tomorrow. So, what is the wait for? Grab your Adam Levine glasses or sunglasses right away!
Our Latest Stories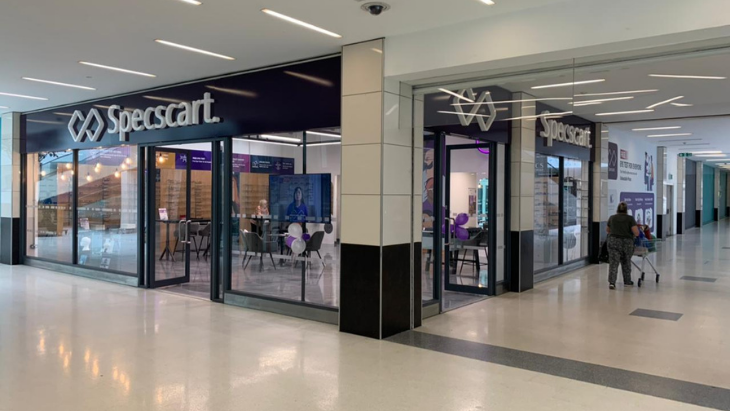 Specscart Blog
Want the latest update on designer eyewear, shades or glasses? Our blogs give exceptional insights into the latest eye care measures and eyewear trends, fashion and style hitting the streets of United Kingdoms. From finding an optician or optometry near you to the latest designer glasses or sunglasses for the summer and spring fashion, you'll learn something useful every day. We publish regular informative measures on eye care, the latest design in eyeglasses and sunnies, celebrity specs and fashionable choices you can make in your lifestyle to up your fashion game. Read on to find information about various glasses types, eye condition and fashion trends in a fun and simple way that you would fancy with a cuppa tea.
10% OFF
USE CODE
READER10
COPY CODE
Hello, fellow reader!
You like to read stuff, and we love that about you!
Here's an exclusive 10% coupon for our Blog readers
Stay Updated
Sign Up for the latest trends and exclusive offers!