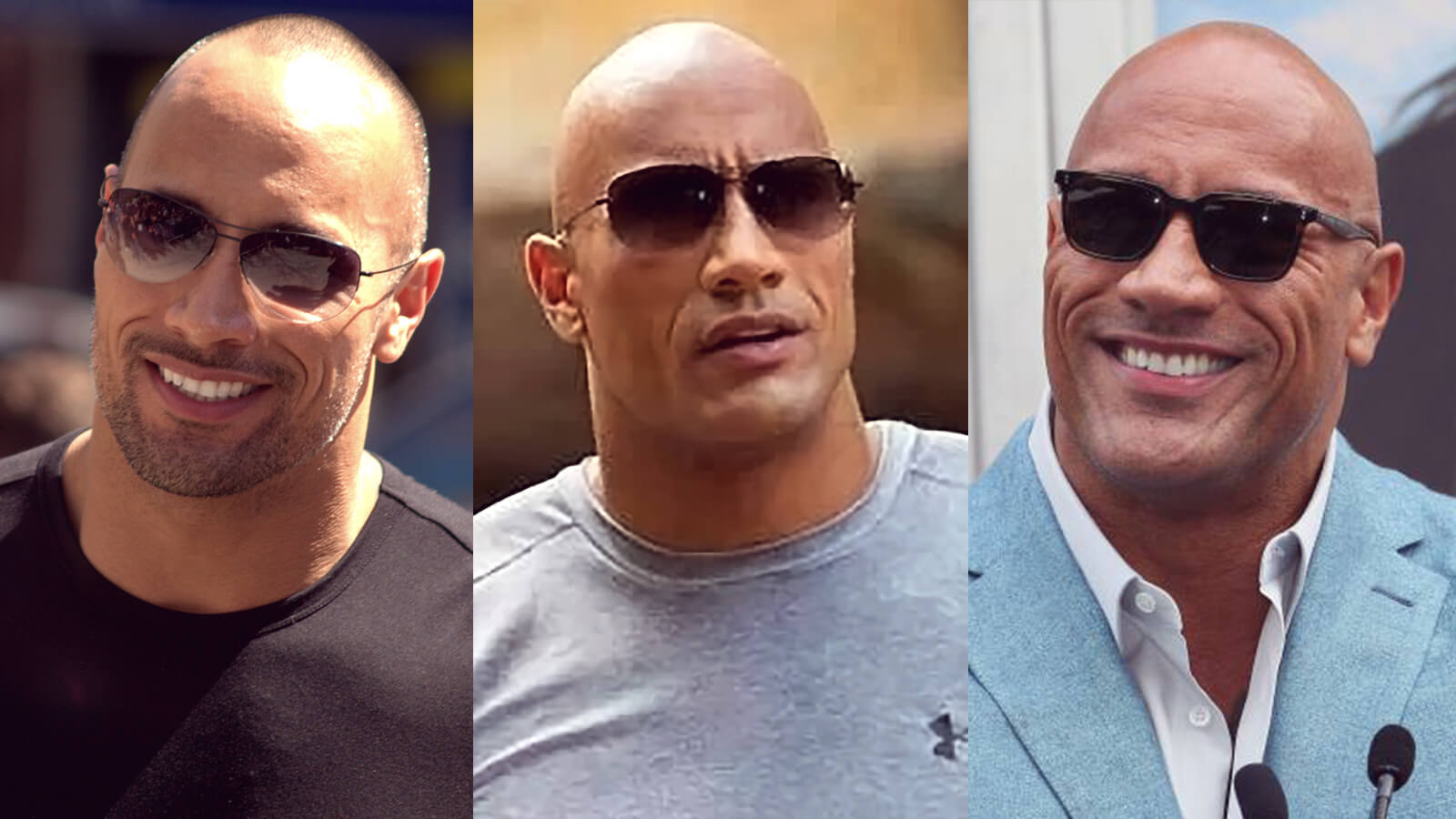 Rock Your Dwayne Johnson Sunglasses Just Like 'The Rock'
Actor, producer, businessman, professional wrestler and a football player- is there any field that Dwayne Johnson has left out?
Johnson's life story is a rollercoaster of various emotions. It is one such story which has the ability to inspire the world. With a troubled childhood and broken dreams, Johnson was asked to play for the football team by his high school teacher named Jodi Swick, who is a father figure to him now. His football dreams kicked off when he got a full scholarship from the University of Miami but that did not end well.
After quitting his football dreams because of his growing list of injuries, Johnson procured a contract with the WWF and became the foremost third-generation wrestler in the company's history. He won a lot of championships and is still considered one of the greatest wrestlers of all times. Definitely, not the one to restrict himself, the wrestler turned into an actor in 2001 with 'The Mummy Returns' and became an A-lister in Hollywood as well. Having won the title of world's #1 international box office star twice, The Rock is one of the luminaries who inspires us to never settle and aim for higher things every day.
The reason behind his success is he always healthily takes challenges. From acting to wrestling or even meaningless social media challenges which people gave him, he wants to be the best in everything.
"Success isn't always about 'greatness', it's about consistency. Consistent, hard work gains success. Greatness will come." – Dwayne Johnson
Hard work is one such thing that has been consistent throughout Johnson's life which has made him what he is today. We have seen him taking risks in his professional career and he never shies away from anything that life throws at him. Before becoming a successful wrestler, Johnson wanted to pursue playing football but that dream of his was undrafted. He was forced to move back with his parents. With a positive attitude, he worked even harder to achieve his dreams. If you ever feel demotivated about your fitness goals, the one person who should be followed is The Rock. He treats his work out time as a sacred time. Even at the age of 48, he has a very strict workout schedule and follows a very nutritional diet.
From dealing with depression to becoming a legend in wrestling and acting, Johnson has come a long way and isn't stopping anytime soon.
Johnson's Eye-Catching Style
Johnson's style personifies simplicity. This remarkable physique and natural charisma shine through with The Rock's equally striking fashion choices. His exceptional fashion sense is applied across different attires for different events. The Rock's stylist Ilaria Urbinati believes in 'aggressive styling'. She makes him wear all the experimental and bold looks which he carries off effortlessly. Her style for him includes making him wear well-fitted clothes which highlight his sculpted body. His style is a blend of casual and formal dressing. There is no doubt about him being referred to as a modern-day fashion icon as an everyday man can relate to his sense of style.
On a regular, casual day he is often seen wearing a basic t-shirt with a tight crew or a v neck combined with a pair of jeans. He mixes casual with formal and wears suits with no tie or suits with a basic t-shirt for the red-carpet events.
Dwayne The Rock Johnson Sunglasses that Stream Magic
Whether it is acting, wrestling or styling, Johnson knows how to put his best foot forward. It is quite evident from his Instagram feed that he takes his sunglasses game seriously.
Dwayne Johnson WWE Sunglasses
If you are a fan of The Rock since his wrestling days, then you must be familiar with how his style has changed over the years. When he won a championship, he came to take the belt wearing a pair of rectangular golden sunglasses which made him look like a true winner. If you want to flaunt the unstoppable look which The Rock flaunted back in the day, you can buy a similar pair at Specscart and we call it LEYLAND S1. These gold metal sunglasses give a person an adventurous or bold vibe.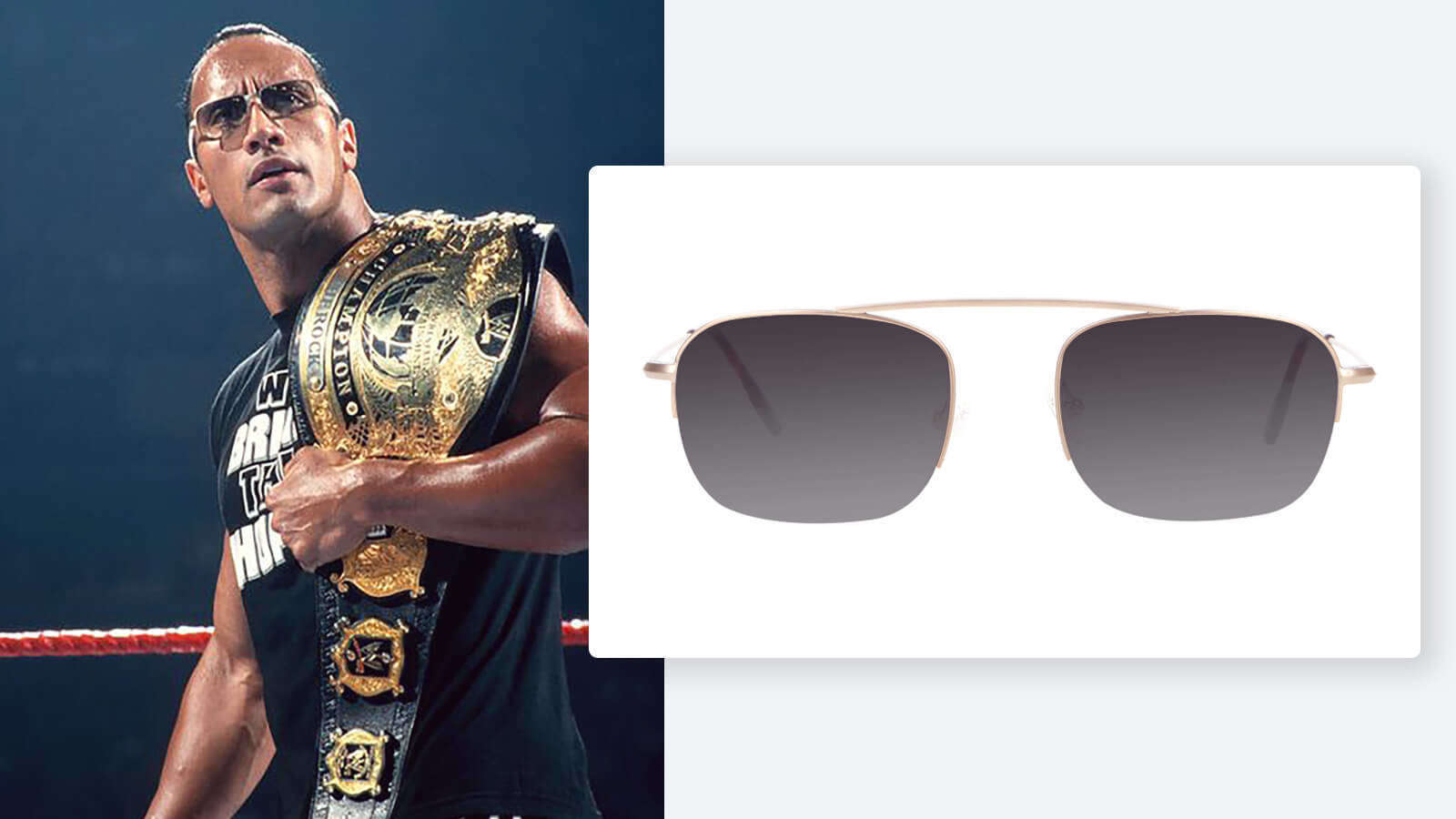 Gentleman Vibe
Giving the perfect tough looks of a wrestler with a goatee, The Rock was often seen wearing a black brow bar sunglasses. This clean shaven and subtle look can be rocked by anybody if worn with a formal suit and the rectangular brow bar shades similar to Johnson's. The Dwayne Johnson sunglasses in a similar look that we have is called HARDY CA2. These come with polarised lenses which not only protects your eyes but also enhances your looks.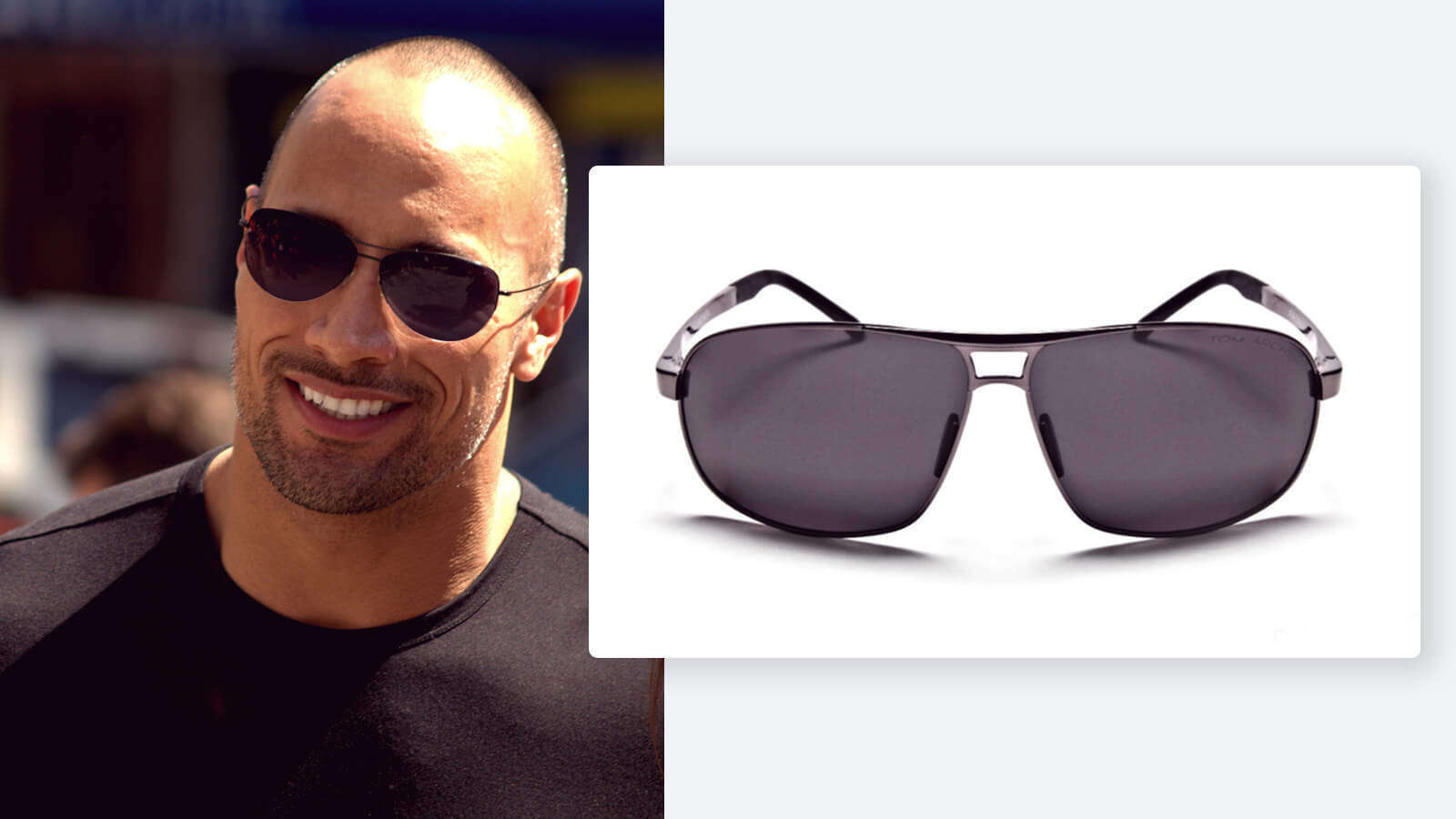 Self-Assertive Bald Look
Generally, people say that you should wear sunglasses according to your face shape. This statement is considered invalid when it comes to bald people. All types of frames get highlighted on bald people. So, it becomes necessary to them to try out various glasses and then find the right one which suits them the best.
Unlike people who lose hair due to a medical problem or with age, The Rock made a choice to shave his head in 2010 because he did not like how it grew. Baldness became a blessing in disguise for The Rock as it helped him to look more macho. It didn't stop him from experimenting with various sunglasses. He can pull off all sorts of sunglasses like aviators, wayfarers, rectangular, keyhole or round sunglasses.
Sunglasses for a Hand and Footprint Event
The Hand and Footprint event is a major incident in anybody's life. All the famous celebrities of the USA have their imprints on cement slabs which are stored in a Chinese theatre IMAX in Hollywood and the official name of that place is The Forecourt of the Stars.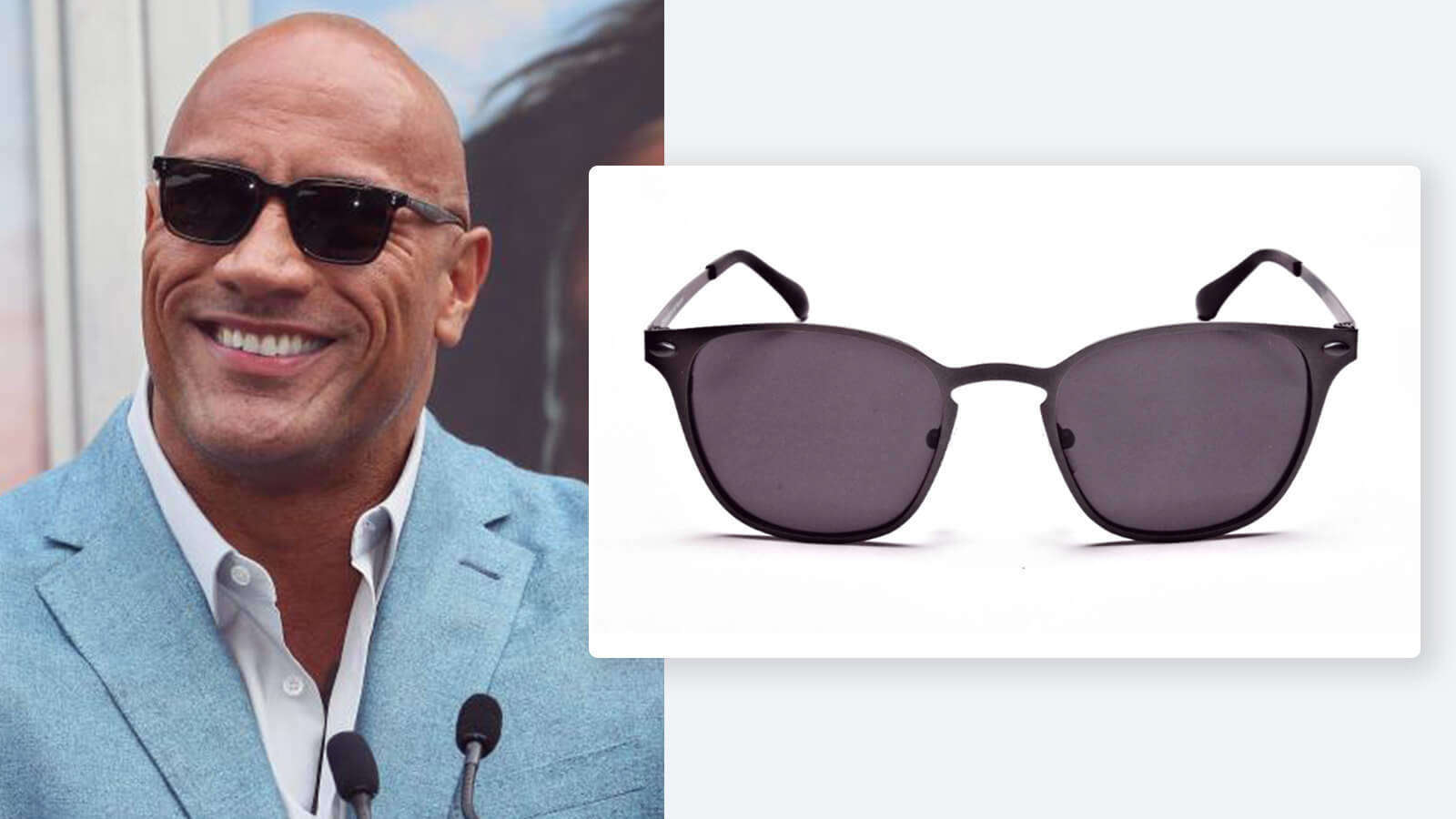 The Rock is a huge star, and was also invited to give his imprints in 2015. For the event, he wore a light blue formal suit white and white shirt leaving top buttons open for a casual look. For complementing his look, he wore standard black Rectangular wayfarer sunglasses. It balances the look by softening the round contours of his face.
You can get this look easily by checking out our sunglasses with the name FERRIS NI1. These sunglasses are from our inhouse designer brand which has a matte finish and are very lightweight.
Johnson's All-Time Favourite -The Aviators
There is no doubt about him being a fan of aviators. Who isn't, right? Aviator sunglasses is an evergreen and classic style of glasses. This can be the safest option for anybody who doesn't want to experiment on their first buy. It is a versatile frame which can be worn for formal or informal occasions.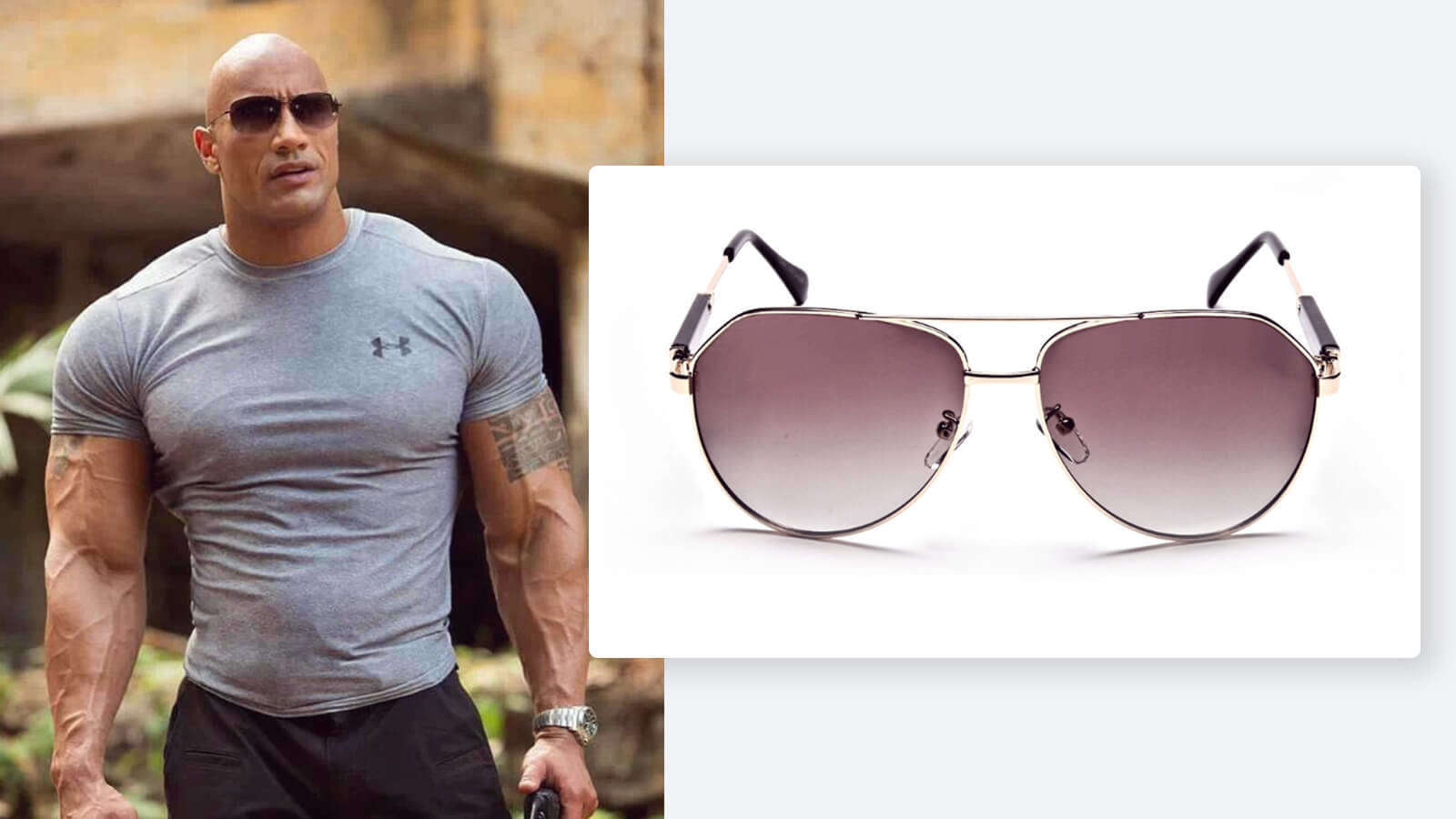 The Rock has donned wearing numerous styles of aviator sunglasses. The tear-drop shaped frame surely made him look athletic and sophisticated at the same time. It also has an aura of a typical bad boy attached to it which makes people look strong and confident.
Throughout his cinematic career, it is evident that in most of his movies, he has been seen wearing aviator sunglasses. Whether it is Fast and Furious, Jumanji, Rampage, Pain and Gain or The Rundown, the aviators have been his go-to style. It seems like when it comes to clothing choices The Rock has evolved a lot but with his sunglasses, he doesn't experiment much on-screen.
Specscart Hayes is similar to what The Rock usually wears. These brown and gold gradient sunglasses can make you look attractive like a stud and polished like a gentleman.
With an extensive range of Specscart's aviator sunglasses, you can totally pull off any look of The Rock. Our elegant designs and affordability can together make you achieve all the looks you have been aspiring for a long time.
Our Latest Stories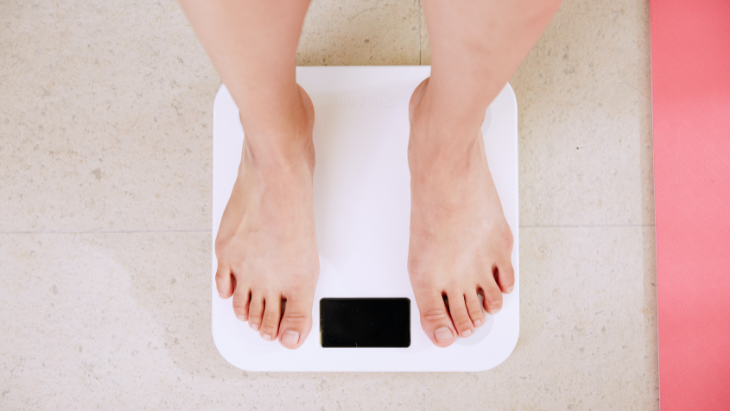 Specscart Blog
Want the latest update on designer eyewear, shades or glasses? Our blogs give exceptional insights into the latest eye care measures and eyewear trends, fashion and style hitting the streets of United Kingdoms. From finding an optician or optometry near you to the latest designer glasses or sunglasses for the summer and spring fashion, you'll learn something useful every day. We publish regular informative measures on eye care, the latest design in eyeglasses and sunnies, celebrity specs and fashionable choices you can make in your lifestyle to up your fashion game. Read on to find information about various glasses types, eye condition and fashion trends in a fun and simple way that you would fancy with a cuppa tea.
Hello,
fellow reader!
An exciting offer is on the way to your inbox!
You like to read stuff, and we love that about you.
Enter your email-ID below and we will send you an exclusive offer!