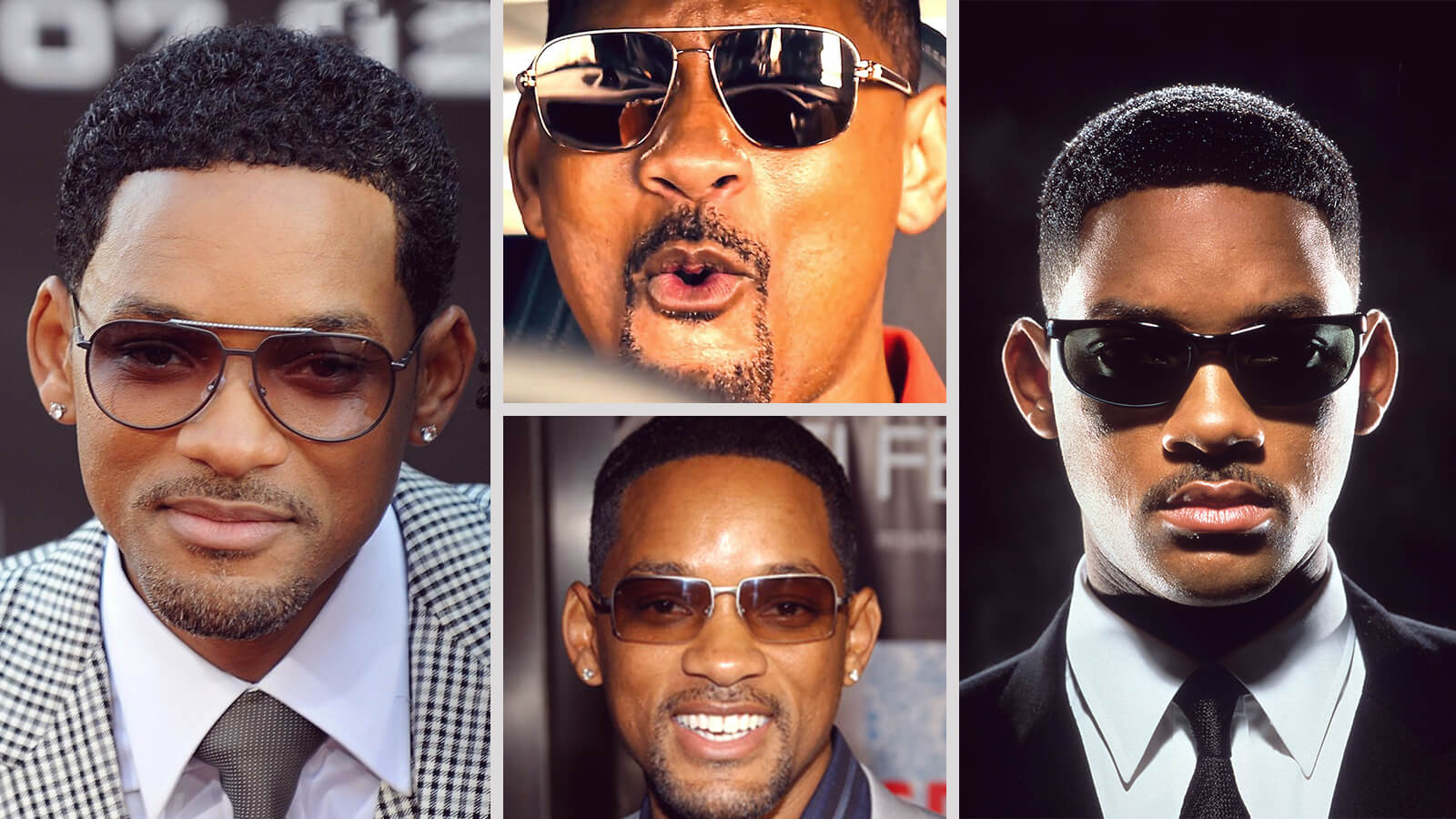 Live your "Will" to be as Iconic as Will Smith Sunglasses
It is hard to beat the man of superior acting chops, entertainment, humour, action and rapping. The man is none other than Will Smith. We know you are here to grab those iconic Will Smith sunglasses, but let us take some time to admire this perfect and humble human being on earth.
Will Smith is the real-life "genie" on the earth who serves only a good and positive impact on our lives. In the recent Red table talk interview that gained 25 million viewers as of now, led us to Will Smith's very personal detail in his life. It gave us an insight from his vulnerable times and his relationship with wife Jaden Pink Smith.
Will Smith, born on September 25th is an American actor, singer/rapper, and Producer. He started with his rapping career and then turned into a Hollywood A-lister. The journey from "Fresh Prince of Bel-Air" to doing moving and inspirational movies like "The pursuit of Happiness," "Independence Day", "Men in Black", "Ali" and many more. His breakthrough role came from the 1990s TV sitcom "The Fresh Prince of Bel-Air '' that got him immense love and recognition. It got him worldwide fame and helped to bag him two Golden Globe Award nominations. Later, he went on to headline the legendary role of Martin Lawrence in the film Bad Boys. His science fiction film "Independence Day" as a Marine Corps pilot got him the highest-grossing box office success of $817 million in 1996.
His impressive portrayal of heavyweight boxer Muhammad Ali in 2001 got his Academy and Golden Globe Award-nominated. The movie Pursuit of Happiness (2006) remains a beloved film that is very close to my heart and everyone else. Not to mention, he also gave a compelling performance in the action film Suicide Squad that collected $745 million at the worldwide box office. In 2019, his role of Genie in the live-action adaptation of Aladdin became the highest-grossing film with $1 billion global box office collection.
If you are still waiting on some kind of wrap on his lifetime of success, then, unfortunately, there is none. There is no end to the success of Will Smith acting, rapping or making youtube videos. Who does not want to see more of him? His witty charm, phenomenal acting skills and being a wholesome entertainer gives this generation so much hope and positivity. He is extremely down to earth and relatable even after climbing the highest success ladder.
Now that you have heard enough though we know a genuine fanatic when we see one. We are sure you must be aware of everything already hence let us proceed towards Will Smith fashion goals. Just like his rapping, his fashion he rock game has bars!
This man knows how to pull any piece of fabric or accessory most effortlessly. I think we have well established that he is a man of many talents. Luckily for you, you can steal one of them. Here is a guide to Will Smith urbane and cultured fashion style and his iconic eyewear.
Let us look into the closet of the classic range of Will Smith Sunglasses and Glasses
Iconic as Classic Aviators: Bad Boys for Life
You know you are about to see a badass cop just by getting a glance of his choices in sunglasses. Let us be honest! How many cops can pull this exceptional way of dressing? Will smith sunglasses in bad boy for life lets you know that they are not your average cops. Look at their sunglasses, these are extraordinary. Just like his movie, he has taken a classic and turned into a bolder, bigger and badder pair of aviator sunglasses that is way out of everyone's league.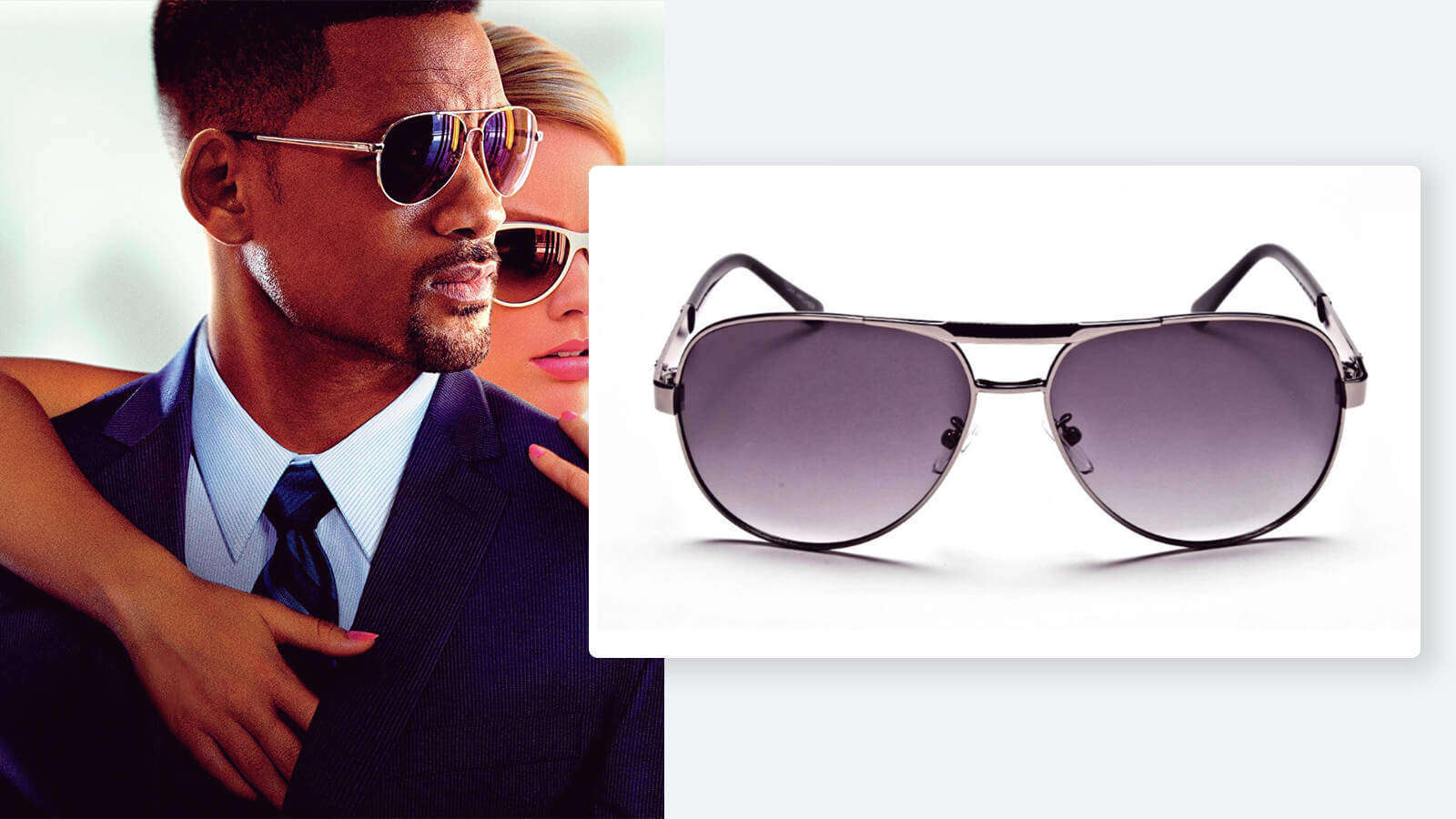 The sunglasses are your classic Aviators sunglasses though they' have got refined into a unique design with a polished texture and unique detailing. A piece of art, we will like to say.
Get the look of the classic aviators with Specscart's Gunmetal grey "Hayes". It has got a similar type of excitement, shine and elegance the will smith sunglasses, bad boy, for life exhibit. The colour of the sunglasses is pretty unique and universal. You can sport them on any occasion and outfit.
Back to Basic: Men in Black Sunglasses
There is no limitation on how much my father enjoys watching "Men in Black" movies. Fortunately, he managed to get me also interested in these funny crime flick movies. "You know what the difference is between you and me? I make this look good". Agent J, Will Smith character from the Men in Black says it out loud while slipping on his new suit with his iconic sunglasses. Will Smith sunglasses made him the lovable character he got known for, putting these sunglasses behind his ear, he conquers alien activity and the hearts of the audience.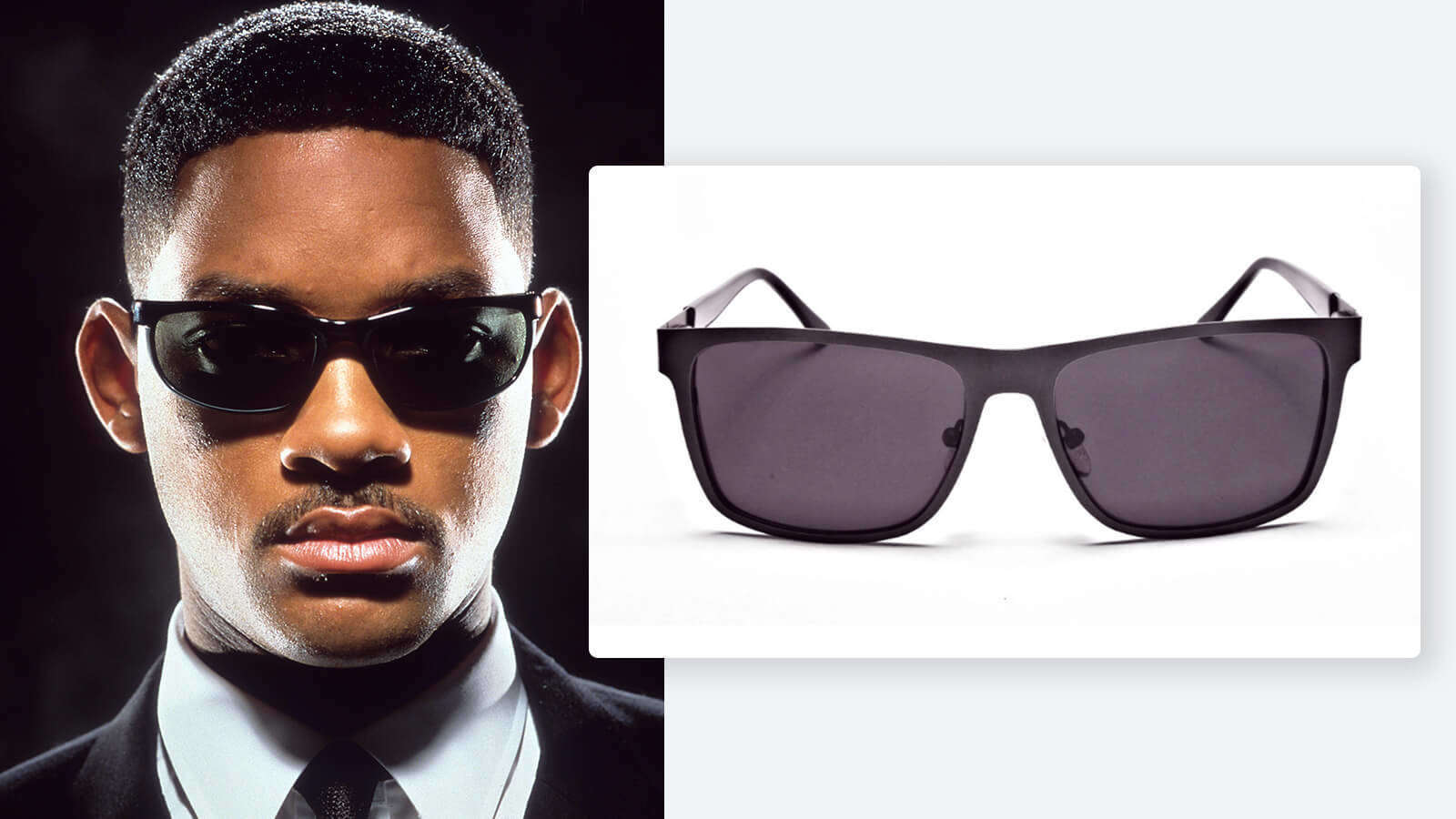 There is no hero without his iconic outfit. It was the suits and sunglasses that made Will Smith stand out in Men in Black. The way he makes these regular pairs of sunglasses look good is truly remarkable. Steal the look and reminisce those days!
Specscart "Aron" is a quality pair crafted into sleek black frames with a perfect monotonous design that is all you need. There is no less or too much in black colour. Every amount of black composition is extra special. Hey! You might catch some Aliens, you never know! If not, then you can always use it to block out the sun UV rays. Either way, these sunglasses will remain nostalgic!
Set high Bars - Aviator Top Bar Sunglasses
How to redefine something like a timeless classic? You don't. You just add new elements of vividity. That is all. Why change the classic Aviator shape that's inevitably always going to be a favourite. That is what these Will Smith Sunglasses tells you. Worn on his adept black and white suits, the bronze sunglasses with a contrasting top bar adds interest and change to the same old design. Style Tip- you can style your look in the same design but adding an eye-catching feature to it that draws attention, looks creative and gives a fashionable appeal.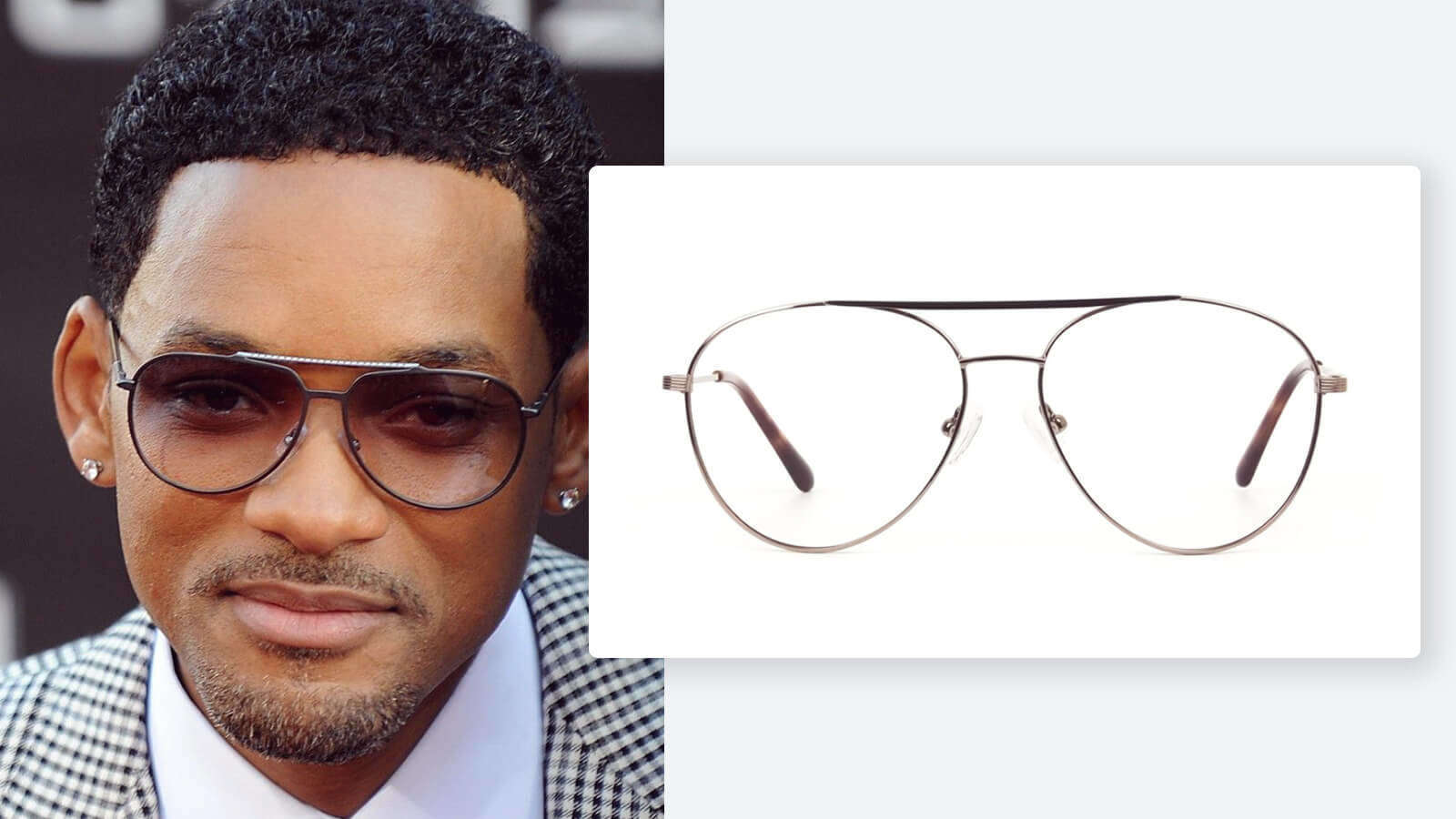 If you want the vintage look but with some modernity, then Specscart "Statham" is the perfect selection. You get a notable Will Smith sunglasses look with an addition to an exploration of more colour, lustre and distinctive design. It is for those you are on a constant lookout for something different in the same design. The same design of Aviators is kind of getting on our nerves hence we need more to explore and experiment. This Full-rimmed aviators with flat top bar are subtle yet fills the void of creative design, colours and offers a contemporary look.
Open for Exploration - Half-rim Sunglasses
Who knew that Will Smith was pro in experimenting then when Instagram Inflnucers have started just to claim it. These half-rimmed rectangular sunglasses have such beauty that it is worth wearing every time. The small size, matrix theme and on top of that, the distinctive addiction of half-rim, gives it a top-notch finish. There is no reason not to try this. It is so much different than the sunglasses you see in the market. It manages to give you a striking and sharp look.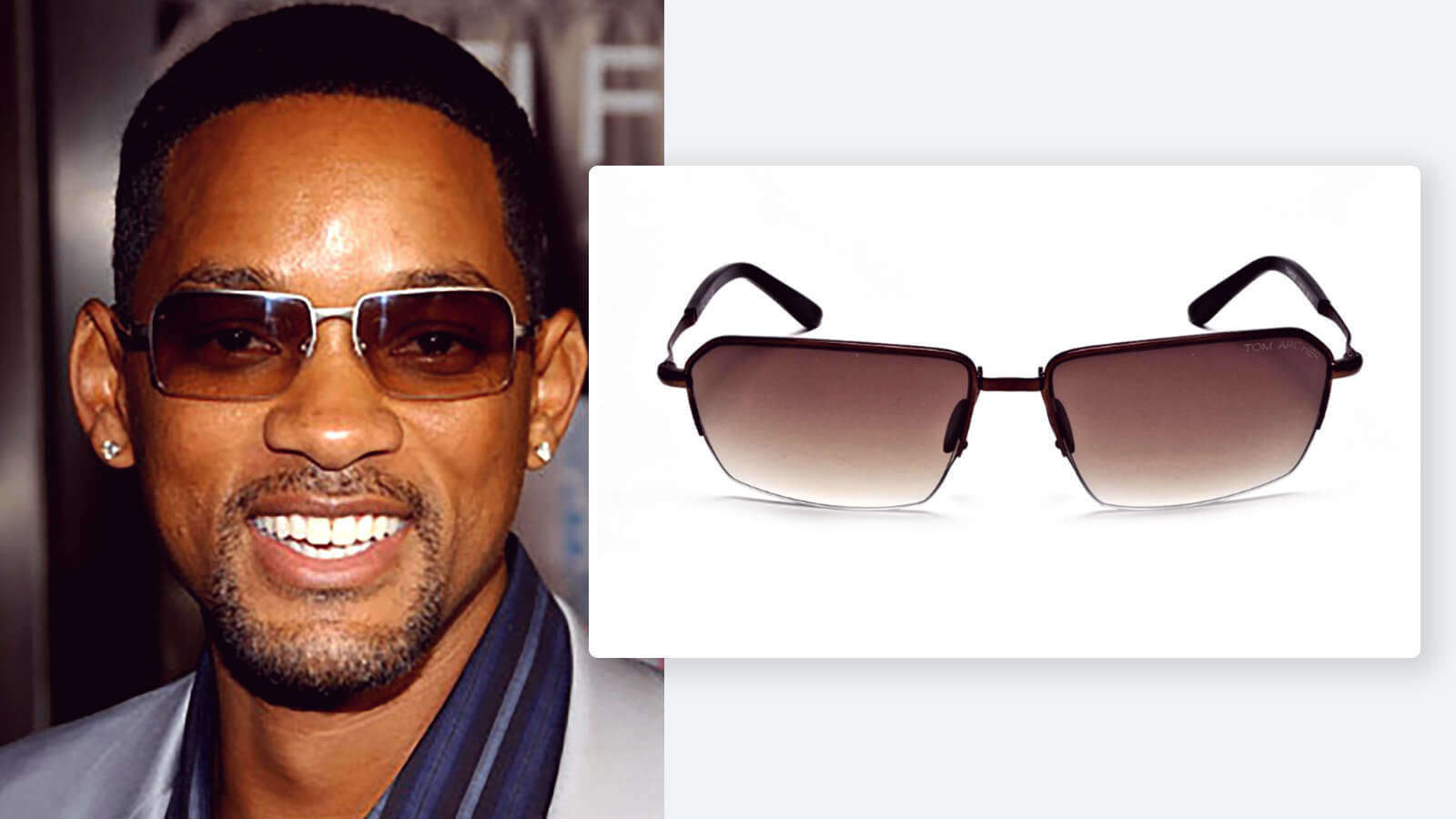 Do not hold yourself anymore and get the look with Specscart iconic "Martin". Martin has got the perfect essence of Will Smith sunglasses look you have been looking on the internet. It has got the same vintage vibe in beautiful bronze texture. The sleek-looking half-rim design with attractive tinted lenses creates the magic on your face. Works for both men and women, these are purely made for an Instagram post.
The one you're waiting for: Classic Aviators
"At the end of the day, it is all the game of focus". True that. If you also focus on these sunglasses, doesn't it remind you of the authentic Aviator sunglasses that have been all over the place? Yes! It is the classic Aviators. The posture look is from the movie "Focus" starring Margot Robbie and Will Smith. Smith plays a con man and dupes pretty much everyone on the street with his intern Jess (Margot Robbie". He is seen as the calmest, composed and collected who hides behind these glasses and learns about everyone. Under those shades, he investigates what you do, what you like, how you lie, etc. With its help, he uses it to make money from the targeted people.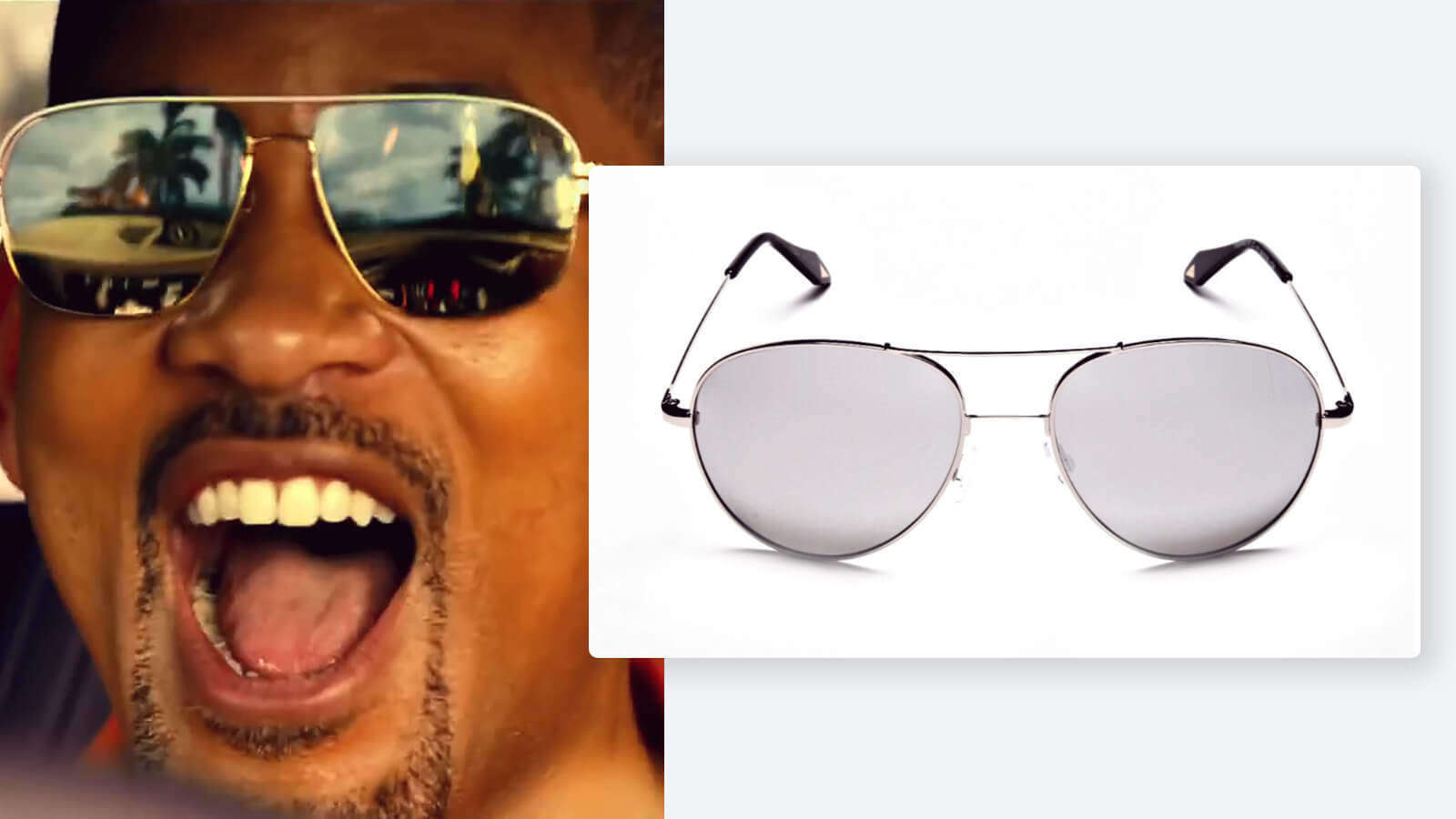 He's not just any con man, he uses scientific statics and studies to cheat and make loads of money from the rich.
The zeal and the appeal lie in the way he carries himself. Get a similar possessed allure through this iconic Will Smith sunglasses with Specscart "Hayes".Hayes captures the true "con", we mean the mysterious look you would like to accomplish in a single stroke. The silver lustre and elegant design adds surplus beauty to these sunglasses and makes it an exquisite pair of elegance to add in your wardrobe.
Our Latest Stories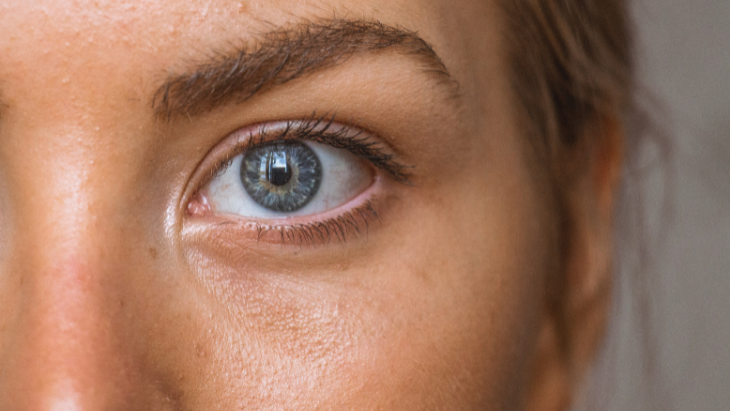 Specscart Blog
Want the latest update on designer eyewear, shades or glasses? Our blogs give exceptional insights into the latest eye care measures and eyewear trends, fashion and style hitting the streets of United Kingdoms. From finding an optician or optometry near you to the latest designer glasses or sunglasses for the summer and spring fashion, you'll learn something useful every day. We publish regular informative measures on eye care, the latest design in eyeglasses and sunnies, celebrity specs and fashionable choices you can make in your lifestyle to up your fashion game. Read on to find information about various glasses types, eye condition and fashion trends in a fun and simple way that you would fancy with a cuppa tea.
10% OFF
USE CODE
READER10
COPY CODE
Hello, fellow reader!
You like to read stuff, and we love that about you!
Here's an exclusive 10% coupon for our Blog readers
Stay Updated
Sign Up for the latest trends and exclusive offers!