Honestly, pulling off a bald look can be extremely challenging. But, with the right pairs of frames, you can now turn heads and slay! In order to pick the best glasses for bald men, all you need to do is choose frames that complement your face shape. Apart from that, you can focus on your style statement and skin tone, thus rocking the eyewear game like no one else. Delve deeper to gain more insights that are related to sporting a bald look!
Choose Glasses that Aligns with Your Face Shape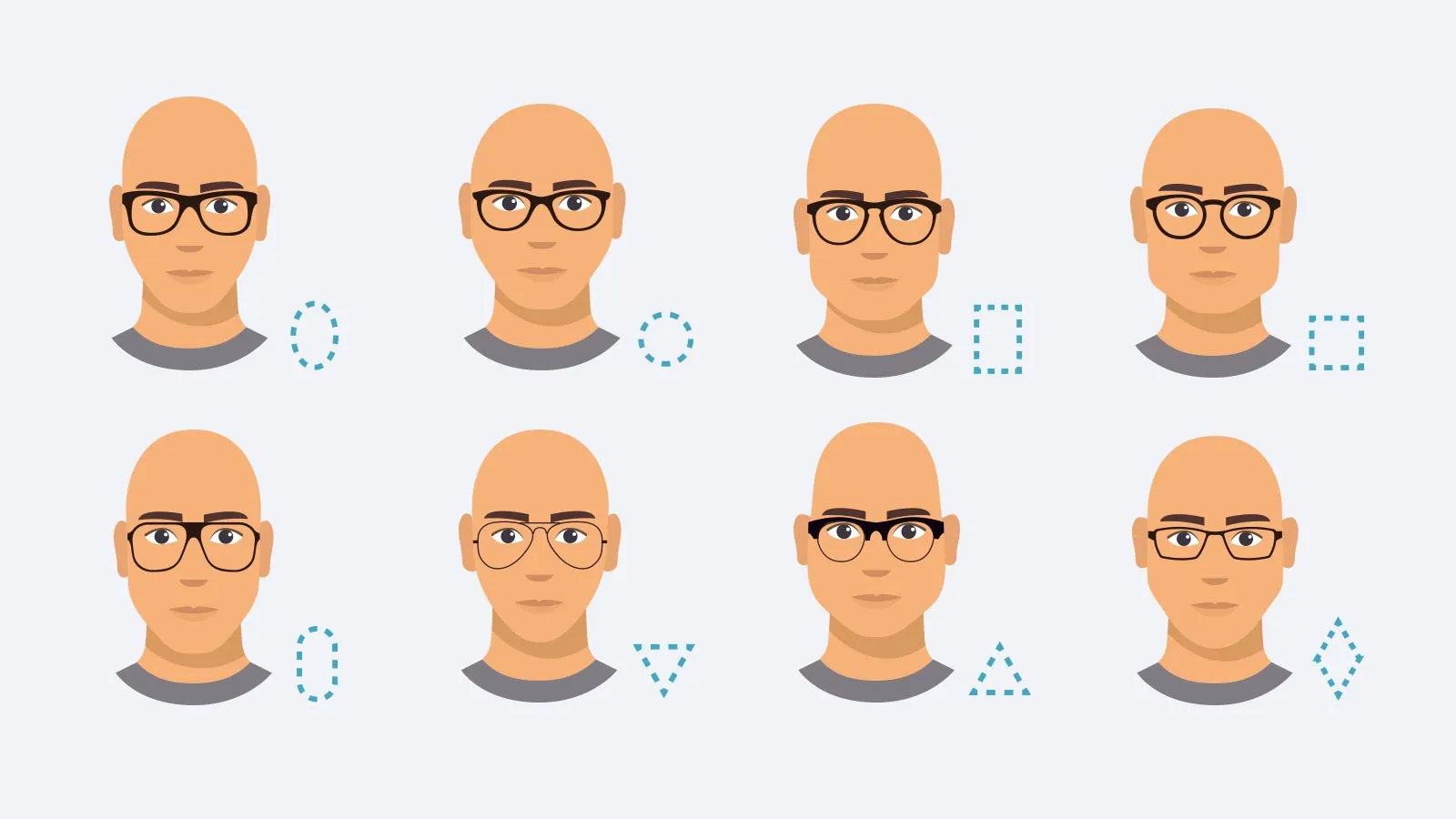 Men's glasses are no less than a fashion accessory- you can boost your style quotient any day and everyday with them. However, if you end up choosing the wrong eyewear solutions, it might take an emotional toll on you afterwards. That's why following this guide is crucial:
Square Shaped Face
Individuals with square-shaped faces have evident jawlines and cheekbones. By purchasing round glasses, you will be able to balance your overall look in the best possible manner.
Round Shaped Face
Round faces typically have uplifted cheekbones and soft facial features. With an aim to bring a contrast, all you need to do is invest in angular shaped glasses. For instance, you can always rely on rectangular glasses with your eyes closed. Their sharp finishing will enable you to grab a showstopper look in no time.
Triangular Shaped Face
People with triangular shaped faces are well-equipped with a narrow forehead and broad jawline. In such cases, you might opt for frames featuring highlighted upper rims.
Heart-Shaped Face
Heart shaped faces are mainly characterised by a broad forehead and narrow chin. Wear wayfarer glasses, thus accentuating your features seamlessly. Apart from that, you can use glasses with lower rims to bring proportion to your face.
Top Styles and Picks for Bald Men in 2023
Let's take a quick look at some of the glasses for bald head stated below:
Square Glasses
Bald men looking for something stylish and unique can always pick these square glasses without any second thoughts. Their eye-catching design along with fine and sharp details are to die for. Thanks to its top-notch durability, making a bold statement and standing out among the lot is extremely easier now.
Tortoise Shell Glasses
The tortoiseshell glasses are an amalgamation of classic style, stunner look, durability and comfort. Grab these beauties and look distinguished without any additional effort. These accessories are solely responsible for creating a sophisticated and commanding look.
Round Glasses
Add a unique character with these round glasses that are exclusively handcrafted with lightweight material. These subtle additions will definitely protect your eyes while making you look absolutely hot!
Aviator Glasses
Summer months and aviator glasses go hand-in-hand. You can wear them for both business meetings and brunch dates. Browse through the internet and pick the suitable shades that capture your attention.
Transparent Glasses
It's time to adorn and embrace your youthfulness with these clear transparent glasses. To be honest, these glasses are trendsetters and are suitable for different complexions and face shapes. Choose these glasses and keep yourself updated with the latest trends.
Thin Rim Glasses
If chunky glasses are not your 'type', you can try out these thin rim glasses curated with acetate. These glasses are indeed the best choice for business attire and corporate offices.
Highlighting Some Bald Celebrities Pulling Off Glasses Like a Pro
Now, pave your way toward discovering some inspiration at a glance. These fashion-forward bald-head celebrities will leave you in complete awe with their high fashion standards.
Stanley Tucci Glasses
Stanley Tucci, winner of five Emmy Awards is already recognised as a successful filmmaker and American actor. But, did you ever watch him slay in his black acetate round glasses? Head toward his Instagram handle and you will find him rocking the eyewear game like a pro.
If you want an elegant, subtle and soft look for your next event, simply buy these pairs and stand out among the huge pack.
Jeff Bezos Sunglasses
Jeffrey Bezos, also referred to as Jeff Bezos is a media proprietor, American entrepreneur, commercial astronaut and investor. This wonderful personality effortlessly outshines everyone by putting on his classic aviators. Check out his Instagram profile and drool on his spec-tacular look now!
we have similar glasses in stock, buy them while rolling at your own convenience. With just a few clicks, these amazing beauties will be delivered right at your doorstep.
Samuel L. Jackson Glasses
Gaining solid recognition after Tarantino's Pulp Fiction, Samuel L. Jackson was awarded with a BAFTA Award. While he has gifted the film industry with a plethora of masterpieces, Samuel is no less than a treat to our eyes with his glasses on. His clear round glasses turn heads; you can't really stop yourself from appreciating this star!
Do you want to feel as confident as Jackson? Well, order these glasses online and you will be ready to nail your look and outfit.
Jason Statham Sunglasses
You might have seen Jason Statham as a hardboiled, tough, violent and gritty personality. But, this guy looks really adorable with his round sunglasses on. If you want to get a glance of his sweetness, simply pave your way toward his Instagram handle and that's it. Twinning with Dwayne Johnson, this image robs our heart in no time.
Grab these sunnies without breaking the bank now! Keeping your fashion sense up-to-date has never been easier before.
Pitbull
Pitbull is already famous as a well-reputed businessman and rapper! Apart from that, he owns his oversized aviators just like a pro! These modern sunglasses seamlessly incorporate an extra edge to his overall look.
What are you waiting for? Get hold of these pairs without any further ado.
You can directly explore Specscart's websites as we have it all under one single roof. Filter your choices and choose the one that fits your needs and requirements.