Sunglasses are that one accessory that can elevate even the dullest outfits, and add an enigmatic spice to even the most dishevelled looks. Be it summers or winters, a true-blue Brit's ensemble is incomplete without the right pair of sunnies.
The thing about the 21st eyewear industry is that it is brimming with options. The abundance of choice can lead to a decision-freeze. But, if you know the right frame for your face shape, then half of the battle is already won! In this blog, we will be focusing on the sunglasses-needs of diamond-faced individuals.
A Quick Brief on Diamond Face Shape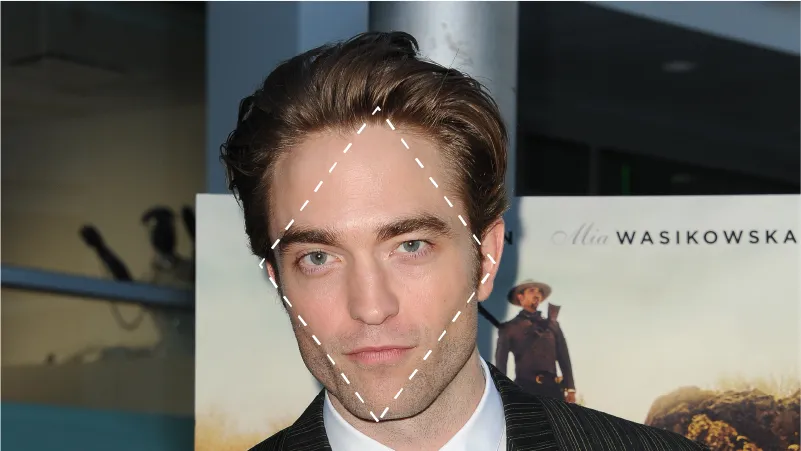 The characteristics of a diamond-shaped face include -
A narrow forehead
Wide cheekbones
A narrow chin
Narrow eyeline and jawline with dramatic cheekbones
If you are blessed with a diamond-shaped face, then trust us, you have truly won the genetic lottery, as diamond faces are the rarest face shapes to have! Some renowned celebrities with a diamond-shaped face include Jennifer Lopez, Johnny Depp, Scarlett Johansson, Kourtney Kardashian, etc.
Now, it is time for the moment you have been bracing yourself for! Let us look at the best sunglasses for a diamond shaped face, so that every outfit looks exquisite, and your best features are accentuated to the 't.' If you want to find the right sunglasses for oval face shape, check out our blog!
Best Sunglasses for Diamond Face Shape
1. Cat-eye Sunglasses
When it comes to the best sunglasses for diamond face shape, cat-eye sunglasses take the cake. They add structure and definition to your facial silhouette and give off a fiercer and bolder look. The upswept silhouette of cat-eyes induce a feminine and flirty appeal to your prominent features, thereby facilitating facial symmetry. To know which A-list personas popularised cat-eyes, read our latest blog!
If you want to stand out and exude a flair as boujee as a feline, then look no further than our MICKEY 4-S1. These stylish cat-eyes in a cool blue hue are androgyny redefined, and exemplify true-blue 'high fashion.'
2. Vintage Square Sunglasses
Nobody can carry a 'timeless' accessory as confidently as a person with a diamond-shaped face. Retro or vintage square sunglasses draw attention away from your jawline and the upper portion of the face, and attract attention to the eyeline. Retro square sunnies have an androgynous appeal, and are a super-stylish choice for fashion-forward individuals.
If 'superlative' had a synonym, our KENSINGTON 2-S2 would be it. These black-tinted beauties have an angular silhouette repackaged in an oversized frame. For outfits with an enduring appeal, these vintage square shades are all you need.
3. Round Sunglasses
Round or circular sunglasses are a cult classic, whose popularity has been thriving since the 1960s and 1970s. Loved by musicians like John Lennon and Ozzy Ozbourne, round sunglasses exude an intellectual appeal infused with an artistic aura.
If you have a diamond face shape, then round sunglasses would look absolutely stunning, as they add balance to your face's angular and sharp features. Besides, round sunnies attract attention to the face and not to the attire. So, if you love the limelight and also have a diamond-shaped face, then round sunglasses should be it.
For detailed information on glasses for diamond-shaped faces, check out our blog!
Reinterpreting vivacity and flair, our BEOLEY truly hits the ball out of the park when it comes to uber-cool sophistication. These flamboyant yellow shades are an absolute stunner, and are perfect for the 'trendsetters.'
3. Aviator Sunglasses
Classy, suave, and truly evergreen, aviator sunnies exemplify the term 'timeless.' Developed in the 1930s, aviator sunglasses have been a fan-favourite of many a-list celebrities and towering figures. If you have a diamond-shaped face, then aviators are something that will bring out the best in your facial structure. Wide-framed aviators are ideal for individuals with a diamond-shaped face, and add symmetry and balance to your highly angular silhouette.
Style, sleekness, and comfort combine to form the ALVINGTON 3-S1. These aviators are ideal for people with a diamond-shaped face, and will help accentuate your best features.
Decided which type sunnies would best match your diamond-shaped face, and are now looking for some celebrity eyewear inspiration? Our latest blog has got your back!
Elevate Your Diamond-shaped Facial Structure with the Right Sunnies
It is possible to wear almost anything and look like a million bucks if you have a diamond shaped face. But, of course, for top-tier enhancement, the four types of sunnies mentioned above will do the trick. The key is to realise that whatever your preference and facial structure, there is a 'frame for every game!