Sunglasses add an effortless oomph to every outfit. They are an instant game-changer, which can elevate your persona and ensemble by two notches higher. Whether it is snowy, cloudy, or vivaciously bright outdoors, sunglasses are fast becoming the go-to accessories for both fashion and eye protection. The primary catch about the 21st century sunglass market is the wide range of options available.
Besides colours, frame types, and lens variants, you can, in fact, choose sunglasses according to your face shape. Of course, the primary factor while choosing sunglasses should be your individual preference. In fact, every pair of sunglasses can look incredible on any face shape, be it oval, round, heart, etc., provided that they are carried well.
That being said, we have to acknowledge that certain frames complement the features of triangle faces more. In this blog, we will check out the best sunglasses for triangle faces.
A Quick Brief on Triangle Face Shape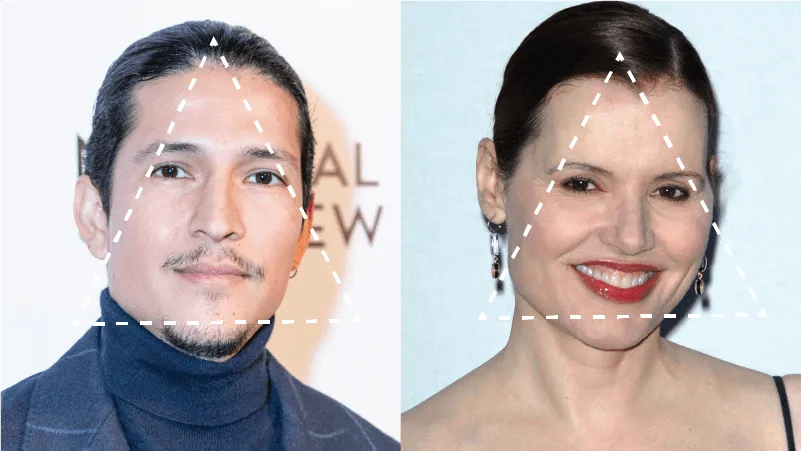 The characteristics of a triangle shaped face include -
A narrow forehead
Prominent jawline, which is often angular
Wider cheekbones, which are the widest part of the facial silhouette
The highlight is that the forehead is the narrowest point of the face compared to other features
Triangle face shapes are relatively rare, and considered the exact opposite of a heart-shaped face. To visualise a triangle-shaped face, just imagine a triangle sitting on its base and pointing upwards.
Celebrities like Danny Ramirez, Geena Davis, Kathy Ireland, and Billie Piper are blessed with a triangle face shape. Now that we have touched upon the basic characteristics, now it is time to dive into the details of the best sunnies for triangle faces.
Best Sunglasses for Triangle Face Shape
Aviator Sunglasses
When it comes to the best sunglasses for triangle-shaped faces, aviators, undoubtedly, take the first place. Aviators have a tear-dropped shape, and thus, look somewhat opposite to that of the structure of triangle faces. While a triangle-shaped face is wide on the bottom and narrow at the top, aviator sunglasses are wide at the top and taper towards the cheekbones. The contrasting silhouettes, thus, come together to add harmony and balance to a triangle face shape.
Pro Style Tip: Aviator sunglasses with a brow bar can add even more emphasis to the top of your face, which is the forehead, and induce balance.
If you want to highlight the best features of your triangle-shaped face, look no further than our ALVINGTON 3-S3. These aviators with a green tint and sleek brow bar will add width to your forehead and infuse more symmetry to your facial structure.
Cat-eye Sunglasses
Cat-eyes are an uber-stylish sunglass type that look amazing on different face shapes, including triangle facial structures. Cat-eye sunnies are typically rounded at the base, and consist of top edges that are upswept at the browline. The lifted features of cat-eyes add emphasis to the cheekbones of triangle-shaped faces, which can be less prominent on triangle facial structures.
Besides, cat-eye sunnies also provide an illusion of a wider forehead, complementing your strong jawline. Want to know the history of cat-eyes?Read our latest blog!
If you want to slay in cat-eyes and highlight your cheekbones, our MINWORTH 3-S1 has got your back. These pink-tinted sunnies exemplify femininity and sleekness!
Square Sunglasses
Popularised in the 1960s by well-known French singer songwriter Francoise Hardy, square sunglasses have a flair and pzazz of their own. However, the best part is that square sunnies add width to the tapered forehead of those with triangle face shapes. In addition, they mirror and highlight the squared-off jaw shape that can be a distinctive aspect of a triangular facial silhouette.
If you want a flattering pair of sunnies for your triangle face, then our KNOWLE 1 has got your back! These crisp sunnies with unique details are, definitely, going to enhance your features and add more balance.
Want to gift sunglasses to a friend with an oval-shaped face, we have the solution!
Rectangle Sunglasses
By emphasising on long horizontal lines that complement a triangle face's wide jaw, rectangular sunnies are one of your best bets. The edgy eyewear provides a crisp and balanced look to your face and breaks up its structure in a proportional way. Thus, rectangle sunglasses can make triangle-shaped faces appear longer and thinner.
If you want a sleek and timeless pair of rectangle sunglasses to add symmetry and proportion to your triangle-shaped face, then look no further than our BUSK 2.
Elevate Your Triangle-shaped Face with the Right Sunglasses
Well, if you have a triangle-shaped face, then you are among the rare ones. By choosing the right sunglasses for triangle-shaped faces, you can highlight your best features and look like a million bucks.