To all the sunglasses enthusiasts out there, we are once again diving into the fascinating world of face shapes and how they can influence our sunnies' choices. In this blog, we will explore the best sunglasses for heart-shaped faces. Accentuate your features with pairs that are taking the world by storm. Check out the oh-so-perfect shades and look absolutely adorable. Stay tuned till the end, mates.
Highlighting the Characteristics of a Heart-Shaped Face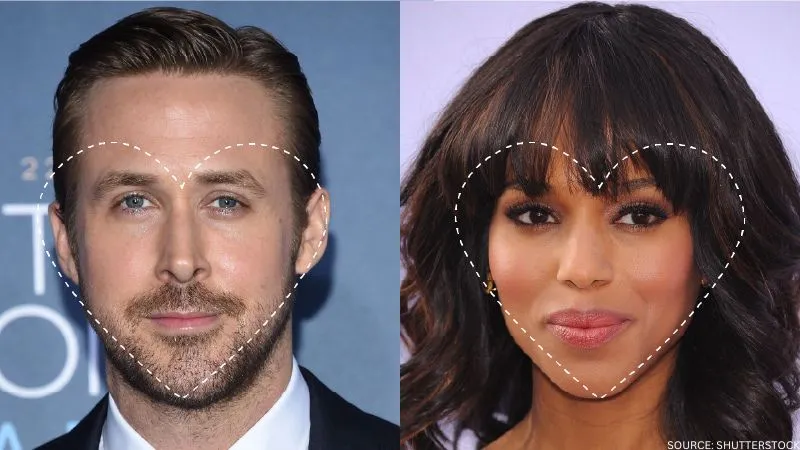 Heart-shaped faces can be characterised by certain features like:
A narrow jawline
A broad forehead
High cheekbones
A pointed and narrow chin
Also referred to as inverted triangles, individuals with heart-shaped faces can sport a lot of styles with ease. We are narrowing down some recommendations right here- check out the sunnies and make a worthy investment. Dig deeper!
Round Sunglasses with a touch of softness are indeed the best sunglasses for your heart-shaped face. Balance your angles and look effortlessly stylish in no time. Vintage, bold yet modern, these sunglasses with funky patterns are everything you are looking for. Delay no more and place an order now- we have got the best collection just for you. Pave your way toward our round sunglasses page and add these beauties to the cart. Best part? Buy 2 and get 15% off.
Heart-shaped stunners can now rock the eyewear game with cat-eye sunglasses - shop with us and look absolutely gorgeous. Thanks to the captivating curves and upswept edges, complimenting your delicate features is as smooth as a cakewalk. Infuse a touch of elegance and playfulness with cat-eye sunnies that draw attention. Opt for fearless fashion and take your style game to new heights.
Heart-shaped fashionistas can always rely on square sunglasses without having any second thoughts. Their modern flair, minimalist and sleek design is to die for. Grab these sunglasses for males and females with heart-shaped faces and boost the fashion quotient- look petite and subtle without breaking the bank. It's high time you need to be the rockstar you actually are.
Be the trendsetter with aviator sunglasses that are timeless and iconic, forever. Enhance your look with these fashionable pairs and outshine others like a pro. Whether you want to sport vibrant hues to classic metallic frames, aviator sunnies are the ultimate fashion ticket to soaring style. Roll in your comfy zone and buckle up. We have head-turning aviator sunglasses that speak 'wow'.
These are some of our suggestions related to sunglasses for heart shaped sunglasses for male and female- have faith and we won't disappoint you, that's a promise. But, don't keep yourself confined to these shapes and recommendations. With confidence on your fingertip, you can look wonderful with every pair of sunglasses. Never take a step back while experimenting with your look- showcase the poise in you and let others admire your true beauty.