Get the look of your favourite comedians with glasses!
Comedians with glasses are not a rare sight. Creative and intelligent minds have glasses in common. Whether it's English comedians with glasses or American ones, those eyeglasses establish a stunning appeal to their face and with their wardrobe. The comedians are only the ones that people pay to watch them speak. There's something about comedy that makes us feel relaxed and relieved of our busy schedules, tiring workdays and a world full of tension from our lives.
Comedy is very important and doing comedy is tough that makes comedians a creative genius that's able to squeeze humour from adverse or day to day activities. For all those who think sarcasm is only about making fun and feel superior from others, then you just don't get this artistic approach at all. Humour is a personality trait that's often remarked among smart and high IQ human beings. Using humour, you create yourself a fun and loving personality to be around or worth listening for despite the seriousness of the current environment.
Many comedians explain to you why some things are weird or even realise what our society is doing wrong. Comedy can be of all types and for many individuals, it acts as a relaxing barrier from mental problems like depression and loneliness. With the help of comedy, you can escape or thrive through awkward situations or serious confrontation. It helps you shine through competition in life and even as a comedian, it helps you cope through life.
Hence, without any delay, head over to Netflix and watch your favourite comedian special stand-up and give them the love they deserve. But before that, if you are intrigued about great British comedians with glasses then read on to get the look.
Get the look of a nerdy, chic or atrocious style of your favourite comedians with glasses
Dave Chappelle
Dave Chappelle is undeniably funny on his Netflix special and socialist for a lifetime. He tends to have groundbreaking arguments that feel relatable and understood by the wider outlet. Think of him as the modern socialist but with more fun and humorous one-liners. He is known for acknowledging the current behaviour of our mankind that's obsessed with fame, culture and being politically right.
He puts a considerable amount of attention to the meaning of our existence or celebrity behaviour in a comedic light that is so innovative and funny to observe. Dave Chappelle glasses are no less ordinary than his personality. He's one of those comedians with big glasses because he's mostly seen in those. He has a love for big and oversized sunglasses. Oversized and dark shade sunglasses are a great choice as it puts you in the ultimate spot of attention and limelight that works great for a red carpet outfit.
Here again, he spotted in a refreshing look other than regularly spotted in gigantic sunglasses. These full-bridge aviator glasses are utterly cheek and sophisticated which makes the 46-year-old comedian look artistic and neatly organised in his black suit. He's one of those comedians with dark glasses that turns these pairs into a bold statement, similar to literally turning the word everything into something funny.
Hannah Gadsby
Hannah Gadsby is an Australian comic who has made a mark in the comedic competition. She's one of those gay comedians with glasses that's offering you a sarcastic look in her iconic queer life filled with trauma and hardships in life. She openly and very humorously talks about being lesbian, pride parades and homophone in her life. In her comedy special at Netflix " Nanette", she let it all out and turned it into a smashing Netflix special that has caused a phenomenal step towards LGBT comedy. With their special, she discloses what many others don't like to talk about, being gay and fills it with an innovative conversation of finding identity, sexuality and her love for arts.
Hannah Gadsby glasses are mostly in a mix of wayfarer and square with subtle yet dark gradient texture. It goes with her look as she mostly dresses in dark suits which makes the eyeglasses pop-out on her face even more sophisticatedly. The best part of her tortoiseshell glasses is that they are great for casual and for the most important occasion of your life, the design is so versatile that it falls effortlessly at any event.
Greg Davies
Greg Davies in his square glasses is the only type of glasses you'll get to see in his dressing style. One of the best British comedians with glasses shaped into a square is an amazing storyteller and funniest guy on this planet. You can't get over his gleaming smile and sweet short stories filled with funny mistakes and worthy moments that you'll wish to be friends with. The shocking part about Greg Davies' glasses is that he doesn't experiment with a distinct design.
Don't say that older comedians with glasses always tend to go with a single choice. We think that the best possible reason for him sticking with a single solid pair lies in finding the one. Once you find your ultimate style, you don't anyone anymore.
Richard Ayoade
"Don't let these glasses fool you, I am actually very stupid" quoted by the comedian and director himself. Richard Ayoade is known for his nerdy look from the day he stopped in the entertainment industry to this day and there is some truth. He's one of those black comedians with glasses that will make you laugh all day long with his smart and dry humour. From writing a book about an atrocious movie seen with his wife, this British comedian with glasses and afro hairstyle gives us the perfect nerd look.
He's the iconic comedian with thick glasses that suit his look perfectly on any outfit and occasion. He stars in many British Tv shows, games and quizzes which is made even more enjoyable with his ironic and sarcastic humour. You won't laugh out loud with him but you'll be always in awe with his dry wit.
If you know or watched his shows then you'll know that Richard Ayoade doesn't think of himself as a style icon. However, he's one of those unlikely style icons that pull effort in his dressing style if you give him a good span of attention. His dressing style involves suits mostly and with a different texture, he ensures his glasses are matching. He's also one of the first comedians with pink glasses that made it look highly sophisticated and chic. However, he's also a comedian with black glasses in a bunch. He has his style which involves the classic eyewear of them all, black frames and based on occasion and outfit, he dresses according to the matching colour.
Michael McIntyre
Michael McIntyre glasses are rectangular as it is the only design he appreciates in his glasses. Michael Mclntyre is a household name for his sweet and funny take on general issues like siblings, patents and the whole world at once. The approach of his comedy is always relatable to everyone which made him the highest-grossing stand-up comic in 2012.
He's one of those comedians with glasses old style of frames that is mostly rectangular. He keeps the vintage rectangular glasses look alive that gives him an adorable look on stage.
Did you find your favourite Comedians with glasses yet? If you love their look then go ahead and try it and upgrade your frame game. Don't just admire these female and male comedians with glasses but also watch their comedy specials this quarantine while you get a wardrobe makeover. Who knows you might develop some humour from these brilliant minds.
Our Latest Stories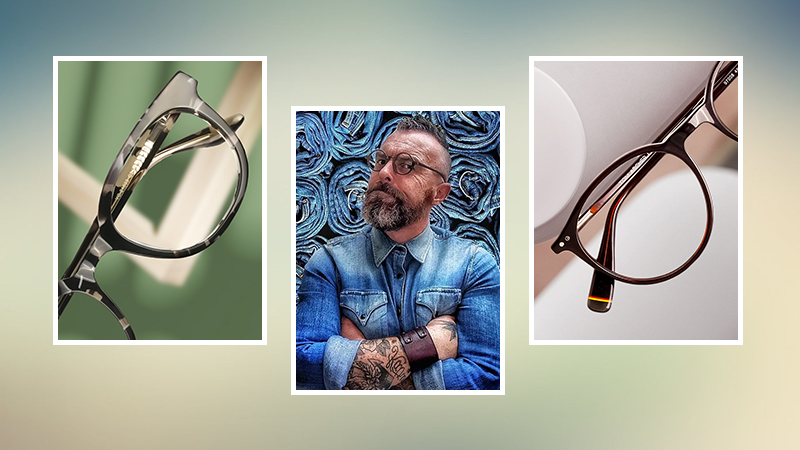 G
Gemma Gough
Published on October 23, 2021, 6:20 am
Men's glasses 2022: Key trends you should know
Men's eyewear for 2022 has exciting silhouettes. From reworked aviators to conventional square glasses, read all that you need to know about men's eyewear trends in 2022
Learn More
Specscart Blog
Want the latest update on designer eyewear, shades or glasses? Our blogs give exceptional insights into the latest eye care measures and eyewear trends, fashion and style hitting the streets of United Kingdoms. From finding an optician or optometry near you to the latest designer glasses or sunglasses for the summer and spring fashion, you'll learn something useful every day. We publish regular informative measures on eye care, the latest design in eyeglasses and sunnies, celebrity specs and fashionable choices you can make in your lifestyle to up your fashion game. Read on to find information about various glasses types, eye condition and fashion trends in a fun and simple way that you would fancy with a cuppa tea.
Hello,
fellow reader!
An exciting offer is on the way to your inbox!
You like to read stuff, and we love that about you.
Enter your email-ID below and we will send you an exclusive offer!