From America's youngest millionaire aka Kylie Jenner to Supermodel Gigi Hadid and Kendal Jenner, luxurious eyewear has become a necessary accessory and bold fashion statement that has led to an impetus rise to eyewear market. Glasses for girls are not only required for clear vision but also fashionable eyewear that perfectly goes well with outfit and events. A great pair of glasses brighten up our everyday fashion and not only do we feel good even look pretty spectacular. Though personality decides who you are but with some good looking glasses you can sell to be a boffin, nerdy, sexy and chic person anytime. In case you are looking for a new pair of glasses that's chic and trendy and complement your wardrobe then we've got you.
Nowadays there has been large-scale adoption of advanced designed quality eyewear as compared to contact lenses. Young teenagers are focusing on the improved quality and better designing of the eyewear and subsequently opting towards various options of frames, colour and improved quality of vision. Looking back at the latest eyewear trends 2020 that was pretty chic and hipster but we sorted a list that is largely based on the aesthetic and modern in design. We have got ultimate beautiful designer frames with high –quality lenses within several ranges of options that match up with your zodiac sign, different style, vibrant colours, innovative shape and solid material.
Get your hands on these sophisticated glasses frames for girls that fancy a splendid design and as an add-on accessory to match up your wardrobe collection!
1) Modern Marble - Latest trendy Glasses for girls
Rather than the same boring one coloured glasses why not switch to something that's a mix of vibrant colours that makes your look livelier and fun. Go ahead and experiment with your look and change it for artistic and colourful. These marble designed frames are an ideal choice that is created sophisticatedly with a twist of elegant design and texture giving you a classic feminine charm. Marble design depicts peace and calmness so does these glasses as they don't scream fashion but smart organised appearance.
Fiery Purple and Pink
Ultimate desired mix of colours acing the feminine factor with more youthful charm. Great for accessories and brightening up everyday fashion, party and meeting. In addition to that, the hinges make it look more attractive and contemporary.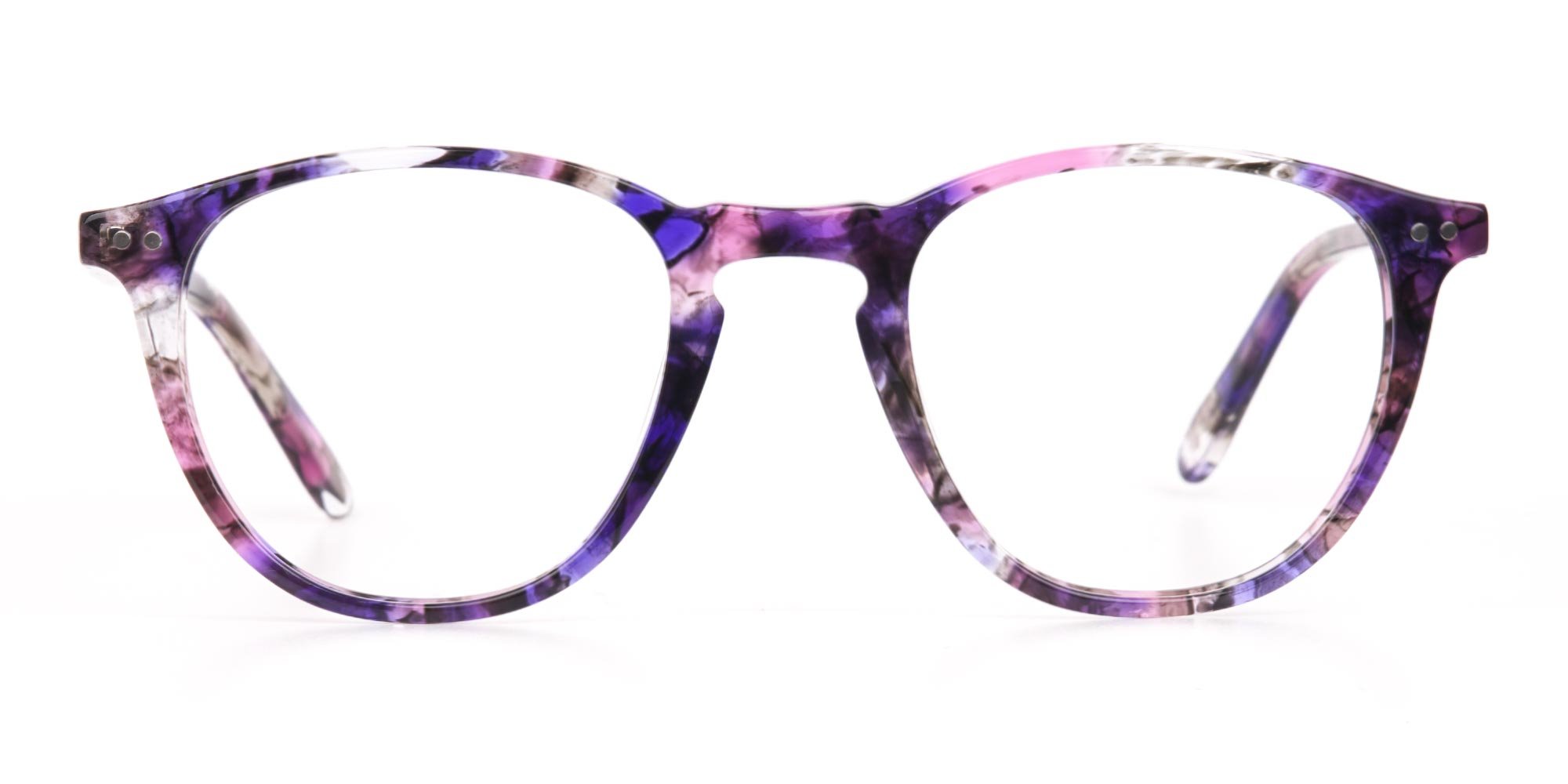 Ocean Blue
Beautiful sparkly ocean blue colour round glasses are the new trendy glasses for girls. These combos are the rarest and brilliant mix ever seen that extremely exhibit freshness and draws attention.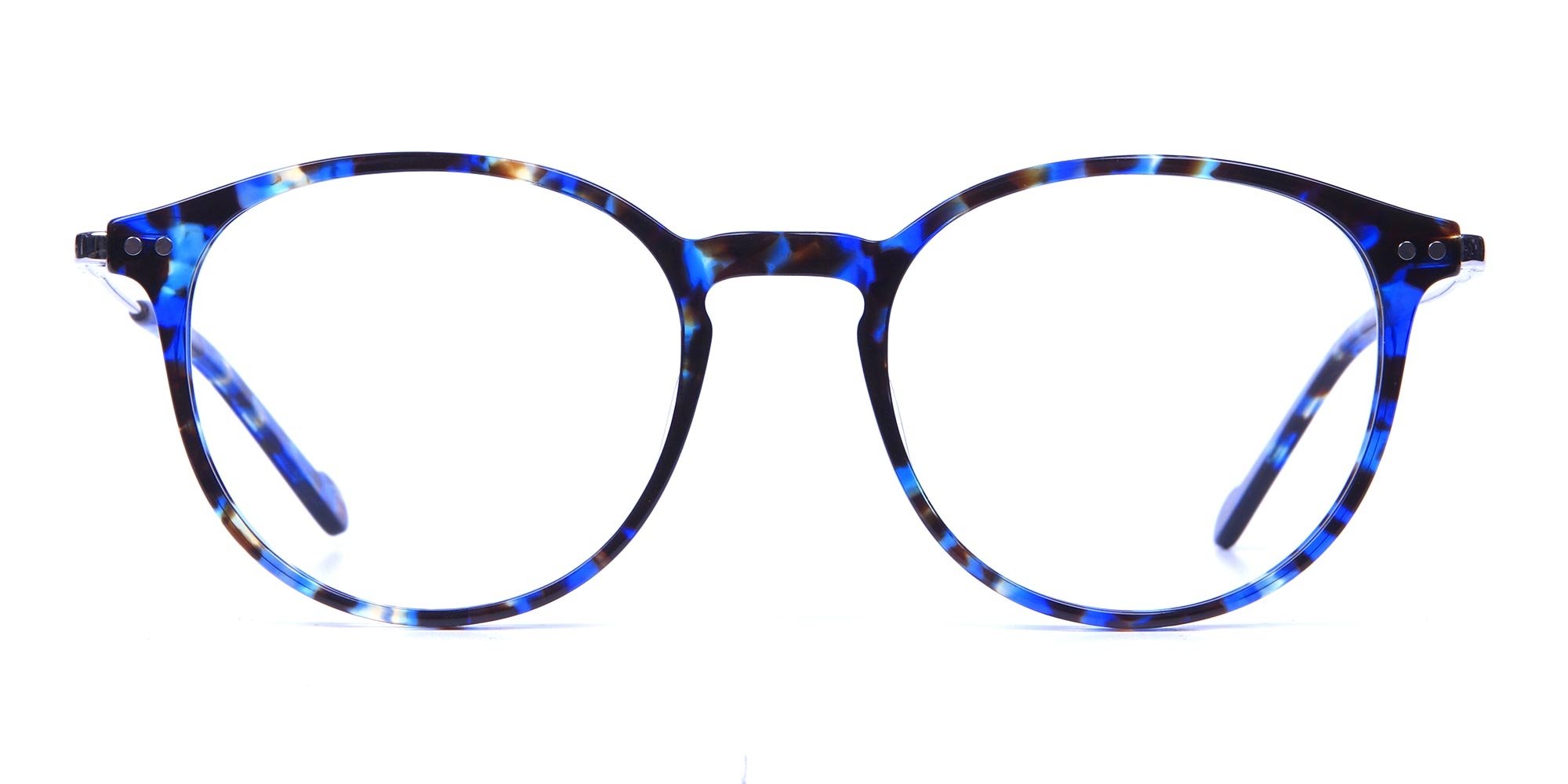 Cherry Marble
Ultimate party wear for a fun and outgoing look! This cherry marble looks fire on every outfit you pair it with. These glasses glam up your appearance and just brighten up the eye area.
Havana
Hot as Havana and blazing as your personality, these Havana glasses are the reflection of your fun-spirited and creative persona. The flaming design is so out of the ordinary and yet an elegant piece.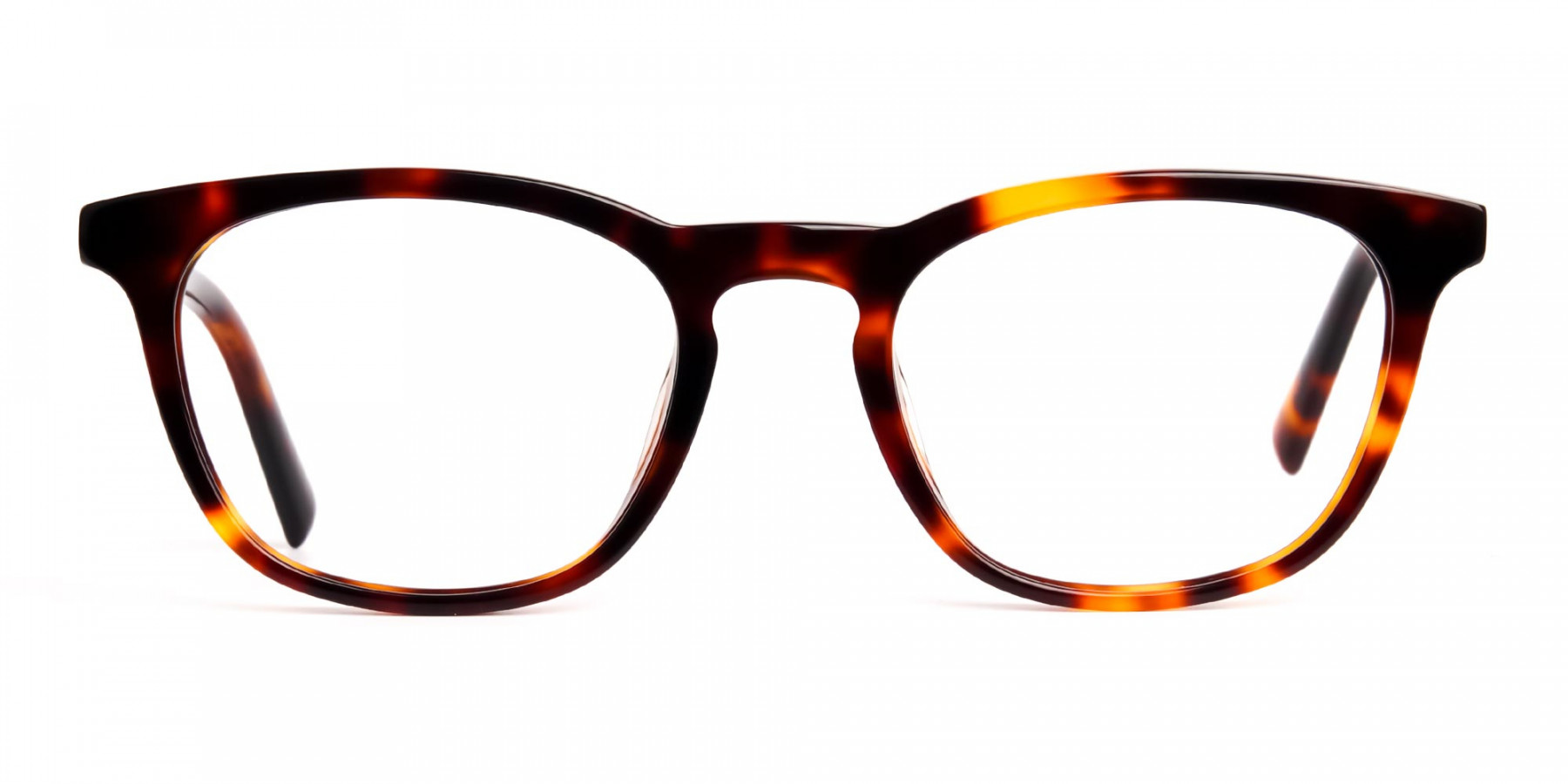 Silver-Grey
Neutral tone and healing exterior marble print design make it an exceptional accessory. A lively mix of beautiful plain with a mix of dark brown colour that brings out a smartly organised look. Inspired by classic design but with a mix of passionate brown.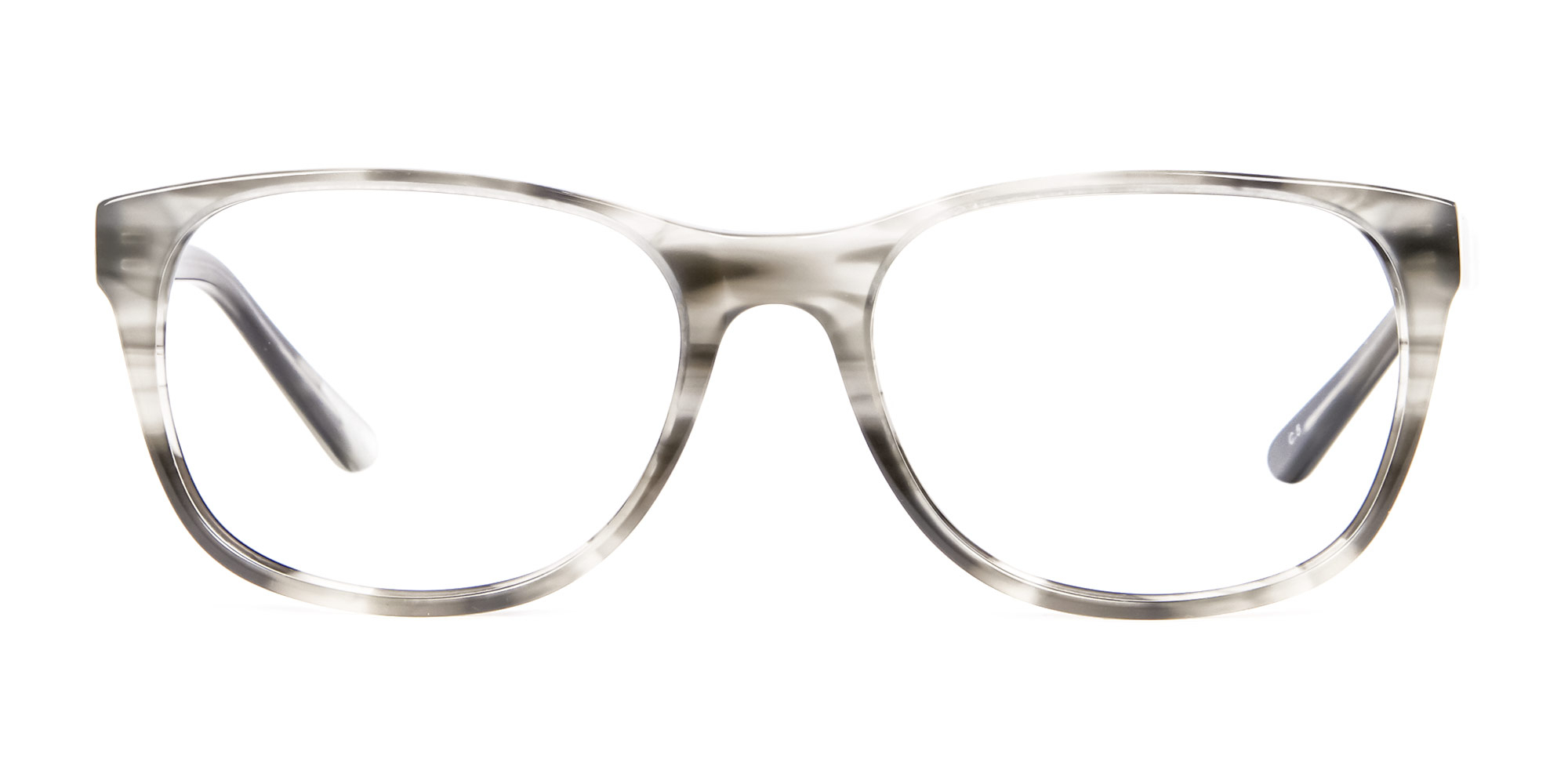 Metallic Grey
Upgraded and evolved design with beautiful marble print. This metallic grey grooves smoothly with any outfit you wear making you look smart and intellectual. Lightweight design and metallic lustre work in perfect harmony.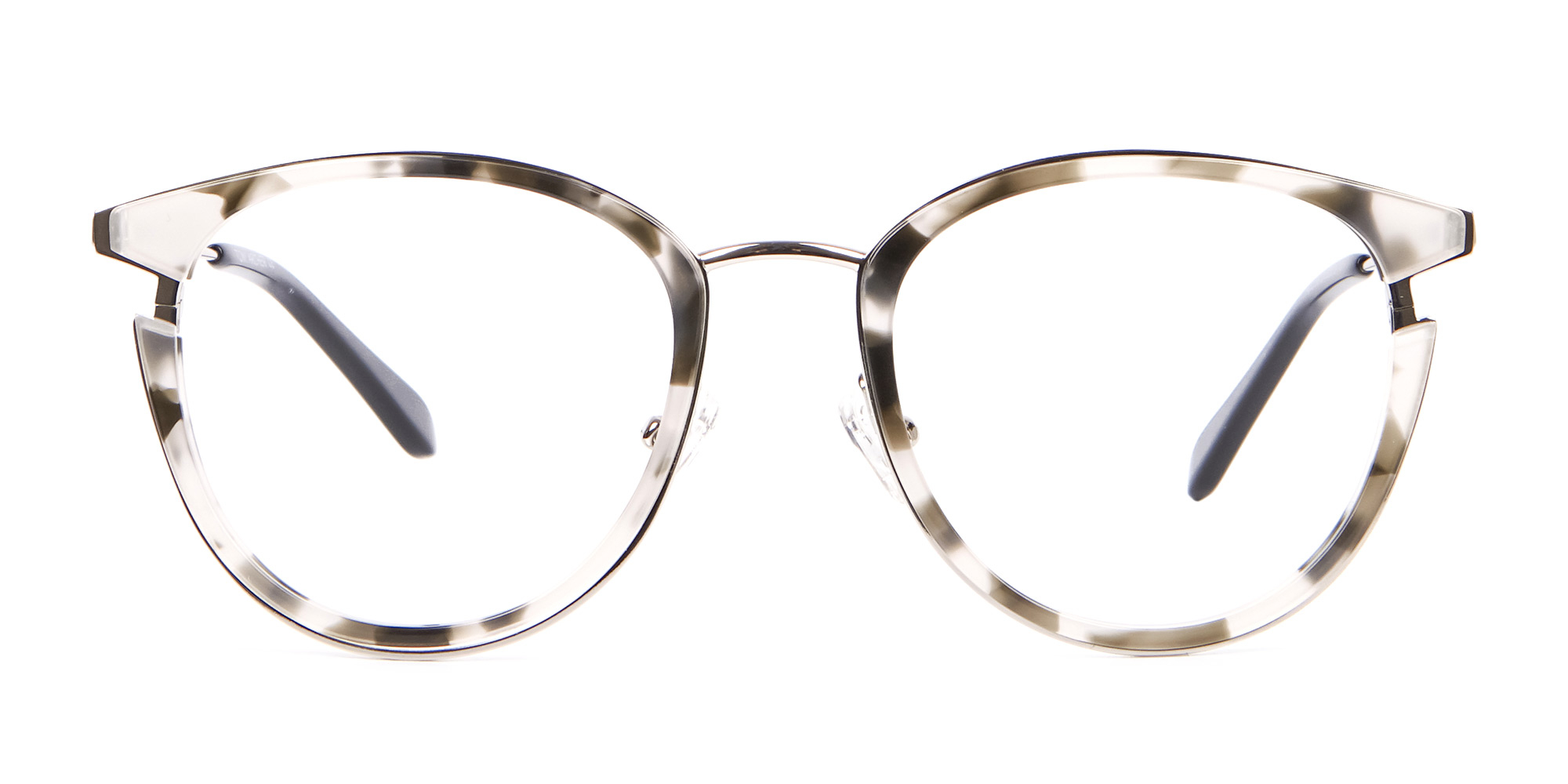 2) Modern Geek Chic – Transform into latest Alternative
As the dictionary defines that a geek is "a person who has excessive enthusiasm for and some expertise about a specialized subject or activity" basically they are a lot smarter than normal ones. Hence they require their alternative glasses that define great performance and a modern look. So these all-new adapted cool glasses for teenage girls who are open to contemporary changes and convention patterns.
Sleek Metallic Red
Tender and fiery just like fire! These unique crafted exquisite round-shaped sleek metallic red glasses are the ultimate beautiful pair. Minimal design and dark colour say so much without even making an effort. Excellent choice that sets with every wardrobe selection.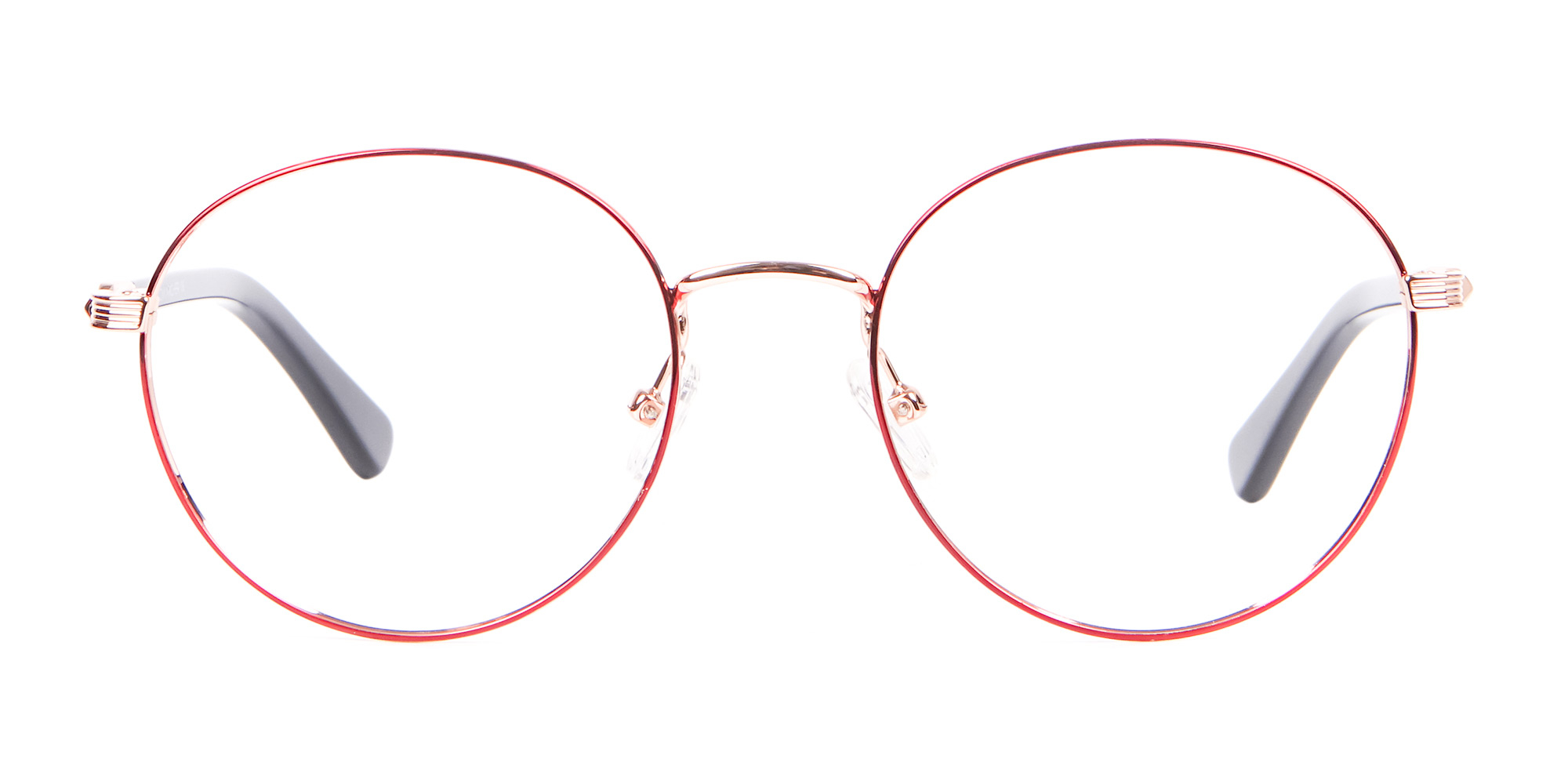 Double Bridged Havana
A little bit of sparked lustrous yellow brings a lot of joy and beauty. This elegant and modern designed double bridged Havana framed with its angled edges make highly sophisticated. The frames do the whole work of creative design and manage to give a transformed look.
Retro Gold Aviators
Gold is a ladies thing! This retro gold aviator's thrived lustre and gloss finish without any efforts made. These are an ideal pair with a beautiful colour combination featuring a trendy shape that gives you maximum cool glasses for teenage girl fashion.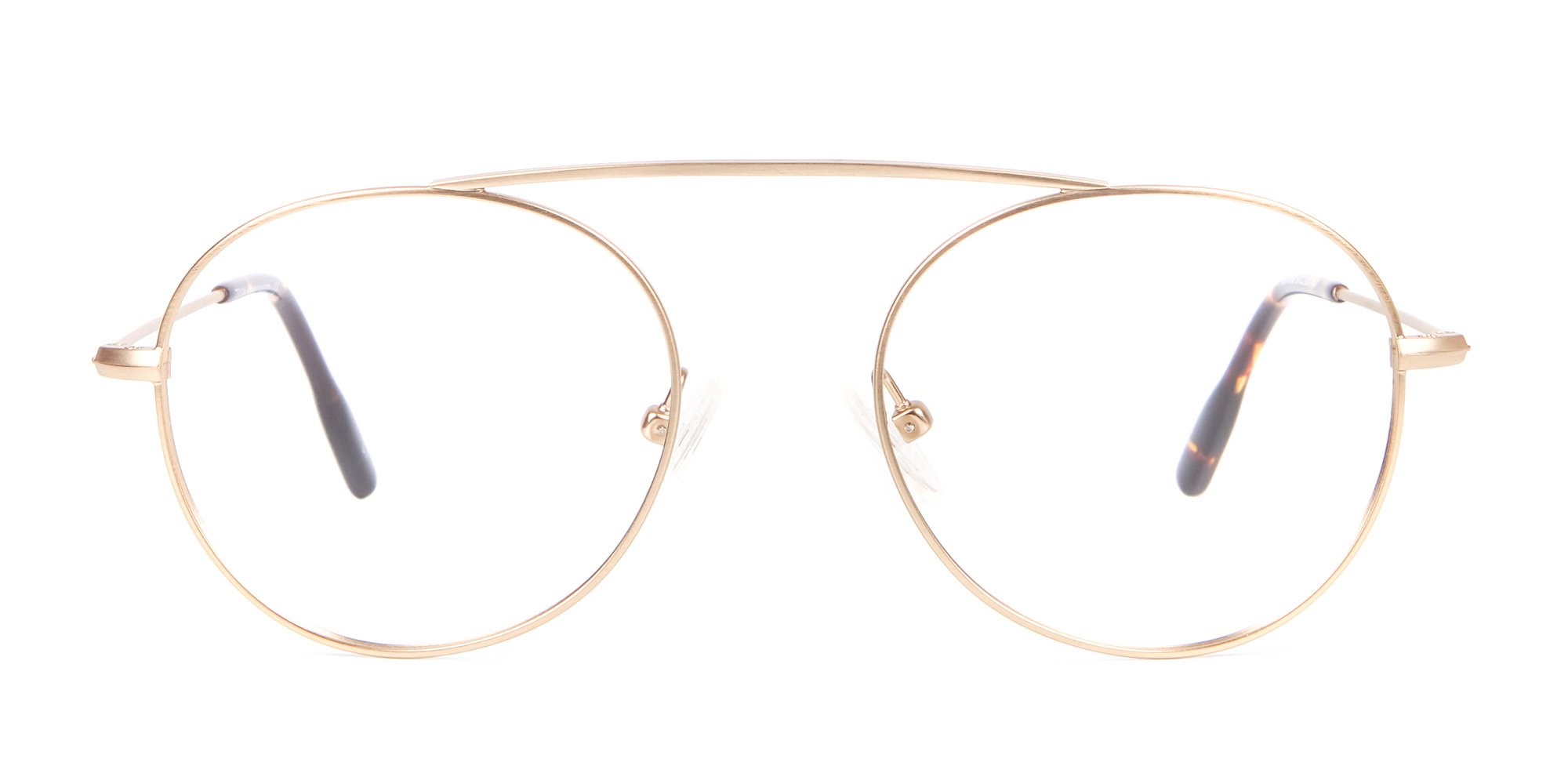 Striped Black and White Glasses
If you still latch up to your old design then adding a bit of classic colour mix-up could polish your style. With this impeccable stripe addition to smooth semi-translucent texture could give your nerdy square could be grand makeover you never knew you needed.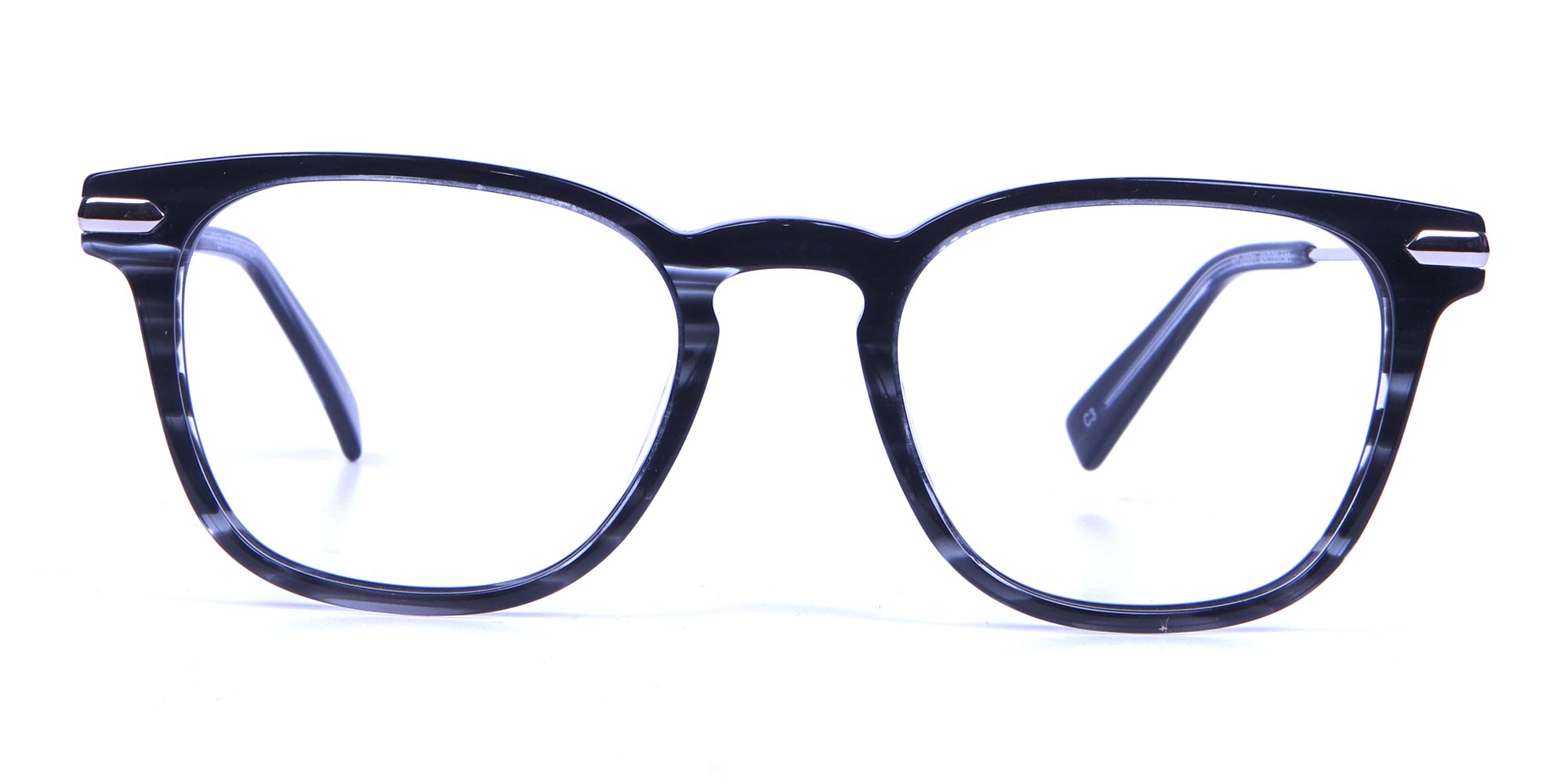 Violet Havana
These beautiful contrasting colours add an astonishing and superior look drawn towards your face. The harmonious play of colours of violet and brown plays a great role in enhancing the beauty of the frames making it more efflorescent. These colours will add a delightful colour in your life.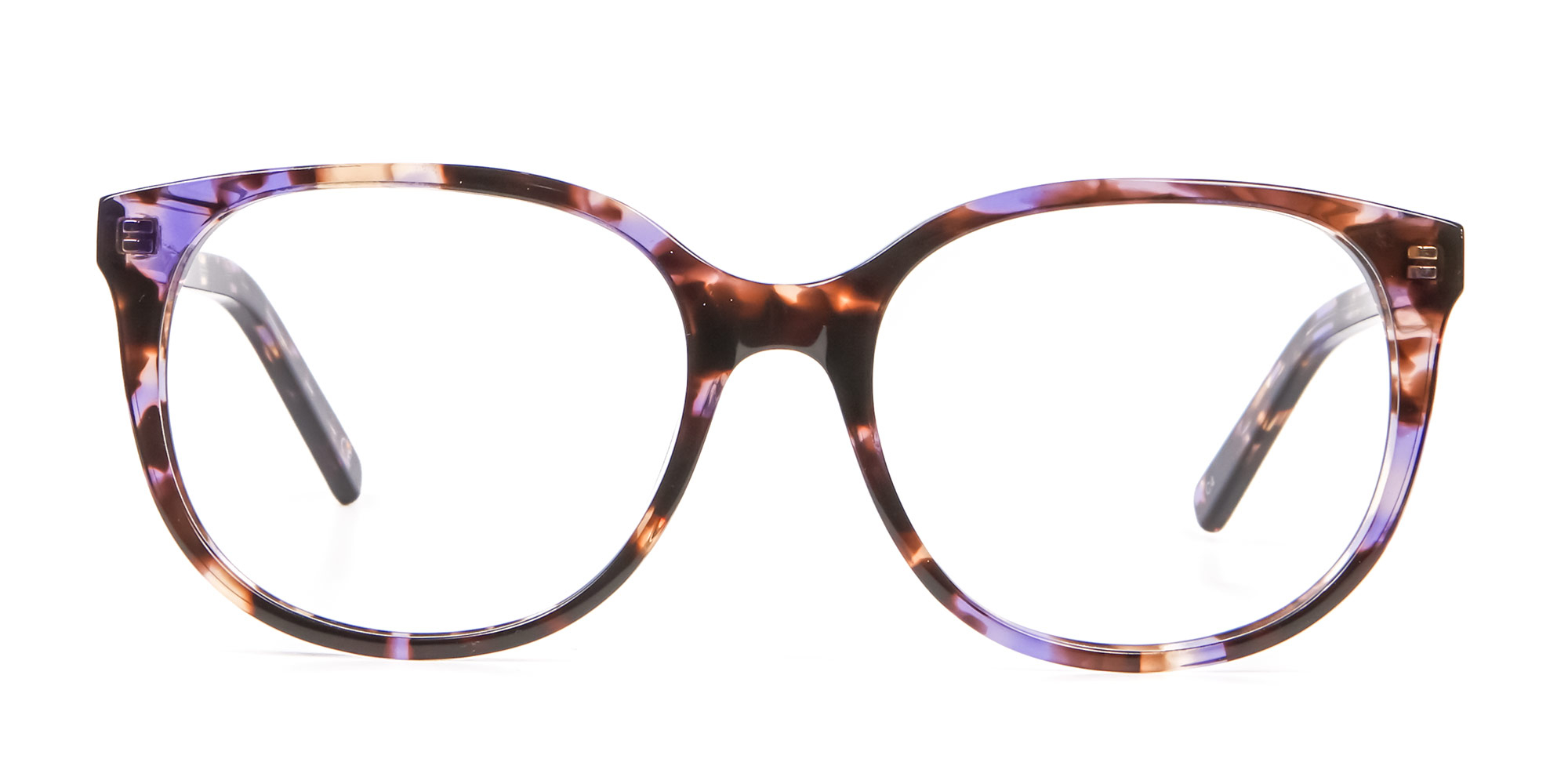 3) Butterfly – Luxurious Oversized glasses frames for girls
You remember Audrey Hepburn's oversized sunglasses in Breakfast at Tiffany's, right? What a glam and classic accessory, Oversized framed Butterfly glasses draw attention to a whole nother level giving you a bold fashion statement hence acclimatize yourself for a larger size, go for thicker and bolder frames with a mix of modern colour combo and design. This time here your style selection would be more inclined towards extravagant and funky feminine Butterfly like the design because why not?
Bold Blue and Red Butterfly Glasses
When you are making a statement, make it extravagantly big. The beautiful Blue Havana eye frame gives an unmatched design and pattern that is so out of regularity. A mix of red adds more lustre so you won't blue. The perfect butterfly shape enhances your overall look.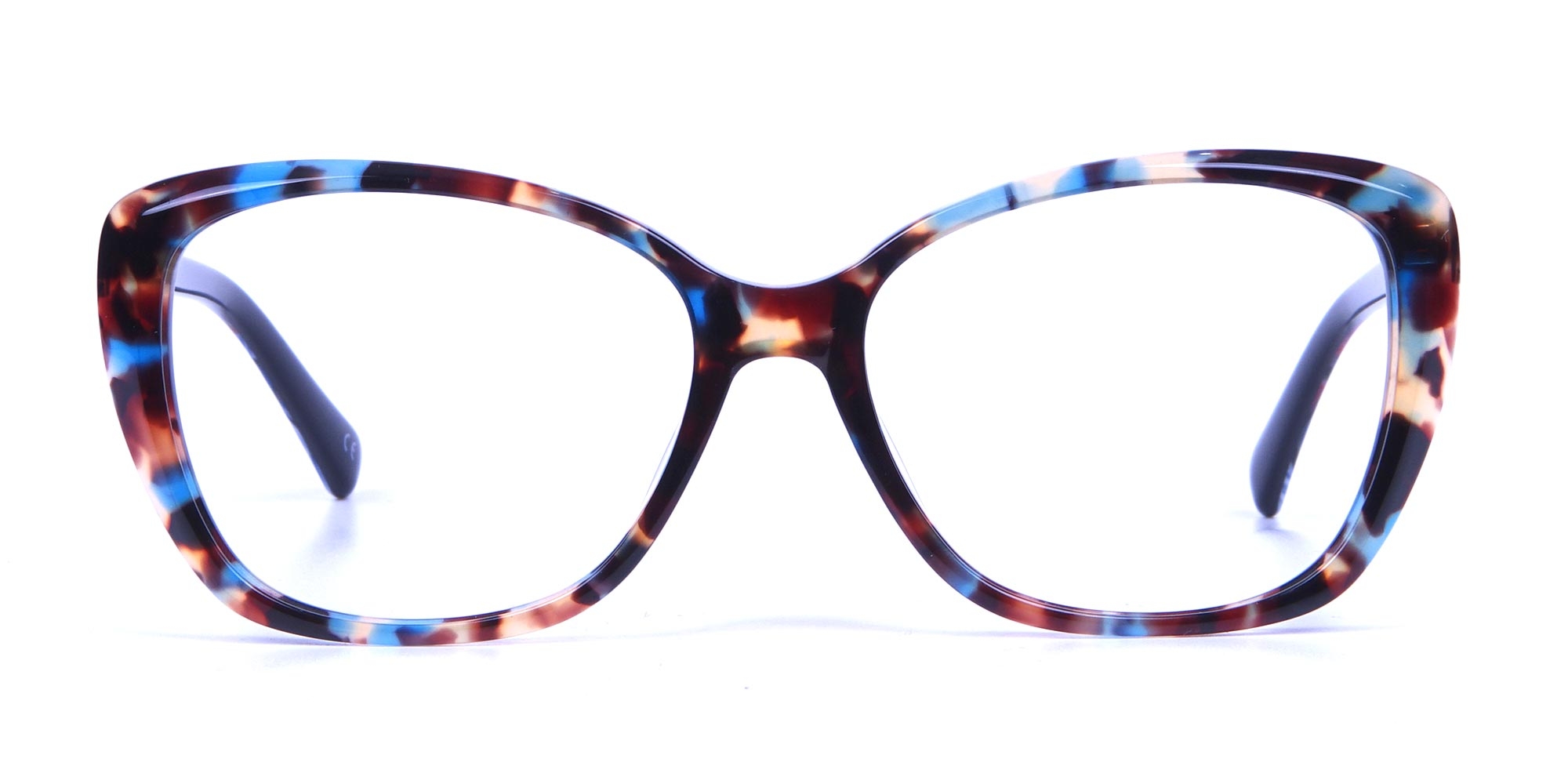 Beige and Mint Green
The beautiful stroke reminds us of Vincent Van Gogh painting. The beautiful small stroked of beige and mint green on the frame gives it a funky and enthusiastic vibe. The perfect shape highlight featured an oversize shape gives a more youthful appearance.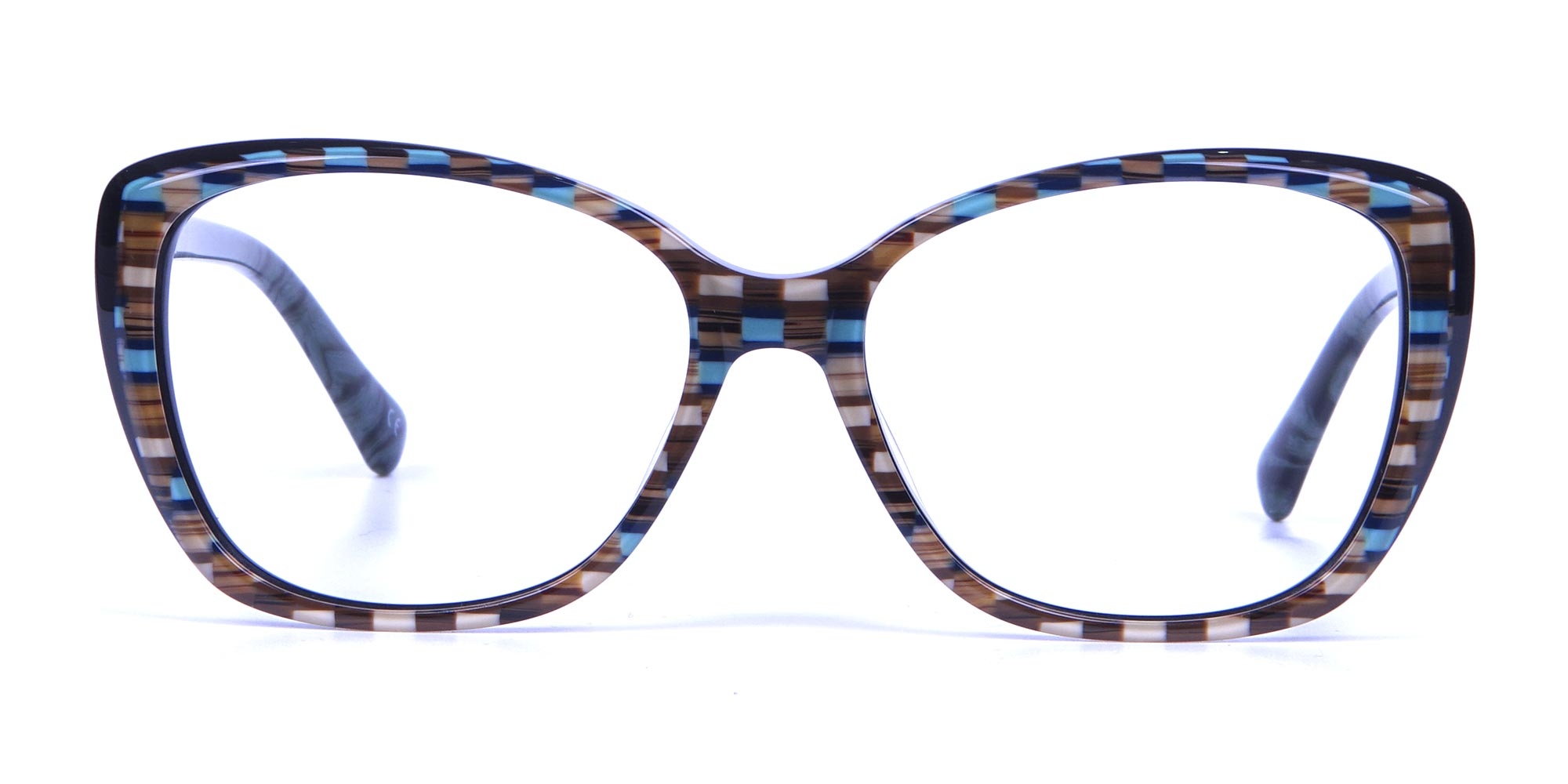 A vintage mix of Purple and Black
This stunning piece is a beautiful butterfly frame with a better-fitted nose bridge that maintains the frame in the perfect place and allows more comfort. The energetic colours make it livelier and vividly draws attention. A simplistic mix of elegance and electrifying personality.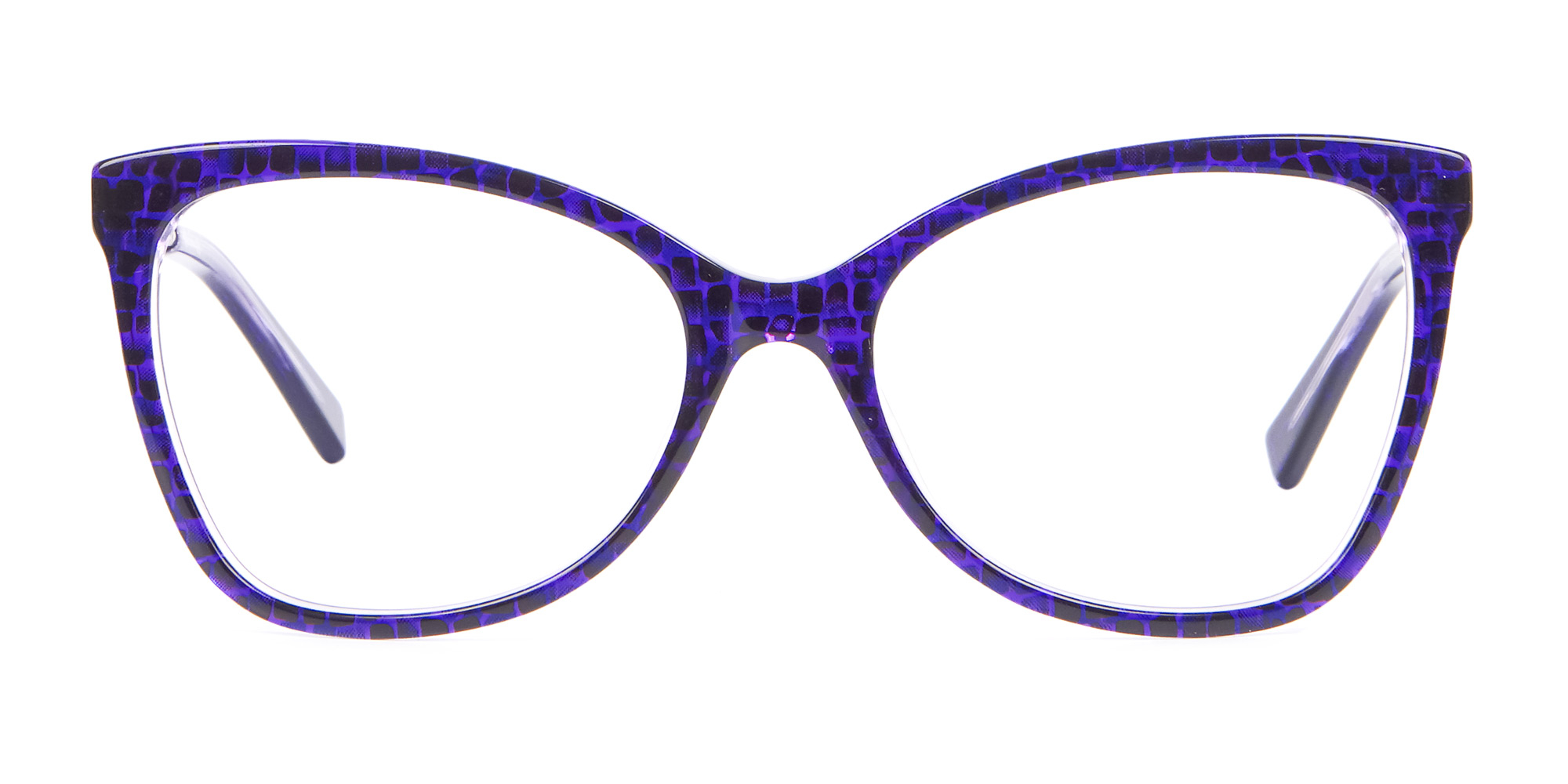 Classic Black
A smooth look with formals. These beautiful glasses for girls are brilliant pair with formals as it's very humble with colours and design, giving it a minimal classy look. Many times with formals you want to endeavour simplistic look yet conduct sincerity and charm then these are the right ones for you.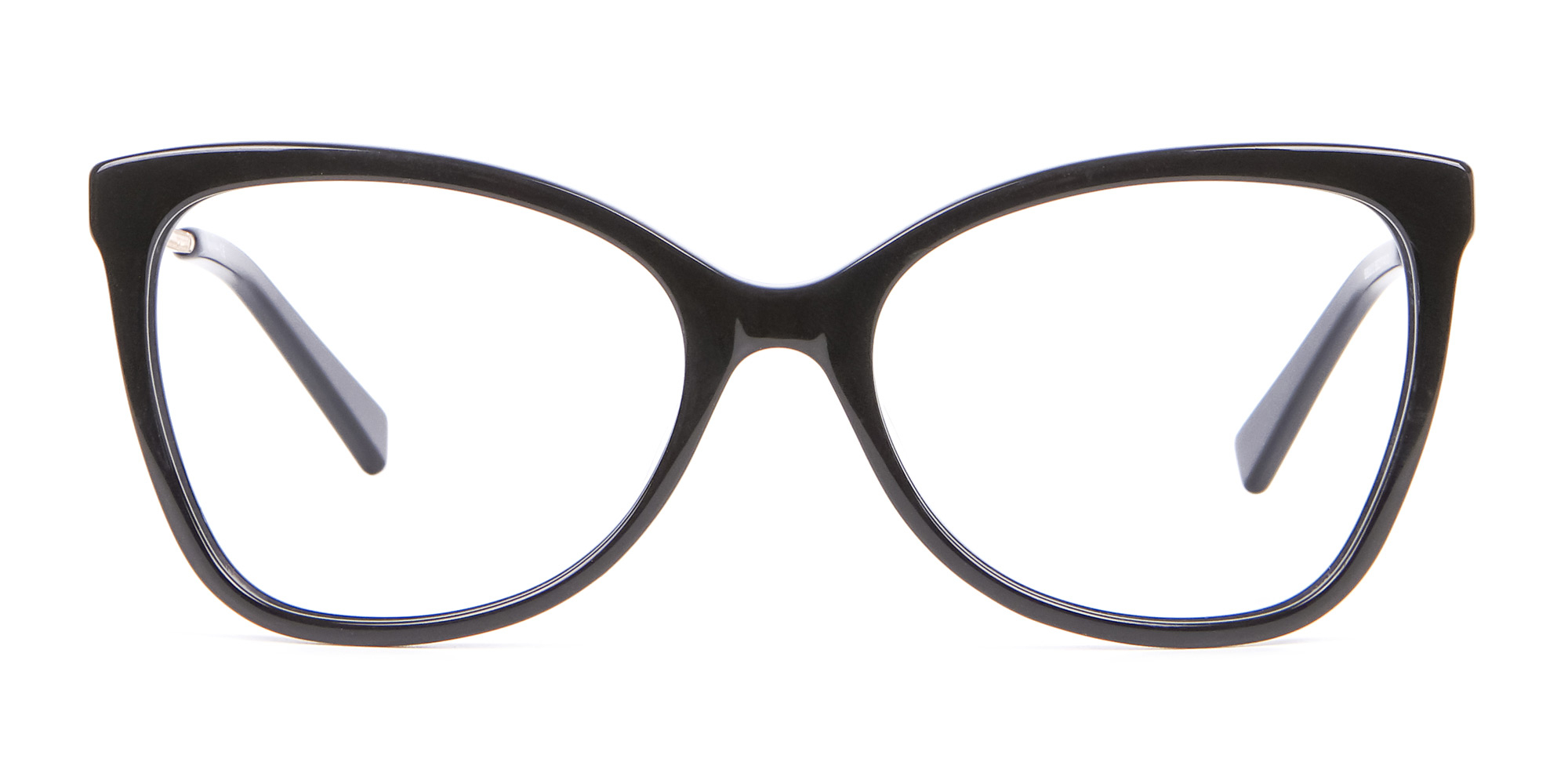 Royal Blue- For the Royal Souls
When we are talking about making a bolder fashion statement then this royal blue butterfly glasses matches perfectly to your expectation. The biggest advantage is that it goes perfectly well with personal style so if you are opting for geek-chic or vintage or high fashion, these fulfil them all.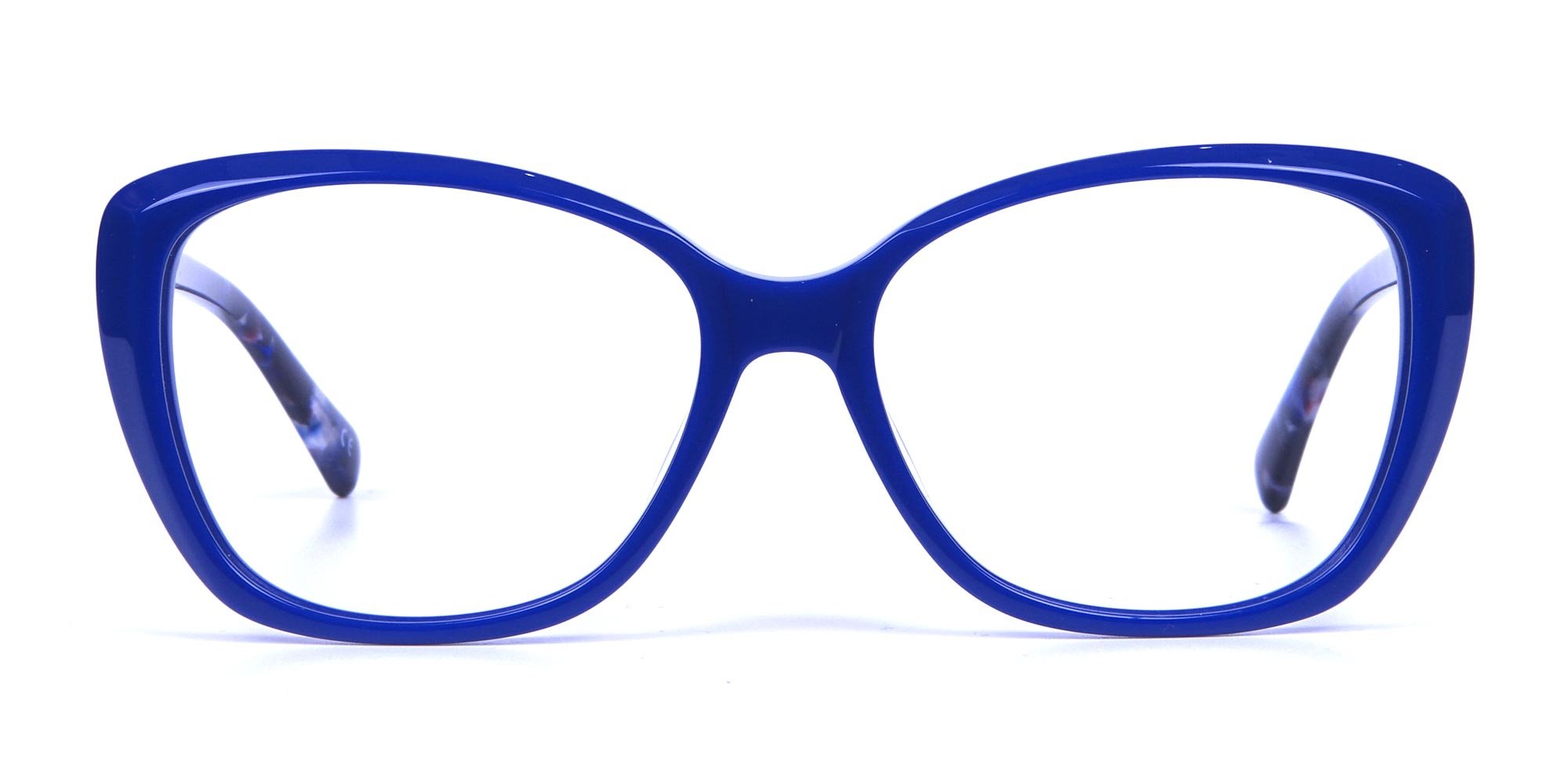 4) Wooden Glasses – An elegant and Soothing Texture
Natural-looking substances such as wood increase positive feeling and decreased physiological stress responses. A recent study showed that simply looking at natural things has effective restoration from stress leading into reduced blood pressure, skin conductance and muscle tension. These special reasons are highly prominent reasons for selection of wooden glasses as trendy glasses for teenage girls as these prefer quiet and intimacy vibes around.
Dark Violet
An escape from the chaos and a vintage look. This beautiful dark violet wooden framed is a great choice of trendy glasses for teenage girls with beautiful soothing texture and colour assemble.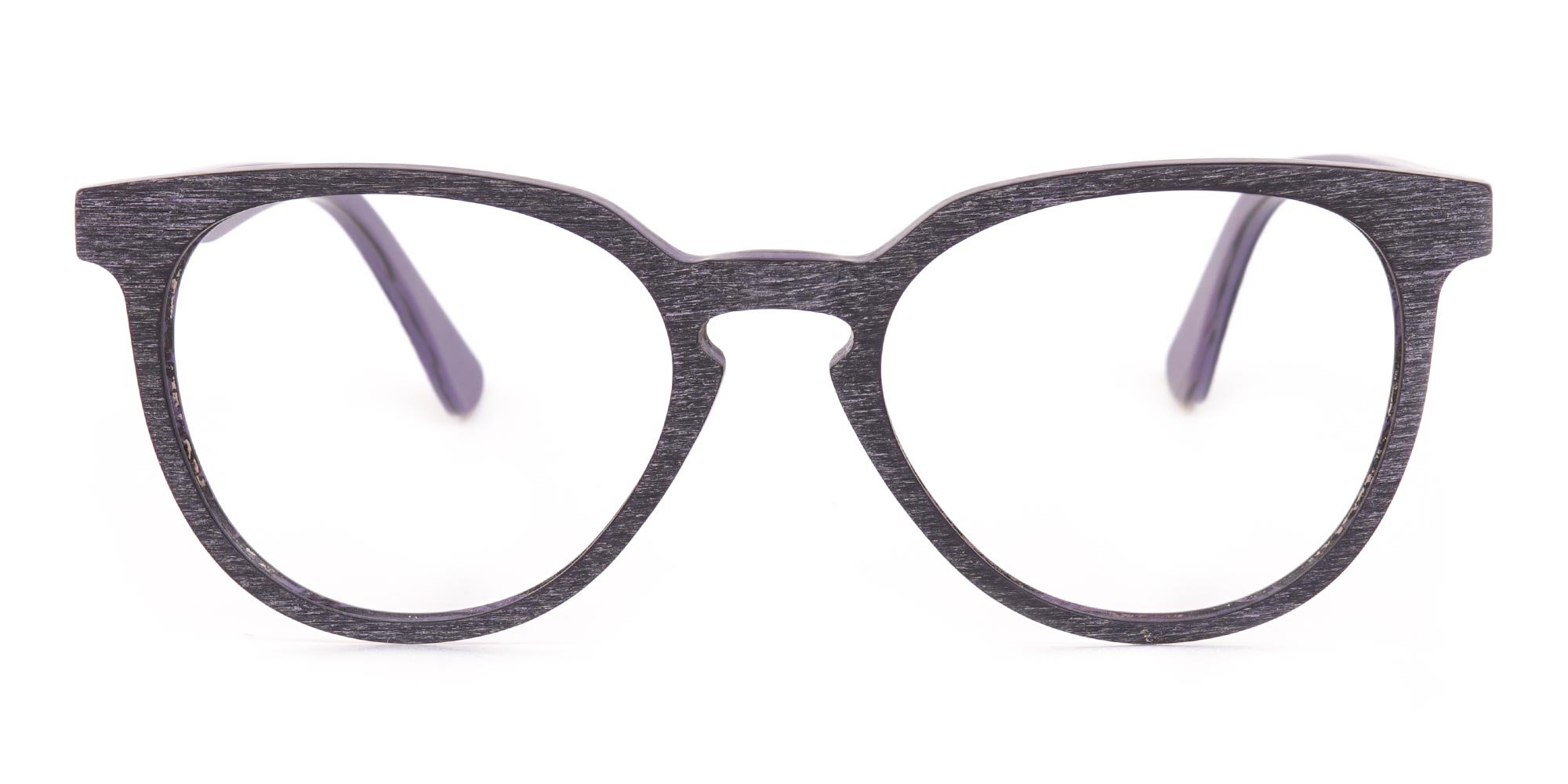 Dusty Green and Blue Assemble
A natural-looking glass with a mix of a refreshing mix of dusty green and blue. These glasses don't shout much fashion but fling elegance and organised appearance. A great choice for formals that showcase your beautiful features and gives serenity vibe.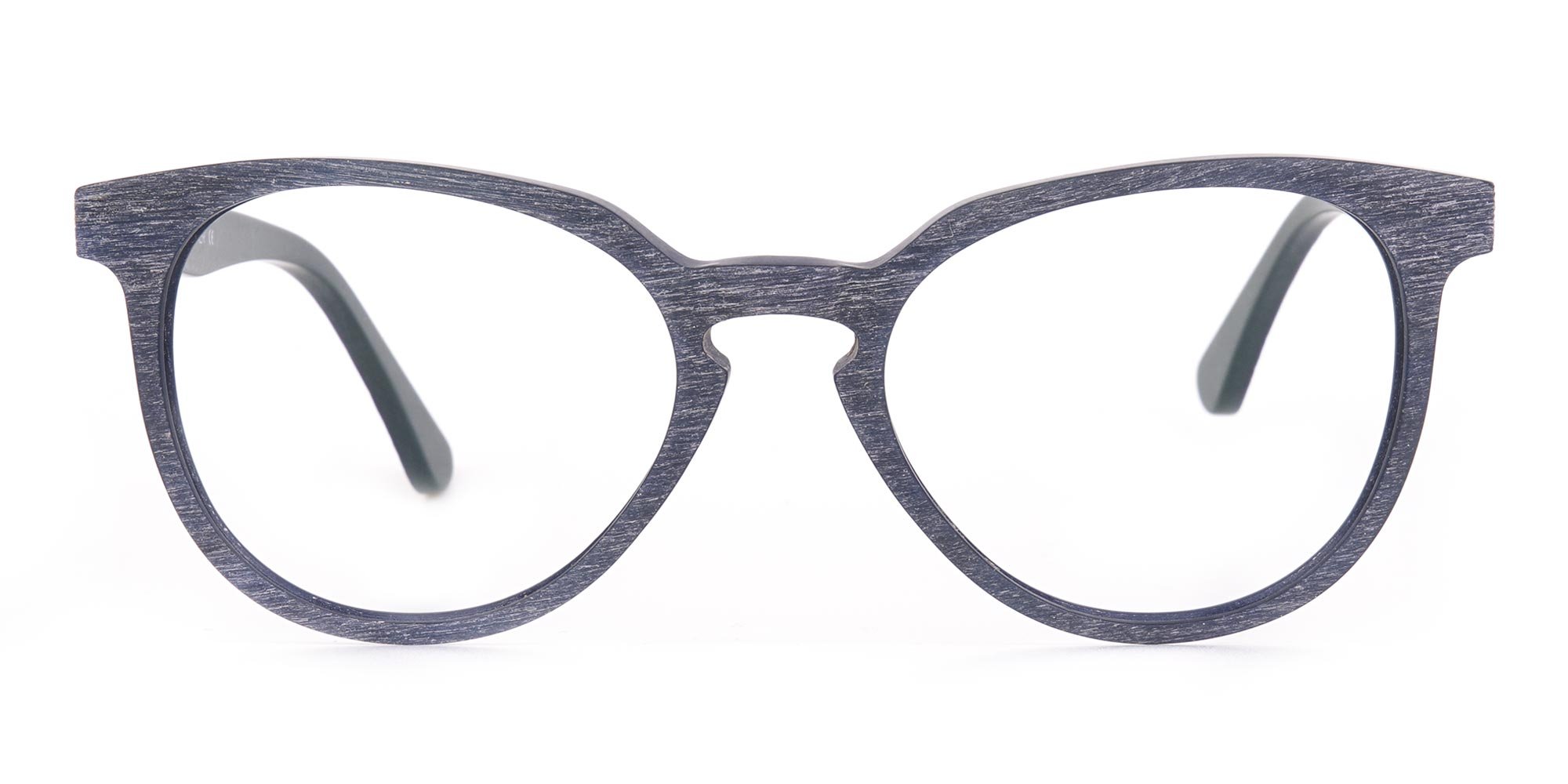 Wooden Black with Burning Yellow
An innovative modern adaptation with unique design and beautiful colour combination. This masterpiece looks vintage and its overall design is pretty solid. Add a bit of colour and go noticeable.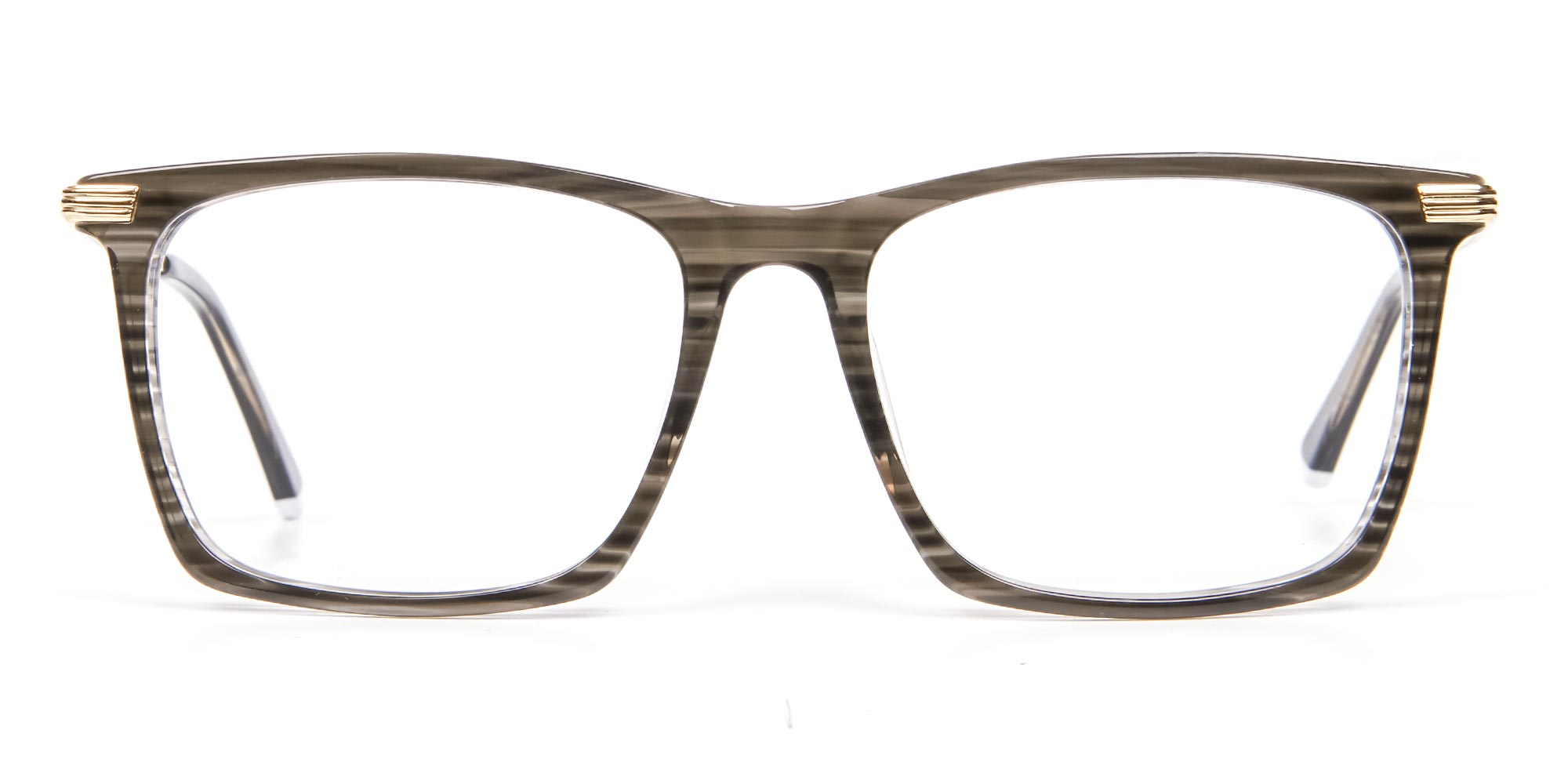 Dynamic Silver Grey
If someone wants to know what the galaxy looks like, tell them to take a look at your glasses and of course your eyes as well. This uniquely designed wooden textured icy silver grey colour is so unique and exclusive in its own. More shiny and lustrous than your jewellery.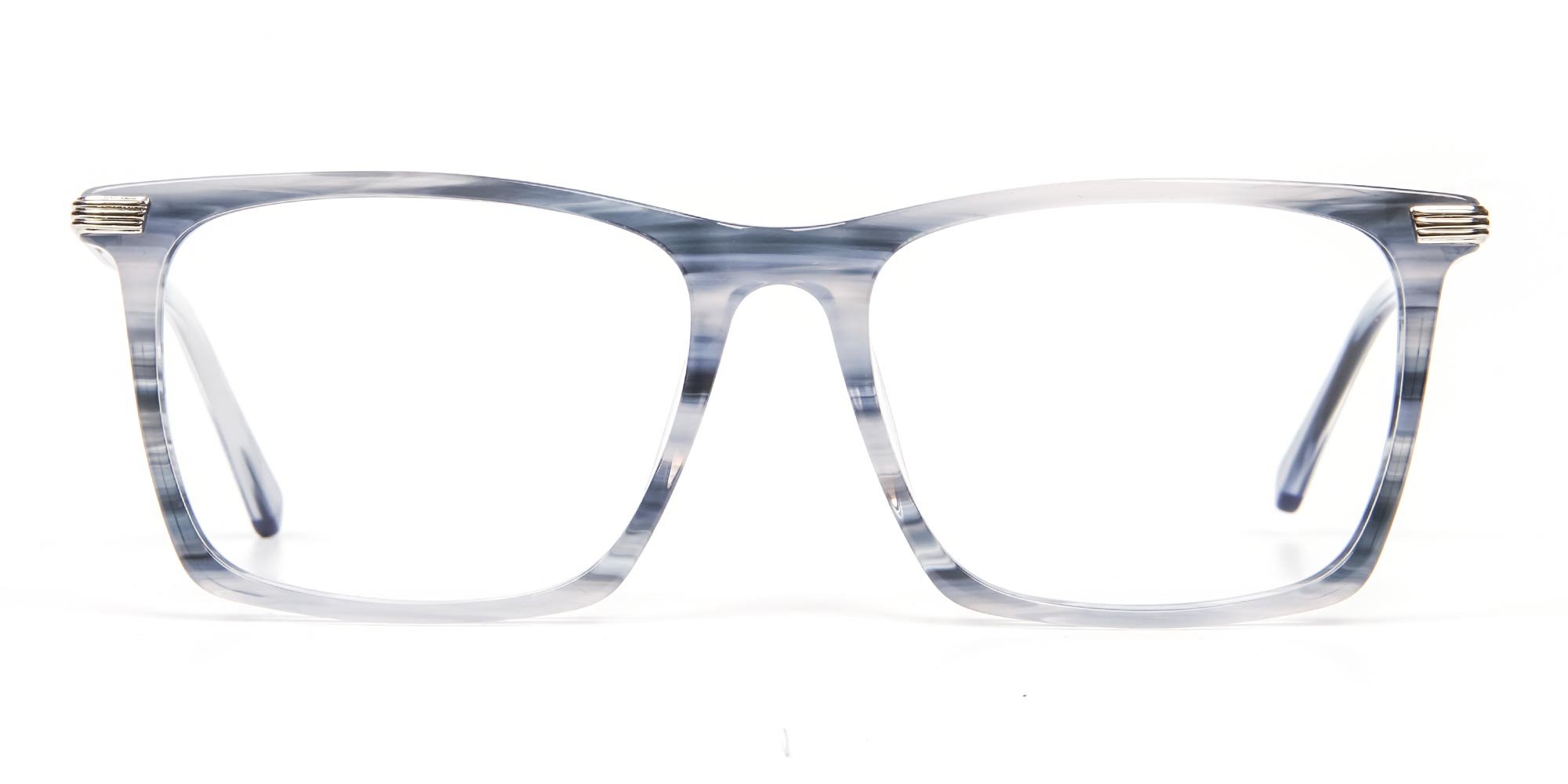 Dark Wooden Mahogany Brown
Need a sophisticated pair but with a mix of playfulness then this dark mahogany brown framed is a solid package. This is a very subtle yet model great ultra-modern standard.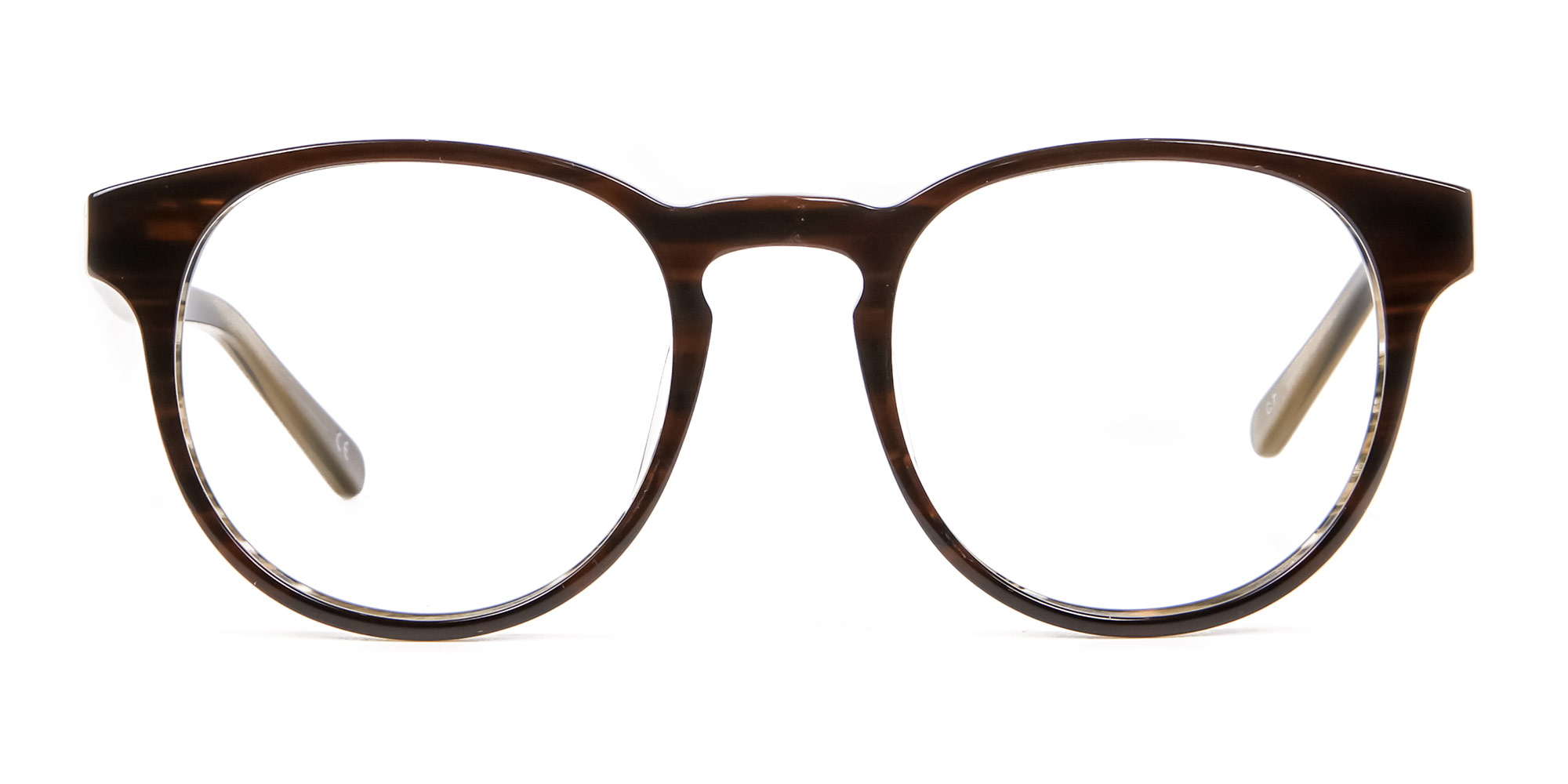 5) Spectrum of Colours- Customized for every Occasion
Looking for a colour matching cool glasses in a wide range of shape and design, oh then you are in for a tremendous surprise! Take a look at the miscellaneous assortment of variant colour glasses.
Electric Pink - An ultimate mix of Sugar and Spice
A lighter tone of rose pink is customised for you. They convey feminine beauty with a modern twist. Designed into octagonal shape and bubble gum radiance makes it one of the best glasses for girls.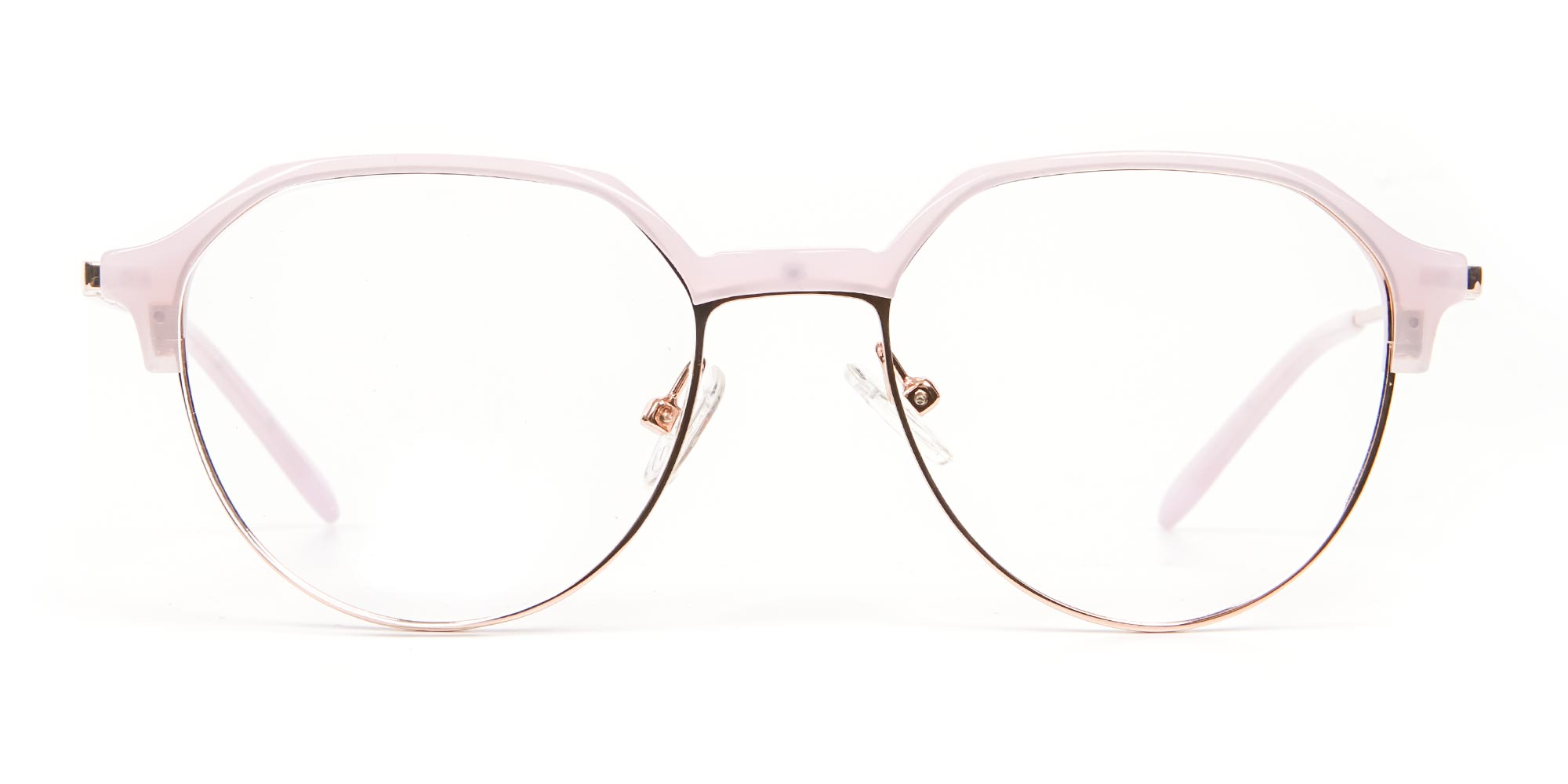 Ambitious Burgundy – Fashionable and Chic
This beautiful burgundy colour is customised modern made with a lightweight and sleek design. Tinted with purple, it symbolised power, ambition and great fashionable accessory.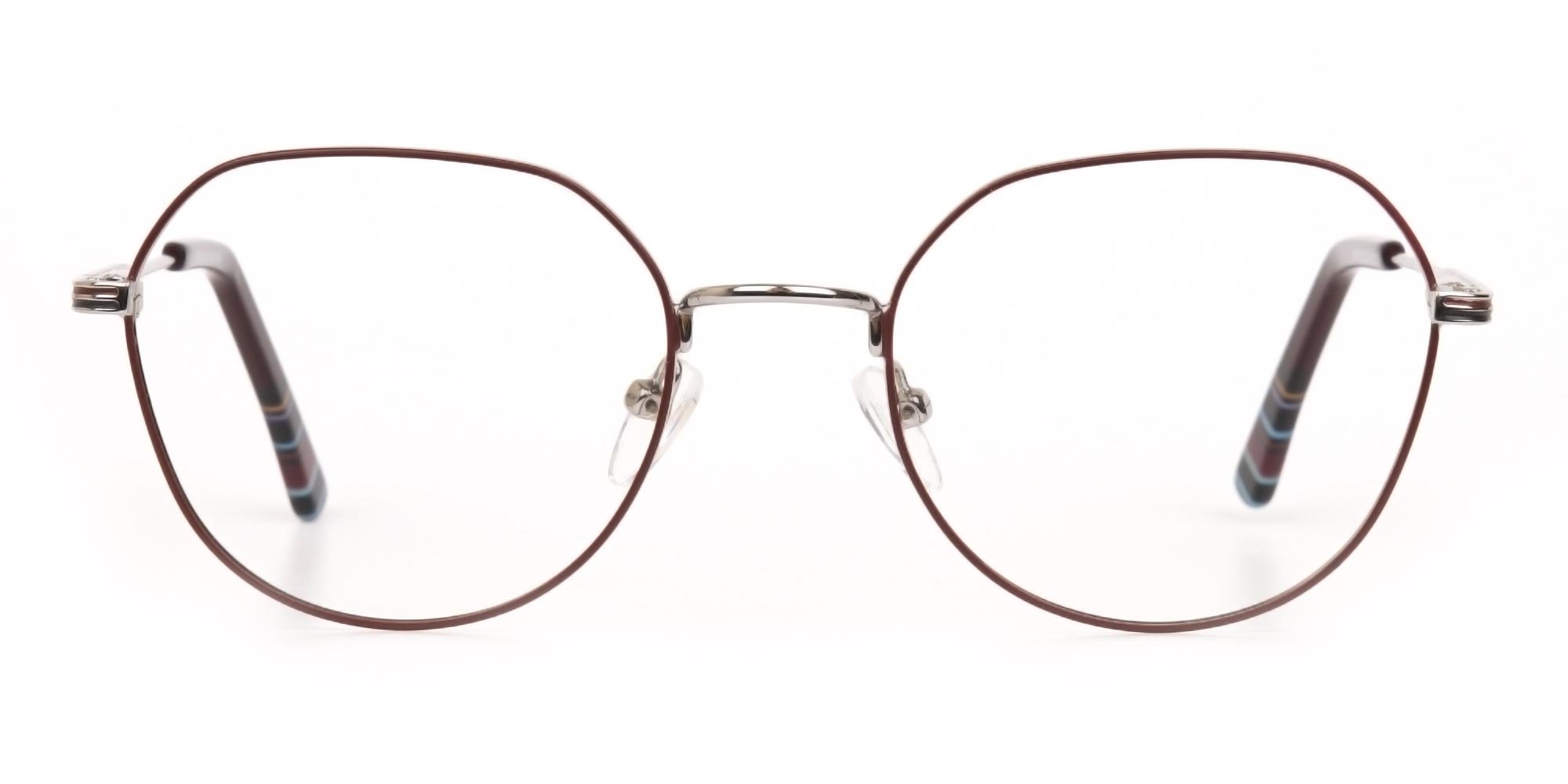 Hunter Green – Refreshing youthful Look
These beautiful gold and hunter green glasses are beautiful in design with a modern shape. Gives vintage vibes with metallic lustre that makes it an accessory of supreme beauty.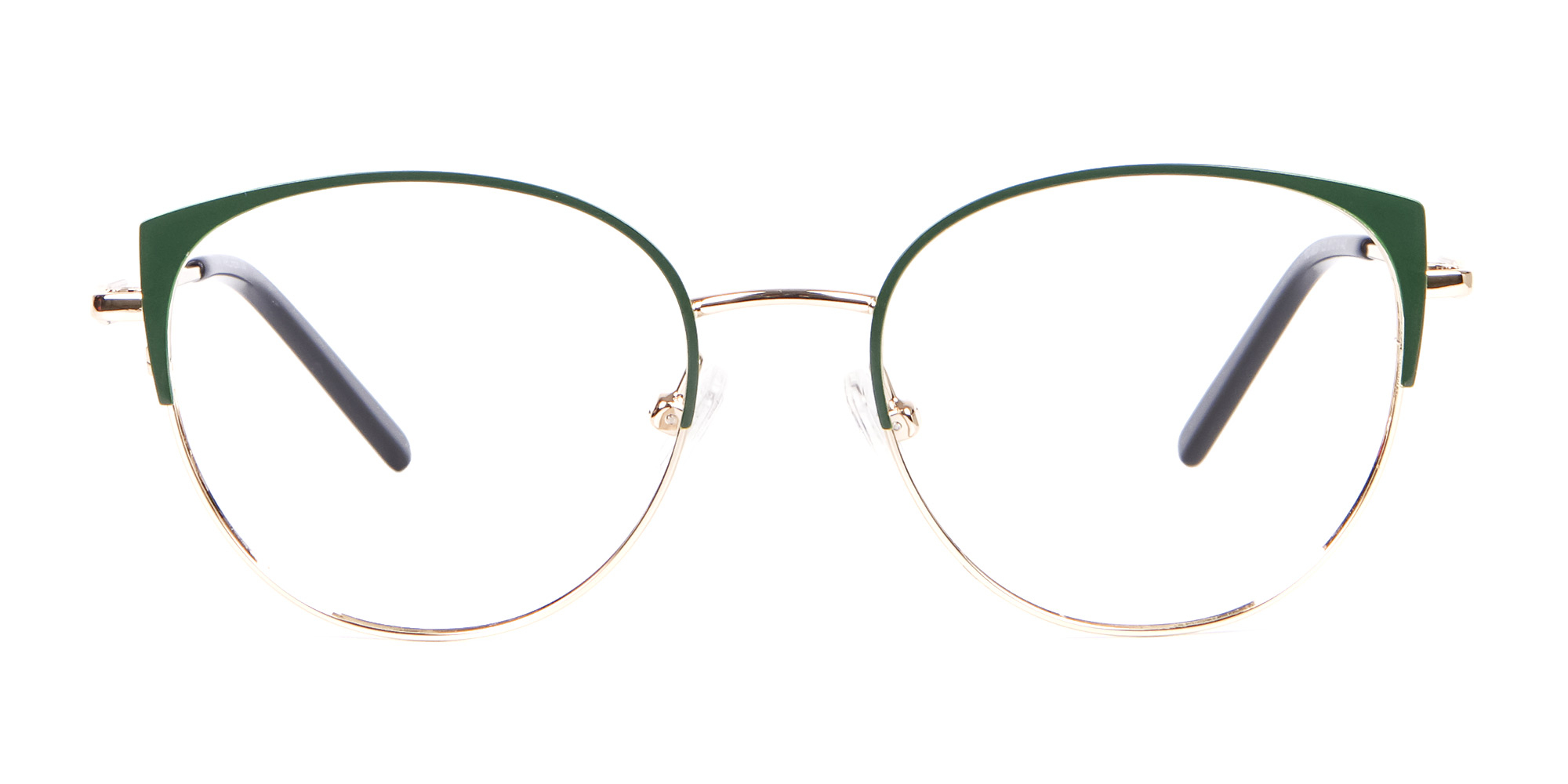 Smudge Blue – Pacific Charisma
These beautiful and bold navy blue colour glasses are enriched with a futuristic design and phenomenal texture. Works great as a fashion statement or brilliant alternative with formals.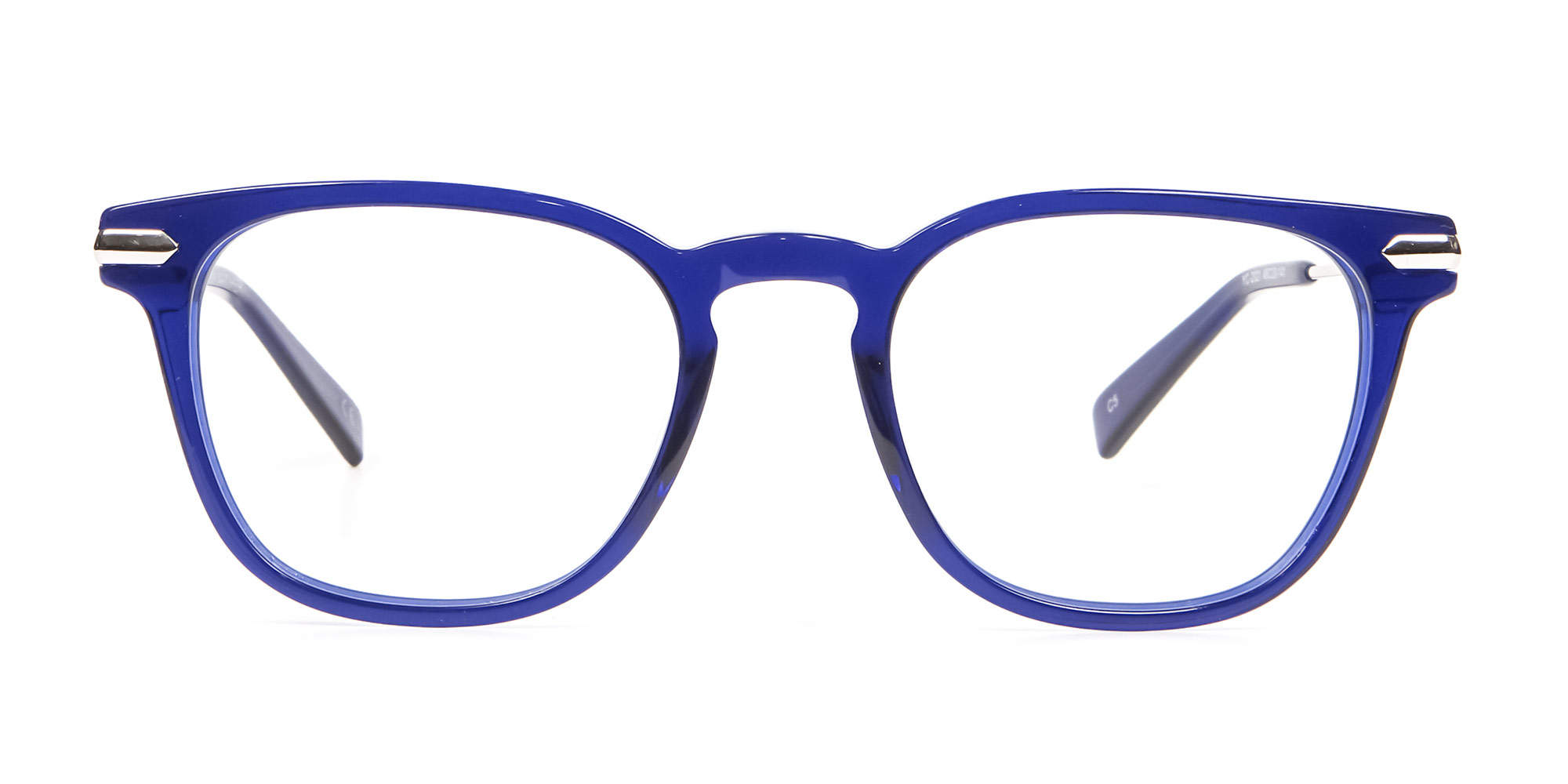 Red- Your ultimate Party Companion
Fashionable and sexy at the same time. This passionate mix of red with white takes your style game to a whole other level. The white colour adds more fun and adventure in design while the red makes it a sexy style statement.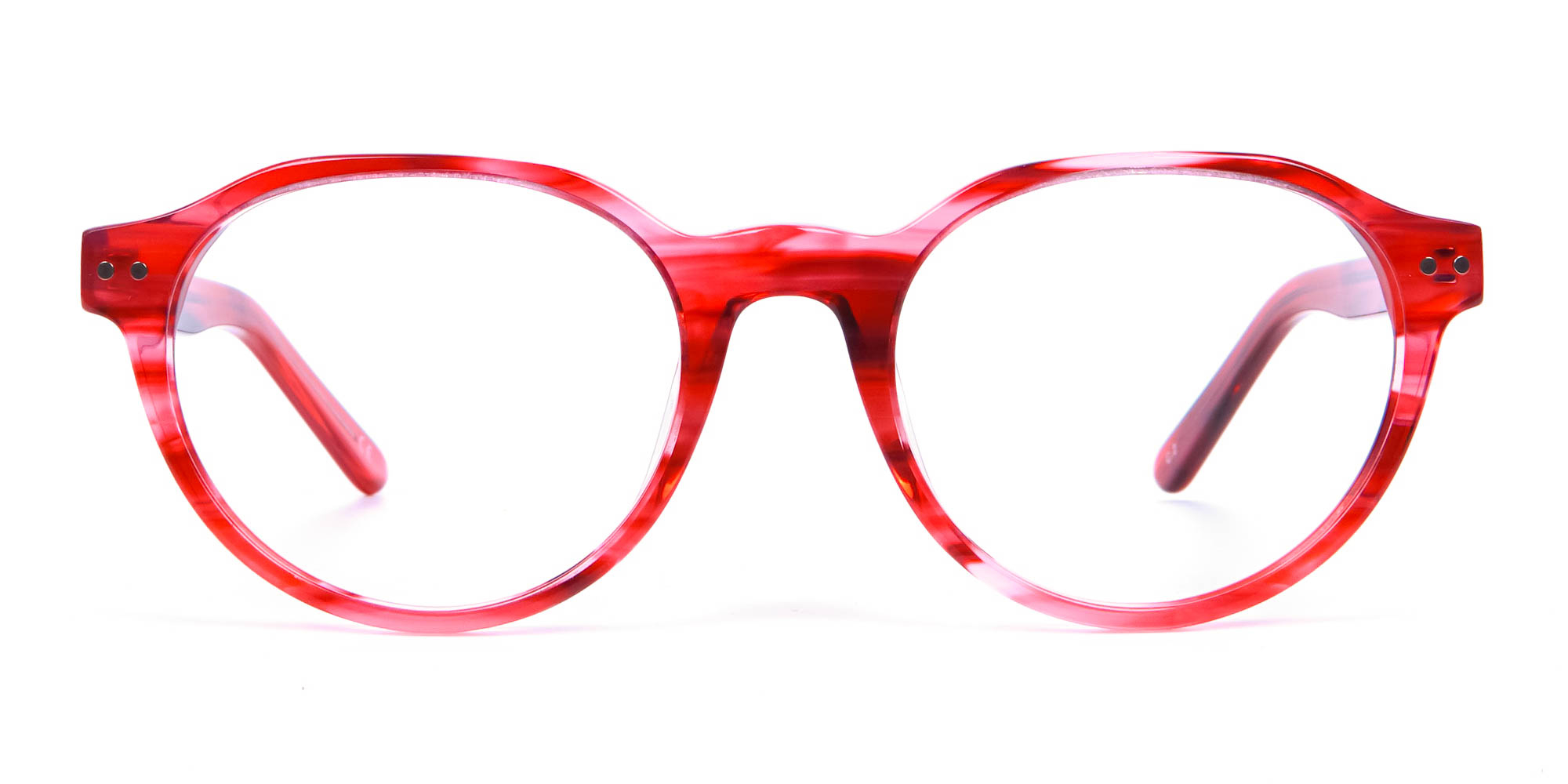 Classic Glossy Black- Minimal yet Elegant
This classic design contains all that you require to draw attention. Designed for comfortable daily wear with sturdy full frames which reminds you of retro frames. The best advantage is that you can pair it with any outfit and look exhilarating.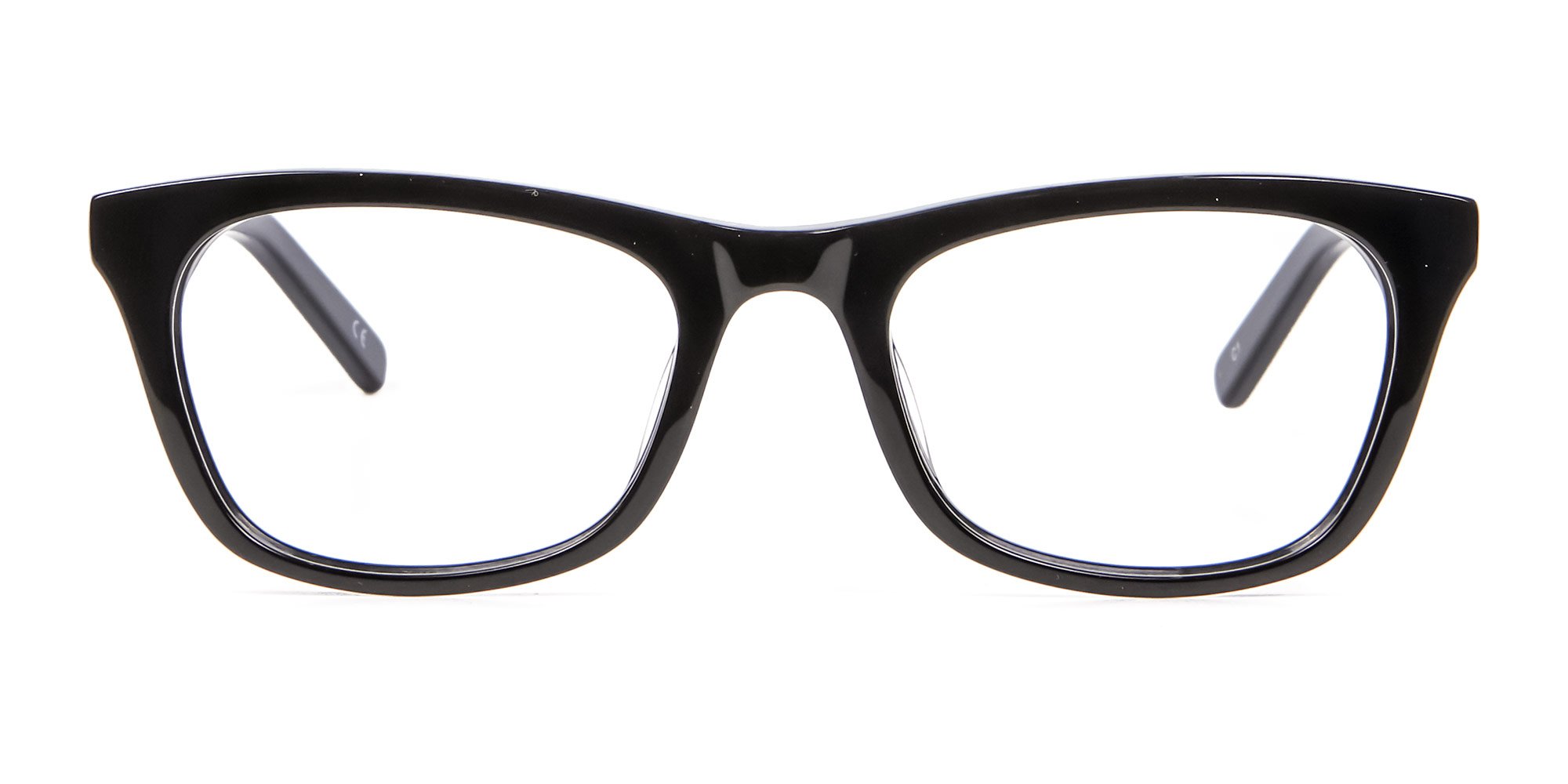 With growing dependence on glasses, don't make it stop you making it a style accessory to enhance your beauty. Find your best pair and if that's not enough to make up your mind then provide free try at home so you reach your optimal satisfaction. With our 24-hour dispatch service, don't wait to try them and wear it to college, work and events. Hurry up and make a beautiful fashion statement.