It is one thing to find a spot on the trending list, it is another thing to remain there for a considerable period of time. The outstanding metal frame glasses are one of the very few styles that have managed to achieve this commendable feat.
From the wire-rimmed glasses that were a massive hit in the 1920s to the contemporary rimless and half-rim styles that have become modern-day sensations, metal frame glasses have always enjoyed unparalleled popularity.
Metal Frame Glasses - What makes them stand out?
Although there are different metal variants used to design these frames – each having its unique characteristics – at the end of the day, the charm associated with a metal frame remains unchanged. Whether it is the sturdy stainless steel, the flexible monel or the elite titanium, the different materials used are just the means to an end - the end being a pair of solid metal frame glasses, with a suave and an urbane visual appeal.
Apart from their classic design, it's also the versatility that is the primary reason behind the grandeur of the metal frame glasses. This makes them not only one of the trending glasses frames but also one which is easy to style. However, there are a few things you need to keep in mind while styling your pair of metal frame glasses. Here they are.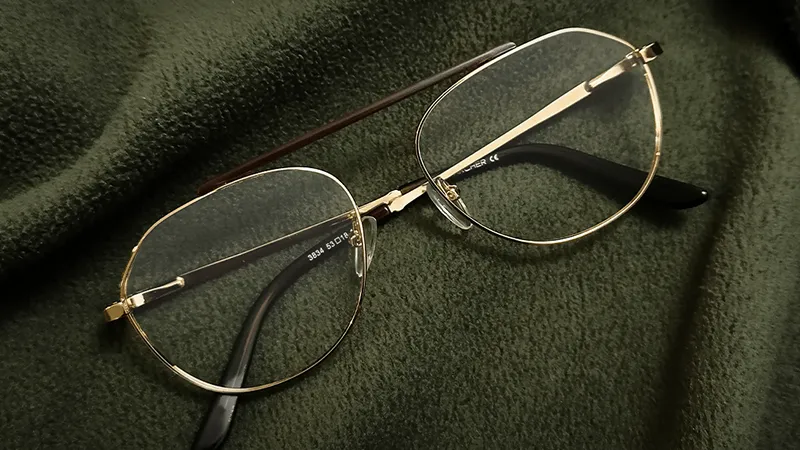 How to style Metal Frame Glasses?
It's pleasing for us to see more and more people becoming conscious of the fact that glasses are one of the finest fashion accessories. Therefore, as an eyewear brand, it becomes our duty to guide all those who rightly expect glasses to up their style game.
Getting the frame shape right

There is no rule of thumb to it. But to enhance those facial features, there are certain fashion standards that you need to be aware of.

To allow your angular facial features to do the talking, you can opt for sleek metal frames that lie towards the roundish end. Ladies, cat-eye metal frames are just the magic that you need.

For those with round face shapes, you can balance the soft facial features by going for metal glasses frames such as the square and rectangular ones. Yes, the wayfarers can be gamechanger! And if you do have a liking for the retro round shape, go for one in the sophisticated browline style.




Right frames for the right occasion

As already stated, metal frame glasses are highly versatile. An ideal all-occasion eyeglasses style#! You will find a decent pair for your professional usage and also a funky one to suit the weekend party vibes.

While at the office, suit up but don't forget to put on a pair of sleek metal frame glasses in rimless style. Ladies, there is a way you can grab all the attention of your colleagues while making a point at the office meeting. Just pair your long skirt and a crisp tucked-in shirt with a pair of angular cat-eye metal frame glasses. The cat eye eyeglasses truly subscribe to the idea of gender parity at the workplace.

For a casual gathering at the pub, put on the classic oversized metal frame glasses and you are all set to put the dance floor on fire. Not with your moves, but with your glasses! For that weekend getaway to the sunny beach, you will definitely need a pair of sunglasses. Why not choose the sturdy metal frame aviators? A toned body is not a necessity, as your glasses are enough to make heads turn.




Playing with colours

None of the clothing or fashion accessories have been left untouched by the influence of colours. When it comes to glasses, the influence is significant.

The regular black and white frames have a charm of their own, but why not explore the grey areas. A pair of greyish or silverish metal frame glasses go well with all occasions.

Go even beyond and take to golden frames for that royal touch. This decade belongs to beige and the glossy beige metal frame glasses are a wonderful option. If you are looking for something with a fun and playful element, don't hesitate to experiment with bright colours like red, yellow, green, etc.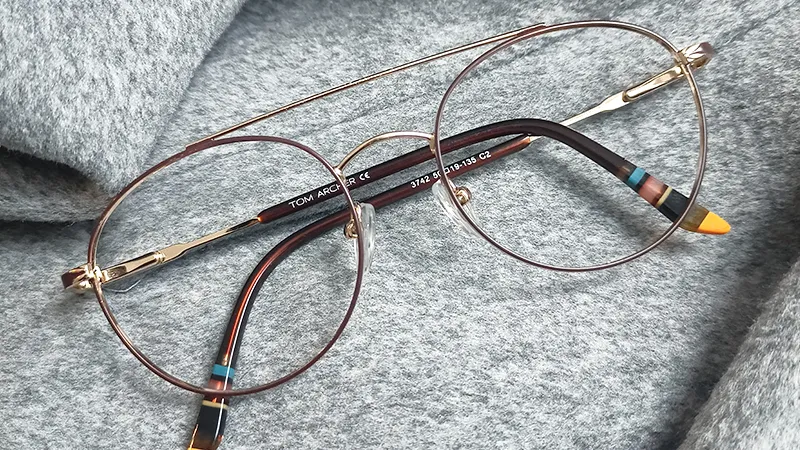 Metal frame glasses are mainly regarded as a pair of highly acclaimed fashionable glasses that can fit into all occasions. But, they also have some other wonderful characteristics. These frames are very durable, owing to their strength and high impact resistance. Once you add them to your wardrobe, you are bound to enjoy their companionship for a long period of time.
So what are you waiting for? Check out our stylish collection of metal frame glasses, and make that much-needed upgrade that you may be longing for.