So, what makes eyeglasses so expensive? This is probably the question that most of you have in your mind. It's hard to not roll your eyes when you see a non-designer pair of glasses with such a hefty price tag.
And even when you buy them in a sale, how does the cost magically get so high when you put the item in your cart? One may think that it's due to the hidden costs of online shopping but specs at your nearby retail stores aren't cheap either.
The cost of eyeglasses depends on so many factors. From the material of your frame to what goes into the lenses, everything adds to the value and cost of your designer glasses.
Let's take a deep dive to understand all these factors and determine, is the cost worth it?
Where do you buy your glasses from?
Sure you would get a lot of benefits when buying glasses from a local optician. You'll get personal attention, you can tell them about your lifestyle so your lenses could be customised, they'll measure your pupillary distance and even help you select the perfect frame. But all this personal attention doesn't come for free.
If you're more of a DIY person or don't have any problem taking a few measurements yourself, buying glasses online is the best and most affordable option for you. You can cut a few pounds from the final cost.
If you wear fake glasses to boost your personality, do give online eyewear shopping a try. Buying blue light blocking glasses or reading glasses don't need a prescription so you can safely get them from an online store.
If you want a quality pair of designer glasses at a low price, you can browse the options we have on our website. And if you like something, don't forget to use the discount code to get extra savings.
It's all in the frame
If you think about it, your glasses are just two lenses fixed on a frame. So, these are pretty much the factors that should affect their cost. We'll talk about types of lenses in the section coming up, but let's first find out the different types of materials used in glasses frames.
The material of the frame could range from normal (acetate and metal) to exotic (wood or TR90). It means that the cost could differ based on which material you choose. Let's dig deep into these options.
Acetate
Made from the fibres derived from cellulose, acetate is used in glasses to boost their durability and impact resistance.
Unlike plastic frames, acetate is biodegradable and hypoallergenic. This material is used in more high-quality eyewear products for its strength. The material also allows room for intricate or layered designing and vibrant colours. All the transparent glasses you're seeing on celebrities these days are mostly made of acetate.
Metal
Metal frames are a bit more durable and harder to break than acetate frames. Also, the malleable nature of metal makes it easy to adjust and lightweight.
These frames come in an array of options from titanium to stainless steel. Different types of metals have different costs. Thus, these frames could go from affordable to extremely expensive based on the type of metal you choose.
Titanium frames have gained prominence in recent years thanks to their strength, flexibility and lustre. However, these are available at a fairly high price point with us.
Wood
Wooden glasses have become so popular due to their natural appeal and simple designs. However, every piece of wooden glasses is handcrafted to maintain that original look and give it a raw texture. And since it's an eco-friendly option that requires the use of resources from nature, it deserves a few more pounds.
Wooden glasses are lightweight, comfortable and safe for your skin. And if you take proper care of your wooden glasses, they might last longer than your regular acetate or metal frames. The high-end look of wooden glasses will give you a unique look that's also sophisticated.
TR90
It is a thermoplastic that's durable, bendable and lightweight. The material is extremely comfortable and could be bent under pressure. This is why it's mostly used in sports glasses that require a snug fit.
Since these frames are so flexible, they are less prone to damage. They have a rubber-like texture to give you a nice grip and support your active lifestyle. The frame takes the shape of the contours of the wearer's face and doesn't fall off no matter how intense movements they make.
Lens options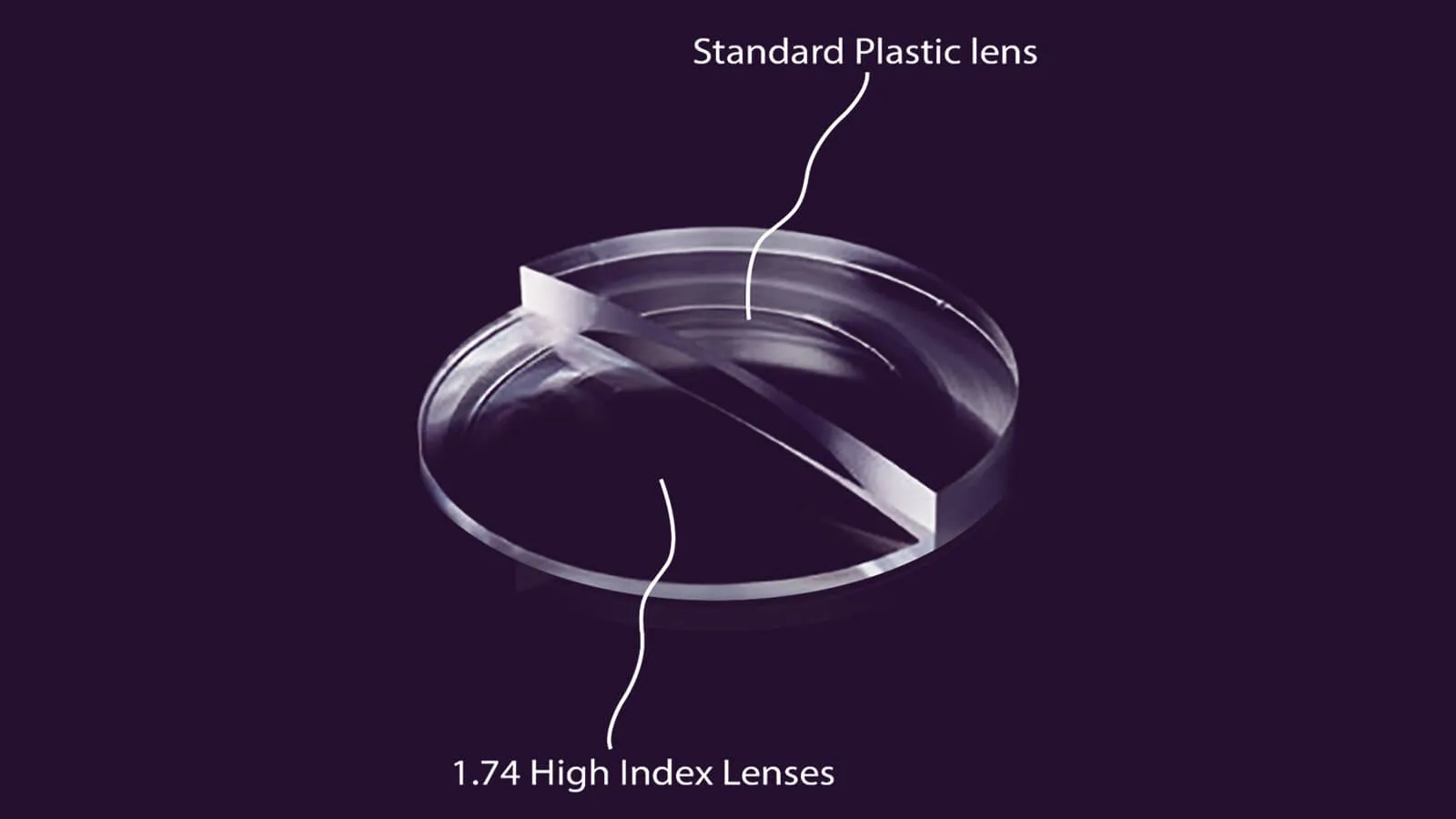 While we all know that single vision lenses are cheaper than varifocals, but only some of you know that there are different types of lenses available in the market.
People with a higher prescription often have to settle for lenses with a thick profile. However, they don't give a nice look to your glasses which is why many designer frames have high-index lenses. These could be used for high or complex prescriptions and have a slim profile. And since high-index lenses are costly, if your frame has them, it would be pricey as well.
Lens extras
Moving on to the lens coatings, you have different choices there too. These are filters that add value to your glasses and keep your eyes protected from harmful lights.
Normal lens treatments such as UV protectant or anti-scratch aren't too expensive. But, anti-glare or blue light blocking filters can take up the cost of your glasses to a significant extent.
Where AR coating blocks reflections on your lenses and makes your glasses look attractive, blue light filters are important for digital protection. If you have a screen time heavy lifestyle, your optician would strongly recommend these two coatings for your prescription glasses. But it will add an extra layer of cost.
However, if you fancy a free coating for your glasses, we give not one but 3 for free with all our eyeglasses. So, don't pay extra money for these add-ons and buy from us to save money.
Are expensive glasses worth it?
Honestly speaking, I think you should never compromise with your vision for some savings. If you're buying low-quality glasses just because they're cheap, don't do it. They won't
But I don't also mean that you invest in those designer frames that are too pricey just because they have a brand name on them. Rather, do your research and find out which online retailer is providing the best quality glasses with stylish frames at affordable prices.
Don't forget to take durability and comfortability into account when buying glasses whether you buy them from an online store or a physical shop. A good-quality pair will last you years and give you worth for every pound spent on it.
To make this happen, we had to step forward and mark things up. We're not driven by high-profit margins. But we believe in serving the best quality and service to our customers. We are challenging the eyewear monopoly to provide better and more affordable solutions to our customers.