Ever wonder which sunglasses best suit your face shape? Apart from shielding your face in the scorching summer heat, sunglasses help highlight your facial features - arming you with great confidence when you step out. Your face shape plays a big role when choosing the perfect pair. Read on to learn more!
How to choose sunglasses for your face shape?
The key is contrast. Rectangular sunglasses for a face shape that's square do not look as great. Similarly, round face shape does not look appealing with funky round sunglasses frame style. Not every face shape can rock cat eye sunglasses either. Let's study each unique face shape and the respective sunglasses that flatter them:-
Sunglasses for oval face shape
If you've wide cheekbones, and the shape of your face is a little elongated horizontally from forehead to chin, you have got an oval face shape. People with an oval face shape have a narrow jawline and fuller round cheeks, along with a wider forehead. The best part about having an oval face shape is that you are blessed with a kind of face shape that lets you experiment with any type and style of sunglasses.
Round, geometrical shaped, bold or edgy, all styles of sunglasses work particularly well on oval face shapes including oversized sunglasses, eccentric and iconic circle round sunglasses, bold rectangular sunglasses, unique browline sunglasses, tinted aviator sunglasses etc. in various colours and lenses shapes.

sunglasses for oval face shape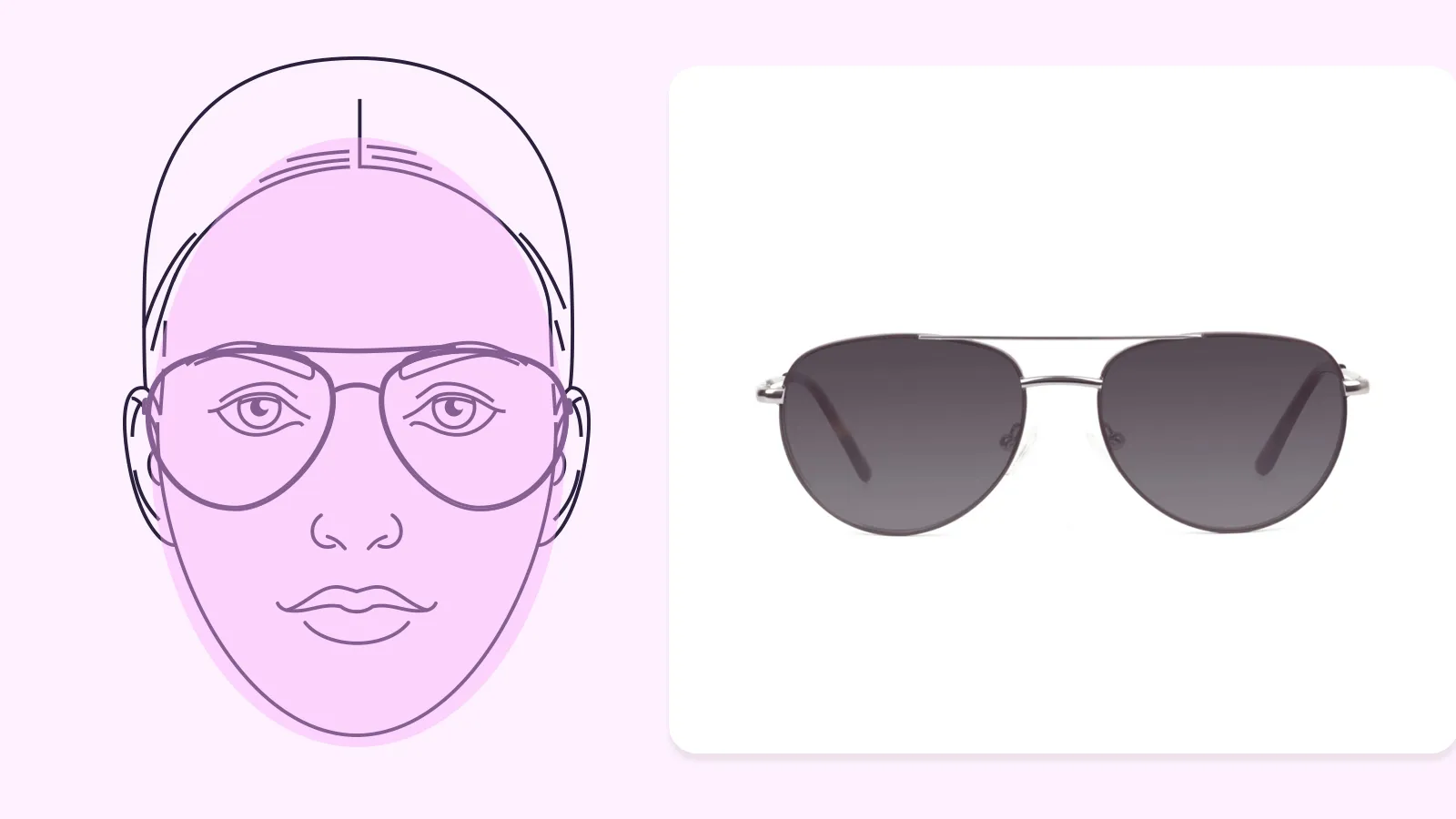 Click here for this frame.


Sunglasses for round face shape

The most common face shape among women is a round shape. Round shape has a similar proportion of width and length including the full round circles of cheeks. There are absolutely no angles on the face. Soft yet gentle jawline and wide hairline dominate the round face shape.
To give little angles and sharpness to your face structure, it is good to go with little angular shaped sunglasses. Highly stylish options recommended sunglasses for round face shape includes broad rectangular sunglasses, D-shaped glasses with angular edges, pointed cat-eye sunglasses and squared wayfarer sunglasses

As a matter of fact, stay away from round sunglasses or sunglasses with soft round curves as these will make your face appear rounder.
wayfarer sunglasses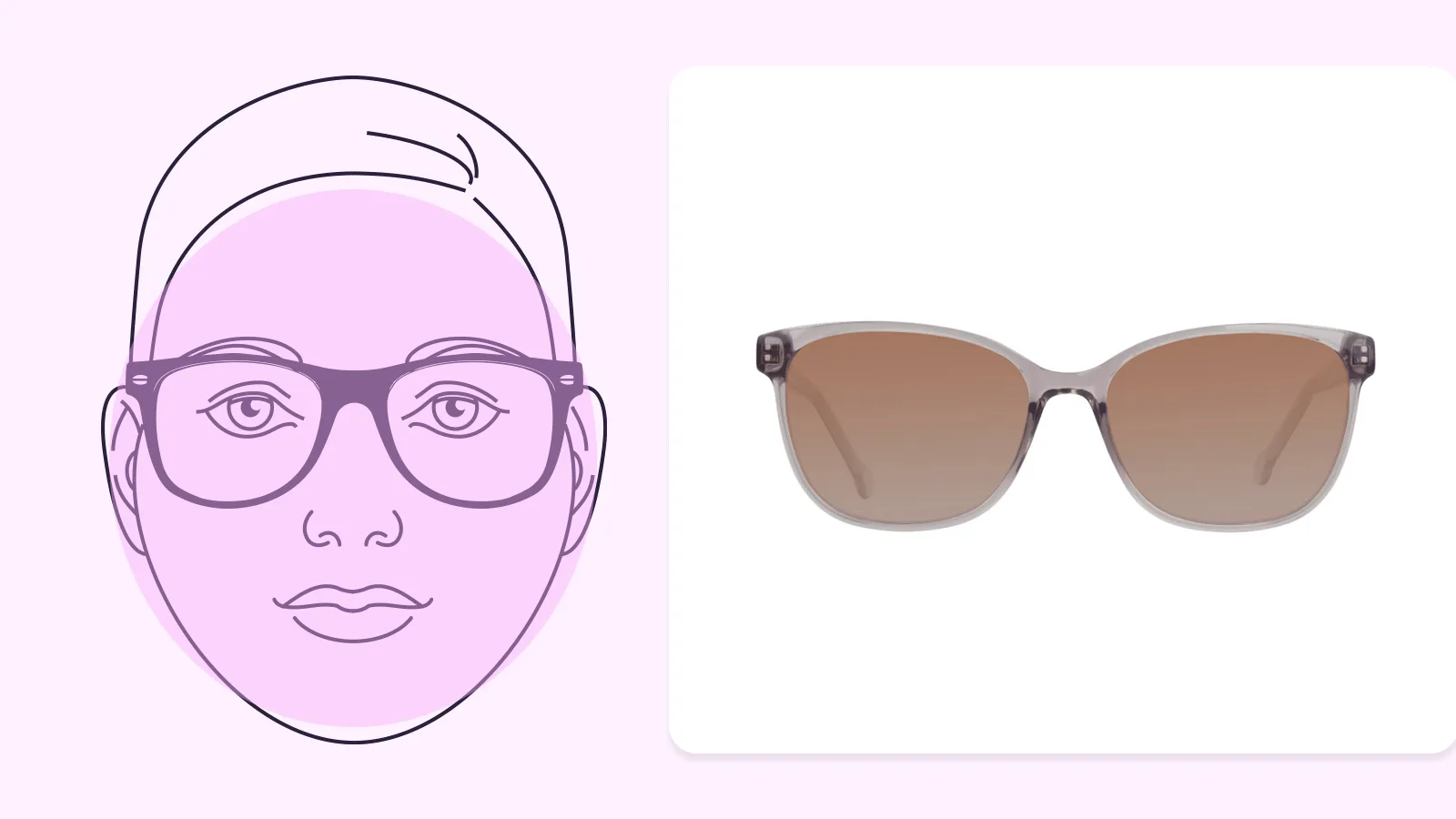 Click here for this frame.

Sunglasses for square face shape
People with square face shape have a wide forehead, wider yet well-defined jawline and cheekbones. An equal length and width of their face is the main characteristic of a square-shaped face. Such people should prefer frames with curves which soften the pointed jaws of the face.
To soften the sharpness of the face, try out thin and circular shaped sunglasses for a face shape that's square such as oval sunglasses, round sunglasses, browline sunglasses, aviators and cat eyes sunglasses with rounded corners. Patterns and prints on the frames will bring the lively vibes including tortoiseshell, dual-tone frames, half rim glasses, rimless glasses, metallic gold and bold colour frame. Do not wear oversized, square or rectangular sunglasses.

Round sunglasses for square face shape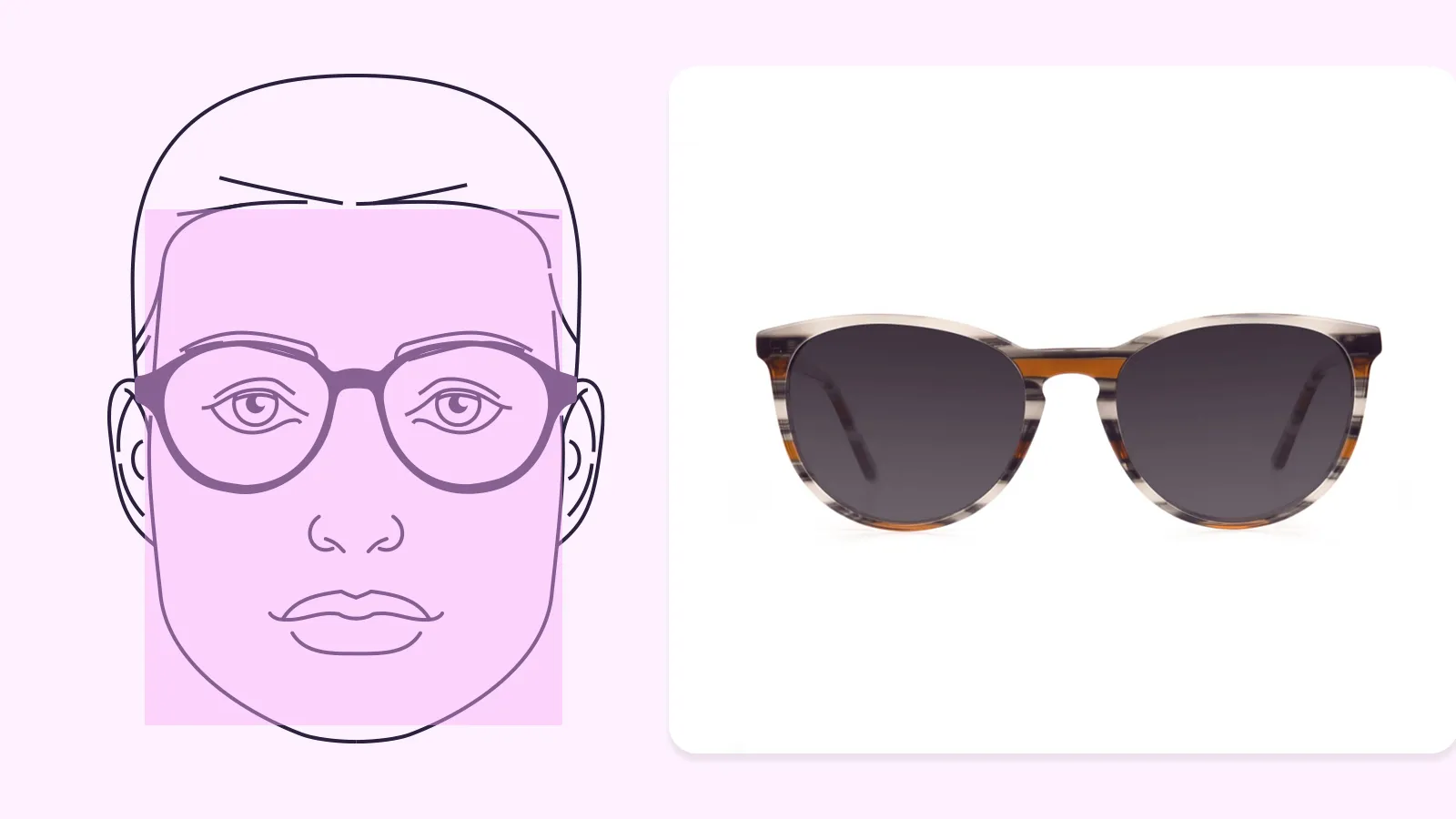 Click here for this frame.

Sunglasses for Diamond Face Shape
A diamond shape of the face consists of narrow pointed chin, narrow hairline, sharp and wider cheekbones. All the dimensions of the face are pointed and angular.
As the diamond face shape lacks softness and roundness, it is better to buy rounded corners with the upper part of the lenses being heavier. Browline sunglasses, round sunglasses, cat eyes sunglasses, tortoise sunglasses, half-rim sunglasses and rimless sunglasses for a face shape that's diamond can bring the much-wanted softness to the face. A dash of colours and testing with various frame's material will draw attention to the forehead while concealing the sharpness of face and making you a trendsetter.

Browline sunglasses for Diamond Face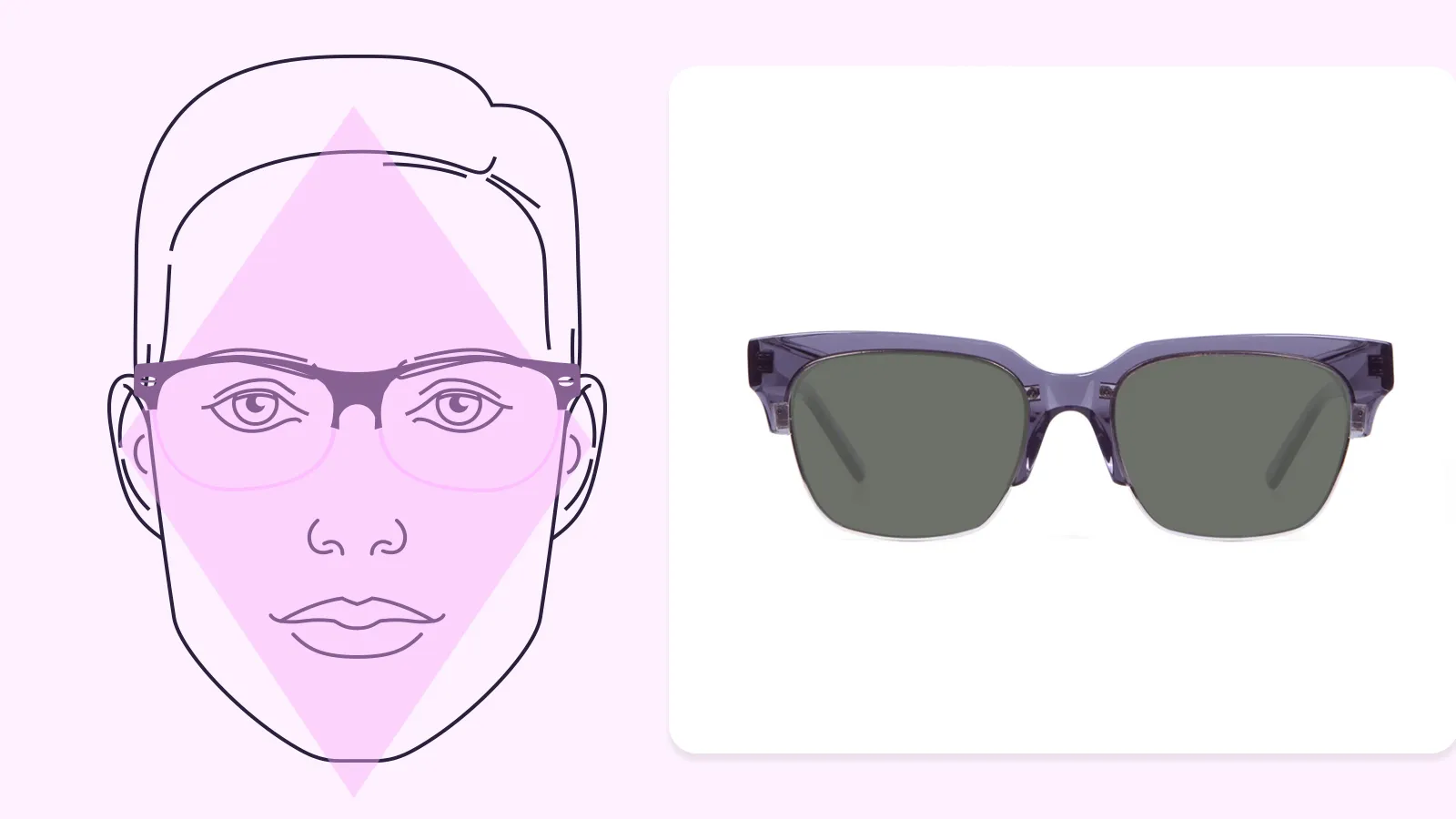 Sunglasses for Oblong Face Shape
The oblong shape of the face is marked with a broader forehead, round chin, chiselled and defined jawline with narrow cheeks. The length of the face is more than the width of the face.
Finding the right sunglasses for an oblong face shape look beautiful? Sunglasses which have the broad upper part of the frame and narrow bottom part of the frame are good to go with an oval-shaped face in oversized shapes such as rectangular sunglasses, wayfarer sunglasses, browline sunglasses, aviator sunglasses in half rim or full-rim style. Bring out more width to the face with these sunglasses online in your favourite colours.
sunglasses for Oblong Face Shape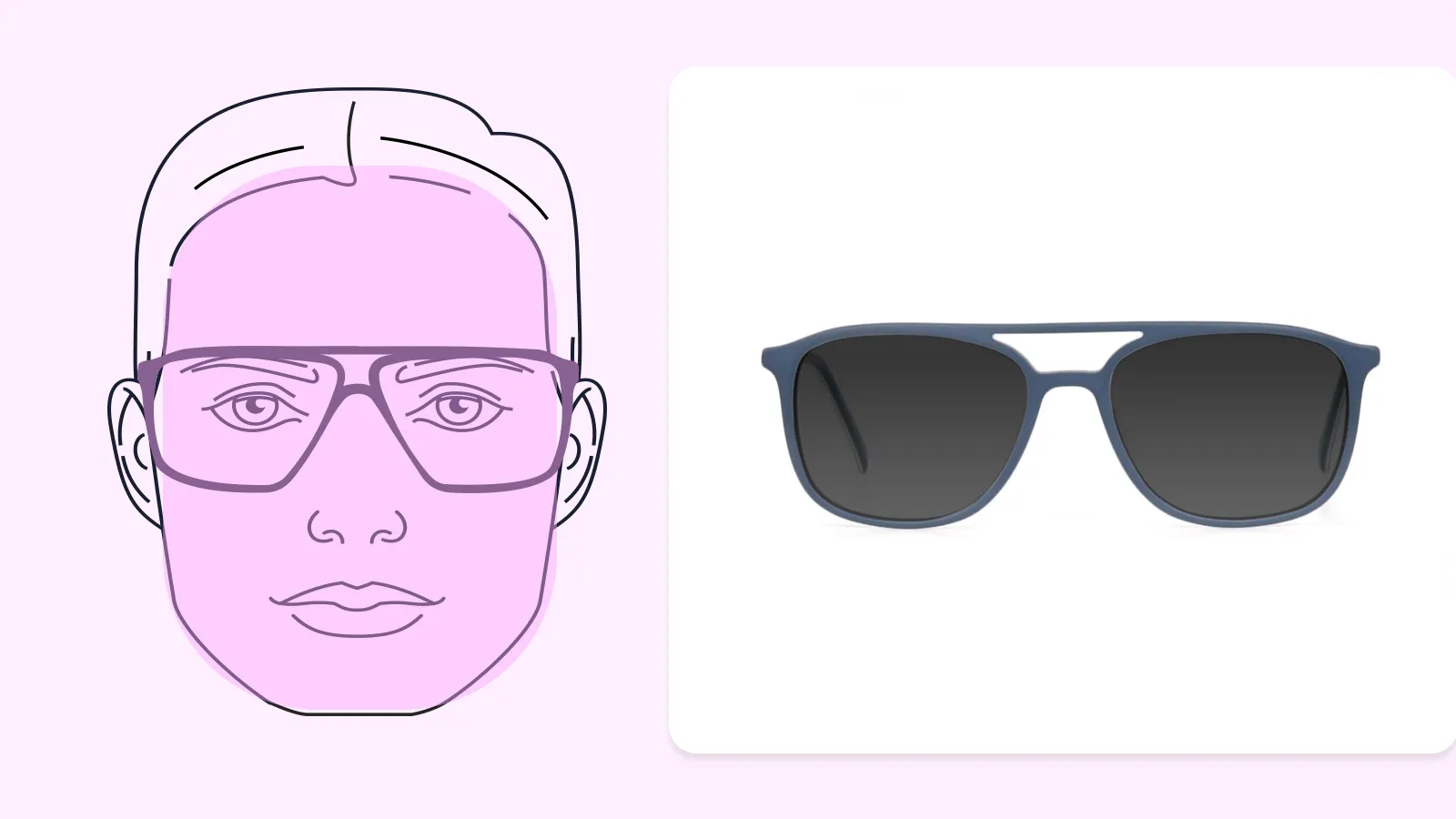 Sunglasses for Heart Face Shape
A heart-shaped face has a broader forehead, wide cheekbones, sharp jaw, which narrows down towards the thin, pointed chin.
What sunglasses are ideal for a heart-shaped face like should one go for? People with heart shape should select wrap sunglasses, heavy bottom sunglasses and round sunglasses including teardrop-shaped sunglasses, wayfarer sunglasses, cat-eye sunglasses and round sunglasses. These sunglasses manage to bring attention on the cheeks and forehead instead of the pointed chin.
Cat-eye Sunglasses for Heart Face Shape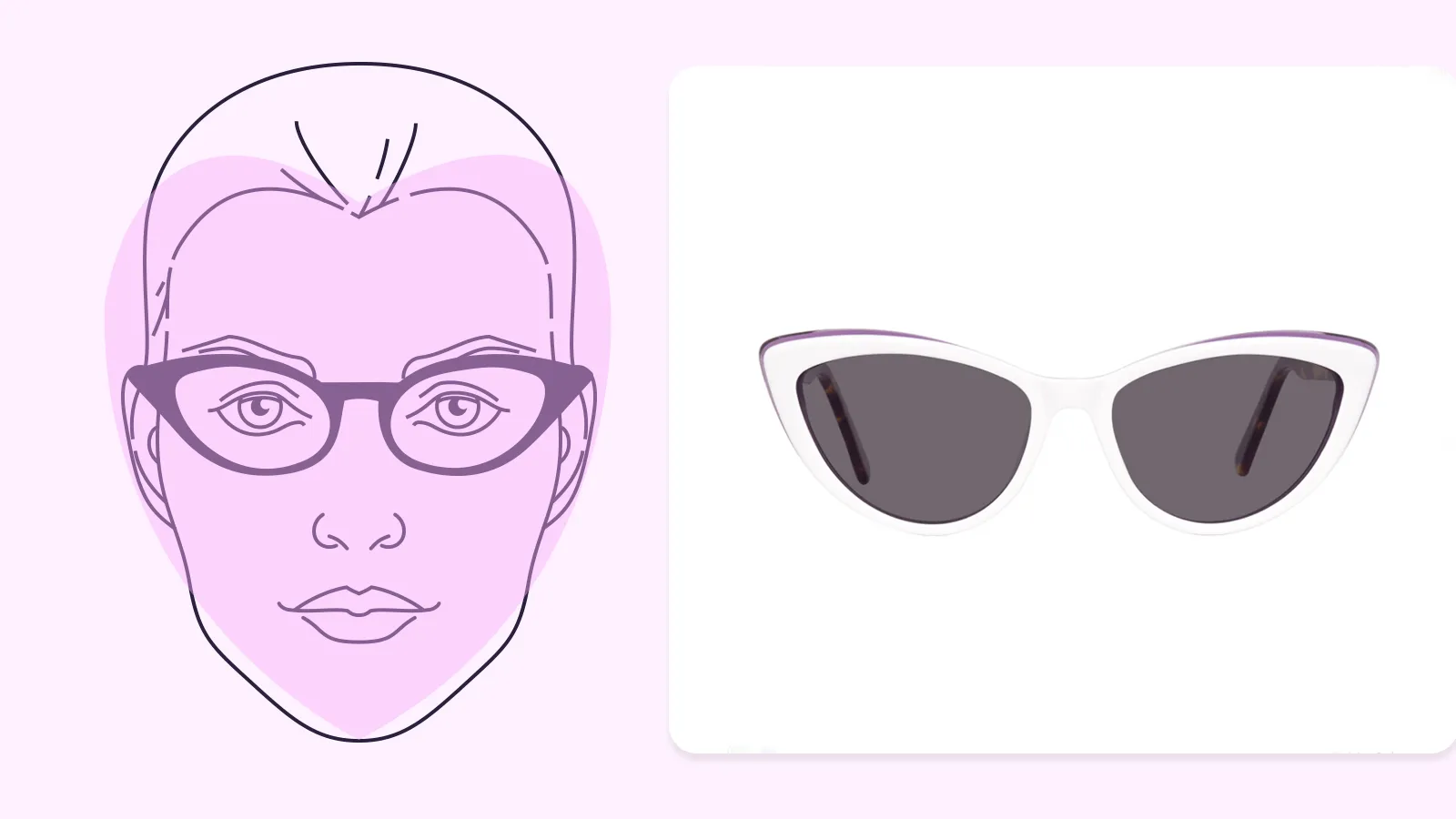 Click here for this frame.