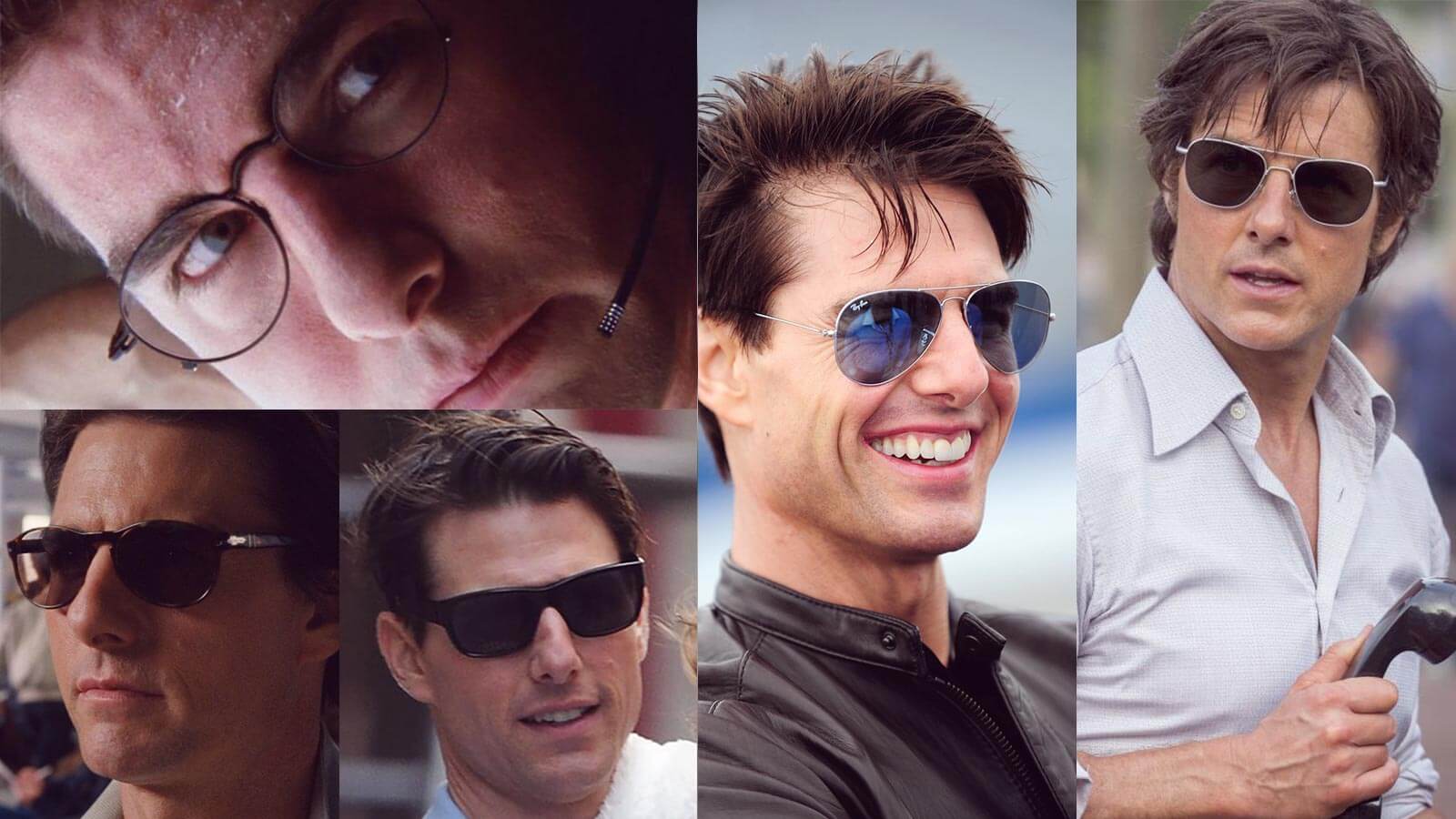 Your Style Mission Is Not Impossible - 5 Tom Cruise Sunglasses & Glasses
Tom Cruise sunglasses and glasses have made his characters fascinating enough for us all to admire. That's why today we bring this article that talks about the most popular and mesmerising pairs of Tom Cruise sunglasses and glasses donned by the man in the top notch films he has entertained us with. But even if you are not a fan, we recommend you go through this article, to have a look at Tom Cruise with Glasses and cherish the intriguing appeal that you can add to your personality.
Before we begin though, let's first get to know Tom Cruise a little. The actor and producer is American and has many Golden Globe awards to his name along with nominations for Academy Awards. His full name is Thomas Cruise Mapother IV. After making his breakthrough with a comedy film called Risky Business in 1983, the actor was then seen in top movies as the lead actor. These include the Mission Impossible series, Maverick, Top Gun, Collateral, American Made, Knight and Day etc.
Of the many fascinating facts about the star, one is that the actor has a holiday on his name in Japan. Yes, it's called 'Tom Cruise Day' and is celebrated on October 10th. It was to honour the American actor because he was one of the only ones at the time to visit Japan so often and express his appreciation for his fans in Japan.
Another fact that might shock you is that Tom Cruise could have been a wrestler and not the world class actor he is. He was a fan of the sport and was in the school wrestling team as well. However, an injury required him to stop playing it and then he got into acting, eventually giving us a few masterpiece entertaining movies. Amazing right? So, let's get to know these movies a little while we cherish the captivating eyewear he donned.
5 Top Cruise Sunglasses and Glasses for You to Style up Like Him
Tom Cruise Top Gun Sunglasses
Tom Cruise glasses from Top Gun - the movie released in 1986 - were what made aviators so famous. Also, known as Tom Cruise pilot glasses - the pair used in the incredible film was black overall in gold rims and metal build. The flattering and extravagant appeal of the teardrop shape took those Tom Cruise top gun glasses from being just a pilot's thing to every man's style secret. And soon it became a part of women's fashion as well.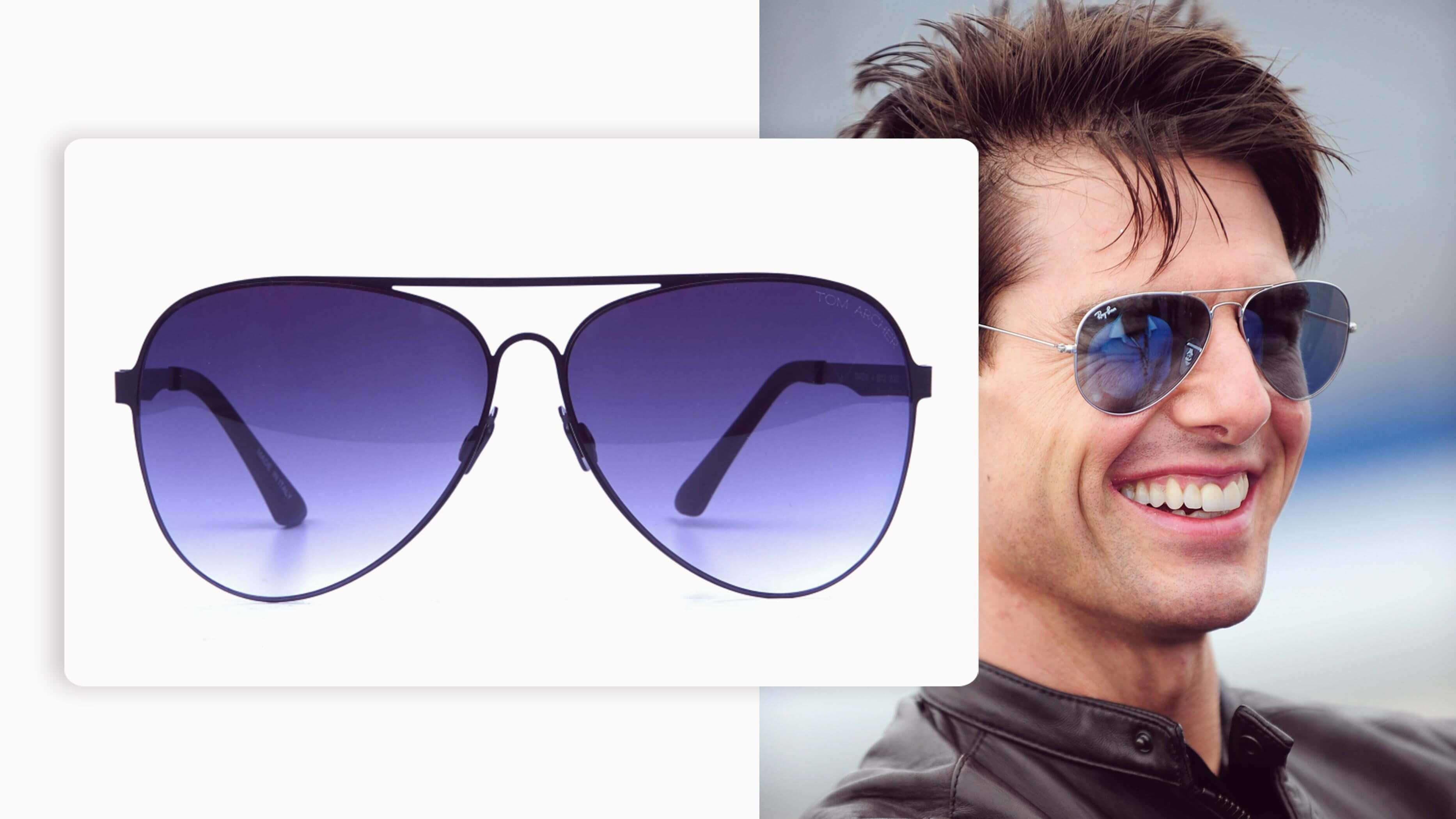 Specscart has a similar pair for you in different colours. One pair that has been loved is called Jason. It's a bold black aviator pair in metal build and a captivating teardrop shape that can't help but catch attention. Thus, bringing many admiring glances and compliments to the table. You will find the same pair of these Tom Cruise style sunglasses in brown and gunmetal colours also if you want. Made for both men and women, and for almost all occasions we are sure the pair will amp up your fashion game and make you the trendsetter in the room.
Tom Cruise Glasses From American Made
You get to see Tom Cruise Randolph glasses in the incredible movie released in 2017. American Made is one of Tom Cruise's latest works and makes quite an impact with the action and entertainment it brings to the table.
Based in 1978, the plot of the movie revolves around Barry Seal who is a commercial airline pilot. He is recruited by the CIA for military observation (scouting) on a growing communist threat in Central America. He involves himself in dealing of drugs and arms while being on this operation under the CIA. Knowing that he can be put into jail, he becomes an informant for the government.
The sunglasses that he sports during the movie are squarish in shape and with silver rims and temples. The aviator style of the frames adds to the magnificence of the actor and the character of Barry Seal that he plays. Its black tints and the incredible metal build suit Tom Cruise's personality quite well.
You can too try such a pair. We have a similar set at Specscart by the name of Mario. This black coloured pair of sunglasses is squarish and has a similar aviator styled structure that makes Tom Cruise fans go gaga. We have another pair in the gorgeous gunmetal colour. The cool full-rimmed aviators are made in mixed material of metal and acetate and thus have the strength from both of them.
Plus, the frames are lightweight in structure which means they do not spell any trouble for you in the form of headaches, eye strains etc. Being a pair of sunglasses from the incredible collection at Specscart it comes with the anti-reflective advanced X-pro coating that saves you from the dangers of UVA and UVB rays of the sun.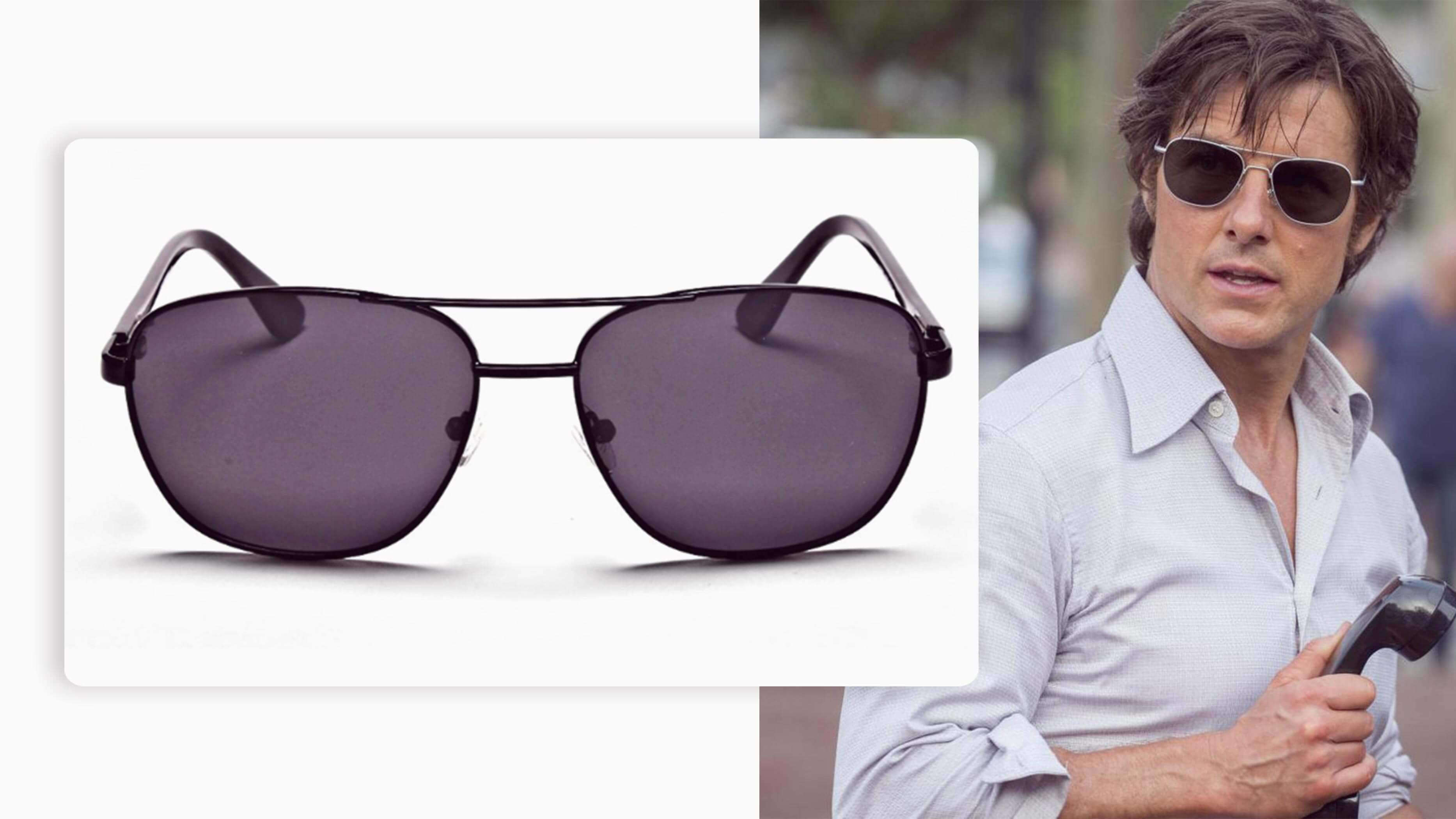 Get going and have a look at this mesmerising pair of black squarish aviators right now. Portray your love for Tom Cruise and his characters like Barry Seal with just a minor but impactful addition in your attire.
Tom Cruise Glasses From Mission Impossible 1
An action-thriller movie released in 1996, Mission Impossible is one of Tom Cruise's most famous movies. The movie is about a US government operative - played by Tom Cruise - whose mentor gets murdered. The prime suspect is the character played by Tom Cruise and he must find a way to enter the heavily guarded CIA building to find the evidence that can prove him innocent. He takes help from a great hacker and a maverick. Both of these help him accomplish his mission.
Tom Cruise wears a pair of glasses in many scenes. This set is round in style, black in colour and in a metal build. The pair gives Tom Cruise a geeky look which makes the scenes and the movie more intriguing for the audience.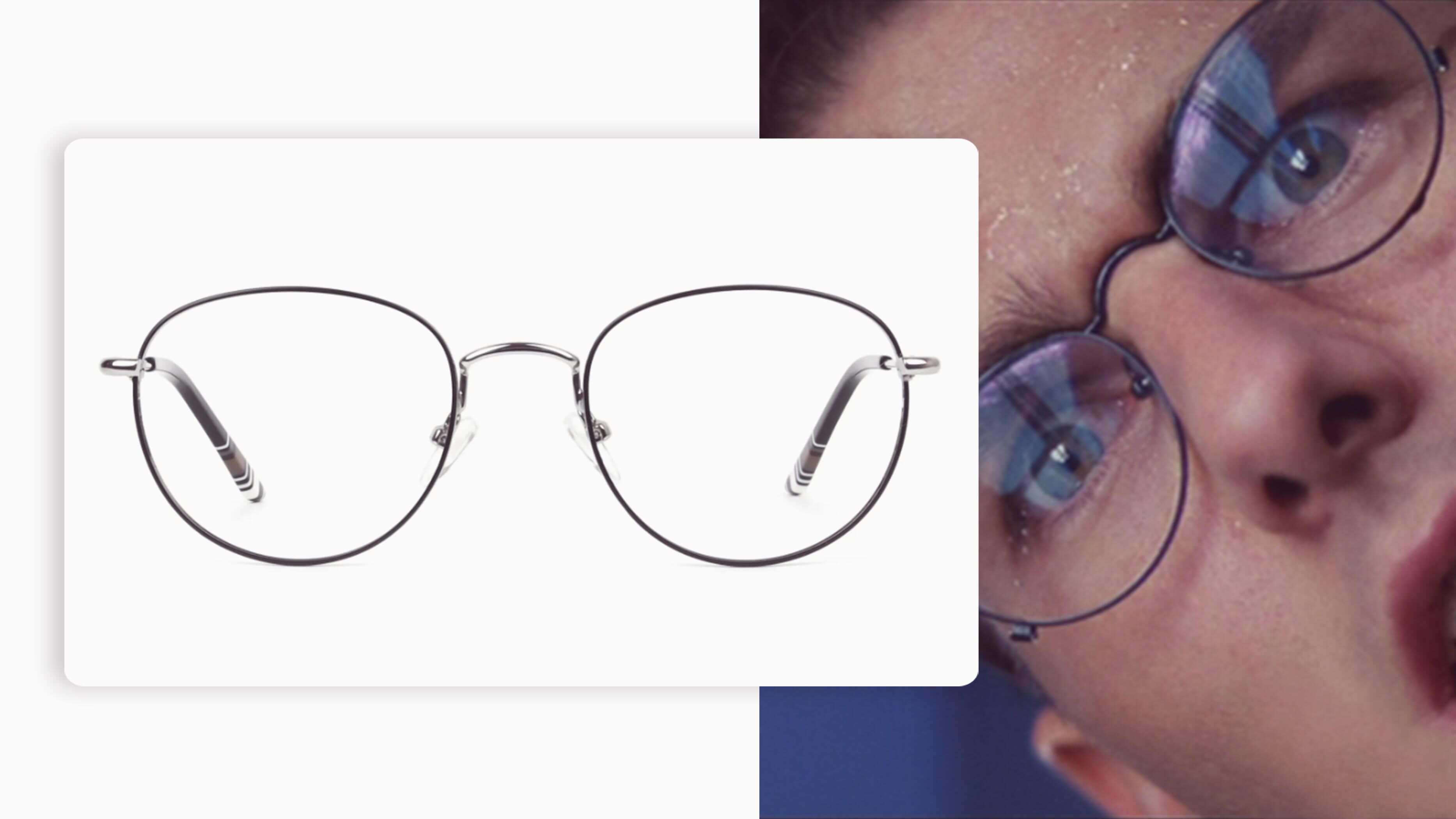 We have a similar pair for you at Specscart but with an ultramodern twist. Instead of an all black frame, we have made you a black and silver pair of round eyeglasses. The playful mix of colours with the unique temples makes these frames highly intriguing just like the movie mission impossible. The temple tips have exquisite detailing that no one can deny admiring. Donning the same type of nose bridge like the Tom Cruise glasses of Mission Impossible 1, the pair can give you the same look. Thus, helping you express your fancy for the star and the character played in the movie. Made in lightweight metal, with adjustable nose pads, the Tom Cruise eyeglasses promise comfort and durability along with the flattering appeal.
Tom Cruise Collateral Glasses
Collateral - the movie was released in 2004 and is a thriller drama movie. It is about two people - one Los Angeles based taxi driver by the name of Max and a hitman by the name of Vincent. The character that Tom Cruise plays is that of Vincent, the hitman who is Max's taxi customer. He offered him a high pay and said to halt at 5 stops. As the stops came by, Max realised he was hostage to a hitman on a contract killing spree who was murdering one person at each stop. The police are behind the taxi driver and the hitman as they try to save themselves.
The Tom Cruise collateral glasses that became famous after this movie was a pair of rimless sunglasses in black. These made his look as a hitman much more beguiling and thus made the movie and the character top-notch for the audience. The critics too loved the film.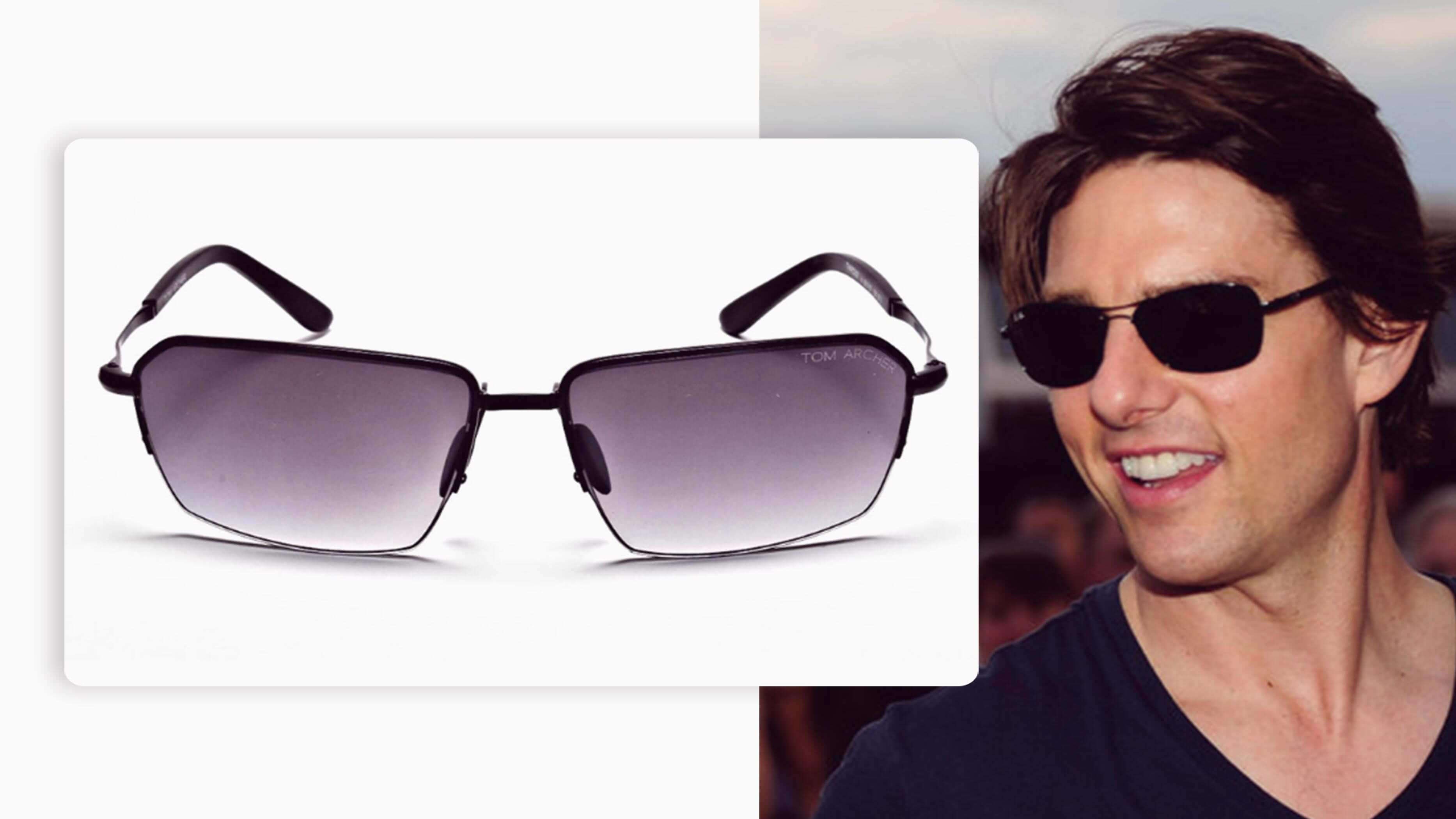 We have a similar pair for you at Specscart in our designer sunglasses collection. While this is not rimless, it is a rectangular pair of black sunglasses with grey tints and a subtle wayfarer shape. The pair will look great on face shapes like oval or round. You ought to try them to add a spark to your persona - not to scare people as a hitman - but to amp up your fashion spirits and make a notable presence in every room.
This pair is called Aron and is made in mixed material to bring in the benefits of both metal and acetate. Its comfy nose pads and lightweight structure promise comfort even after prolonged usage. So, whether you are running away from the police (just kidding) or having a long day out in the sun, this pair of sunglasses will become your saviour.
Tom Cruise Glasses From Knight and Day
The movie Knight and Day is a comedy spy movie that revolves around two characters. One is played by Tom Cruise who is a covert operative by the name of Roy Miller. The other is played by Cameron Diaz who is a blonde woman trying to get her home on a flight. But the two end up together in an adventure that takes them to evade bulls in Spain and leaping over rooftops in the country of Austria. June Havens - the beautiful woman - falls in love with the character played by Tom Cruise and the two end up realising how important the role trust plays in survival.
The Tom Cruise glasses in Knight and Day are a set of round shades in black. The tinted lenses give a peek into Tom Cruise's beautiful eyes as he conquers every obstacle in the adventure.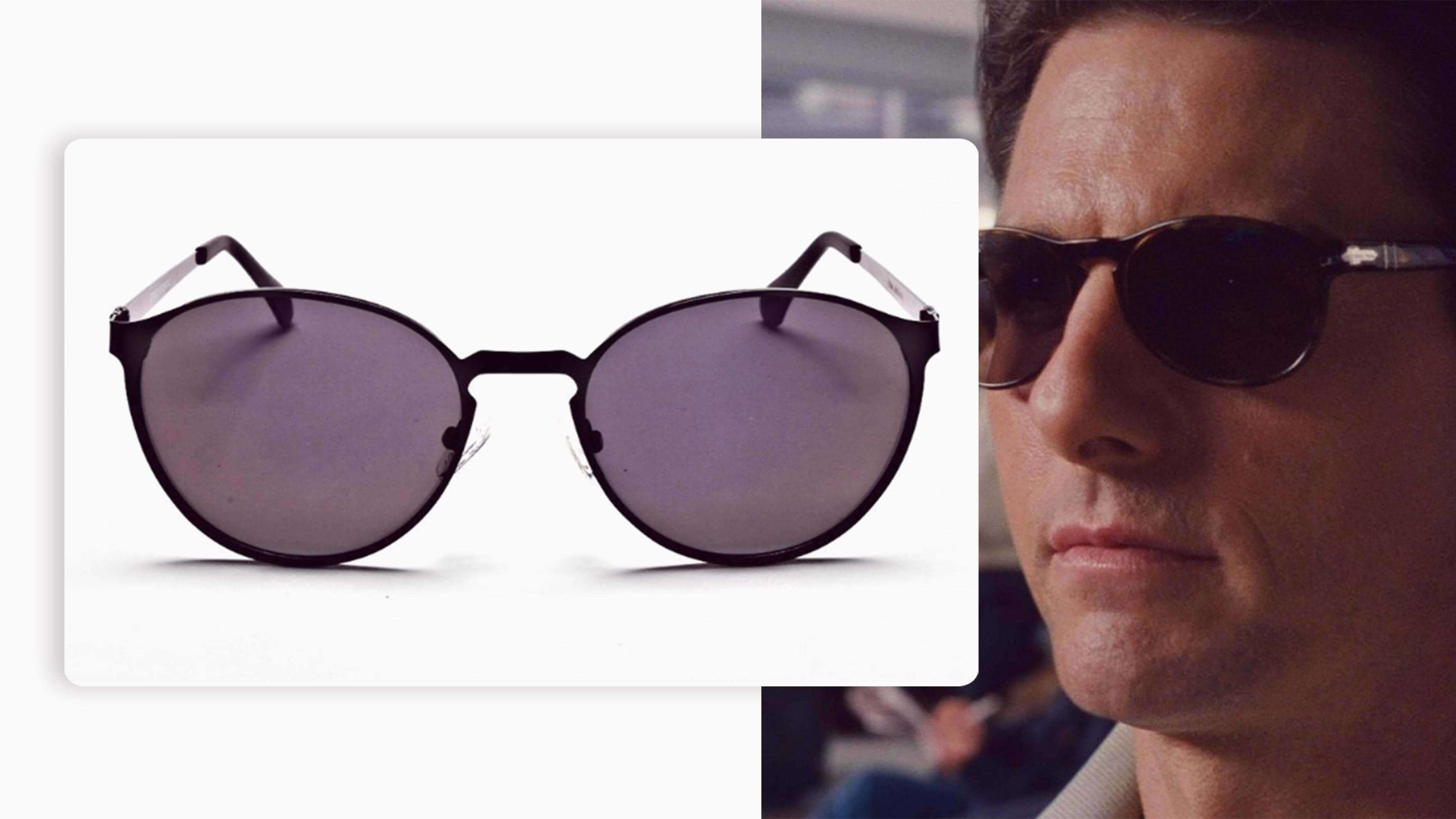 Specscart has a similar pair for you. The pair is known by the name of Ryan and is a black full-rimmed pair of sunglasses that will not only add some fashion to your ensemble but will also protect your eyes.
All sunglasses at Specscart come with advanced anti-reflective UV X-Pro coating that saves from both harmful UVA and UVB rays of the sun. The sunglasses are also made in lightweight metal which ensures they spell no trouble for you in the form of headaches and eye strains. Thus, protecting your eyes' health and providing comfort.
Get the stylish look of Tom Cruise with these sunglasses today. The ultramodern touch of purple tints and the keyhole nose bridge will help you raise your style quotient up a notch in no time.
Specscart Is Here to Help You
To find pairs similar to Tom Cruise sunglasses under one roof is a bonanza for Tom Cruise fans. Specscart brings you such eyewear inspired by Tom Cruise eyeglasses and sunglasses that you can add to your wardrobe and make the most of his stylish looks. All these glasses and sunglasses come at highly affordable prices.
We know that style and care should go hand in hand and that's why all glasses at Specscart come with protective coatings. These include anti-UV, anti-glare, and scratch-resistant coatings. And all these come free of charge.
Talking of free stuff, you will be glad to know that you can get a free comprehensive eye test done at any of Specscart's stores as well. If you cannot visit the store we can send our experts to your home for a comprehensive eye test at a nominal price.
Also, you can get a free 7 day home trial on up to 4 eyeglass frames. But worry not, if you didn't like any of the 4 pairs you chose, you can always order another home trial package and then another until you are satisfied. Shipping both sides is free for home trials so order without hesitation.
Shipping of orders is free worldwide whether you buy any type of eyewear. Plus, if for some reason you are not satisfied by the pair you bought, you can return it within 30 days and no questions will be asked.
All these free services are there to serve you with the best vision and eyewear fashion experience. After all, you deserve both.
To help you ensure your eye health is intact, Specscart also has anti-blue light glasses, transition glasses, UV 400 sunglasses etc. that promise to shield your eyes from demons like the UV light and blue light. All these are available at nominal charges because we know how essential your eye health is. Having such pairs of glasses can save you from diseases like age-related macular degeneration, cataracts, insomnia, obesity and diabetes. You don't want to get to the stage of vision loss as it will make your life much more difficult than that of the characters played by Tom Cruise in his most action-thriller movies.
So, get going and protect your eyes with flattering Tom Cruise sunglasses and eyeglasses today!
Our Latest Stories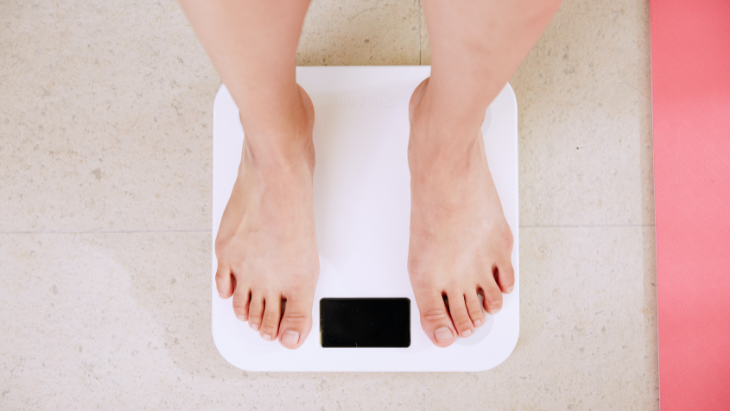 Specscart Blog
Want the latest update on designer eyewear, shades or glasses? Our blogs give exceptional insights into the latest eye care measures and eyewear trends, fashion and style hitting the streets of United Kingdoms. From finding an optician or optometry near you to the latest designer glasses or sunglasses for the summer and spring fashion, you'll learn something useful every day. We publish regular informative measures on eye care, the latest design in eyeglasses and sunnies, celebrity specs and fashionable choices you can make in your lifestyle to up your fashion game. Read on to find information about various glasses types, eye condition and fashion trends in a fun and simple way that you would fancy with a cuppa tea.
Hello,
fellow reader!
An exciting offer is on the way to your inbox!
You like to read stuff, and we love that about you.
Enter your email-ID below and we will send you an exclusive offer!