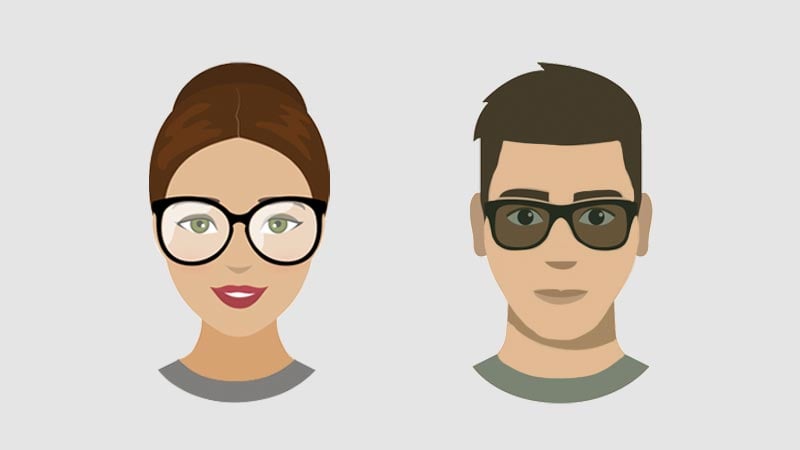 What Glasses to Choose for an Oval Face Shape
Spectacles aren't often discussed as part of a beauty look, but they should be, in my opinion. This is because putting on a pair of glasses is just as quick and easy as swiping on a strong lipstick or some eye-catching liner to alter up your style. Whether you wear specs every day, only on special occasions, or just for a little additional fun, the frames you choose are important.
Elements like frame shape, colour, and style all have a role in your overall look, so it's useful to know your face type and have a general idea of what you're looking for to make the buying process go more smoothly. All it takes is a little motivation. That's the most important part.
Our previous blog on 'frames for round faces' invited a lot of questions. Readers send queries like "do round glasses suit oval faces" and "what glasses suit oval face shape". Also, a lot of people confuse oval face shapes with a round one. If you too have similar doubts, read on the blog!
First, let us see what exactly an oval face shape is.
How to Know If You Have an Oval Face Shape
An oval face is distinguished by higher and slightly wider cheekbones, which narrow slightly towards the forehead and jaw, and is most known for having balanced features.
The most famous celebrities with an oval face shape include Kate Middleton, Rihanna and Beyonce.
Avoid very thin frames or frames with significant design features if your face is oval. Both can lengthen your face shape unnecessarily. Keep in mind that these are suggestions rather than hard and fast regulations. It's crucial to put on accessories that make you happy.
Glasses for Oval Face Shape
When it comes to selecting a pair of prescription glasses, you are fortunate in that you may choose from almost any frame type and they will still look good on you. The majority of eyewear shapes will look good on your oval face. Just make sure that the glasses you choose don't interfere with the natural harmony of your features. You don't want to appear disproportioned, so avoid wearing an enormous frown.
Square Glasses are more popular than ever before. Square retro shapes, both for sunglasses and optical shapes, have been one of our best-selling items since the revival of 1970s fashion. Darcy is a popular shape for this look. We have made acetate versions of this type in a variety of colorways, so you'll be able to find a square style that you like. This style is more common among men, although it is also popular among ladies.
The designer cat eye glasses frames comes in a variety of shapes and sizes, so you'll have to figure out which one is perfect for you. Although this is a more feminine shape, it is becoming increasingly popular among guys. If you're a woman seeking a retro frame style, our Adele collection is a great place to start. For a modern touch translucent frames like Cheshire are perfect. There are some small throwback styles that were popular in the 1990s and are making a comeback. Larger cat-eye frames, which were popular in the 1950s, are also available.
A lot of people wonder if round glasses suit oval face shapes. The answer is yes! Circular frames are another incredibly trendy design this season. Hale and Elton are two styles that are at the forefront of this trend. A unisex trend that combines geek chic styling with mainstream fashion to create a unisex look. All of our rounded frames have been grouped together so that you can shop for them all on one page. Both spectacles and sunnies are popular in this style.
Rectangular shapes are a popular choice for glasses since they are gender-neutral. Most brands feature a rectangle form in their portfolio as a traditional style. You can go for a vibrant colour, a pattern, or a classy neutral style in black or havana, according to your own style. Some of our most popular rectangular glasses include Lune.
Browline and Double-Bridge Glasses
Browline glasses are another safe choice. Both men and women look great in glasses with an extra bridge. For the oval face type, glasses with a metal or thin plastic frame are a good choice, keeping in mind that the size of the glasses is roughly equal to or larger than the size of the forehead or cheeks.
Our Latest Stories
Specscart Blog
Want the latest update on designer eyewear, shades or glasses? Our blogs give exceptional insights into the latest eye care measures and eyewear trends, fashion and style hitting the streets of United Kingdoms. From finding an optician or optometry near you to the latest designer glasses or sunglasses for the summer and spring fashion, you'll learn something useful every day. We publish regular informative measures on eye care, the latest design in eyeglasses and sunnies, celebrity specs and fashionable choices you can make in your lifestyle to up your fashion game. Read on to find information about various glasses types, eye condition and fashion trends in a fun and simple way that you would fancy with a cuppa tea.
Hello,
fellow reader!
An exciting offer is on the way to your inbox!
You like to read stuff, and we love that about you.
Enter your email-ID below and we will send you an exclusive offer!