As you age, it's normal to experience changes in your vision. From seeing close up objects a little blurry to finding it hard to distinguish colours, there are some vision problems that you'll just have to deal with.
Not only this, your risk for certain eye diseases will also increase. And no matter the vision we were born with, we all have to wear prescription glasses or contacts in our 60s.
So, it's best to take care of your eyes now than to feel sorry later. Even if you're in your 60s, you can still practice some eye care tips to keep your vision from declining further.
You can keep your ocular health as fit as possible by getting regular eye exams and spotting any vision-related problems early.
What can regular eye exams do?
An eye test is not only for checking whether your prescription is up to date. It gives a closer look at your overall eye health. A comprehensive eye exam is able to detect eye diseases such as cataracts or glaucoma as well as general health issues such as high blood pressure and diabetes.
The good news is, if you are over 60, you are eligible for a free NHS eye test every two years. Those who are over 70 can get these eye tests every year. But it's sad that most people still don't take advantage of this opportunity and pass up the offer as they don't consider regular eye exams important.
At Specscart, we believe that attention to eye health is important at every age. This is why we have a free eye test policy for all UK residents. The tests are performed at our advanced eye test labs by our expert opticians in not more than 20 to 30 minutes. We've recently opened a store in Walkden where we have state of the art labs to perform more eye tests every day.
Wear prescription glasses
Not just any prescription glasses but the correct prescription glasses. Your eyes go through a series of changes between 40 to 60 years of age. And it's normal for your eye prescription to fluctuate rapidly as well.
And to make sure that your lenses have your latest prescription, you need regular visits to the optometrist's office. An eye test will decide whether they need a different (updated) prescription for their glasses.
So, take your parents or grandparents for routine eye exams to make sure they're always using the right glasses or any other form of vision correction tool.
Using glasses that suit your ageing vision needs will improve your quality of life and reduce the likelihood of injuries from falls or accidents.
Eye conditions that develop in your 60s are generally corrected by using varifocal glasses. As your eyes lose both near and distant focus, you'll need glasses that correct your vision across every distance and varifocals are the way to that.
How to maintain your eyesight health
In addition to getting regular eye exams, here are a few things you can do to protect your ageing eyes from permanent vision loss.
Eat well
Eating healthy foods and taking a balanced diet is crucial for your eyes. Make sure you eat plenty of vegetables and fruits to guard your eyes against vicious eye diseases such as cataracts and macular degeneration.
Use sunglasses
Sunlight can damage your eyes and elevate your risk of developing cataracts. Get your parents quality sunglasses that block 100% UV rays and encourage them to use sunglasses whenever they go out during the day.
Stop smoking
Smoking damages your whole body and your eyes are no exception. Smoking makes you more vulnerable to age-related eye diseases. And even if you're young, you should quit smoking as soon as you can to protect your vision from irrecoverable damage.
Stay a healthy weight
Make sure you're not overweight as it could lead to several health conditions such as diabetes which is responsible for sight loss in most people. Exercise regularly to stay at a healthy weight and improve blood circulation in your body. It will increase the blood oxygen level in your body which is vital for good eye health.
Sleep well
When you're sleeping, your eyes get lubricated to clear out any dust or smoke that might have accumulated on your eyes during the day. Thus, you wake up with healthy and refreshed eyes in the morning. Taking proper rest is crucial for your eyes if you want them to function properly for a long time.
How does lighting help your ageing vision?
To be able to see well in your 60s, you need twice as much light as a 20-year-old would. Make sure you keep the windows and curtain clean in your parents' room so they get a lot of bright natural light during the day.
Reading or other close-up activities should be done in a brightly lit room. You can also use task lighting or a table lamp to focus more light on your reading material.
Follow these handy tips to ensure the best lighting for your home.
Always keep your windows clean.
Switch to blinds as they make it easier to control the amount of light coming through the window.
Make sure there's a lighting bulb at the top and bottom of the staircase.
Use a table map for doing close up work.
The best glasses for your ageing vision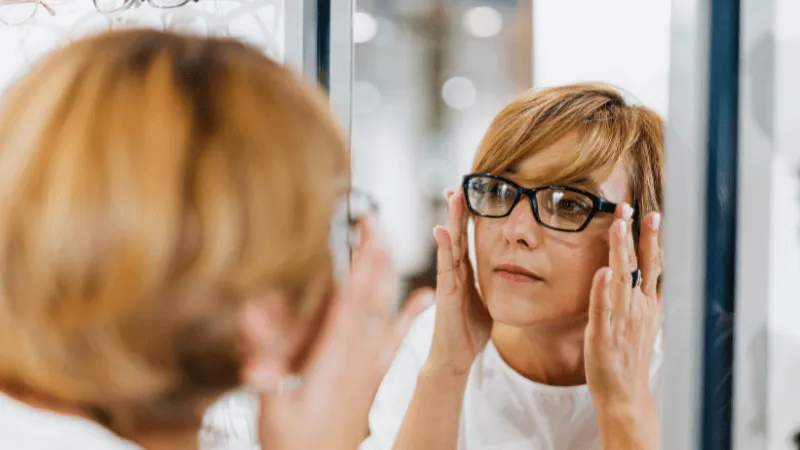 When you go to an optometrist for an eye test, they will give you a prescription that determines the type of lenses your glasses will have. You will use this prescription to buy yourself a pair of spectacles that'll give you the best possible vision.
There are different types of lenses available in the market such as bifocals and varifocals having different features to suit different vision needs.
When you're buying glasses, make sure you get the right lenses. If your lenses are wrong for your eyes, you are more likely to feel eye strain or trip over obstacles and get injuries.
Whether you're buying reading glasses or prescription glasses, everything from lens material to frame material should have high quality to get the best results.