A sportsperson's safety arsenal does not just end in knee pads and helmets. Yes, you heard it right! Protective eyewear is also a must-have for both sports enthusiasts and professionals. The right pair of sports sunglasses protects your eyes against any impact or bumps and serves as a reflective shield against UV rays, debris, speedy winds, and more. Despite their phenomenal utility and imperative need, not many people are aware of the process of buying the ideal sports sunnies. But, everything changes with this blog post. Here, we elaborate on the top things to look out for while buying sports sunglasses!
Why Buy Sports Sunglasses?
Many people who dabble in sports as amateurs are sceptical about the advantages of sports goggles. But, trust us, they have an array of benefits, which include -
Preventing Eye Fatigue and Eye Strain
To begin with, sports sunnies can keep eye strain and eye fatigue at bay. The sprawling and open sports fields and courts are usually devoid of any trees and foliage. Therefore, the sun's rays and the ensuing glare are intense and extra. To avoid excessive exposure to UVA and UVB rays and reduce squinting, it is essential to wear polarised sunglasses. They mitigate the harshness of the sun's glare and keep your eyes happy and on-field performance immaculate.
Enhanced Vision
For sportspersons with vision problems like myopia or hyperopia, it is not always possible to wear contact lenses. In addition, the value of usual prescription glasses is diminished when they are used on the field for sports activities. In such a context, prescription sports sunglasses come to the rescue. They are resilient, durable, anti-UV, and affixed with vision-correcting lenses.
Better On-field Performance
For any sportsperson to succeed on the field, it is pivotal that they are able to concentrate on the game. If vision-related disruptions like glare, debris, poor visibility, etc., are diverting your attention, then it is understandable the on-field performance will plunge. Therefore, whether it is basketball, football, cycling, or running a marathon, opting for sports sunglasses is essential, as they enhance your overall performance by increasing contrast and decreasing so that you can focus better on the target.
Lesser Chances of Injury
Last but not least, sports sunglasses are an indispensable safety gear for all sports enthusiasts, as they protect the eyes and the sensitive areas nearby. Sports sunnies shield you from flying debris or insects flying towards your eyes, safeguard against impacts, and more.
So, now you know why sports sunglasses are a must-have in your safety kit. However, it is understandable if you are not well-versed on how to choose the right pair of sports sunnies. The conversation surrounding these accessories is so minimal and the information available on the internet is so scant and erratic that people are bound to be perplexed. But, fret not, as this blog has got your back. Read ahead for a comprehensive buying guide for sports sunnies in 2023.
Things to Consider When Buying Sports Sunglases: A Comprehensive Summary
Frame Technology
The first thing to be mindful of when buying sports sunglasses in 2023 is the frame technology and lens design. The main purpose of sports sunglasses frames is to support the lenses through intentional and impactful design. Every individual element of sports sunglasses plays a crucial role in boosting performance and enhancing performance.
Looking for sports sunglasses with impeccable frame design? Our COOK 5-S has got your back. These ultra-sturdy and uber-resilient sunnies are made of premium TR90 material infused with graduated grey-tinted lenses and affixed with UV400 coatings.
Snug Fit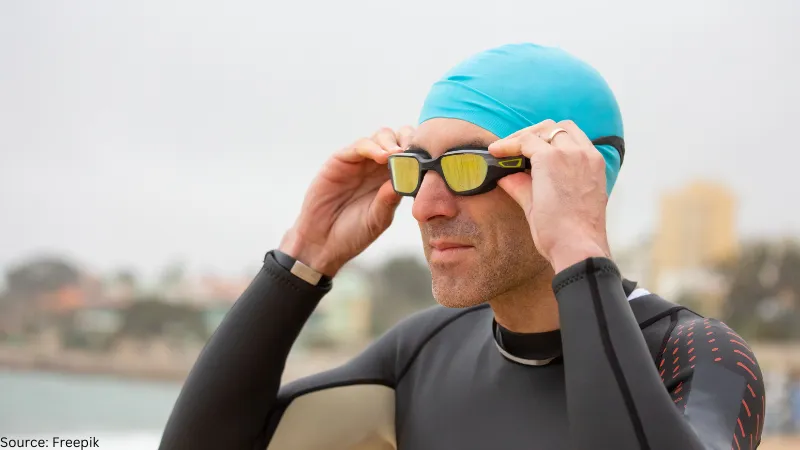 The right pair of sports sunglasses have a snug and crisp fit, ensuring that they will not move from their place while you are giving the best shot on the field. Besides, the type of fit your sports sunnies will have also varies depending on the game you play. For instance, if you are a cyclist, then sunglasses with straight temples are ideal, as they allow a seamless fit between the helmet and the lenses. On the other hand, if you are an avid hiker or marathon runner, then a bent temple could offer the best fit.
Lightweight Design
The third most important thing to consider while buying sports sunglasses is their weight. It goes without saying that sports sunnies should be feather-light and ultra-comfortable. Whether you are venturing out on a long-distance mountain biking expedition or getting ready for a 2-hour-long stint of cricket, it is essential to not be barred by the weight of something (sports sunglasses) sitting on your face.
In simple words, the best sports sunglasses are those that are so you forget you are even wearing them. Moreover, it is noteworthy to remember that one material you can skip while sports sunglasses is metal. They are too fragile and do not provide enough peripheral coverage to block the harsh rays of the sun.
When it comes to lightweight sports sunglasses, our ROT 1-S will not you down. Made of feather-light TR90 and infused with graduated brown-tinted lenses, these sports sunnies will always enhance your on-field performance!
Grip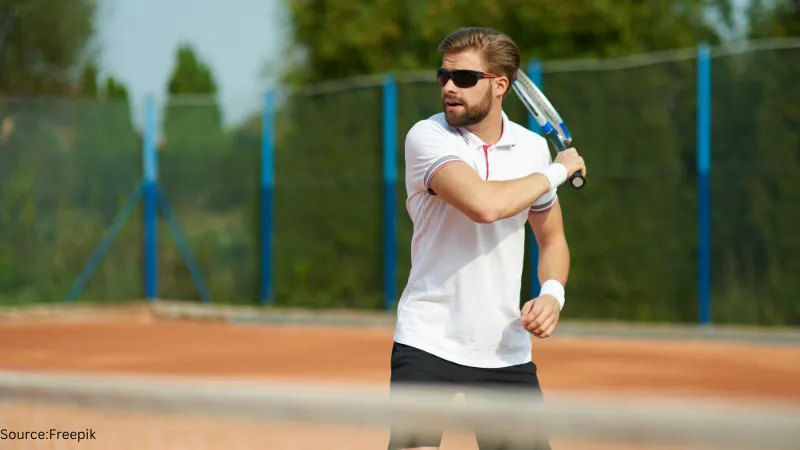 Needless to say, grip is all about keeping the sunglasses in place, so that you can concentrate on the game. So, while buying sports goggles, opt for pairs with a rubber nose pad and rubber temples, as they help keep the frame in place throughout the day. Moreover, hydrophilic rubber further ensures that the grip intensity increases without any discomfort or pain.
Ideal Contrast
Last but not least, when buying sunglasses for sports, do not forget to be mindful of the contrast. Simply put, contrast gives greater depth to both the shadows and the brightest areas. Thus, the result is that the details in the shadows are not obscured or lost, and you can make better decisions on the field. For instance, opting for lighter tinted lenses, such as rose and yellow can help you spot uneven road conditions while biking, or running a marathon.
Your search for the best-tinted sports sunglasses ends with our WILLIAMS 1. These sunglasses with yellow lenses are ideal for an array of sports, such as hiking, skiing, target shooting, tennis and more.
Get Premium Sports Sunglasses That Make a Difference
Purchasing the right pair of sports sunglasses gets easier with Specscart. Our ACTICS range includes high-quality sports sunnies so that you give your best performance on-field and look uber-stylish off-field!