Glasses are meant to offer crystal clear vision, but at times, fog interrupts and restricts us from grabbing top-notch clarity. Fogged-up glasses ultimately leave us with two options- either we need to take off our eyeglasses or wait until the fog gets cleared off from the lenses.
When our vision gets blurred due to fog, it paves the way toward a serious risk or momentary inconvenience. That's why we performed quick research and articulated this blog for you all. Below, we will share some tricks and tips that will help you keep your glasses from fogging up this winter. Let's scheme through the techniques already, the winter months are not that far!
Why Do Eyeglasses Tend to Fog Up?
During the winter months, our glasses deal with drastic temperature changes. When we move outside after staying indoors for a prolonged time, our glasses eventually fog up. When a thermal shift takes place, it causes condensation and creates fog, thus making it problematic for us to look at different things. It's time to combat these annoying issues, let's delay no more and dig deeper to explore tricks.
What Are the Tricks to Keep Your Glasses from Fogging Up?
Stay tuned with us and keep reading:
Anti-fog Spray
You can use an anti-fog spray since they are the best solution to prevent fogged-up lenses. By creating an extremely thin film on your glasses lenses, these sprays successfully keep moisture at bay. All you need to do is spray the solution on your lenses and let them dry for a few seconds. After some time, you can wear your eyeglasses and enjoy clear-sighted vision on winter days.
Allow Your Glasses to Adjust to Temperature Changes
Your eyeglasses need some time to adjust to different temperatures. If they get cold due to the outdoor mistiness, let your glasses rest for a while indoors. You can put them back once the fog is cleared up. Also, this is your best chance to clean the eyeglasses, isn't it? Simply take some lukewarm water and mild hand soap. With lots of love and care, you can retain your glasses in their original state. This particular tip works best in winter and autumn days- on top of that, it is one of the best ways to keep your glasses' condition absolutely intact.
On the other hand, when you step outside on the streets, your glasses again need to shuffle between hot and cold temperatures. In such cases, you can use your microfibre cloth and rub your glasses gently with it. Also, there are some ways to 'pre-cool' your glasses while moving outdoors (like this, your pairs will already get adjusted to the outdoor temperature and won't fog up)- below, we are highlighting some examples:
You can keep your eyeglasses out in the car
Place them on a windowsill or outside
Keep your glasses in a vestibule or cold room
These are some of the handy (yet weird) solutions that you can opt for
Maintain a Gap Between Your Glasses and Face Masks
You can sport your stylish face masks and scarves but make sure to maintain a gap between these coverings and your eyeglasses. It will prevent your lenses from fogging up, thus allowing you to stay at ease. Also, try not to breathe into or on your glasses, make best use of the gap in between.
Carry the Lens Cleaning Cloth
As mentioned earlier, a piece of microfiber cloth is indeed the best cleaning tool that effortlessly removes grease, dirt and dust from your glasses. Apart from being immensely gentle on the glass lens coatings, these cleaning materials are potent enough to remove moisture from your glasses. Since these clothes are crafted from microscopic fibres, they can be used to clean all the crannies and nooks of the lens surface. Way too small and lightweight in nature, these clothes will easily fit inside your purse, pockets and side bags.
Your Glasses Should Not Rest on Your Head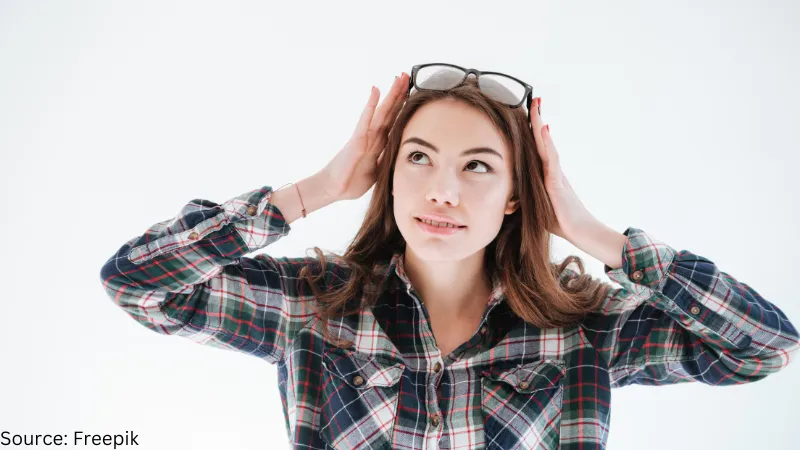 Do you have a habit of placing your eyeglasses right on your head? Well, this practice will ultimately wreck the frame's shape and the glass lens will fog up. When warm air vents from our heads, it causes the eyeglass lenses to fog up and condensate. To be honest, treating your eyeglasses like a hairband is never a great idea. It puts unnecessary pressure on the temples and frames, thus making your pairs ill-fitting, loose and uncomfortable. So, break this habit and love your eyeglasses, only then will they love you back.
Clean Your Lenses Often
As you already know, the outdoor temperature is cooler when compared to the indoor temperature during winter. As a result, it causes your eyeglass lenses to fog up and condense. The presence of dirt, dust and grease worsens the situation, it allows the fog to accumulate on your lens's surface. That's why cleaning your lenses quite often is mandatory. It keeps your glasses far from different contaminants and preserves them in their best form.
Don't Touch the Lenses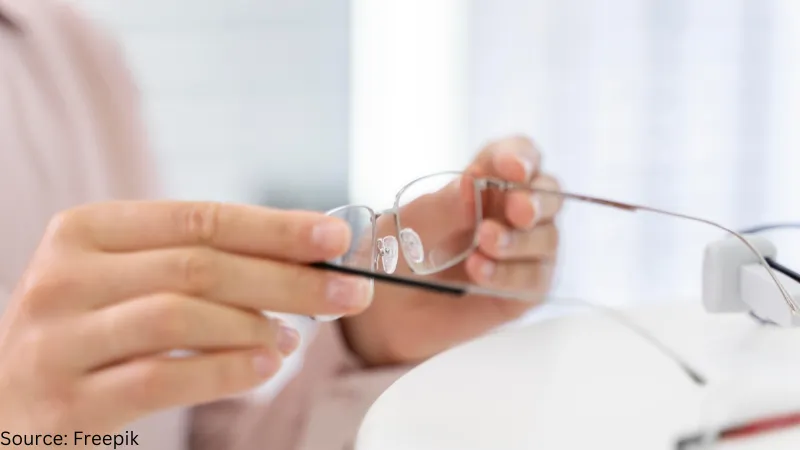 If you touch your lenses with bare hands, it might transfer certain skin products like moisturiser, hand cream etc. to the lenses. These products are harmful since they turn your glasses into cloudy and dirty pairs. Of course, seeing through such unclean lenses becomes more difficult. While taking care of your skin and adoring it is definitely important, you need to avoid touching your glasses randomly. In order to remove them, you can just hold the temples and place your glasses inside a protective case.
Watch Out for Your Warm Cup of Coffee/Tea
Grabbing a cup of tea or coffee on the go is something that we love to do during the winter months. But, these hot drinks release warm steam that fogs up our glass lenses. However, combating this issue isn't a problem- all you need to do is cover your glasses with a lid and that's it. Other than that, you can hold the coffee cup at arm's length.
Keep the Microfiber Cleaning Cloth Dry and Clean
When you need to rely on cleaning clothes to clean your eyeglasses, you need to make sure that these microfiber cloths are dirt-free in the first place. If you use dirty materials while focusing on eyeglass maintenance, it will only smear the grease and dirt across the glass surface. Keep things fresh and new-looking by paying attention to cleaning your microfiber cloth.
Opt for Good Lens Coatings
Glass lenses that are well-equipped with anti-scratch and anti-glare coatings contain oleophobic and hydrophobic chemicals to repel dirt, water and oil. When these contaminants are repelled properly, it makes the lenses less likely to get scratched or fogged up.
Foggy glasses and cold weather go hand-in-hand. By following these tips, you will be able to control the given challenges with much ease. Speaking of the maintenance kit, we provide freebies like a cleaning solution, microfiber cloth and screw with the glasses.
Thanks for stopping by, we hope we have been of some help.